Jabra isn't new to the headphone scene, their headsets are renowned for their excellent quality and innovative use of technology.  They are constantly pushing the envelope of what headphones can do, and winning tech awards left and right in the process.  The Jabra Sport Pulse Wireless is a prime example of Jabra's ingenuity – these headphones took the award cake in 2015 bringing in 4 awards, including the CES Innovation award for their ability to monitor your heartrate – through your ear!  Needless to say, we were eager to get our hands on a pair and really put them to the test.
Key Features:
Wireless Sports earbuds with Dolby sound enhancement and biometric built-in heart rate monitor

Jabra SPORT LIFE application to calibrate for an optimal fit & heart rate measurement, as well as integrated training management and three sophisticated fitness tests

Control music and calls directly from the headphones in-line controls

IP55 Certified, drop, strength, dirt, temperature & humidity tested – US Military Standard

Works with most popular fitness applications on iOS and Android devices to provide pace and distance alerts
Jabra Sport Pulse Wireless Review Breakdown
Design:
The Jabra Sport Pulse Wireless headphones consist of two lightweight earbuds connected by a small wire.  They come with four different size ear wings as well as four different size ear gels, so you have no trouble finding the right fit for you.  Fit is of the utmost importance here because these headphones are not only providing your workout tunes, but they're also tracking your heart rate.  A snug fit is key, and relatively easy to obtain once you figure out which ear wing/gel combo work for you.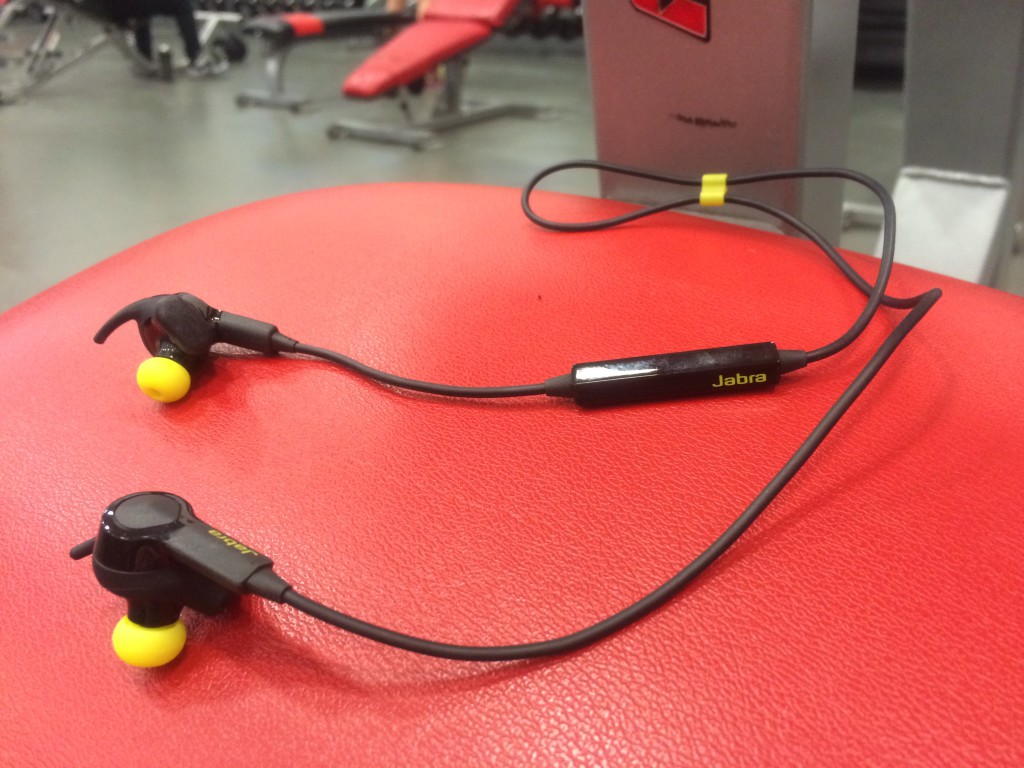 I found they take a little twisting and maneuvering to get them in, but once they're IN they stay firmly in place.  We took the Jabra Sport Pulse Wireless through a whole gauntlet of runs (track, road, and trail) and also wore them in some cross training classes and had no issues with them falling out.  They are sweat and waterproof (to US military rain, shock, sand and dust standards), so even running in the rain was a non-issue.  The only negative was when we tried to wear a headband or hat to run outside the headband pushed down on the buds too much for comfort, and the hat kept popping the buds out of our ears.  If you're a fair weather runner, you won't have any issues (maybe we should consider that).
These headphones also boast in-line controls which allow you to do pretty much anything with just the press of a button.  You can play/pause music, skip songs, answer/end/reject a call, adjust volume, etc.  One thing to note is that since your heart rate is being monitored through the left earbud, you really can't take out the headphones without screwing up your stats.  We often found ourselves wearing just the left earbud and tucking the right one away so we could hear and have a conversation while running (which also meant we no longer had easy access to the in-line controls).
Performance:
Our standard run tracking arsenal consists of a Garmin GPS watch for tracking distance, and a Fitbit Charge HR to track heart rate via the wrist.  The obvious advantage of the Jabra Sport Pulse Wireless is that it's one device that can perform both of these functions.  As far as distance goes, the Jabra's were totally in-sync with the Garmin.  We really liked how the app shows you a map of where you run, color-coordinated so you can see what your heart rate was throughout the run.  As for the heart rate accuracy, we found that the Jabra consistently registered higher than the Fitbit.  I can't say that the Fitbit is better or more accurate, just noting that the heart rate readings generally did not agree, with the Jabra being higher in every instance.
One might worry that since the Sport Pulse have all these fancy bells and whistles, maybe the sound quality is lacking.  Rest assured that is NOT the case!  We were very pleased with the quality of sound; clear, rich audio with plenty of bass.  Plus, since the buds have such a tight fit you don't have to worry about sharing your music with the whole gym.  The app even offers an option to enhance sound quality with Dolby high-definition sound, which is a nice perk if you're interested but we found the sound quality to be great even without that.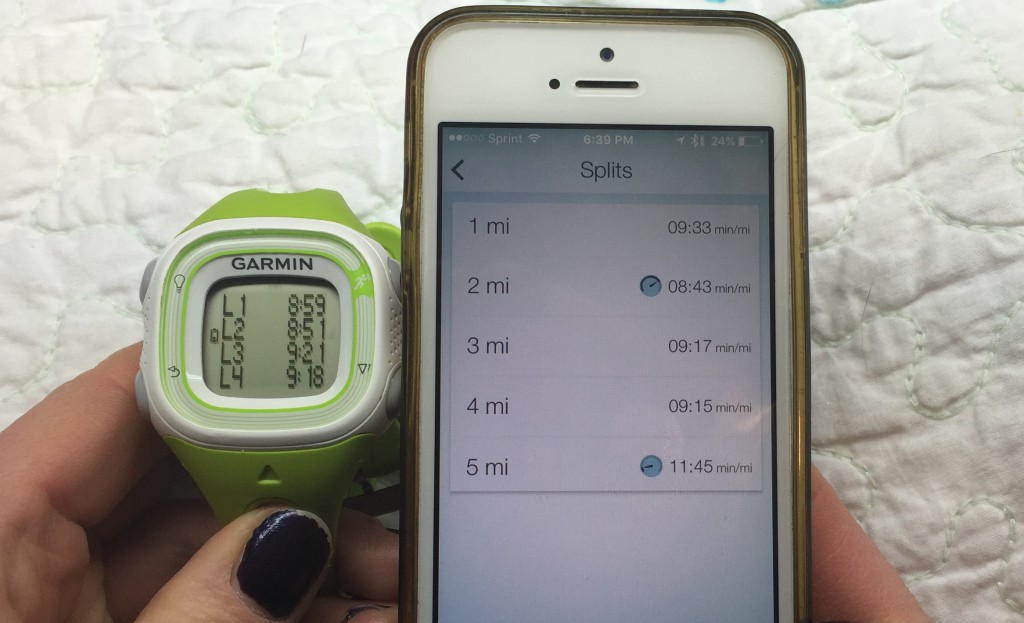 The Sport Pulse has a battery life of about 5 hours, which is totally adequate for the caliber workouts that we were doing.  Of course other Bluetooth speakers out there have a longer battery life, but keep in mind these are not also tracking your heart rate.  We will mention that the only way to check how much battery life is left on the headphones is to open the app on your phone which is a bit of an annoyance, but not a deal-breaker by any means.
Software:
The Jabra Sport Pulse Wireless headphones are bluetooth, requiring use of a smartphone to operate them.  Once you've downloaded the Jabra Sport app you're ready to get on with your workout.  We were pleasantly surprised with the features that app offers.  It's easy to navigate, tracks your workout history, and has the option to set a target heart rate training zone.  This was especially useful because you get audio updates to speed-up or slow-down in order to stay in your target zone.  You can also get a run-down of all your current stats (distance, pace, heart rate zone, steps per minute, etc. – all completely customizable) with just one tap of the multi-function button located on the left earbud.
Ease of Use:
In our opinion ease-of-use is where the Jabra's fell a little short; granted, they are doing way more than just playing music.  To turn them on you press and hold the button on the in-line controls until the light flashes blue.  Once you've gotten the buds securely in your ears you have to open the app on your phone and press the sports button on the left ear bud to begin tracking your heart rate.  Make sure you're getting a heart rate reading before pressing "Start" to begin your workout!  There was more than one occasion where we started the workout only to find out a mile in that the heart rate reading was not working… such a bummer.  We also occasionally found that the headphones wouldn't automatically pair with the Bluetooth on our phone – in which case we turned the headphones on and off a few times, and ended up having to "forget the device" on our iPhone and re-sync before getting them to pair.  At times, this whole process would take 5+ minutes just to get your headphones working.  Valuable running time that we were not thrilled about losing.
Value:
At $199, these are not an investment to be taken lightly.  If you are looking for an all-in-one music/heart rate/tracking device, this is THE option.  Literally, it's the only one on the market that does it all.  You can run confidently knowing that the Jabra's are just as accurate as your tried-and-true Garmin watch, with the added bonus of tracking and monitoring your heart rate.  If you're more interested in getting on the road quickly and easily without messing around with a bunch of technology, you probably want to keep looking.
Buy Now: $199.99 or to learn more, go to: Jabra.com
Jabra Sport Pulse Wireless Headphone
Jabra is pushing the technology envelope by introducing the first headphones that can track your heart rate in your ear. If you're equal parts fitness fanatic and techie, or are looking to streamline your running gear arsenal, these headphones are for you. However, at the high end of reasonable for a pair of headphones, these are not for the occasional runner.
The Good
First in-ear heart rate monitor
Great fitness app
Accurate distance tracking
The Not-So-Good
Not the easiest to use
Expensive