Living in an area that experiences all four seasons is a great blessing.  However, the winters, while beautiful, can be challenging at times. One necessity in the harsh winter weather is a good pair of boots that will keep your feet warm and dry. There is one company that truly understands the issues that those of us in the beautiful yet troublesome winter climates have to deal with; Icebug. Icebug is a company based out of Sweden that focuses on developing footwear that can provide top notch protection and ultimate traction during any season for the hard core outdoor adventurers.  Recently we were given the opportunity to test out their IceBug IDUN-L BUGweb winter boots. They did not disappoint!
Key Features: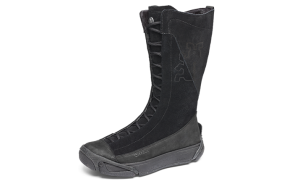 Comes with removable bugweb with 6 carbide studs for added traction
50 percent recycled rubber outsole
Durable, water repellent leather/suede
Warm fleece lined upper with side zip and front laces
Comfort midsole with ALU sheet in-sock blocks cold from ground
-4º F comfort zone
Icebug Idun-L BUGweb Review Breakdown
Design:
Made with a thick recycled rubber outsole, a comfort molded EVA midsole with a removable ALU sheet insock, a water repellent leather/suede, and a warm fleece lined upper. But wait, there's more! Icebug didn't stop there. They designed the bottom of the rubber outsole to give you the best traction in snowy conditions. And to top it off they outfitted these boots with BUGweb, a removable traction webbing that contains 6 carbide studs, compatible with this boot so that when you put the bugweb on it fits securely into the specially designed grooves on the bottom of the boot. The BUGweb keeps you from slipping on the ice or other slick surfaces.   The webbing is different from their BUGrip, like their running shoes we tested, which are carbide studs attached directly to the sole of the footwear.  The BUGweb gives you the option to go with or without the extra traction studs.  The front of the boot laces up so they will fit multiple size calves. The best part is that once you get them laced up to your liking, you don't have to unlace them to take the boots off. They added a side zipper for an easy on easy off. Under the zipper is a protective layer to keep the elements from getting into your boots.
Comfort: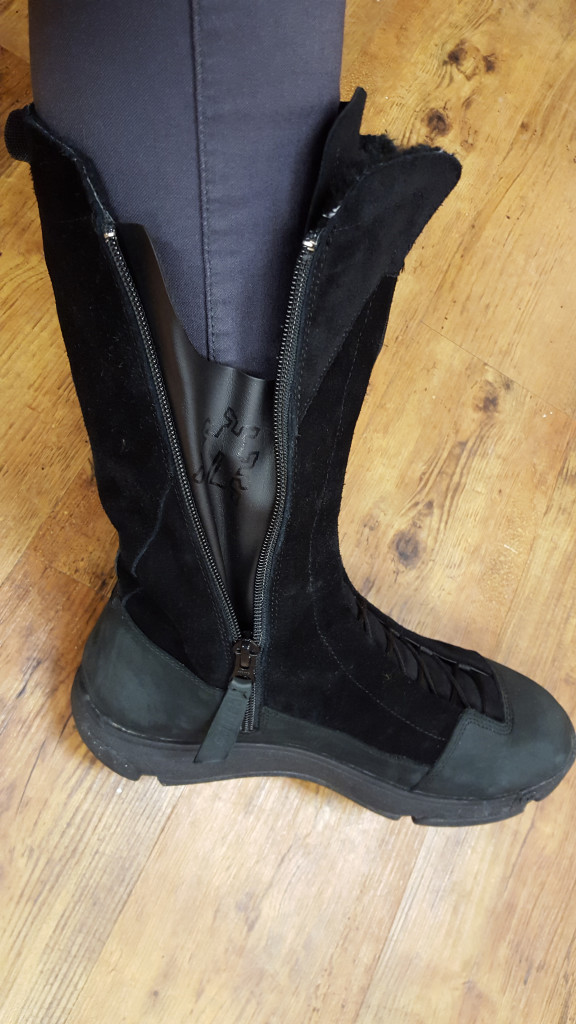 These boots caused zero discomfort after long walks through snow filled trails. There isn't much arch support, but you can always add your own insert.  Sizing is also important in comfort.  Personally, I frequently use a pair of Icebug running shoes in a size 9 with a snug fit, but these boots I use in a size 8.  The size 8 boot gives me enough room to wear nice thick socks and still have room to wiggle my toes around. So be sure to try them on first.
Durability:
We expect these boots to last a long time. Throughout testing the thick recycled rubber outsole showed no signs of excessive wear. Our biggest concern was the suede. We thought for sure that would get ruined pretty quick in the snow. Nope, no water damage. The only noticeable destruction are some scuff marks from abusive wearing (we don't go easy on our gear), and even those aren't noticeable unless pointed out. Their website offers tips on caring for each type of material they use in their products and ways to keep the footwear in prime functioning condition. The carbide studs on the BUGweb seem to be holding up as far as sharpness goes. We imagine if you were to walk with them continuously over surfaces such as cement they would wear down. Icebug gives a warning that the studs may start to show signs of rust over time on the head or the sides, but relevant part of the stud for providing traction is the carbide tip, and this will not be affected.
Style:
The Icebug Idun-L boots might be winter boots, but they are eye catching and get loads of compliments. They are stylish and functional at the same time. What we love best about the look of these boots are the laces that run all the way up the front. While they aren't meant to be used for a fancy night out, you can still sport these boots for a casual stroll around town.

Value:
The price tag might make you take two steps back. Coming in at about $220, these boots are a bit pricier than others. We have to say though, not many winter boots are as multifunctional as these Icebug Idun's. As long as they hold up year after year, spending $220 on these babies is completely worth it. They are in fact the most comfortable winter boots I've ever worn.
Buy Now: $219.95 or to learn more go to: Icebug.com
Icebug Idun-L BUGweb
The Icebug Idun-L BUGweb boots are best suited for those women who will be trekking through snow and ice, yet still want to maintain a feminine fashion statement.
The Good:
Durable
Stylish
Warm and very comfortable