The Helly Hansen Alpha Jacket was created specifically for ski and snowboard enthusiasts who regularly find themselves in challenging, wet, cold and windy conditions… conditions we mid-westerners are far too familiar with! In development of the Helly Hansen Alpha Jacket, designers sought inspiration from the mesh venting systems of mountaineering backpacks which lead them to create a lighter weight mesh version of Helly Hansen's "Flow Down" technology. The Alpha Jacket is a proud member of the Helly Tech Professional line and was engineered to provide maximum protection and breath-ability during severe conditions and high activity, while its PrimaLoft Infinity insulation is said to add an excellent weight-to-warmth ratio.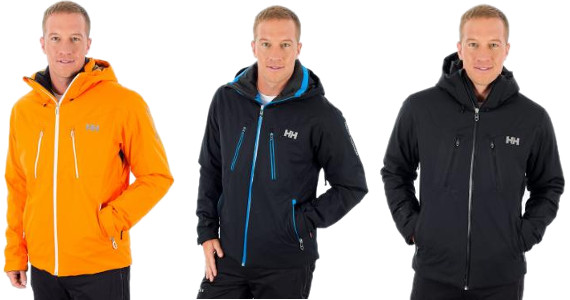 Recently, the fine people at Helly Hansen presented us the exciting opportunity to fully test and review the Alpha Jacket with its 2-way stretch fabric and re-engineered Mesh Flow venting system on the most demanding runs Northern Michigan has to offer. We gladly accepted the challenge, and are now happy to share the results with you!
Alpha Jacket Key Features:

Helly Tech PROFESSIONAL
Fully seam sealed
Two-way dynamic stretch
RECCO reflector
80g fully insulated with PrimaLoft Infinity
Insulated 2-layer construction
Mesh Flow mechanical venting
Waterproof and breathable fabric, min.20 000 mm / 20 000 g
YKK zips
Ski-pass pocket
Internal pockets
Multiple exterior pockets
Detachable, adjustable hood
Snap-away powder skirt
Articulated arms and elbows

Available in 4 colorways: Clementin, Racer Blue, Black/Racer Blue and Black
The mesh flow venting system is fantastic! What it basically does is keep the jacket off of your back by about an inch, which gives you a nice air pocket. When the vents are closed you get a really warm pocket of air that insulates and warms you up fast. -Joel Bettner, Helly Hansen Vail, CO Ambassador
– Alpha Jacket Review –
Comfort: 
After suiting up in the Alpha Jacket from Helly Hansen you'll quickly forget all other jackets you own. I know we did! Seriously… the two-way dynamic stretch fabric from which this jacket is made, is ultra comfy and provides a snug (fitted) fit without being restrictive in the least. The inside is covered with soft fabrics that feel amazing and are ideal for all day sessions on the mountain. After donning this jacket on and off the slopes for the better part of a month we've now realized that a truly comfortable jacket shouldn't be too remarkable at all. Meaning once you have it on, you simply forget you're even wearing it and go about your business. With the Alpha Jacket that's exactly what happened! It kept us warm, dry and shredding the slopes all day long. What more can you really ask for?
Insulation: 
Fully zipped with a nice base layer underneath, the Alpha Jacket is one of the warmest jackets we've ever tested, which is especially impressive due to its overall light weight. The PrimaLoft Infinity insulation is everything it's cracked up to be and the entire jacket proved to be exceptionally waterproof as well. Keeping us high and no matter the conditions. On marginal days when mother nature hasn't decided if she's going to be brutally cold or mild mannered, Helly Hansen's Mesh Flow technology comes in very handy. By simply un-zipping the pit-zips you can allow air to flow into the jacket where it can properly circulate due to the mesh flow cushions that provide venting channels which help in regulating body temperature nicely. NOTE: this jacket is meant for cold weather (outdoor) activities. If you choose to wear it anywhere else, prepare to melt sweat.
Performance: 
We came away from our testing sessions very impressed with the Alpha Jacket's performance both on and off the slopes. While shredding it up slope-side, we found this jacket to be comfortable and non-restrictive. We also would like to give praise to simple elements of this jacket, like the integrated (non-removable) powder skirt and its over-sized hood which fits perfectly over a helmet. Off the slopes this jacket remains stylish and well suited for anything from bar hopping to yard work. In a word – "versatile" best describes the Alpha Jacket.
Durability: 
After several bails, caught edges and a few brushes with trees through the back country we found that the Alpha Jacket stood up to it all quite nicely. To-date we haven't seen much more than a few scrapes, smudges and stains… which to this point have all come out in the wash. Additionally all of the stitching and seams throughout the construction of this jacket not only appear to be very well done, but actually hold up to real-life and sometimes abusive conditions.
Value: 
If you find value in never having to leave the mountain due to brutal temperatures or wet and windy conditions, we think you find the $400 price tag of the Alpha Jacket to be worth every penny once you slip it on and hit the slopes for the first time. We can't call this jacket "affordable" necessarily, but in terms of value we think it's priced dead on.
Helly Hansen Alpha Jacket Review
The Bottom Line: If you're an avid to expert ski or snowboarding enthusiast who regularly battles the mother nature's most frigid and unforgiving conditions in seek of the perfect run, we highly recommend you check out the Helly Hansen Alpha Jacket for yourself the next time your gear is due for and upgrade. The PrimaLoft Infinity insulation is fantastically warm, yet surprisingly lightweight and the jacket's two-way dynamic stretch fabric gives it a "fitted" feel without impeding your full range of movement. It's rare when a jacket of this quality, comfort and style is put together at a somewhat reasonable price. Helly Hansen hit a home run with the Alpha Jacket... comfort, function and style. Is there anything more you could ask for? Well, maybe a beer opener!
Pros
Incredibly Soft & Comfy
Ultra Warm
Non-restrictive