With wicked lumberjack'd graphics by Portland based design firm JOLBY, the 2013 GNU Riders Choice is a work of art and a highly functional all-mountain shredder that floats like a canoe and carves with the grace of Ron Swanson! The GNU Riders Choice was engineered and designed with the expertise of GNU sponsored pro knuckle draggers – Zach Leach, Blake Paul, Mathieu Crepel and Max Warbington with a focus on park riding without sacrificing it's agility in powder. This award winning ("2013 best of test" from Snowboarder Magazine) is said to be excessively "poppy" and wildly stable. Over the holidays we were given the opportunity to fully test and review the GNU Riders Choice on the snow covered, slightly ice glazed slopes of Northern Michigan.

GNU Riders Choice Key Features:
Handbuilt in the USA – handmade by snowboarders with jobs in the USA.
Mange-Traction – Serrated edges give great edge hold all over the mountain especially on hard pack and blue ice.
Pickle Tech – provides a deeper side cut on the heel-side, making heel-side turns easier and faster.
C2 BTX Banana Camber Como – geometries provide confidence building end to end stability on big park and backcountry booters, float in pow, control in critical situations, slide through rails and pop out of everything.
Twin Assym. Gemotries – combines a symmetrical nose and tail shape with asymmetrical sidecuts. Although invisible to the naked eye, the heel-side sidecut has a slightly tighter radius than toe-side.
AG1 Sustainable Wood Core – Lighter / Stronger. A perfect combination of Aspen, ultra lightweight genetically altered wood core and EISS 9.
Quasi Glass – 4 way fiber orientation 0/45/45/90. Triaxial and biaxial fiberglass combo for max pop and control.
Sizing: 151.5, 154.5, 157.5, 158W, 161.5, 162W & 166W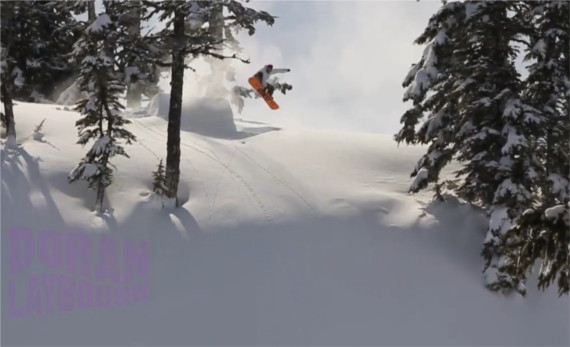 This is one of the riders favorite boards, that's why it's called the Riders Choice. It's going to be one of the best all-around snowboards on the market for sure. The GNU Riders Choice is a swiss army knife, if you need one board that's just going to do everything for you from the powder to the park to the groomers this is it. Really strong, fast and poppy! -Tim Lawler, GNU/Mervin Rep
– The Review – 
Design: 
(8 out of 10) Visually it doesn't get much manlier than the 2013 Riders Choice! We love its bold graphics and killer backwoods style. From a technical aspect we found the RC to be just as appealing. We were truly impressed with this board's pickle technology, which really works and makes heel turns a breeze due to the deeper cut on the heel-side of the board. Additionally, we (Michigan natives) fell in love with the GNU Mange-Traction and its serrated edges which absolutely destroys the icy conditions we frequently ride in the Midwest.
Flex: 
(9 out of 10) We found the RC to have just about the perfect flex for park riding. For hitting rails and bumming around the terrain park it's everything you could ask for, though in a perfect world we'd call for a little less flex in and around the groomed areas. That being said this board offers tremendous "pop" for easy ollies and is very comfortable to ride because of it.
Park: 
(9 out of 10) Designed with park junkies in mind, the Riders Choice earns it's namesake here above anywhere else on the mountain. As we just mentioned it has a wonderful flex and it's Quasi Glass body delivers a pop that won't stop! This snowboard was nimble and responsive in our experience making it possible to stick landings without the fear of bailing and failing time and time again. 
Powder:  
(7 out of 10) While we never did get a perfect day for powder riding, we did have some epic moments through the back-country that proved this board is surprisingly agile and fully capable of mixing it up in some fresh pow pow when called upon.
Groomers: 
(9 out of 10) This snowboard proved to be a fun ride not matter where you take it. It's a performer, and groomed resort runs are no exception. During our time with this board we fully exploited the RC's Mange-Traction edges on groomers and they simply eat up runs. In our opinion this board is idea for groomed runs while bombing past your friends.
Durability: 
(9.5 out of 10) After our short yet abusive relationship with the GNU Riders Choice we came a way with a few bruises from failed mute grabs, but also with a lot of respect for the integrity of the board itself. GNU has a long history of truly durable snowboards and the RC is no exception! Other than a few minor surface scratches delivered by our chair lift partners we found no indication of cracking or equipment failure. Nothing a few stickers wouldn't fix anyways!
Value: 
(9 out of 10) At less then $550 we found the Riders Choice from GNU to be an excellent value due in part to its ability to go anywhere and preform almost flawlessly in all conditions. The fact that it's also extremely durable makes this board one that you could ride for several years with out ever thinking about your next purchase.
The Bottom Line

:
If you're a park junkie who isn't afraid to mix it up in the back county or bomb crispy runs through the resort we highly recommend you consider this Swiss Army Knife of snowboards for your next trip down the mountain. The GNU Riders Choice is an excellent option for intermediate to skilled riders who want to get the most out of their day on the slopes. We can't express enough how much fun this snowboard is to ride in all conditions… it's something you just have to experiencing yourself and we truly do suggest you give it a try!   Buy Now: $539.95 or go to: GNU.com   Diggin' the RC and its killer features, but want to see it in action? Well, you're in luck. Check out the embedded video below to see GNU pro snowboarders Mathieu Crepel and Doran Laybourn busting out some major spins and aerials in the back county and park!