GoPro's Zeus Mini LED Swivel Clip Light has upgraded my camping (and night hiking and biking) experience to the next level. 
Gone are the days of itchy, tight head straps, AAA batteries, and narrow beams of light. With the Zeus Mini, you simply grip, clip, and go! The mount is magnetic, too!
With an impressive light output, reasonable battery life, and a versatile magnetic swivel clip mount, GoPro has made accessories everyone's best friend.
Let's dive into the details. 
Zeus Mini Key Features
Waterproof up to 33ft (10m)

4 brightness levels

Up to 200m lumens

Strobe mode for emergencies

Color temperature 5700K (daylight)
GoPro Zeus Mini LED Swivel Clip Light Review
Design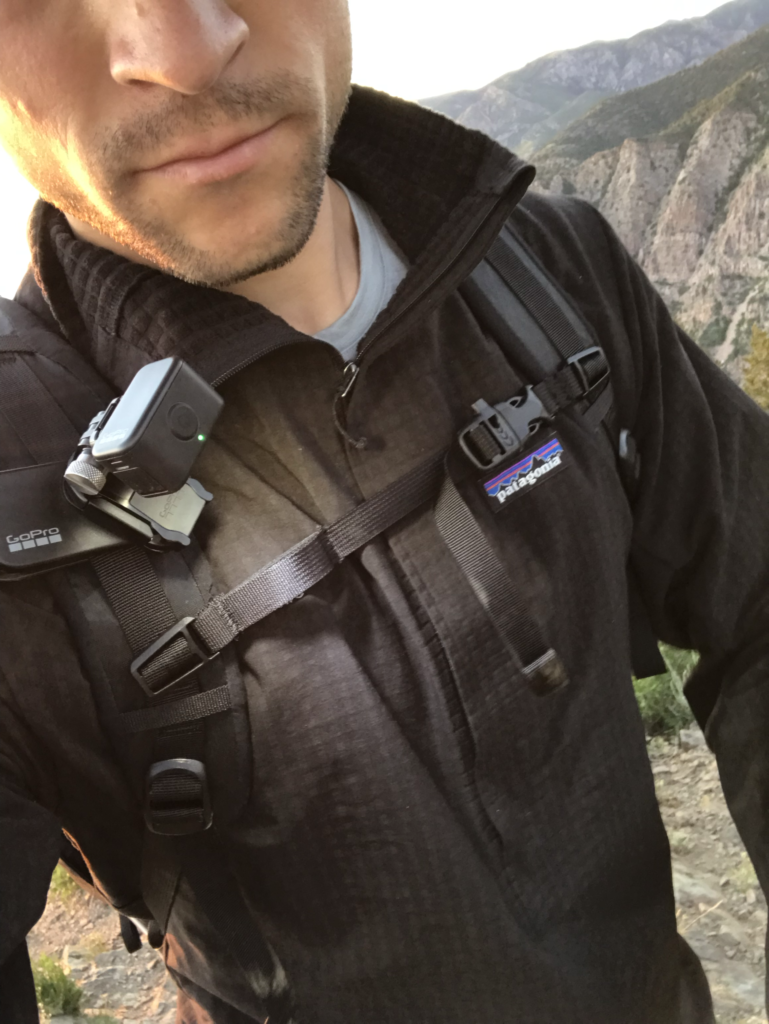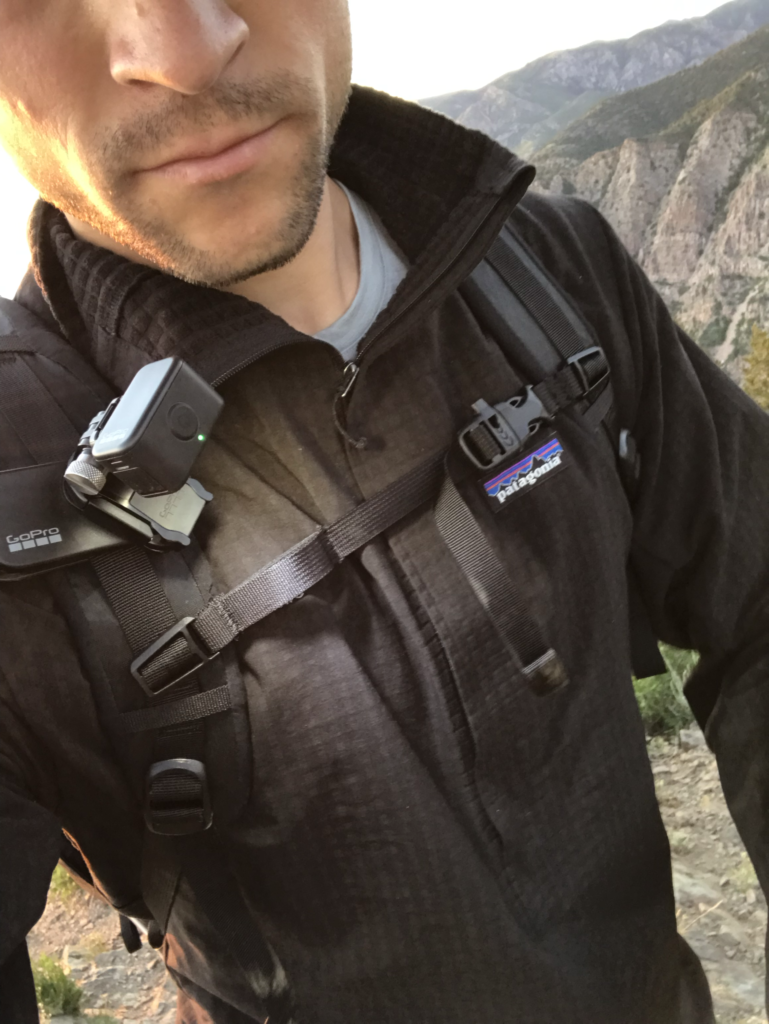 The Zeus Mini's design  – independent of its mount – is really relatively straightforward. Two rows of 5 LEDs output a powerful arch of light in any setting. The light itself has an easy to operate button, a locking gate for the charging cable, and a quick release from the mount. 
The mount is what sets the Zeus Mini apart. The magnetic clip base gives you plenty of – stick it to a picnic table leg, clip it to a tree branch above your campsite, clip it to your hiking pack for an early morning sunrise hike. You name it, Zeus has a configuration ready for it. 
Pair the mounting options with a full 360º swivel, and the Zeus really is ready to shine light on anything your adventure (or day-to-day life) requires.
Unfortunately, I do not own a GoPro camera, but if I did, the Zeus is fully compatible to snap "mod" the HERO9 Black or HERO8 Black to illuminate your camera subject.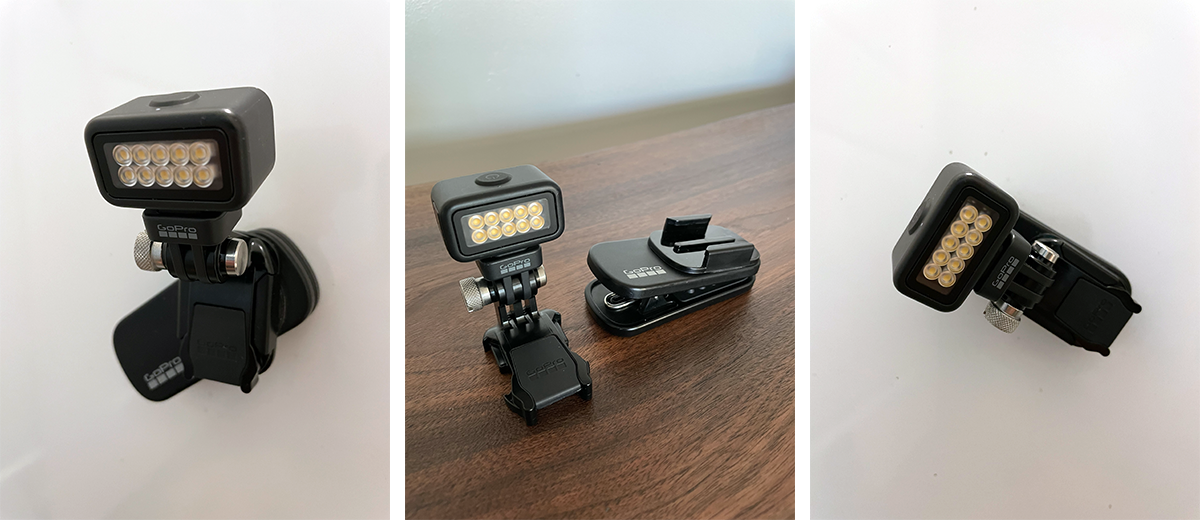 Functionality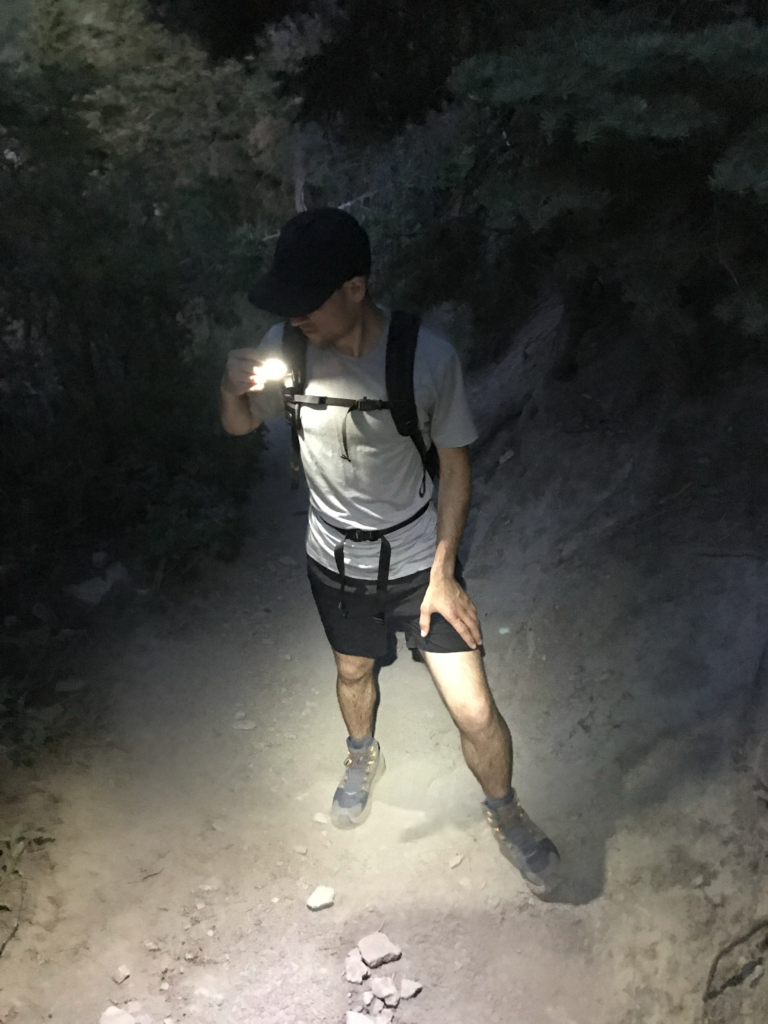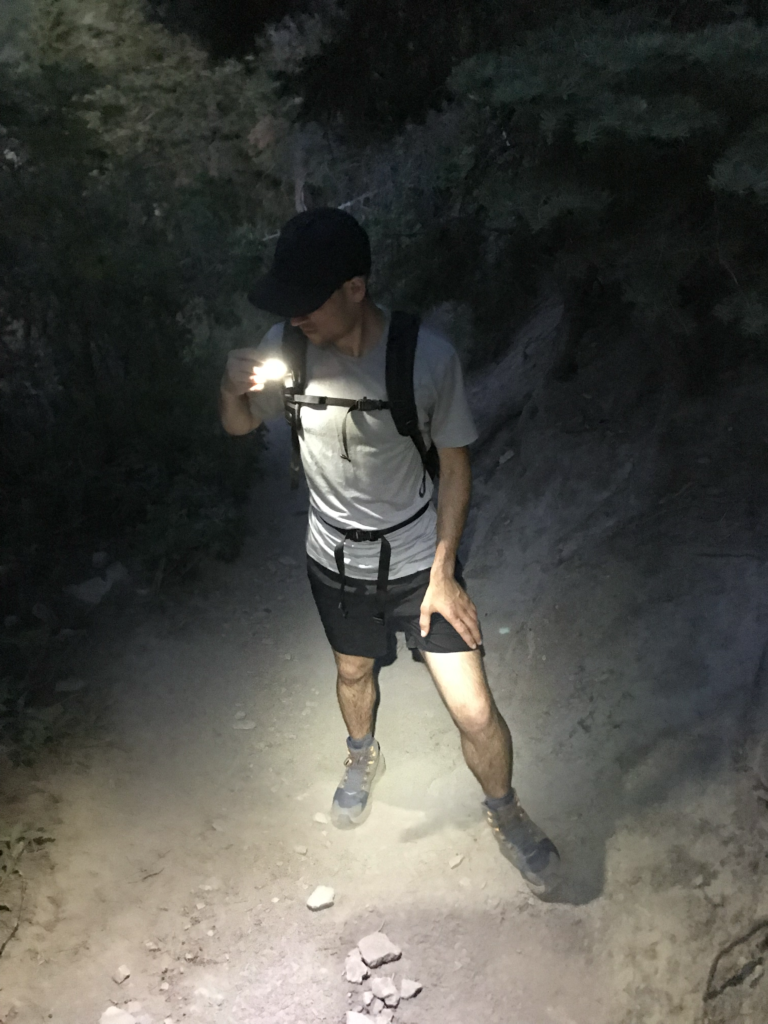 The Zeus Mini single-button interface is easy to operate. One-click turns the Zeus on at its lowest level of brightness. Click once more for the second level and a third for the brightest level. 
A fourth click will enable a strobe mode that can be used to signal emergency services or create more visibility for night walks or bikes. 
And a secret double click enables overdrive mode that delivers a boost of 75 lumens for 200 lumens of output for 30 seconds. 
A long press and hold will turn Zeus off. While it would complicate the design a bit, I'd have personally loved to see either a different sequence to turn the light off, or a dedicated off button. Not that you have to hold it that long to turn off, a quick triple-click or a separate power button would make for a quicker on and off when you need a few seconds of light. 
Apart from the light's interface, there is an integrated "stoplight style" LED indicator that switches from green to yellow to red to indicate battery life. 
Battery Life 
GoPro offers the following guidelines for battery life on their site:
Overdrive mode: 200 lumens, 200 lux @1m

Level 3: 125 lumens, 120 lux @1m

Level 2: 60 lumens

Level 1: 20 lumens

Runtime: 1 hour at Level 3, 2 hours at Level 2, 6 hours at Level 1
To be honest, I didn't care much to nitpick these ratings. With USB-C charging, I just bring my handy portable charger along with me. When the power indicator shines red, I plug the Zeus in to extend the light until my needs are met. 
Lightyears better (see what I did there) than the old AAA battery approach where you're digging out a stash of batteries from the bottom of your gear tub and fumbling getting them to seat properly in the dark. 
Overall, I've been pleased with the Zeus Mini's battery performance. While I love running it on the 3rd (highest) setting, it's pretty impressive to get hours of hands-free and wear-free lighting on the low setting. 
Light Output
The part you've all been waiting for! The lumens are listed above, so I'll skip the repeat in this section and focus on the light arch. 
For Zeus' weight, it's powerful! I was thoroughly impressed the first time I took it out on a night hike.
Unlike a traditional headlamp or flashlight, The Zeus Mini's light arch is non-directional. It is not a focused beam designed to light up a mile down the road. 
It offers a nice, wide arch of light designed to light up whatever space you're working in, camping in, or adventuring in. 
From lighting up your tent to shining on your camp stove to lighting up the trail ahead, the Zeus Mini delivers. Gone are the days of turning your head to light up what you need to with a headlamp!
Value 
At $49.99, the Zeus Mini is a no-brainer. Priced competitively with many headlamps on the market. Secondly, many high output LED flashlights (that you have to hold, yuck!) ring in for more than that. 
The Zeus is a compact, versatile, and powerful hands-free/wear-free headlamp replacement. 
As GoPro mentions on their site, fork over the $50 bucks and Clip it. Stick it. Light it. You won't regret it. 
GoPro Zeus Mini LED Light | Gear Review
A powerful and versatile light that is ready to go anywhere and do anything.
THE GOOD:
Near limitless mounting options
Useful even without a GoPro
Powerful light output
THE NOT SO GOOD:
Battery is short on high power