Newsflash! Men and women have very different needs when it comes to footwear.  In 2015 FootJoy finally got the memo, and revamped their entire line of women's footwear.  They took scans and compiled tons of data from women, and used that to create a golf shoe specifically tailored for women's comfort and performance.  Don't take my word for it, here's what FJ's director of footwear product management has to say their newest innovation in women's footwear…
"We really want to focus on fit. We also want to have shoes that are spikeless, but cleated products, as well. . . . So the whole women's line, we will re-do throughout the summer and fall of this year, and it's going to be fantastic." -Mike Foley 
The emPower was the first offering of FootJoy's new and improved women's line, and we couldn't wait to see what it was all about.
Key Features:

Lightweight Performance: Sport performance mesh uppers provide lightweight comfort while staying cool.
Every-Step™ Comfort: A soft underfoot foam delivers extreme comfort throughout your round
Power Last: The Power Last offers a rounded, athletic toe character, generous fit across the forefoot, with a slightly narrow heel.
MaxGrip™ Traction: emPower outsole pods ensure a slip free round with turf gripping traction.
emPOWER Spikeless Golf Shoe Review Breakdown
Comfort:
When we laced up our FootJoy emPower golf shoes for the first time, we were delighted with the lightweight comfort.  They felt more like a running shoe then the golf shoes we'd experienced in the past. FootJoy calls that an "athletic inspired" design, but we call it comfortable.  A big contributor to the "running shoe" feel was the lack of spikes.  Instead emPower employs MaxGrip™ Traction, which consists of little rubber nubs and "outsole pods" that provide excellent traction without the added height.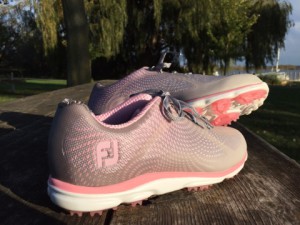 The shoes are so comfortable (and stylish), that we had no qualms about wearing them to the bar for post-round drinks.  However, we may have felt differently if we ended the round with soggy, sweaty feet.  Lucky for us, the emPower boasts BreathEasy Sport Mesh that breathes but is still completely waterproof.  I thought waterproof and breathable were mutually exclusive, by FootJoy found a way!  We took the emPower's out for several rounds, but ended on a blustery, 50 degree Michigan afternoon.  My feet were completely sweat-free after our round (which is kind of a miracle).  The Sport Mesh design didn't offer any extra warmth, but the obviously solution there is not to golf when it's freezing out (duh).  No water was getting in from the outside either, thanks to the completely waterproof design.
Design:
When searching for perfect golf shoes the goal is to find shoes that improve performance, right?  Still, no one wants to be caught out on the links wearing grandma's golf shoes either, I don't care how comfortable they are.
The emPower from FootJoy did not disappoint on the style front.  The color combinations are on point; they are colorful but not too loud.  I went with the Gray/Pink combo because it was more muted and would match more of my cute golf outfits (obviously).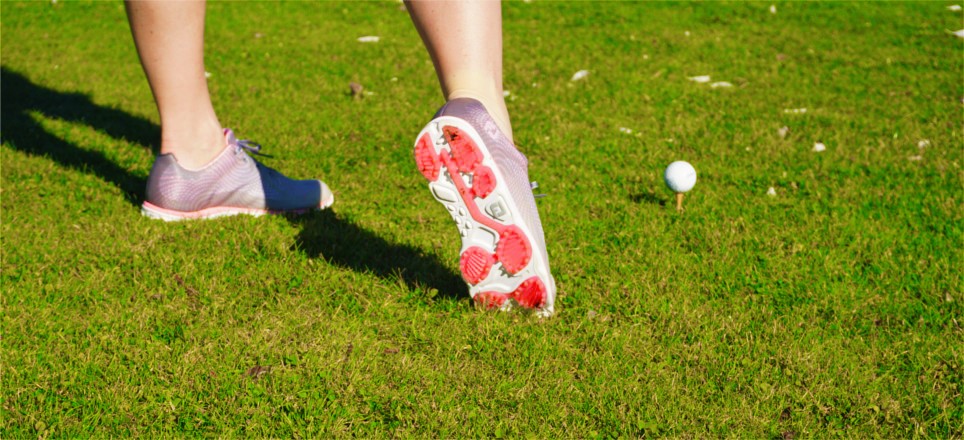 The fit was true and comfortable throughout.  I usually fall right between a size 6.5 and 7, and went with a 7 here.   The shoes are built with plenty of room in the toe and a narrower fit in the heel, so I probably could have went with the smaller size, but the 7's are just fine.
Traction: 

Every good golf swing starts with a firm stance.  Typical golf shoes have spikes to "lock" your feet in place as you pivot and swing through the ball.  Personally, I preferred the non-spike version and can see why they're becoming more and more common (exhibit A).  There is enough traction that your feet stay firmly planted when swinging, while the spikeless design allows you to feel the ground better.
Performance:
The emPower shoes were obviously built with performance in mind.  They are roomy and breathable, and I actually forgot I was wearing them.   That leaves your mind completely free and able to focus on keeping head down, watching the ball, following through, yada yada yada…  Did I drive the ball long and straight every time?  Not a chance, but no shoe in the world could change that.
Our favorite feature is the aptly named Every-Step™ Comfort foam in the foot bed.  Not only is it super cushy, but it has mini massagers built right in.
Durability:
The shoes are made of synthetic materials and come with a two year waterproof warranty as well as a 30 day comfort warranty.  We haven't put these through the test of time yet, but FootJoy is putting their money where their mouth is (or feet?)  With that kind of confidence, and FootJoy's track record for quality, I am sure these shoes will be helping your golf game for years to come.
Value:
Ringing in at $135, the FootJoy emPower's are a solid investment and a worthy addition to your golf arsenal.  With FootJoy you can be sure that the shoes are going to last, plus the emPower's give you some extra bells and whistles in the form of BreathEasy Sport Mesh and Every-Step™ Comfort foam, that you won't find with other shoes.
Buy Now: $135 or to learn more, go to: FootJoy.com
FootJoy emPOWER Golf Shoe - Range Review
The FootJoy Women's emPower golf shoes employ a super comfortable spikeless design and are built to last.
The Good
Comfortable
Waterproof
Spikeless
The Not So Good
Not so cheap
Spikeless (if you're not into that)