If you're a golfer, chances are pretty good that you've owned at least one pair of FootJoys over the years. While there is a lot of competition today when it comes to footwear on the links, FootJoy still stands tall above the rest as the leading brand in golf shoes. Don't believe me? Next time you're out at the course, look around and see how many pairs you spot. Yeah, a lot.  I come from a family full of life long golfers and the FJ logo is something I recall seeing before I even picked up the game myself. Golfers of all ages and skill levels have been rocking FootJoys for decades. While FootJoy is a classic golf brand that has been around for over 150 years, they are switching things up with their new M:Project line of shoes.
Need proof? Check out the gallery of embedded videos below, in which their team of Doctors and product managers show-off exactly how the M:Project golf shoes deliver performance on the course.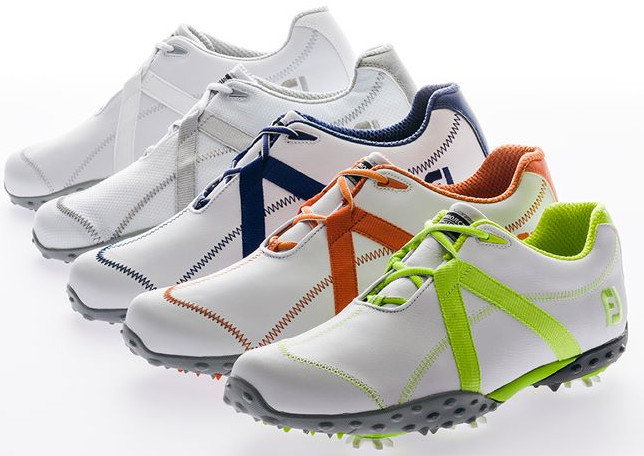 Key Features:
 2 Year Waterproof Warranty
Minimalist Construction
M:SPEC Performance Leather
ProTect toe guard
Slip Resistant
Laser Thin Duramax Outsole
Full Rounded Toe Character
Variety of Colors
Available in Spiked or Spikeless
FootJoy M Project Review Breakdown
Design: 
The first thing I noticed when I opened the box was the M:Project's minimalist design. They are unlike any other golf shoe I have ever owned with their sleek style and low (very low!) profile sole. I've never really been a fan of the higher profile soles that traditional golf shoes tend to have. With being on the short side, adding any extra height to my stance tends to throw my balance off when it comes to my golf game…and life in general. On 355 of the 365 days of the year, you will see this girl wearing flats or flip flops instead of heels or wedges. So with my balance challenges, you can see why I was excited to finally try a golf shoe that keeps me as close to the ground as possible.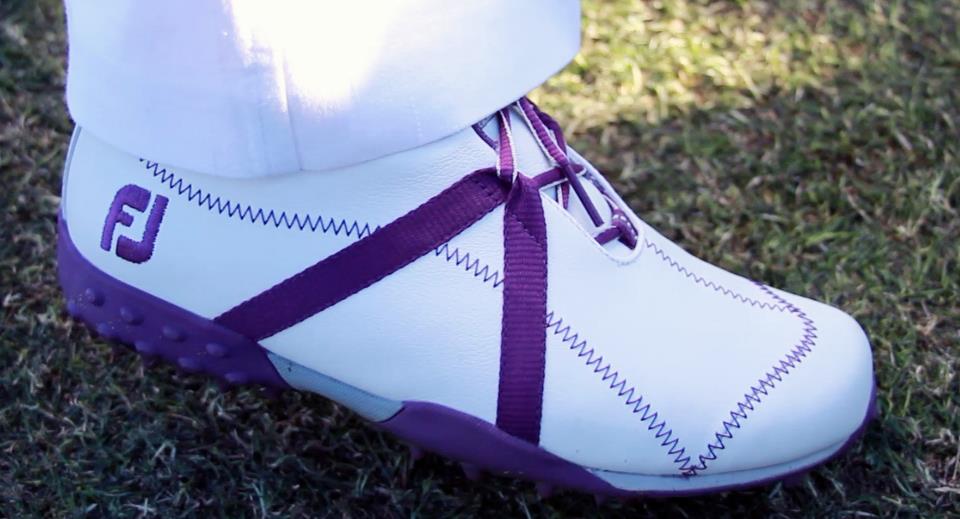 The M:Project's name come from its minimal construction for maximum feel. It was designed from the ground up which isn't FootJoy's traditional approach when it comes to developing a new shoe. The M:Project was specially designed with ultra thin and ultra strong M:SPEC leather so that it doesn't feel like the shoe is wearing YOU instead of you wearing the shoe. The thin midsole allows your foot to actually feel the ground below you maximizing your flexibility. I really enjoy that the M:Project has a wider toe area so that my toes can spread out more naturally and give me better balance and movement. This paired with the lower midsole proved to give me better control during my swing. While the shoe gives you more a little more room to move, it has a full collar lining to ensure your foot remains in place.
The M: Project comes with FootJoy's warranty that this golf shoe will be waterproof for two whole years. From morning dew to the unexpected downpour, your feet will remain dry and comfortable.
The M: Project comes in a variety of colors and you can choose from leather or mesh material.
Comfort: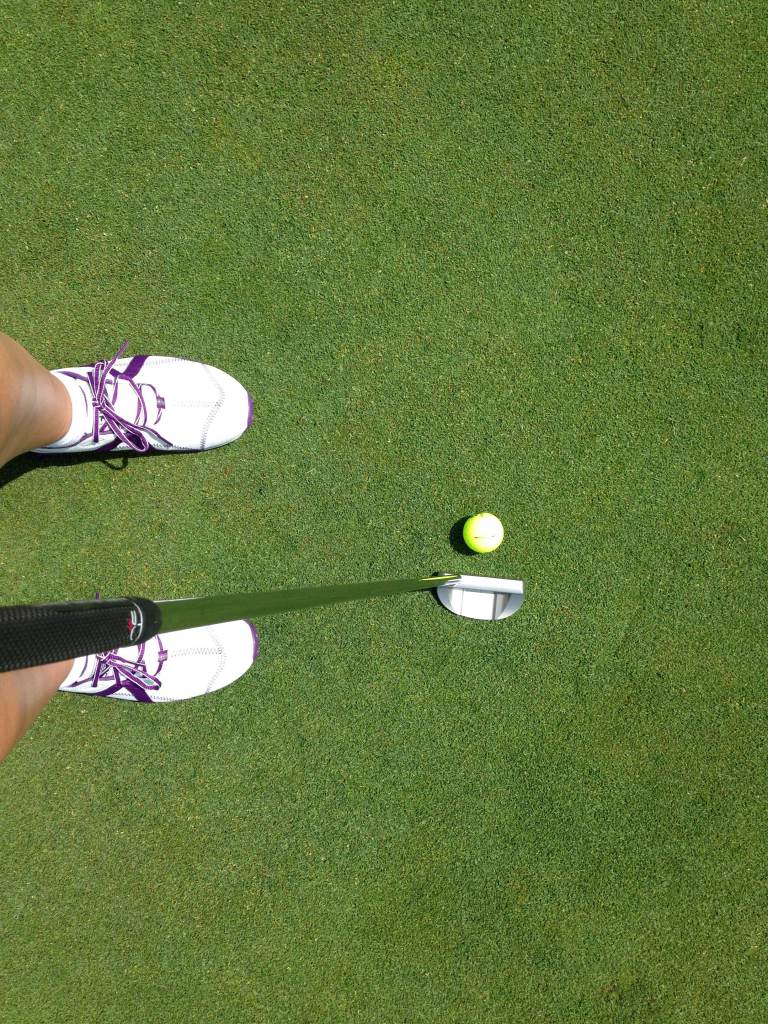 I loved the feel of the M:Project as soon as I put them on for the first time. I didn't feel like I was wearing a traditional golf shoe. The lightweight cushioned fit-bed provides extreme underfoot comfort and heel support. From the parking lot to the greens, I was completely comfortable in the M:Project from the very first round. Like many new pairs of shoes, they needed a little breaking in but not much.
Setting up for my first official shot from the tee box in my M:Projects, I felt at ease in their comfort and how natural they felt. Being able to feel the ground below me and having the ability to spread out my toes was a breath of fresh air for my golf swing.  It helped me move more naturally with the momentum of my swing. How was my first shot off the tee? Long and down the middle – and it continued for the rest of the round. Success!
Traction:
The Laser Thin Duramax outsole provides low profile turf gripping power while maintaining highly flexible. This means the M: Project transfers seamlessly from the parking lot, to the clubhouse, to the fairways, to the greens. I felt completely confident in my stance at the tee box and in a variety of inclines during my approach shots – even when there was a little moisture in the turf.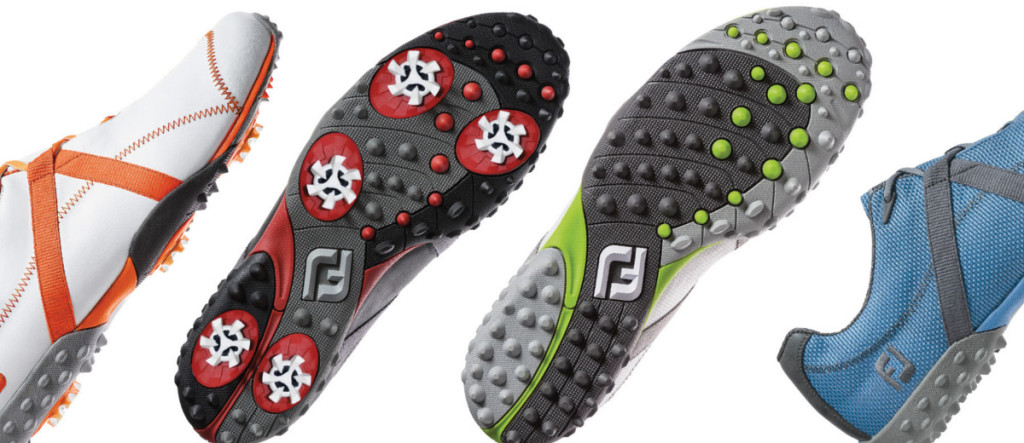 Durability: 
M:Spec leather was developed by Pittards of England. What's a Pittards of England? Well they are the leading supplier of high performance leather and have been innovators in the industry since 1826. So the M: Projects are build to last. The waterproof leather is thin, yet strong, while offering lightweight comfort and maximum feel.
The pair I tested for this review were made of bright white leather. Typically this means you will have nice green grass stains on your shoes after the first round. Not so much with the M: Projects. While I did get some dirt and grass marks, they cleaned up very nice.
Value:
Clocking in at $135 – $155 we think the M:Project is a high quality, comfortable, durable shoe that is worth the price.
FootJoy M:Project Golf Shoes - Range Review
It's nice to see that the golf shoe industry is making moves in the minimalist design direction. The running shoe industry has been doing it for years and FootJoy has taken notice. For golfers looking to improve their movement in their swing, I highly suggest giving the FootJoy M:Project a try. At this point, I am not looking back.