Hybrids are the craze in today's day and age, but usually in the form of a golf club or a Prius. Now instead of on the street or in your bag, ECCO BIOM takes Hybrids to your feet. The new ECCO BIOM Hybrid Golf Shoe is being billed as Golf's first-ever performance hybrid shoe. When the ECCO BIOM Hybrid arrived on my doorstep for review, needless to say I was confused.  When my Editor told me he had wanted me to test a pair of ECCO golf shoes, I was expecting a typical golf shoe.  I have worn traditional ECCO golf shoes in the past so when I opened the box I was a bit surprised to see a casual spike-less golf shoe.

After I got over my initial confusion, I soon discovered that more and more golfers are going with the casual spike-less approach.  I also found out that Freddy "boom boom" Couples wears the ECCO BIOM Hybrid and let's be honest; any shoe that's good enough for the great Freddy Couples is good enough for you and me! On to the course…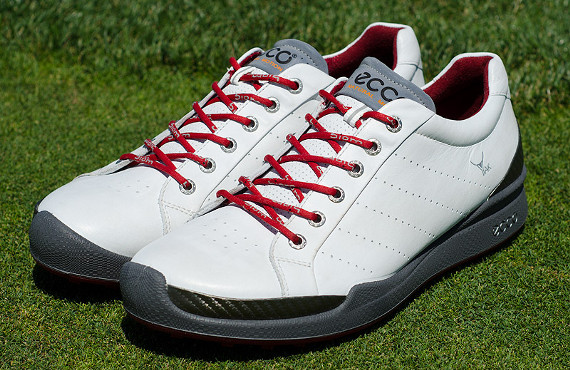 Photo Credit: hookedongolfblog.com  
With no exaggeration, BIOM Hybrid presents a footwear experience that's unlike anything else the walking golfer has ever experienced.  The difference is huge and immediately noticeable, which is why this style has been such a massive global success.  -Michael Waack, Head of Global Golf at ECCO
 – ECCO BIOM Hybrid Review –
COMFORT:
(9 out of 10) The ECCO BIOM Hybrids have the comfort and feel of regular walking/tennis shoe.  I walked 18 holes on back-to-back weekends and felt no discomfort at all.  The part that really surprised me was that I forgot to take them off.  Usually after a round of golf, especially walking, I look forward to getting back to my car and changing my shoes but with the ECOO Hybrids I put my clubs away and drove off without even thinking about it.  The ECCO Hybrids also feature a flexible mid-sole arch that mirrors the foot skeleton for optimal comfort.   
DESIGN: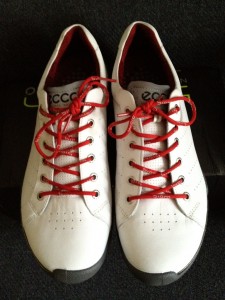 (7.5 out of 10) The technology and development of the ECCO Hybrid is nothing short of impressive.  ECCO has combined their patented Natural Motion and Golf Street out sole technologies, it pairs the body's system for absorbing impact with a non-cleated shoe bottom that provides for great durability, comfort, traction, and stability on the golf course.  The main design feature that is sure to draw your attention is the ECCO dynamic traction system (E-dts), which takes the place of the traditional spikes. The technology is impressive but really this style is what makes the shoe unique.  It reminded me of my Airwalkers from back in the day and has that walking/skateboarding shoe look.  For anyone that owned a pair of Airwalkers you will know how comfortable they were, just like the ECCO Hybrids.  As golf fashion evolves you will start see more unique shoes on the market, so don't let the look concern your traditional golf mind, this is the future.  
DURABILITY: 
(9.5 out of 10) The ECCO BIOM Hybrid was built with durability and weather resistance features to appeal to the everyday golfer.  It features a  soft, breathable, and strong Tibetan Yak leather uppers that are treated with Hydromax for superb weather protection.   The shoe held up after multiple rounds in varying degrees of weather and I find it to be extremely durable.  The issue I see with durability is that I wear this shoe more often than a typical cleat.  Since it feels like a regular shoe you will wear it longer as it isn't as awkward and annoying to walk in like a normal cleat.  After a round we retreated to a local watering hole to count our scorecard and enjoy some cold beverages and I ended up wearing my ECCO Hybrids the entire night.  Nobody noticed they were golf shoes.  They might not last as many rounds as other shoes only because you will wear them for longer period of times and not just on the course.  Rest assured these are built to last.    
TRACTION: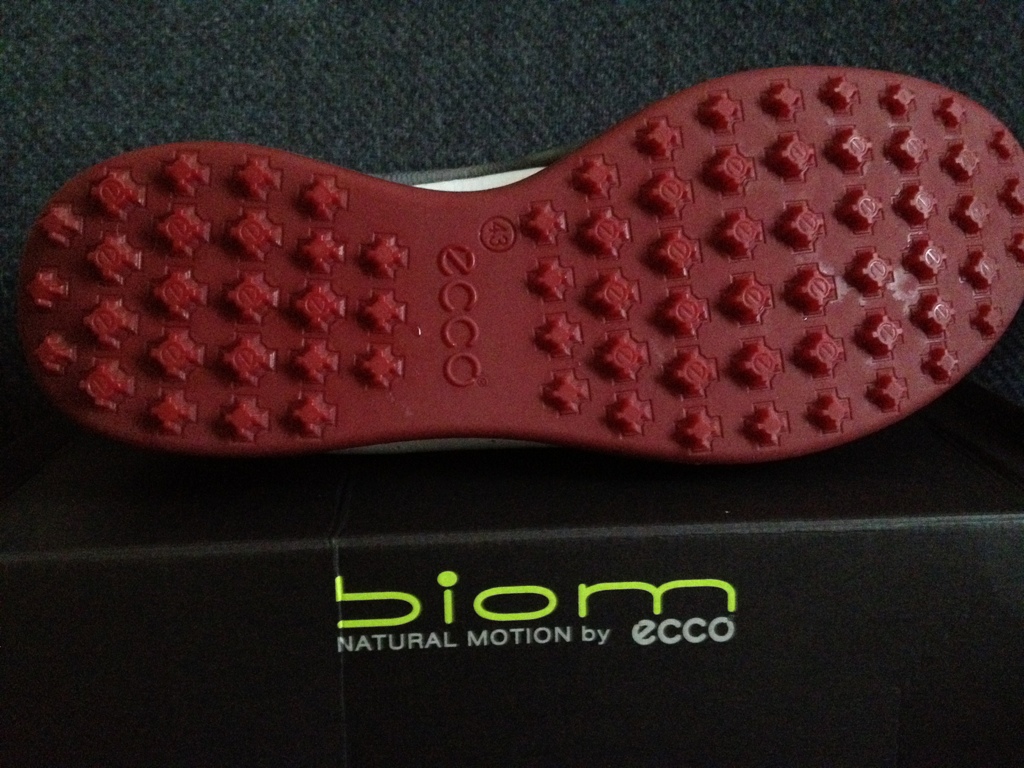 (8 out of 10) Traction with golf shoes is really what makes a break a shoe, in my opinion.  Now, traction is unique for every golfer because it can be determined by a variety of factors, but the main two I concern myself with are swing speed and the course conditions.  For example, no matter the course condition if you have a really fast aggressive swing you need excellent traction hold your feet and give your swing the structure and base it needs. I do not have a fast, aggressive, swing on most occasions so I don't need spikes that are going to glue me to the ground.  If you are a swing out of your shoes type golfer then you may want to test a pair to make sure you are getting the traction you need.  I liked the feel of knowing I was secure in the ground, but also my feet had the flexibility to follow through on my swing.    I had no issues hitting out of the sand either, one of my favorite spots to hit from.  I played early morning rounds with a little mist still on the course I did not notice much of a loss of traction. During a round played after some heavy rain I did switch to a traditional spike to get maximum traction.   
VALUE:
(9 out of 10) Priced at $190 these are priced right.  With the design, style, and a durable build this is an extremely impressive golf shoe.  ECCO is the only shoe manufacturer to own and manage every step of the shoe-making process – from leather production through its own shoe factories all the way to its stores so you know that you are getting a quality built and crafted shoe.  
THE BOTTOM LINE:
The bottom line is simply this; Freddy Couples wears them. This is the only information that you need to know when thinking about picking up a pair of ECOO BIOM Hybrids.  This is a quality shoe for the golfer that is ready to step out of a typical golf shoe and into the future.  You can trust Freddy Couples.      Buy Now: $190 or go to: ECCOGolf.com