Dubbed "Ian Poulter's Secret Weapon", one of the year's hottest items for 2013 are the Puma ZL golf shoe (ZL = Zero Limits). Ian has been sporting these stylish shoes on tour for much of this season, and for good reason. Built with premium leather, carbon fiber, and compression molded cushioning, these shoes are as high tech as they are stylish.
The footwear choice that'll impress even the snooty golf club members. All luxe, premium leathers, the Zero Limits – which keeps things classy in a refined black and white palette – is the regular golf shoe's fancy tuxedo equivalent. -puma.com
Golf is one of the rare sports where there is nothing separating the equipment that amateurs have access to from the equipment the pros have access to. It's one of the best things about the sport – your success boils down to you as an individual more so than anything else. That being the case, we were super excited here at Busted Wallet to get our hands, er feet, on the latest from Puma and see what it's like to walk in Ian Poulter's shoes. 

Puma ZL Key Features:
Luxe, premium leather upper
14 replaceable S2Quill spikes for maximum grip, paired with directionally molded S2QuillTec spikes for added green-friendly traction
DUO FLHT Chassis, featuring TPU in the forefoot and heel connected by a carbon fiber DUO FLHT XRS Shank for optimum power, leverage, and control
Decoupled heel construction with flex grooves for shock absorption and a smooth heel-to-toe transition
Compression molded EVA cushioning in the forefoot and heel, with strategically-placed EverFoam cushioning at the heel for a comfortable fit
Breathable OrthoLite sockliner for optimum fit and comfort
stormCELL designation for highly functional, durable materials with waterproofing guaranteed for two years
PINS (Performance INsert System by Pride) technology for a lower-to-the-ground construction that provides more immediate response for a more consistent swing
Men's performance last to accommodate a wide variety of golfers
Lace closure for a snug fit
PUMA Formstrip at lateral and medial sides
PUMA Cat Logo at tongue, forefoot, and heel  
– Puma ZL Golf Shoe Review –
Comfort: 
(10 out of 10) When I slipped my foot into this golf shoe, the clouds parted, trumpets blew, and golden sunshine rained down upon me. It was like stepping on the backs of angels. I've walked several rounds in the Puma ZL's this season, and I can honestly say that they are the most comfortable golf shoes I've owned. That's a pretty hefty statement coming from a guy with wide, flat, hobbit feet. The shock absorption, breathable liner, and EverFoam cushioning combine for a level of comfort that must be experienced to believe. I highly suggest throwing a pair on at your local golf shop.   
Design: 
(8 out of 10) Beauty is in the eye of the beholder they say. While I doubt anyone will find these shoes ugly, some may pause at their level of conservativeness. Personally, that's my style, so the less is more angle (aside from the shiny Puma stripe) is right up my alley. Others may be looking for a more flashy shoe, but this styling will fit any attire and always make the wearer look good. Something that can't be said for that nasty pair of Timberlands you still wear around the yard.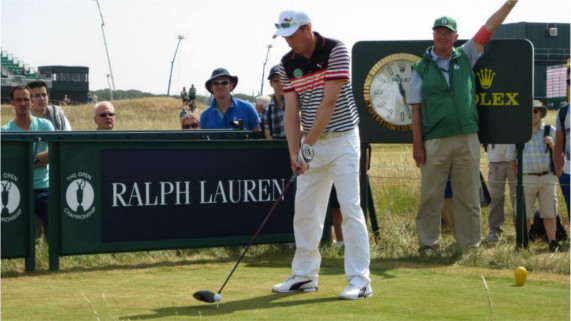 Traction: 
(10 out of 10) 14 replaceable S2Quill spikes (7 per shoe)! If that were not enough, those 14 cleats are paired with directionally molded S2QuillTec spikes for even more traction, especially around the greens where grass is short. On drives, where amateurs such as myself are prone to a foot slip, there were none to be found. The heel to toe transition is superb and when you come through with your swing, the toe spikes make sure your foot stays firmly planted in position for leverage. The spikes also work wonders on hilly courses or climbing your way out of an embankment.  
Durability: 
(9 out of 10) Through 90 holes of golf, all walking, the Puma ZL's are no worse for the wear. The waterproof  StormCELL exterior has performed flawlessly and the lacing system keeps the strings neatly tucked inside the upper portion of the shoe to prevent fraying. The outside of the shoe cleans up easily with a rag and a little water so those golfing tuxedo shoes will stay sparkling.  
Value: 
(9 out of 10) You get what you pay for with golf shoes. The same can't be said for much of the other equipment that goes into the sport. At $200 a pair, you don't quite have to be Ian Poulter to afford them, but it wouldn't hurt. If you walk a lot of tracks however, it's hard to put a price tag on this level of comfort – let a lone performance. I know I've been out on the course several times in the past and would have paid twice that cost on the spot if someone could heal my sore and blistered feet. With the Puma ZL golf shoe, I won't have to worry about that happening again. Money well spent.  
The Bottom Line:
These are the best golf shoes I've ever owned. Comfort during golf is something every player strives for. The Puma ZL golf shoe has shown me a comfortable 18 hole walk in the park. While the price is a bit steep, the happiness you'll feel at the beginning and end of each round is well worth it. Buy Now: On Sale as low as $109! or go to: shop.puma.com