The Adidas Energy Boost is the latest and greatest running shoe from the ever-expanding Adidas line.  The Energy Boost is a revolutionary design from the folks at Adidas which features a new "energy-returning" mid-sole material that contains thousands of capsules blown together through high pressure steam that Adidas says provides springy cushioning that acts like a trampoline under your feet.  To the naked eye the new "Boost" foam has a Styrofoam look to it and soft cushy feel.  When I read press releases my hyperbole radar is always on, so needless to say after reading about all of the innovations and claims from Adidas, I was a bit skeptical. But now, after 45 miles of runs, i'm happy to report the Adidas Energy Boost lived up to hype and then some!  Now for the fine print…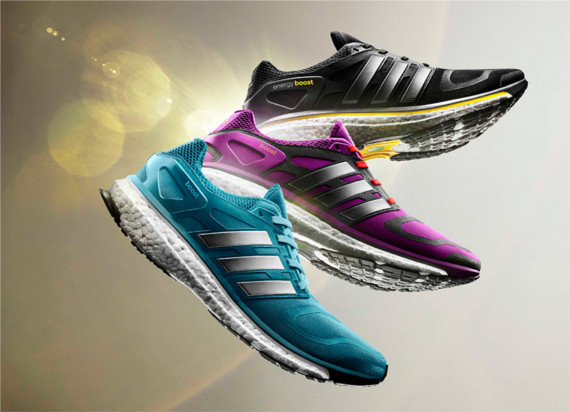 Adidas Boost Key Features:
Energy-returning boost midsole keeps every step charged with an endless supply of light, fast energy; TORSION SYSTEM for midfoot integrity
techfit technology for lightweight and flexible upper support
Flexible textile upper with welded synthetic overlays for support and stability
External heel counter for maximal heel fit and running comfort; miCoach compatible
ADIWEAR outsole offers the ultimate in high-wear durability
Weight: 9.5 oz. (size 9)
It's quite obvious already,  Adidas is putting all their marketing support behind the new Boost line and think that it's innovative design will change the way runners find that extra boost of energy to go the distance.