A good golf swing begins from the ground up.  So in order to get the right amount of power through your legs, you must have great traction and support starting with the proper shoes.  Throw in a maximum level of comfort and you're good to go all day on the course.  It came as no surprise that New Balance would deliver the proper amount of comfort and support in their latest golf shoe – New Balance Golf 574, but would they hold up over time? Let's take a closer look.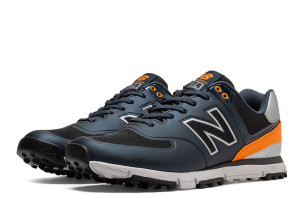 Key Features:
10 mm drop: due to variances created during the development and manufacturing processes, all references to 10 mm drop are approximate
Breathable mesh upper
Rubber outsole
Fantom Fit
REVLite
Ndurance
I've had my fair share of experience with New Balance running shoes and they have never let me down.  But this was the first for trying a pair of their golf shoes.  At first glance, the Golf 574's look very similar to the classic 574 sneaker.  This was intentional in order for New Balance to provide another level of comfort, durability, and style.  But then they went and added golf-specific technology designed to enhance traction, and stability, to help your overall game.  So "YES", the Golf 574 shoes look like a normal pair of sneakers, but with it's added golf tech, these bad boys were born to play golf.
Comfort: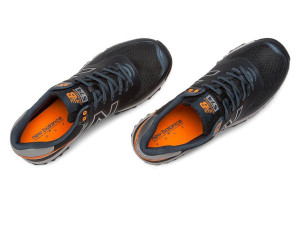 As with most shoes there is a breaking in period of at least a week.  If I didn't know any better, I swear these shoes were already there after the first time putting them on my feet.  The level of comfort was very impressive even after walking 18 holes.  This was mostly due to it's impressive light weight, which is possible through NB's REVlite technology that uses an innovative foam compound with the same durability and responsiveness of New Balance foams that are regularly 30% heavier.  By utilizing this lightweight compound, you're still able to get the maximum ride without minimizing stability.
Design:
One of the first comments out on the course was – "Are those golf shoes?",  I replied "YES" with a smile.  Without looking at the bottom of the shoes you really wouldn't even notice they are golf shoes, but just because they don't look the part, doesn't mean they don't play the part.  In fact, the Fantom Fit uses two thin materials fused together to create a skeletally engineered upper that provides another level of ultralight support and fit.  So a lot of the comfort comes from the design itself.  With the design targeted towards better comfort, traction, and durability, I'd say New Balance executed this very well.
Because these shoes have a mesh upper, they provide great breathability on those warm summer days.  However, they are not waterproof and I wouldn't recommend them for early mornings when the grass is very dewy.  When I first tested these shoes out, I noticed a little dampness in the toe area after an early morning tee time.  After spraying a some Heavy Duty Water Repellent on the mesh areas, they actually held up really nice in the morning and I never noticed any dampness on the inside after treating them with the spray.

Traction:
The Golf 574 is a Spikeless shoe which has gained more popularity in recent years, mainly because of the added comfort and style.   However, the trade-off of most Spikeless shoes will be less stability and grip.  Although not ideal for longer and wet grass, they do hold up really well on firm surfaces, shorter grass, and will remain comfortable past the 18th hole.  With that said, I have hit a few balls (a few more than I would like to admit) into the rough and I was able to take a full swing without any slippage.  So overall, the traction is not bad but is more noticeable if you are coming from a Cleated shoe.  The trade off of stability versus comfort is close but depending where you play and how often, having added comfort may or may not be the winning factor.  If you are looking for a Cleated New Balance option then be sure to check out our New Balance 2002 Golf Shoe Review.

Durability:
Because of the lightweight design, Spikeless soles, and mesh upper, I could see some durability issues over time in these areas.  However, the Ndurance rubber compound seems to be well made and able to last in high wear areas.  Plus with the new rubber developments, these Spikeless/rubber nubs may just outlast the lifetime of these shoes.  This has yet to be determined as I have not had enough time to wear them down.  My expectations are set high and will be sure to do a follow up if I am let down.
Value:
Coming in at just under $110 the New Balance 574 Golf Shoes are on point and a good value.  If you're looking for a comfortable shoe that'll remain comfortable till the last hole, then I highly recommend giving New Balance a try.
Buy Now:  $109.99 or to learn more, go to: NewBalance.com
New Balance Golf 574 - Range Review
The New Balance 574 Golf shoe is best suited for those looking for all day comfort on the course with good traction and support
The Good
Extremely Comfortable
Minimal Break-in Period
Reasonably Priced