Back in 2015, as some of you may remember, we published an article introducing Busted Wallet fans to an all-inclusive adult sleepaway camp named Camp No Counselors. After first hearing about it, we became infatuated with the idea of going away to summer camp as 30-somethings to relive our childhood as adults. As luck would have it, we were invited to attend CNC's first ever Michigan camp. Fall was in the air, the camp location was picturesque and we were primed for some serious time spent off the grid.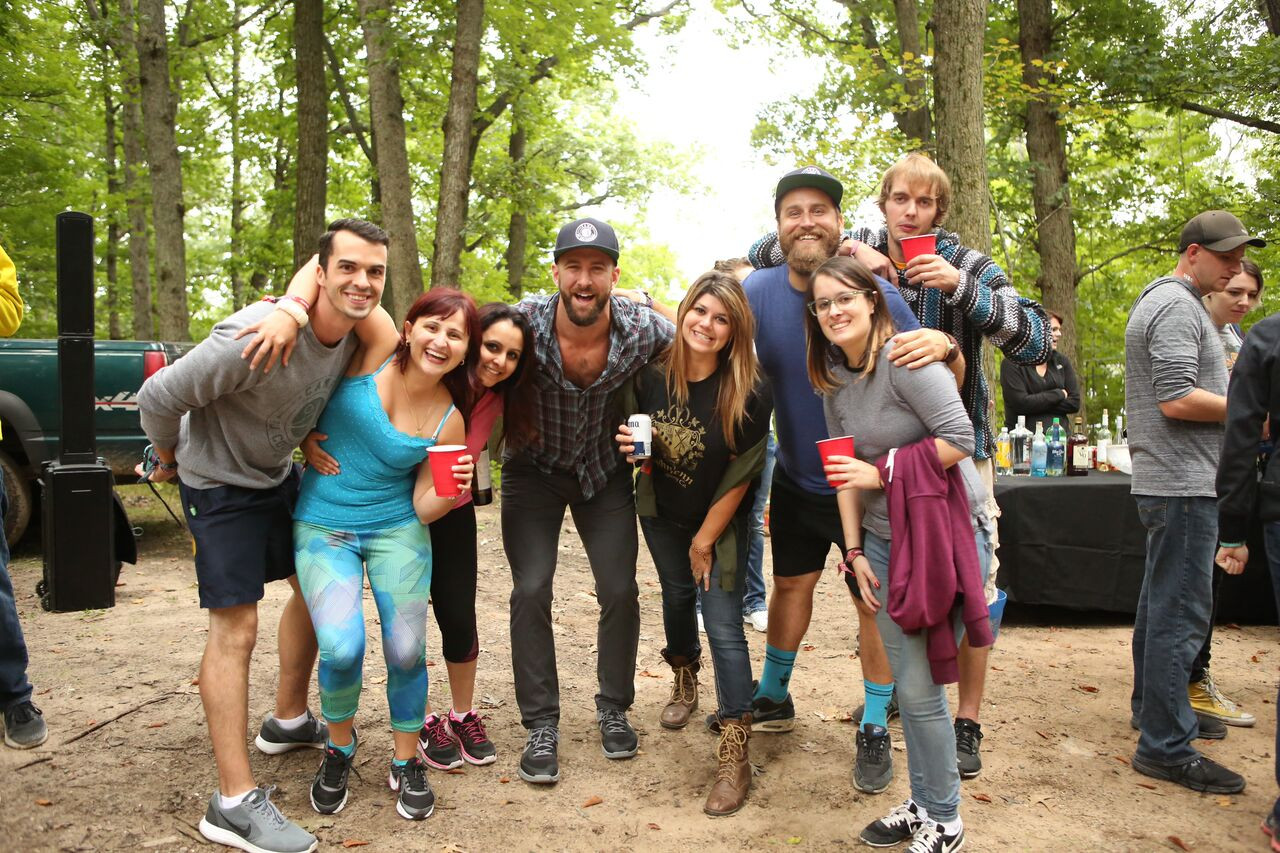 At Camp No Counselors the basic idea is really simple… have fun, play games, make friends, drink up and most importantly don't talk or think about work.
Enrolling for Camp No Counselors isn't an automatic process. Camps fill up quick and they don't just take any Joe Blow from off the street. During sign-up you will be asked a few questions to find out who you are and if you would be a good fit for camp. Then your application goes under review. So, who is the ideal camper for CNC? We asked…
Above all, we are looking for fun campers, who are down to have a good time. Because of limited space at each camp, we make sure the 90-200 people who are coming to camp are the people that want to be there the most. We want to make sure that this camp community will respect each other's space, and doesn't demonstrate any hateful or unsafe attitudes. We're very proud of the fact that we've never had anyone get into a fight at camp, even with people partying with an open bar available. -Dave Kushner, CNC Director of Community Engagement
What to expect…
Each day at CNC is filled with activities and each night is filled with music and dancing. Some of our favorite memories from camp included dancing with our instant BFFs for the weekend. Dancing in our cabin (aka Club 8), dancing at the talent show and dancing at the theme parties. The theme parties were bananas. Our weekend themes were Jock Jams on Friday night and Spirit Animals on Saturday night. DJ Dash was incredible and as usual so were my dance moves. On theme nights you'll want to bring your "A" game. Everyone is dressed to impress and totally decked out. We almost packed a entire other suitcase for our costumes.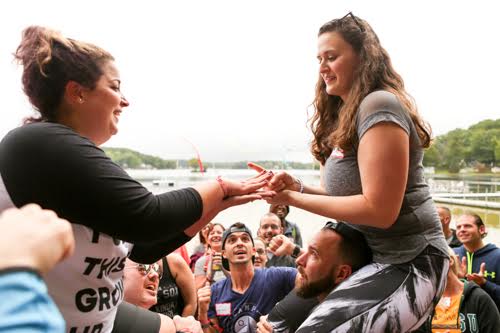 When it came to camp activities it's almost hard to remember all the options we were given, but some of our favorites were zip-lining, dodge ball, tubing, kayaking, archery, lazy river tubing, friendship bracelets and capture the flag. Activities start shortly after breakfast, go all day and are led by the non-counselors. Every so often we were surprised with spontaneous activities like sumo wrestling on the beach. However, our all time favorite was the all-camp rock, paper, scissors battle – which Busted Wallet's own Stefanie nearly won – but in a moment of weakness she threw paper and got cut to shreds by some scissors. Thankfully CNC also employs a camp photographer to catch all the epic moments. Thanks Naomi!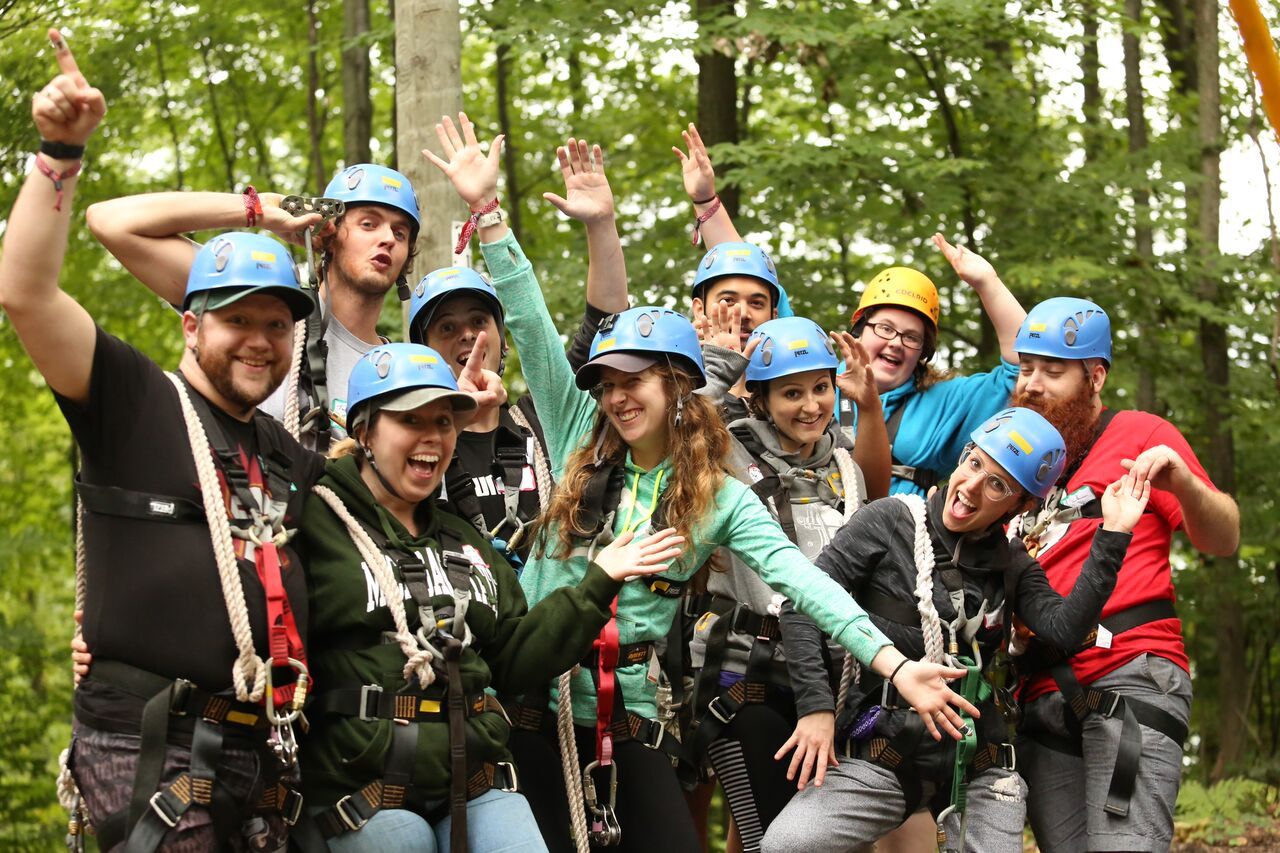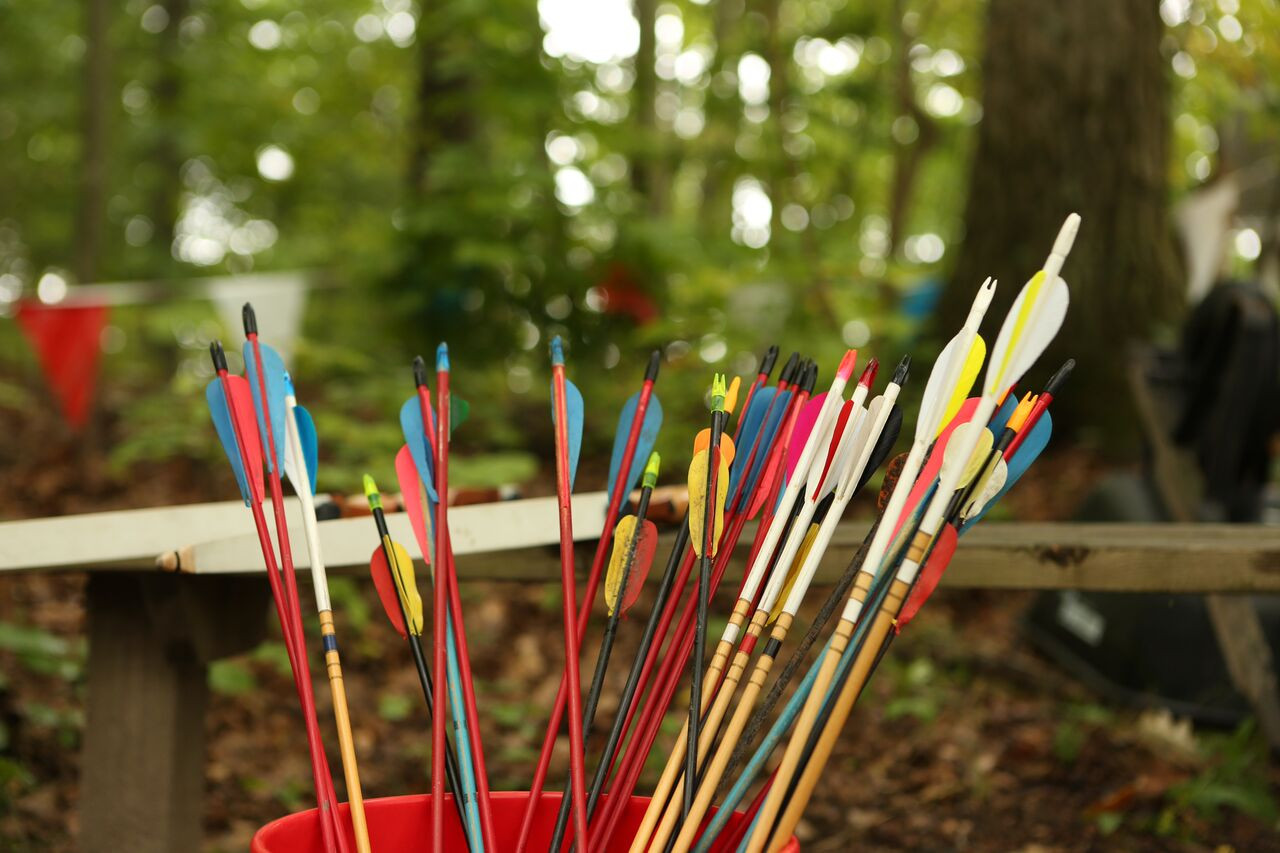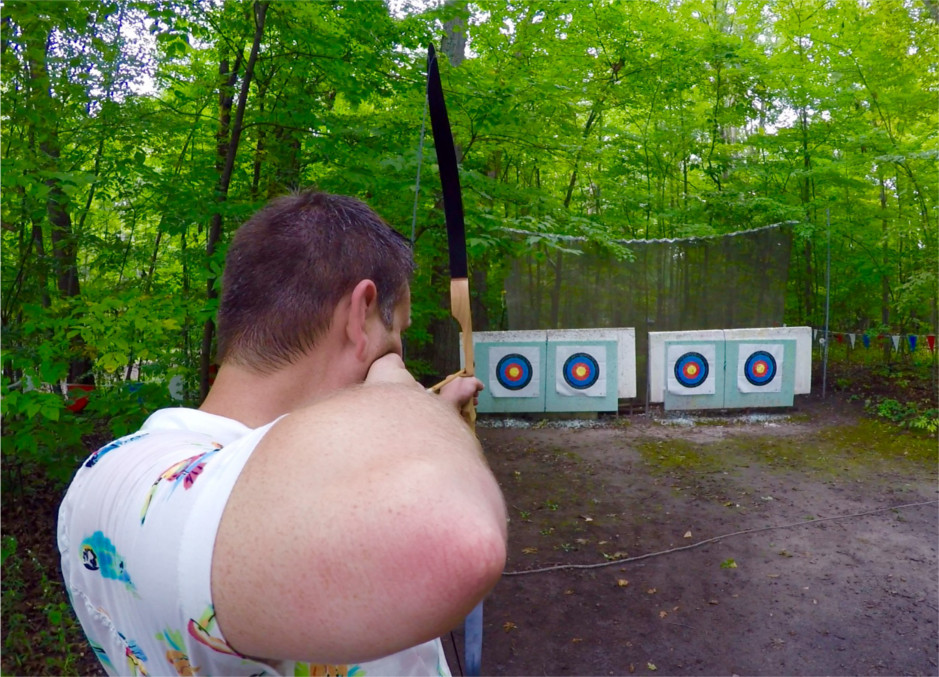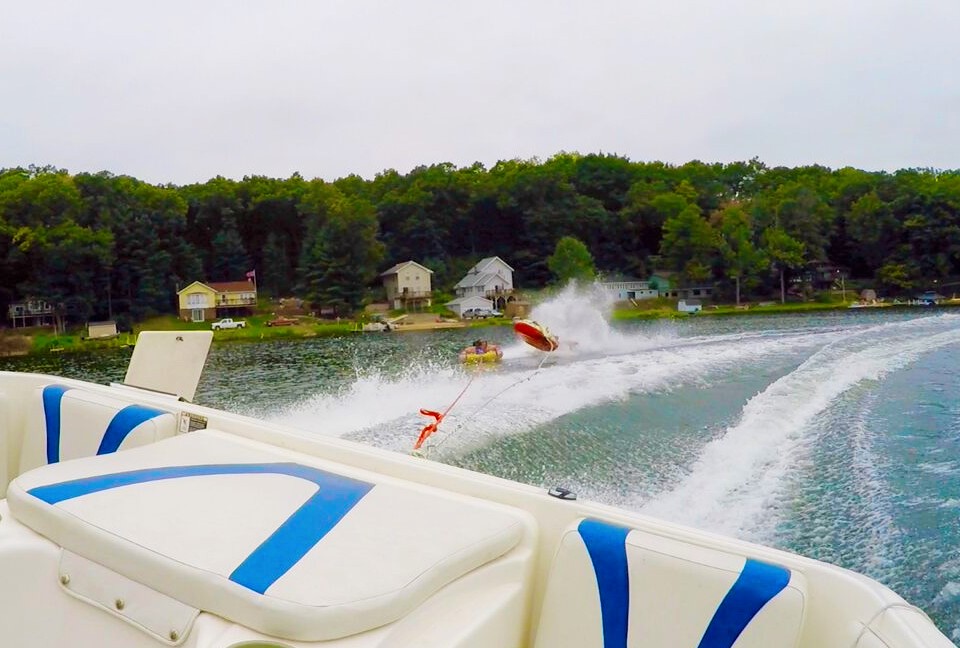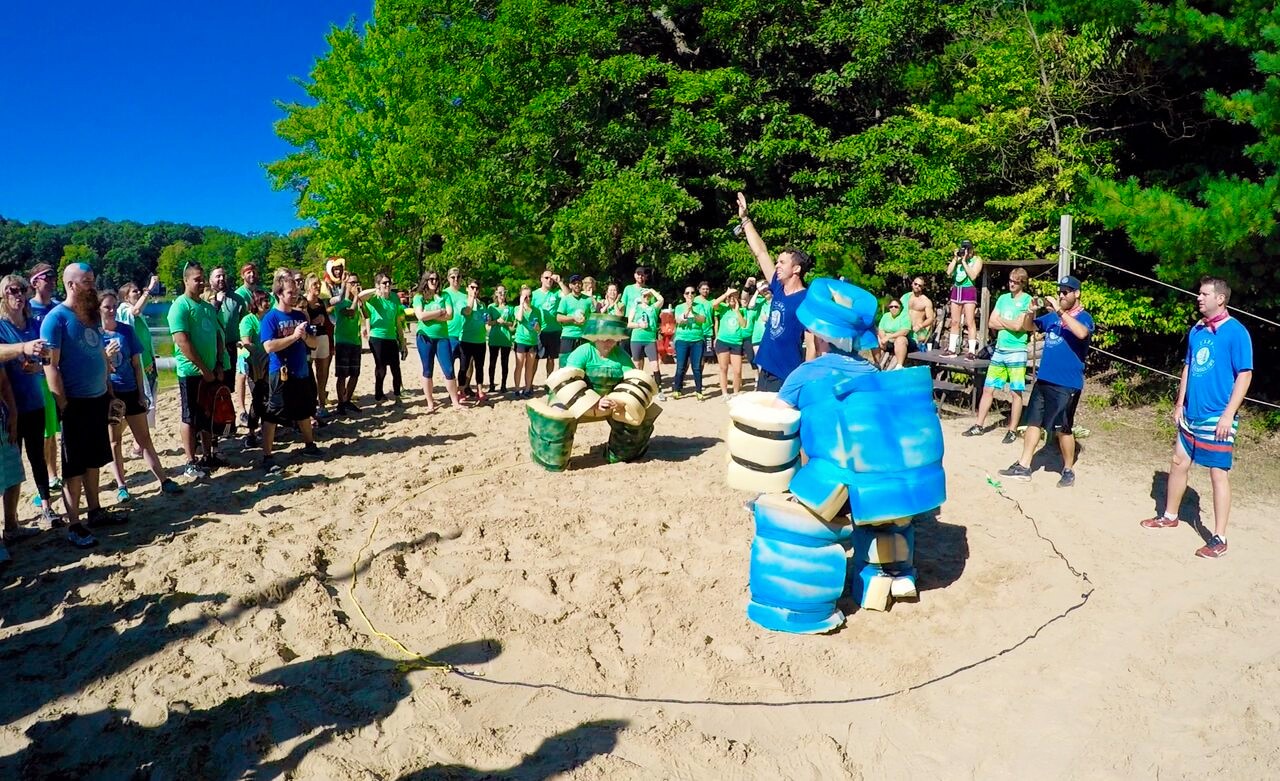 Hangry? No problem…
Let's talk about food and drinks for a moment. At Camp No Counselors you've paid for an all-inclusive experience and camp food might not sound all that enticing. That said, I have to say we really enjoyed the food. The staff in the Camp Newaygo kitchen did a fantastic job with all the meals. For lunch we enjoyed food like burgers, hotdogs, tacos, salads, quesadillas, assorted snacks they also had yummy vegetarian options as well. At dinner on Saturday night we were served steaks, veggies, pasta and dessert. Each day, begins with a breakfast buffet (cold at 8 AM / hot at 9 AM). We preferred the hot breakfast and enjoyed waffles, eggs, bacon, toast, coffee and of course a few mimosas and bloody marys.
Speaking of drinks… CNC serves your choice of adult beverages during each meal. During the morning you can sip on some mimosas and bloody marys. At lunch and dinner you can enjoy beer and wine. In the evenings you can get everything I already mentioned plus your favorite cocktails. If you go thirsty at CNC, it's your own damn fault.
This. Is. War!
So we've told you about the activities. We've told you about the food and drinks, we've told you about the late night theme parties that get WILD. Now lets talk about something serious… let's talk about the COLOR WAR!
Color War is one of the most iconic aspects of the summer camp experience. All campers are assigned a color team, one of blue, green, red or grey, and compete against each other in a litany of camp activities. The activities range from classic games like dodgeball, to more creative competitions like flag design or lip sync battle. We also like to sprinkle in a surprise event at each camp like Human Hungry Hungry Hippos, or a Sumo Suit Battle. Then the entire camp participates in a giant Apache Relay, just like in the movie Heavyweights, except our Apache Relay culminates in a massive round of Slip n Flip, which is, of course, slip n slide combined with flip cup. At the end one team will be triumphant, and gets to celebrate with champagne shower, and medals. -Dave Kushner, CNC Director of Community Engagement
Color War is a big part of your weekend at CNC. At some point on Friday the camp is split into teams and team shirts are handed out to everyone. In our case it was the blue team versus the green team. Color War doesn't actually start until Saturday afternoon, but once the shirts are handed out you better believe the games have begun!
On Saturday afternoon teams wage war in games of dodgeball, capture the flag and sumo wrestling. Team flags are made. Team captains are picked. Chants are bellowed throughout the woods. And it all comes down to one huge team event in the end… the Apache Relay. In the Apache Relay both team square off in a massive relay race with obstacles that include kayaking, apple bobbing, cereal eating, swimming and ends in an all-camp slip n' flip head-to-head face off. If your team makes it to the slip n' flip first you're in the lead, but anything can happen! On this day we sent 45 blue team members down the slip n' flip in record time – flipped the last cup and won the relay!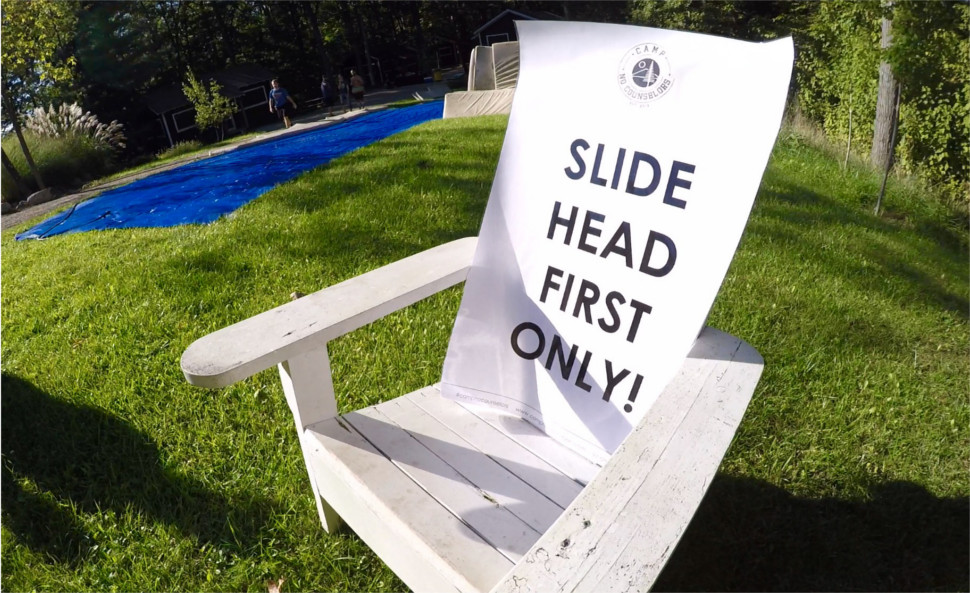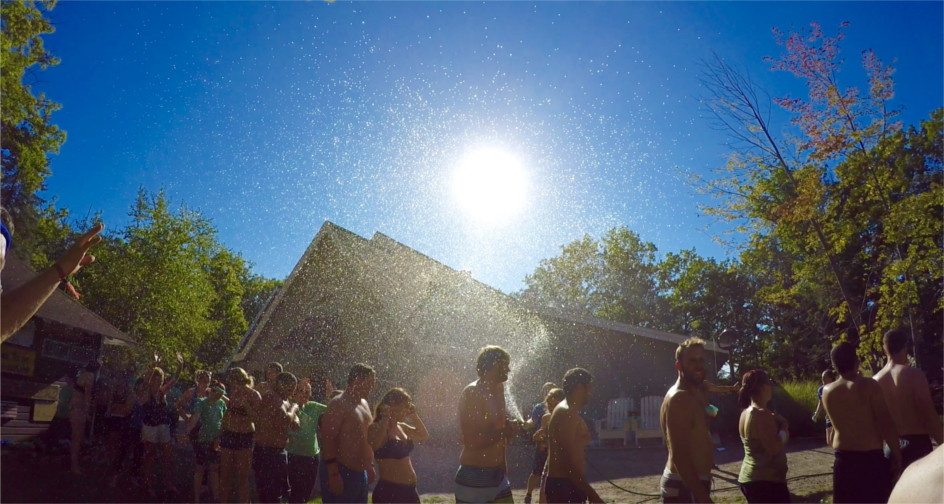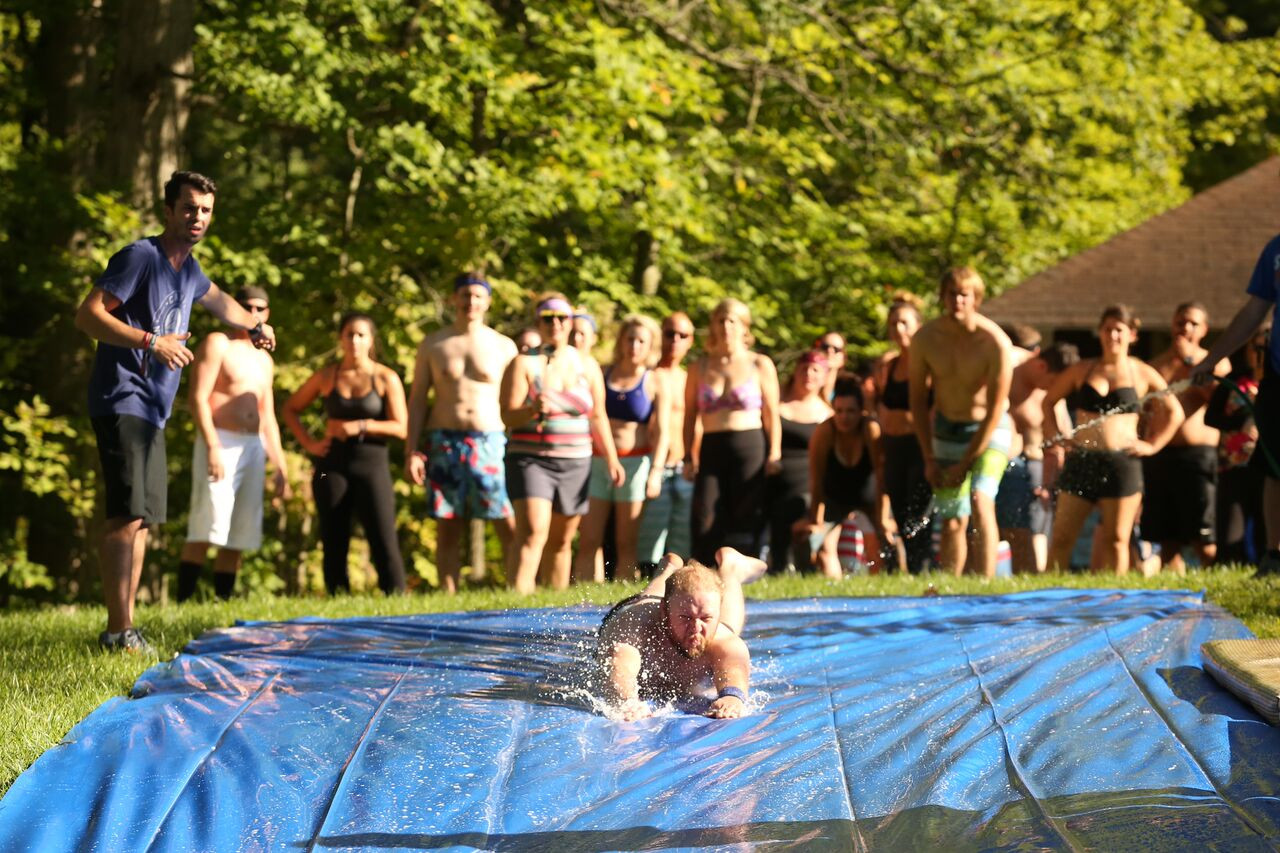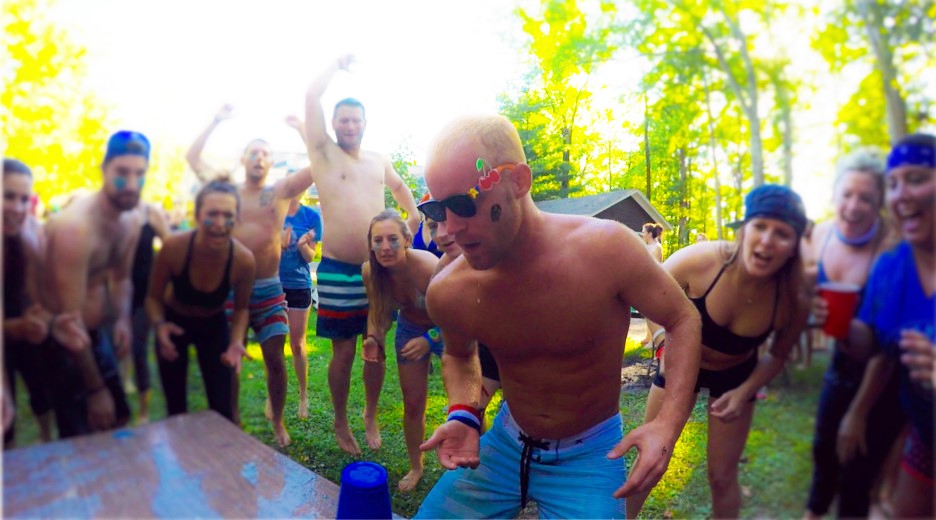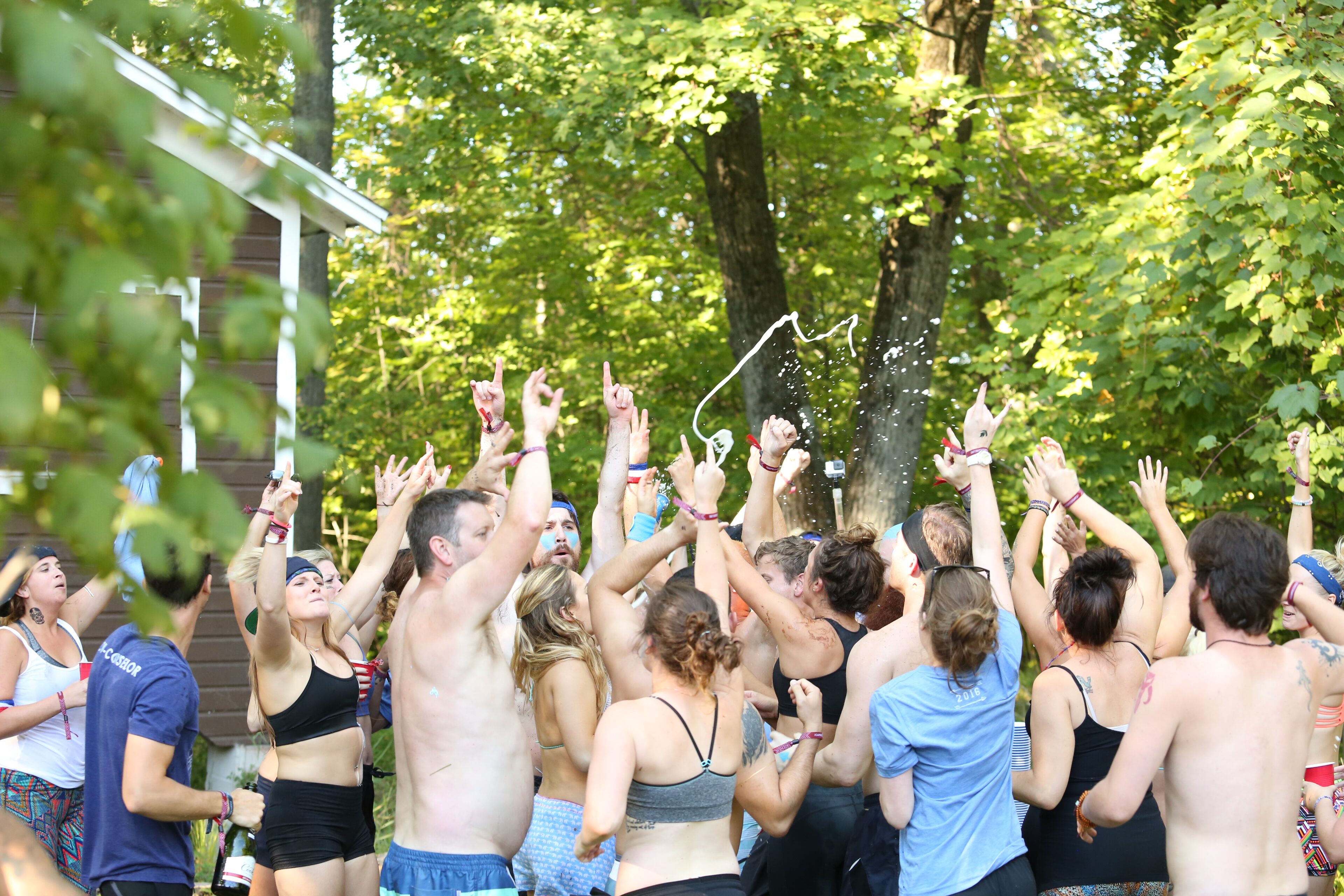 As the captain of the blue team I can't even explain how excited I was for my team to have won. The camaraderie was incredible, the games were fun and the champagne celebration was epic. As we cheered, non-counselors popped bottles of champagne, sprayed silly string and music was blasting in the background as our team was jumping up and down cheering "blue, blue blue!" until most of us lost our voices.
If you haven't noticed by now Color War is intense and incredibly fun – but more than anything it was extremely fun and well run by the non-counselors.
One last dance…
After the Color War is over, the two teams become one again. Dinner is served, drinks are shared and everyone is even better friends. After dinner, on Saturday night the non-counselors host a talent show and an awards ceremony. At the awards ceremony they hand out CNC crowns for camp MVP, Rookie, cutest couple and more. Then it's on to the theme party. The party goes all night – nobody wants it to end.
Suddenly the sun rises, you fight waking up… but you remember HOT BREAKFAST! This is the moment you realize camp is over. It is sad, people start hugging goodbye and you realize the real world is waiting for you.
At the beginning of camp you'll find it hard to believe you can have so much fun in three days. You'll also find it hard to believe that you could make so many new friends.
As we wrap up this article we're finding it hard to complain about anything we encountered at CNC. The camp was beautiful, food was on point, the weather was great and staff most importantly was incredible. They drank with us, they played games with us and showed everyone a great time. One of their mottos is "Play like a kid. Party like an adult" and it is quite apt. We did both at CNC and are already planning out next trip to camp.
For those of you who might be planning your own CNC trip in the future here is some pro tips from our camp that will help you make the most out of your experience.
CNC Staff Pro Tips from Dave:
It's a marathon, not sprint. People get to camp the first night, and are so excited to be there that they stay up all night, all enthusiastically going nuts. When the first activity period rolls around the next day, they discover their grown-up bodies can't get them to kickball, or capture the flag. Pace yourself, because they pack the weekend full of fun.
Be open minded. You're going to meet campers from all walks of life and from all over the world. Step outside of your comfort zone, and get to know people who you would normally never cross paths with. Be aware that not everyone may see things the same way as you, but that's what makes camp fun. Same goes with activities. I've seen dudes scoff at the idea of doing arts-n-crafts in some kind of macho way on day one, and then on day two they're there with huge smiles on their faces putting the final touches on their sunglasses or friendship bracelets.
Make your bed before you party. I'm not a regimented, make my bed every morning kind of person. But, there's nothing worse than going to crash at 3am and you realizing you never put your sheet on your bed. There's definitely an extra challenge level to getting that sheet onto a bunkbed, be it top or bottom bunk.
Busted Wallet Pro Tips:
Sign up for your camp activities ASAP. The best activities fill up fast.
Hydrate, hydrate, hydrate! Bring a Nalgene or water bottle and keep it with you.
Bring a bluetooth speaker and host your own cabin parties during down time. Music always gets the party started!
Pack a small cooler and keep some fresh adult beverages in your cabin for in between activities and for the after party.
Take a lot of pictures and send Snaps to your friends who didn't come to camp.
Colors War is WAR! Take is seriously.
Don't be a Color War captain unless you're ready for the responsibility. Directing 45 adults who may be a little buzzed can sometimes be like herding cats.
If you're considering planning your own trip to Camp No Counselors and wonder if the $599 – $799 price tag is worth it – you're not alone. We wondered the same thing. It's no small chunk of change. However, after spending the weekend at camp we can vouch for the experience and it is worth every penny and more! Camp No Counselors is an experience of a lifetime. We would do it again in a heartbeat.
Hosting camp at 10 locations throughout the US and Canada in 2017, there will be a CNC coming to a town near you. For the full run down of locations we suggest heading over to CampNoCounselors.com
Looking for an epic way to bring in the 2018 New Year? CNC has put together an epic and rejuvenating New Year's getaway that you will never forget.
There are 5-day, 3-day, and one night packages so you can come for a getaway weekend or just a day of fun + NYE party! They have 3 levels of accommodations from hotel-style rooms to a more rustic style platform tent. Pictures and details here. They will be offering off-camp excursions for the first time! 5 and 3-day campers will be able to go on a wine safari, surfing, and sign up for goat yoga! Info on each here Other new additions include a movie night, mountain biking, and campfire jam. We have not yet released who will be performing! Sign up here!
Photos Courtesy of: www.naomiepsteinphotography.com
First Timer's Guide to Camp No Counselors
If you're looking for the ultimate adult sleepaway camp experience including fun activities, good food, endless drinks and an amazing staff, look no further. Camp No Counselors is 100% legit. We can't wait to go back!
The Good:
Incredible experience. We already are planning our next camp trip
The staff is energetic and knows how to party
You will walk away with many new friends
The Not so Good:
In the end you have to leave and go back to real life. It is SO SAD!