Ever dream of reliving your childhood? Dumb question, yeah, I know – we all have! How nice would it be to abandon the stress of your career, bills and ridiculous grown-up responsibilities? I think we all can agree that would be amazing. The only problem with being a kid again is the fact that as a kid you were a little soft-headed, totally awkward and for Christ's sake you couldn't even drink beer!
What if I told you there was a place that you could go to relive your childhood Summer Camp experience, minus the dangers of time travel? Would you want to go? What if I told you this camp offered slip n' slide, happy hour, whiskey tastings, dance parties, friendship bracelet making, painting, ping pong and a talent show? Huh, do I have your attention now? Thought so…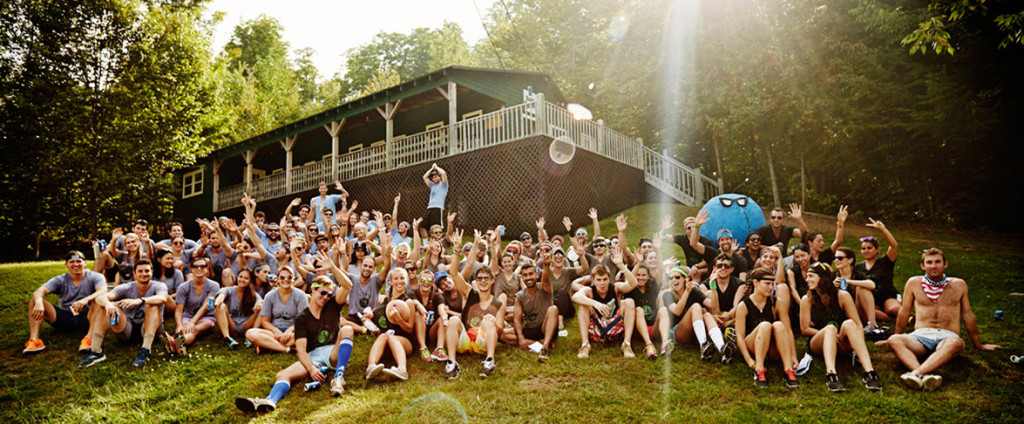 Introducing Camp No Counselors, an all-inclusive sleepaway camp for grown-ups. With camps in Austin, Boston, Chicago, Los Angeles, Miami, Michigan, Nashville, New York, San Francisco and Toronto, CNC offers 3-day packages starting at $550. What will that get you? For starters… your lodging and accommodations as well as meals, snacks and s'mores. Not to mention they have an open bar the entire weekend as well as nightly themed parties!
Other activities include: Archery, Arts 'N Crafts, Basketball, Capture the Flag, Color War, Dodgeball, Nature Hikes, Paddle Boarding, Relay Races, Ropes Courses, Sailing, Scavenger Hunts, Softball, Sunbathing, Swimming, The Blob, Tie Dying, Tubing, Tug of War, Ultimate Frisbee, Wakeboarding, Water Skiing, Water Slides, Water Trampoline, Zip Line and much more.

Just like your childhood Summer Camp, CNC offers you a chance to get away from home, grow, meet new friends and totally let loose.
"We specially curate groups of up to 200 adults for each camp weekend to create a diverse yet intimate environment, enabling adults to strengthen old friendships and build new genuine friendships, just as they did when they were kids. Through our registration process, we select a dynamic mix of fun, talented, inspiring and creative people to ensure an unforgettable camp experience."
A typical day at CNC looks a little something like this…
9:00 – 10:00am: Breakfast (Eggs, French Toast, Bacon, Fresh fruit bar & yogurt, Toast bar, Cereal, Milk, Orange Juice, Coffee, Tea and of course Mimosas and Bloody Mary's!)
10:30 – 11:30pm: Morning activity period 1 (choose between ropes course, capture the flag, the blob, arts 'n crafts and many more activities)
11:30 – 12:30pm: Morning activity period 2 (choose between water skiing, tubing, free swim and many more activities)
1:00 – 2:00pm: Lunch (Barbecued grilled chicken, Hamburgers, Hotdogs, Coleslaw, Potato salad, baked beans, Fresh salad bar, Soup of the day, Juice, Water and of course a selection of beer and wine)
2:30pm – 3:30pm: Afternoon activity period 1 (choose between hike, wake-boarding, archery, sunbathing and many more activities)
3:30pm – 4:30pm: Afternoon activity period 2 (choose between hike, friendship bracelet weaving, slip 'n slide, dodgeball and many more activities)
5:00 – 6:30pm: Nap/shower/relax or maybe we'll surprise you with a camp-wide scavenger hunt
6:30 – 7:30pm: Happy Hour
7:30 – 8:30pm: Dinner (Grilled skirt steak, roasted vegetables, baked rosemary potatoes, fresh salad bar, dinner rolls, Banana Cake, Juice, Water and a full open bar)
8:30 – 10:00: Camp-wide activity (talent show etc.)
10:00pm – 2am: Dance party
Okay, now that you know Camp No Counselors exists and that it is totally amazing the only thing you have left to do is register for your next stay. Right now most camps are filling up quickly, but with more than 10 camps all over the US and one in Canada too now's your chance to sign up and act like a kid again.
If your from Michigan join the Busted Wallet crew at the Newaygo, MI camp in September. We'll be there!
Find out more at: CampNoCounselors.com