We get pretty excited about some of the products that come down the line here at Busted Wallet and the Dyson V6 Absolute is one of those products! Anyone looking for a cordless cleaning machine that can handle some serious messes with attachments to tackle any surface, your search is over. When researching the formation of the Dyson brand, we were brought to their website and brushed up on where it all started. "In 1978, James Dyson became frustrated with his vacuum cleaner's diminishing performance. Taking it apart he discovered that its bag was clogging with dust, causing suction to drop. He'd recently built an industrial cyclone tower for factory that separated paint particles from the air using centrifugal force. But could the same principle work in a vacuum cleaner?" Fast forward 38 years and Dyson has evolved into THE vacuum brand that guarantees clean. The Dyson V6 Absolute is designed to tackle both hard wood floors and carpet with two very different cleaning heads, as well as hard to reach places with four additional attachments. We've spent the past couple months testing it ourselves! Check out how it measured up…
Key Features & Specifications:
Whole Machine HEPA Filtration
Cordless
Soft Roller Head for Hard Wood Floors
Direct Drive Cleaner Head for Carpet
Max Power Mode
Converts to Hand Held Cleaning
Hygienic Bin Emptying
5.1 lbs
Max Suction Power: 100AW
Bin Volume: .11 gallons
Run Time: 20 Min.
Charge Time: 3.5 Hrs
What's in the box:
Dyson V6 Absolute with Soft Roller Head and Direct Drive Cleaner Head
Mini Motorized Tool
Mini Soft Dusting Brush
Docking Station
Combination Accessory Tool
Crevice Tool
2 year Warranty and Operations Manual

Dyson V6 Absolute Review Breakdown
Design:
When we opened the box we didn't realize how much we were getting in one average sized package. Five attachments to choose from and attach to a flashy, matte finish cherry red wand. The two main cleaner heads mix the cherry red color of the wand with an accompanying purple scheme with sliver/grey accessories. This isn't your average looking vacuum. It looks and feels like something from the future. The vacuum only weighs 5.1 lbs and makes cleaning any surface a breeze without any of the added bulk of some vacuums. After charging it up, it took two clicks to attach the extended wand and our first choice, the soft roller head. The lightweight machine glides and rotates around all corners of cabinets, couches and lifts easily into the air for those hard to reach places because the center of gravity is located towards the grip. For hardwood floors we would run it on normal power but for carpet we switched to the direct-drive cleaner head and pushed the MAX button. It would have been nice to have an On/Off button versus a manual hold. After sometime your finger does get a little tired holding down the trigger.
Cleaning: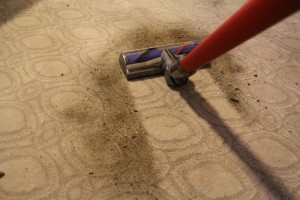 The Dyson V6 Absolute is built to handle multiple cleaning projects, just choose what type of cleaning job you need completed. We went with the soft roller head to tackle our hard wood floors that cover he majority of our living space. The soft roller head is made of a super fine short bristles that not only pick up tiny debris but large chunks of it as well. Debris and dust was picked up in the very first pass, leaving the floor 100% clean. We did the same test attaching the direct-drive cleaner head made for carpet and it preformed best on the MAX cleaning function.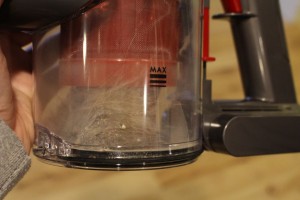 Any family member that suffers from household allergens will appreciate it's whole machine HEPA filtration and Asthma & allergy friendly certification. Dyson accomplishes this with two tiers of 15 cyclones that generates a powerful centrifugal force to spin the dust and dirt out of the air. And when you're ready to get rid of all that dust, dirt and bacteria (every time you do this you'll think, "Geez, I'm a slob!") simply push a button while holding it over the garbage and it drops right it. It's the cleanest bag emptying process we've ever seen. Once one of your lifetime filters starts looking a little on the sad and dingy side, you can wash it!
Attachments:
Swap out the cleaning wand and attach the mini motorized tool, crevice tool, or combination accessory to transform the vacuum into a handheld device to pick up quick messes like a supercharged dust buster. Take it into your living space to suck pet hair right off of couches and chairs, use it on carpeted or hardwood stairs, slide it along your blinds, you can even bring it out to your vehicle and it would definitely benefit from this multi-demential machine.
Battery Life:
Most of our power and charging tests surpassed what the manual had reported. On a full charge we ran the vacuum on MAX for 8 minutes before it cut out and the manual reported only 6 minutes. On normal power it ran for 19 minutes, gave a low battery warning and ran for another minute for a total of 20. The manual reported 17 minutes on normal power. Once your vacuum runs out of juice, the charging takes at least 3.5 hours. This was one of the low points in our opinion. For a vacuum on the cost, the run time to charge time is pretty imbalanced.
Value:
With the name Dyson, you know you're investing in a high quality piece of machinery but it definitely would be an investment. Based on Dyson's website, 577 of 585 reviewers would recommend the Dyson V6 Absolute to a friend and we would too! Dyson is currently offering this vacuum for $599.99, but we have seen them offer up a sale price of $479.99. We think that price point much better and feel like it better reflects the quality of work the vacuum does paired with the short operating time/charge time. So if you can stalk their website and hold out for a sale, do it.  Included is a 2 years parts and labor warranty and a 30 day money back guarantee. If you ever have any questions, you can live chat with someone on their website or call their US based customer service center.
Buy Now: $599.99 or to learn more, go to: Dyson.com
Dyson V6 Absolute - Tech Review
This vacuum packs a serious punch and will tackle the messiest wide open spaces and itty bitty nooks and crannies!
The Good:
Cleaning Power
Attachment Choices
Lightweight and maneuverable
The Not So Good:
Battery Life
Pricey
No 'ON' Switch