Who doesn't love some great curves? Did you know if you posses this handy tool called a band saw you can create your own curves to have and to hold? Well if not, let me blow your mind as Craftsman sent Busted Wallet one of their 14 inch band saws to check out. As we've said before, Craftsman is known for making quality tools and this band saw is no exception. Anybody into woodworking has or wants a band saw. It's essential for cutting nice tight curves into wood pieces as you now know. Another great use of a band saw is resawing wood as well. Now, let's see what this tool is all about.
Key Features:

1 hp motor
Sturdy cast-iron base
2 dust collection ports
8″ resaw capacity
2 speeds for wood and metal cutting
45 degree tilting table
Craftsman 1 year limited warranty
Craftsman 14″ Bandsaw Review Breakdown
Assembly:
The Craftsman band saw comes well packaged and is hefty at roughly 160 pounds so if you have a friend handy have him or her help you lug this thing around. Of course I didn't need any help because you know…I'm really strong. Regardless of how strong you think I am (really strong) assembly of the Craftsman band saw was straight forward and simple. Most of the assembly involves putting the base together and installing the saw itself on the base. After that you install the table trunnion and table as well as some other handles and knobs. Overall, unpacking and assembling the saw took me about an hour. Craftsman furnishes the saw with a blade installed out of the box, which is nice.
Adjusting:
Adjusting a band saw is important and is really helpful if it is easy. There is some squaring of the table to the blade to be done after assembly which is fairly simple to accomplish with the adjustment bolts in the table and trunnion. There is a helpful clear window in the shroud to see how the blade is riding on the wheels which is nice to easily see. If any adjustments are needed to the wheels it can be done on the back side of the saw with adjustment bolts on each wheels axle. On the upper back side there is a convenient knob adjustment for the blade tension with a tension gauge. The saw Craftsman sent us did not need too much adjusting but I played around with the adjustments anyway to get a feel how they worked.
Performance:
Upon first turning the saw on I was surprised how quiet it was compared to my other power tools. The motor seemed to have plenty of power for the tasks I threw at it. First I cut simple curves into 1/2″ plywood without issue. I tested out some 5/4 Red Oak feeding the saw gently and then quite aggressively. I was able to strain the motor somewhat but in most cuts I would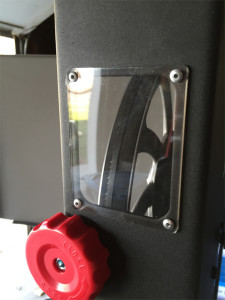 perform I wouldn't feed the saw that hard. Then I cut some 4/4 and 5/4 Hickory pieces in various cross cuts and curves. I set the Hickory on end at about 4″ thick and cut roughly 1/4″ slices without the motor straining to keep up feeding the saw at a moderate rate not pushing too hard. Tilting the table of the saw and cutting also did not seem to degrade the performance. Overall I think the saw has plenty of power to perform most any task I would ask of it. The saw seems to be quality made and sturdy. Craftsman didn't give it any bells and whistles like some of the higher priced competitors have like an attached work light, a quick release tensioner for blade changing, and a table fence to name a few. To get these bells and whistles you will be paying almost double though so I'll take the solid bare bones Craftsman saw and add the items I really want later.
Value
The Craftsman 14″ band saw is a bare bones, no frills tool built with ample power and quality. Priced at $469.99 Craftsman's offering is at the lower end of the price range compared to the competition but for someone like myself with a true Busted Wallet I would highly recommend this tool.
Buy Now: $469.99 or to learn more, go to: Craftsman.com
Craftsman 14 inch Band Saw - Tool Review
A nice saw at a good price compared to others in a comparable size band saw. Perfect for home projects and your growing garage or woodworking shop.
The Good
Amply powerful 1hp Motor
Sturdy Quality Construction
Price
The Not so Great
Quick release tensioner might be nice