Cody Road Bourbon - Drink of the Week
Handcrafted in small batches utilizing grains sourced within 25 miles of their LeClaire, IA based distillery, Cody Road Bourbon is produced from a not-so-secret recipe consisting of 70% corn grown in LeClaire, 20% wheat and 10% unmalted barley plucked straight out of Reynolds, IL. To say Mississippi River Distilling Company is keeping their operations local, affordable, and sustainable would be an understatement. Something that many of the "Big Boys" in the liquor industry have either lost sight of or never opened their eyes to see.
So what makes Cody Road Bourbon so unique besides their efforts to distill only from locally grown grains? Well, the aging process for starters. You see, while most bourbons are aged for a minimum of 2 to 4 years in 53 gallon barrels. Cody Road is matured for only one year, in newly charred 30 gallon oak barrels. Why? It's a simple ratio effect. The smaller the barrel the quicker the aging happens, and since there's no mandated age requirements for a bourbon to be considered a bourbon the distillers over at MRDC figured out a smart way to cut down the arduous waiting period and get their whiskey to market quickly.
Said to deliver a flavor and aroma experience unlike any other bourbon, Cody Road's profile is described by their team as:
"the sweetness of corn, light fruit from wheat and a grassy, nutty finish from the unmalted barley. Vanilla and caramel from the oak dance around the sweet grain. Bottled at 90 proof, this bourbon has enough kick to know it's bourbon, but a beautifully smooth finish. It is a grain forward whiskey by design, as our whole story here is about the local grain we use in each batch. A remarkably unique flavor with our signature smoothness."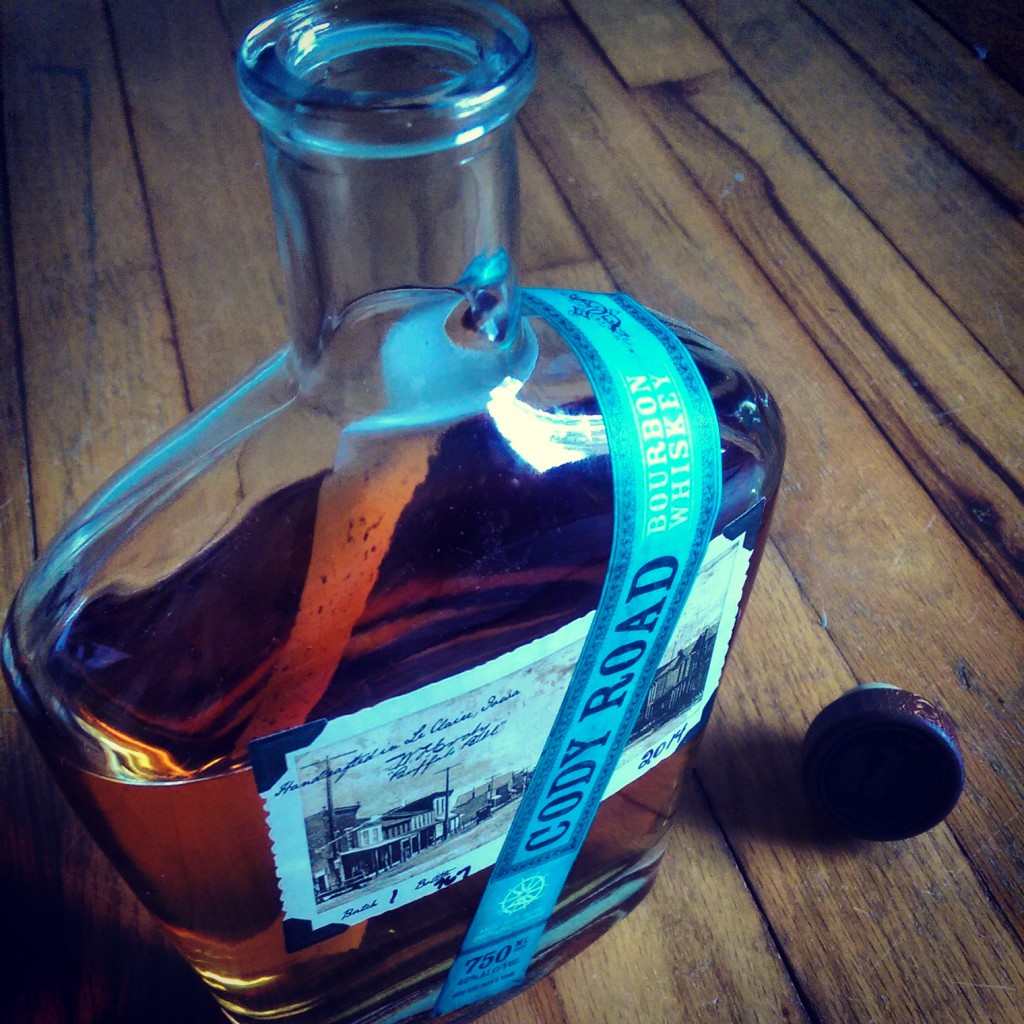 What's in the name? Well, as the story goes… in 1846, William "Buffalo Bill" Cody was born in LeClaire, Iowa. On his journey down the "road of life", he inspired and entertained many. Cody Road Bourbon is named in his honor. 
Earning a Silver Medal at the 2013 San Francisco World Spirits Competition (among other accolades), upon first hearing about this truly unique bourbon brand, we knew we had to give it a whirl. Not only is it handcrafted, produced locally in small batches and brought to life at 90 proof through an impressive aging process – but let's be honest… that bottle is down right handsome and has some serious eye appeal! So, needless to say, when the folks over at MRDC looked to us to review their 1 year old infant bourbon we signed on and prepped the tasting table faster than to shakes of a persian kitten's whiskers. And here's what our team discovered…
Cody Road Bourbon Review Breakdown
Proof: 90 (45% ABV)
Age: 1 year
Appearance: Luminous Amber Brown
Nose: Vanilla, oak, caramel, earthy tones
Flavors: Caramel, honey, vanilla, wood
Price: $34.99 USD (750ml.)
Scoring an 8.4 out of 10 from our crew of seasoned whiskey fanatics, Cody Road Bourbon is a truly impressive spirit – especially when you consider its age. Typically bourbons this young lack complexity and character, but as we found out, the small barrel aging technique used here actually delivers an impressive profile that's mature with flavors of caramel, vanilla and oak. Making it ideal for both sipping on the rocks or mixing up your favorite cocktail – or as we found out… the recipe we've included just below. Cheers!
MIX IT UP… "Anchors Away"
Ingredients: 1 oz. Cody Road Bourbon 2 tsp. Triple Sec 2 tsp. Peach Brandy 2 tsp. Maraschino Liqueur 2 tbsp. Heavy Cream Several Drops Maraschino Cherry Juice
Directions: Mix with ice in shaker. Serve in old-fashioned glass and enjoy!