Angel's Envy Rye - Drink of the Week
As you might recall, earlier this year we published our review of Angel's Envy Bourbon. Since that time we discovered not only is Angel's Envy a truly delicious bourbon worth picking up, but that the folks at the Louisville Distilling Co. have begun bottling two new(er) variations of their small batch creation, including – Angel's Envy Cask Strength (which we intend to review soon!) and a newly released Rye Whiskey.
Distilled with the same deliberate care as the original, Angel's Envy Rye utilizes a carefully selected blend of Rye to give this whiskey a distinct level of spice that veteran whiskey fans can appreciate and novices will be intrigued by. After maturing in new oak barrels (for 6 years) Wes Henderson and crew finish their Rye Whiskey in Plantation XO Rum barrels that were originally used to age cognac. After spending up to 18 months in the Caribbean rum casks the whiskey is ready for bottling.
Hitting liquor store shelves at 100 proof, Angel's Envy Rye is by far one of the more intriguing whiskies on the market today. Which is why we were very excited to get our hands on a few bottles for tasting recently.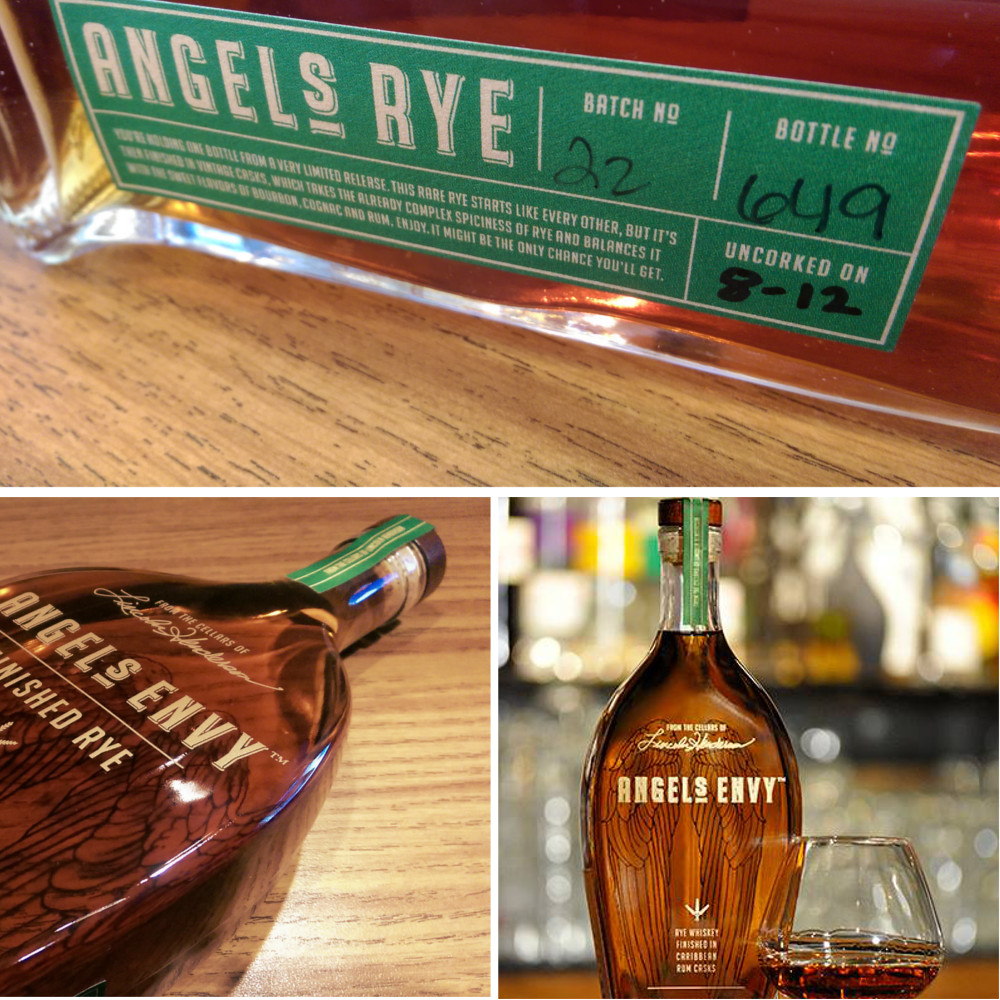 Always looking to improve and craft and deliver the ultimate drinking experience the distillers at Angel's Envy took their time when it came to perfecting their new rye whiskey. In fact, they sampled more than 100 rums until they found the prefect paring and deliberated over 6 different blends of rye before landing on what they think is the ultimate blend of 95% rye and 5% malted barley.
"The one thing I'll always have, the one thing I'll never get over, and I don't think you should get over, is a sense of performance anxiety. You're always second-guessing yourself, even after the masterpiece is finished. You've painted the Sistine Chapel. You've created something and you know it's good, but you can't help thinking maybe you could have done something better. I think it's good to be confident, but not cocky, and always be looking for ways to improve." -Wes Henderson, Angel's Envy COO
As I mentioned earlier we were very excited to taste and review this whiskey. Recently a few samples arrived at the office and it didn't take long for our tasting panel to convene once the word was out that a new Rye was in. Coming off the wonderful tasting sessions we had with their craft bourbon we had high expectations for Angel's Envy Rye and as we hoped, this new whiskey did not let us down!
Angel's Envy Rye Review Breakdown
Proof: 100 (50% ABV)
Age: 6 years (18 month finish in rum barrels)
Appearance: Amber with a golden tinge
Nose: Maple, Oak, Heavy Spice, Vanilla
Flavors: Spice, caramel, vanilla, oak, toffee, rum

Price: $89.99

 USD (750ml.)
Scoring an impressive 9 out of 10 from our round-table of booze hounds tasting panel, Angel's Envy Rye is a serious crowd-pleaser from beginning to end. Going into this review we understood the tasting experience would be unique, but after taking our first sips the word unique simply falls short in describing this rye's overall profile and finish.
On the nose we experienced an intense first whiff of spice and alcohol that lead us to believe this 100 proof rye was going to deliver some serious bite. But as we continued to swirl and let the whiskey open up the more aromatics began to develop. If you let the first whiff scare you off, you'll be missing out on a delicious rye, trust me…
On the front half we experienced bold spice tones (of rye & wood) that were quickly dulled by the rum barrel finishing. Throughout our tasting sessions this rye delivered a consistent profile that is a real attention grabber. Slapping your mouth with a 100 proof octane and some rye spice, but then finishing sweet with a lingering aftertaste that can only be described as rum. Overall, we truly loved this rye. If you're looking for a whiskey to impress friends or family with Angel's Envy won't let you down. This is some of the best whiskey we've tested in a long time… and that's saying something!
MIX IT UP… "Whiskey Smash"
Ingredients: 2 oz. Angel's Envy Rye, 1 oz. simple syrup, ¼ lemon, cut into 2 or 3 pieces, 3 to 4 sprigs of spearmint.
Directions: Thoroughly muddle the mint and lemon in a mixing glass. Add the bourbon and simple syrup. Add ice and shake vigorously for 30 seconds. Strain into the rocks glass filled with crushed ice. Garnish with the sprig of mint.