Someone's always hungry after a long day.  It might be you; it might be the kids… all that you care about is finding something good enough, fast enough.  Char-Griller's Duo™ 50-50 grill is unique because it has two, 438 square inch gas and charcoal sided grills. A push-button ignition lights the gas instantly and dinner is ready in minutes.
But you also care about flavor.  You care about quality food.  You care about a steak cooked right and ribs cooked slow.  The Duo™ 50-50's charcoal grill you open a beverage for and maybe turn on an album; you fire up this side when you have some time and want to relax.
Char-Griller is a family owned and operated company that has been designing grills for decades.  Based in Georgia, Char-Griller's builds "barrel-style" grills that pay homage to the south's long history of soul satisfying barbecue.  They feature an array of grill products from their AKORN far-east inspired komodo cooker to wood fired pellet grills.  Char-Griller's Duo™ 50-50 grill is one in a line of dual fuel grills that allows the barbecue enthusiast to have her gas cooked hot dogs and charcoal smoked ribs too.
Key features: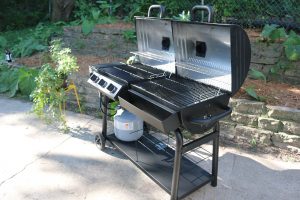 Dual grills:  gas (liquid propane) and charcoal
2 Large grilling areas (438 Sq. In each)
3 gas burners – 40,800 BTUs, 2 smoke stacks
1 side gas burner – 12,000 BTUs
Instant electronic ignition
Warming rack
Height adjustable grates
Designed for easy cleaning
Size and weight:
Height: (In) 50
Width:  (In) 62
Depth: (In) 28 inches
Weight: (lbs) 144
Char-Griller's Duo™ 50-50 Review Breakdown
Setup:
We wanted to review the Char-Griller's Duo™ 50-50 as the average buyer would experience it, so we had a local Lowe's assemble it for pick up.  When we got the word that the unit was ready for pick up, we went over with a large pick up truck and rubber tie-down straps. Fully assembled the grill is more than 4 feet tall and 5 feet wide so it will not fit in a typical car or SUV.  We loved the two large, classic steel grilling barrels, but all that metal is heavy.  Three people were needed to lift the unit into the truck bed. We tied it down with five strong 3 and 4 foot rubber straps.
The  two front wheels, standard on large grills, allow it to be moved without carrying the full weight, and a firm grip on the non-wheeled side make positioning the grill on smooth, level surfaces easy. Lifting and positioning the grill on rough or uneven terrain will typically require two able persons.
Of course, you can always opt to buy the Duo™ 50-50 in a box and assemble it yourself.  The unit has about 36 unique and 75 total parts.  Depending on your assembly savvy this could save time and money on assembly and delivery costs.  However, make sure to check with your local retail store for assembly and delivery options, some retail locations will offer free assembly and home delivery.
Performance:
My sister recently bought her first home and the backyard was overgrown and uninviting.  What's a good brother to do?  Tame the yard and set his sister up for some serious grilling of course!  Enter Char-Griller's Duo™ 50-50.  The Duo was a good candidate for her because of it's main feature:  gas grill on the left and charcoal on the right.  Fast, easy, and convenient grilling during the work week and a serious charcoal set up for weekends.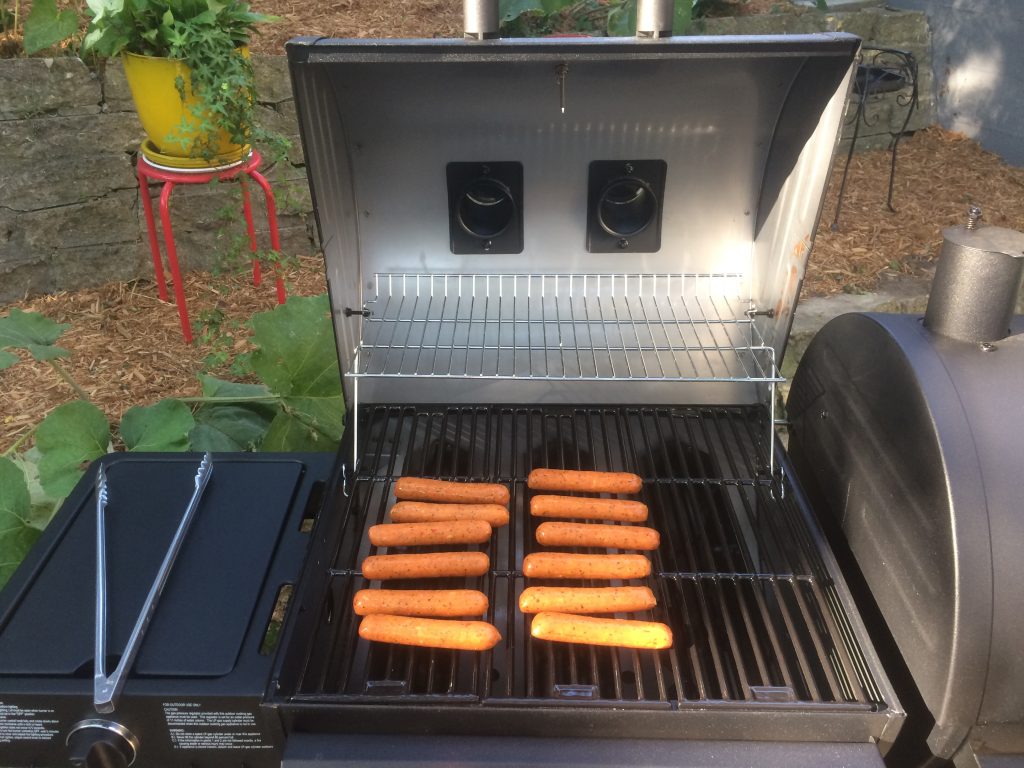 Our first test was a perfect one for the gas side grill because it involved all of the chaos inspired by family and typical of the workweek.  On a normal Wednesday night we hastily assembled a family work crew for an impromptu work session on her backyard.  The job was a big one, it was hot and people were going to get hungry fast.  We put the Duo's gas side to the test.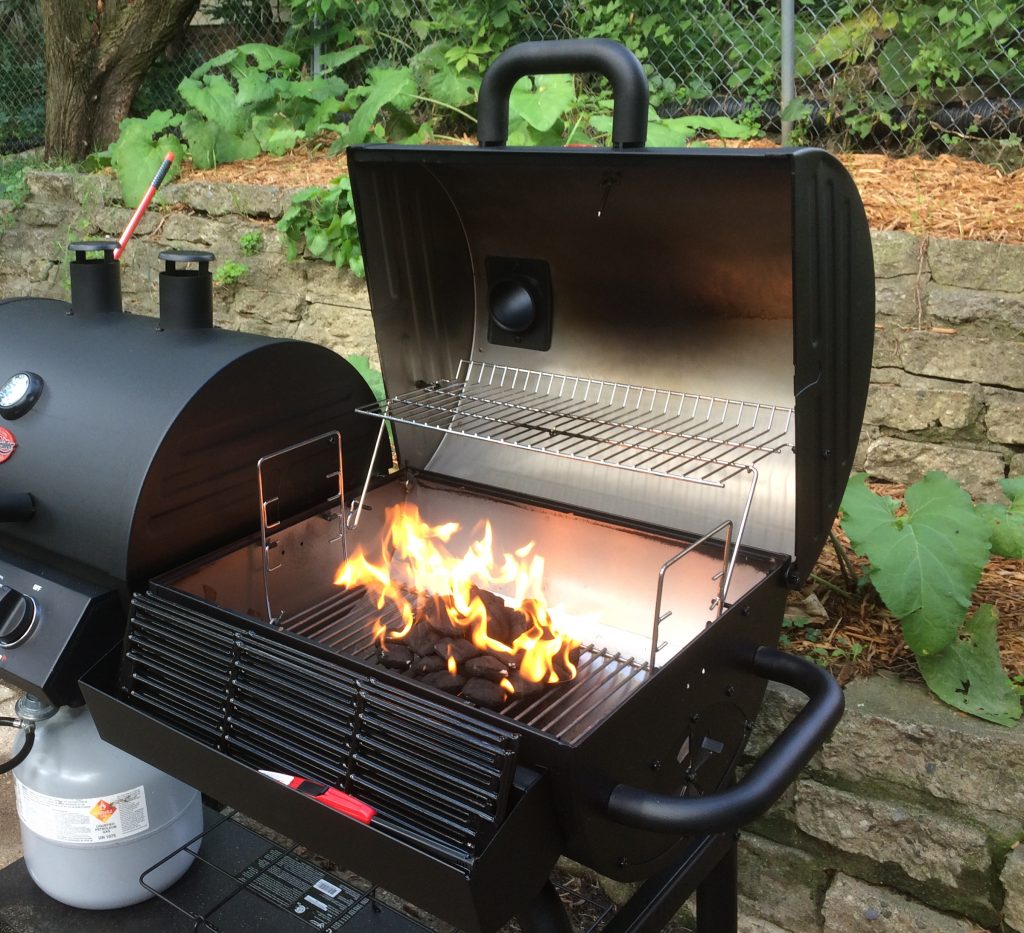 With seven seven hungry stomachs and a brand new grill, there wasn't time to read directions (not recommended, but great for testing ease of setup).  After a couple minutes of adjusting the tubes to the propane tank we had a firm seal.  The ignition immediately lit all three burners. Minutes later a dozen brats were on the grill christening the porcelain coated grates and filling the air with cooking meat.  The 438 square inch cooking area was more than enough space to cook everything (and feed everyone) in one round, and the three burners easily heated up the grilling surface despite a strong breeze.  From gas to grilling all were eating in under 15 minutes.   Test passed.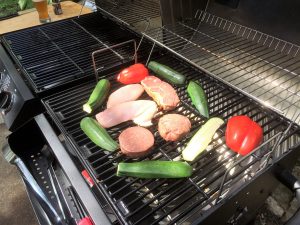 To test the second grill we needed charcoal, a bit more time, and definitely more food.  Cold local beer?  Check.  Tunes on the the portable speaker? Check.  Steak?  Check.  Hamburgers? Check. Chicken? Check.  Grilled veggies?  Check.
Lighting the charcoal grill was a cinch with the Duo™ 50-50.   You can control the height and intensity of the flame by lowering the hood and adjusting the dampers.  After ten minutes of flame the coals were properly ashed over.   Three pounds or forty briskets of charcoal were recommend, but that quantity should be considered a minimum with this large grill to ensure even cooking.  The porcelain coated grates slid easily into place over the hot charcoal with an unprotected hand. Additionally, we had a practicing sous chef use the grill and he concluded that the thermometer measured the temperature accurately.  On the medium height setting the food cooked quickly and evenly.
Aesthetic and Space:
This is the kind of grill people want to spend time around; the kind that inspires people to linger outside. The grill is a matte finished jet black.  It fills space.  It has a straightforward workman like aesthetic.  Despite this fact, nay, perhaps because of it, it's presence in my sister's still not fully tamed backyard demands attention.  The unpretentious barrel design doesn't need to be matched to any elaborate backyard or patio theme. This grill will work for people that want to spend time, sometimes for hours, on a porch, patio, driveway or deck.
Durability and Care:

At Busted Wallet we turn around our product tests in a matter of weeks so our measures of durability are limited to construction and materials, rather than proven long-term wear and tear.  With that said, this grill's major parts are made of solid materials including the stainless steel burners.  However, the non-stainless metals will eventually rust when exposed to moisture and temperature change.  To protect the grill from rust you should buy the Premium Duo Cover and Char-Griller recommends "regularly coating any bare metal surfaces inside the grill with cooking oil." Additionally, Char-Griller writes in the care manual that the porcelain grates need to be "washed with soap and water using a soft cloth" and should not be cleaned "with a metal or wire brush as this can damage the finish, cause it to crack and chip, and eventually lead to rust."  Chargriller's website also includes a handful of basic maintenance videos.
Misc. Features:
The Char-Griller's Duo™ 50-50 has a number of standard and unique features worth mentioning.  The auxiliary side burner doubles as a convenient shelf for food prep and three hooks hang below for grilling tools.  If you're not using the 2nd grill, it can be used as for extra space too, but really the unit should come with a built in shelf on the right side as well.  You're going to want to set this grill next to an exterior surface or table.
Value:
The Char-Griller Duo is a great overall grill at a good price; for specific consumers it is the perfect grill:  frequent grillers, large households, and charcoal enthusiasts.  The dual fuel convenience and ample grilling space are the reason to buy the Char-Griller's Duo™ 50-50.  This grill is overkill for infrequent grillers and those satisfied with gas burning grills.
Buy Now: $299 or to learn more, go to: CharGriller.com
Char-Griller Duo 50-50 - Grill Review
Overall a very solid grill. The dual fuel convenience, steel barrel design, and ample grilling space are the reason to buy it. Frequent grillers with space outside will love this grill, infrequent grillers in small residences should stay away.
The Good
Dual fuel convenience
Ample grilling Space
Durable construction
The not so good
Weight
Mobile over short, flat distances
Care and rust prevention necessary