Tailgate with all the toys, or camp in comfort off the grid with push button starting power at your fingertips.
Champion Power Equipment is a market leader in power generation equipment.  Since 2003, they have developed a reputation for quality, American designed power generation with solutions for work, recreation or your home. Recently they let us take their Dual Fuel Inverter Generator for a spin and here's what we discovered…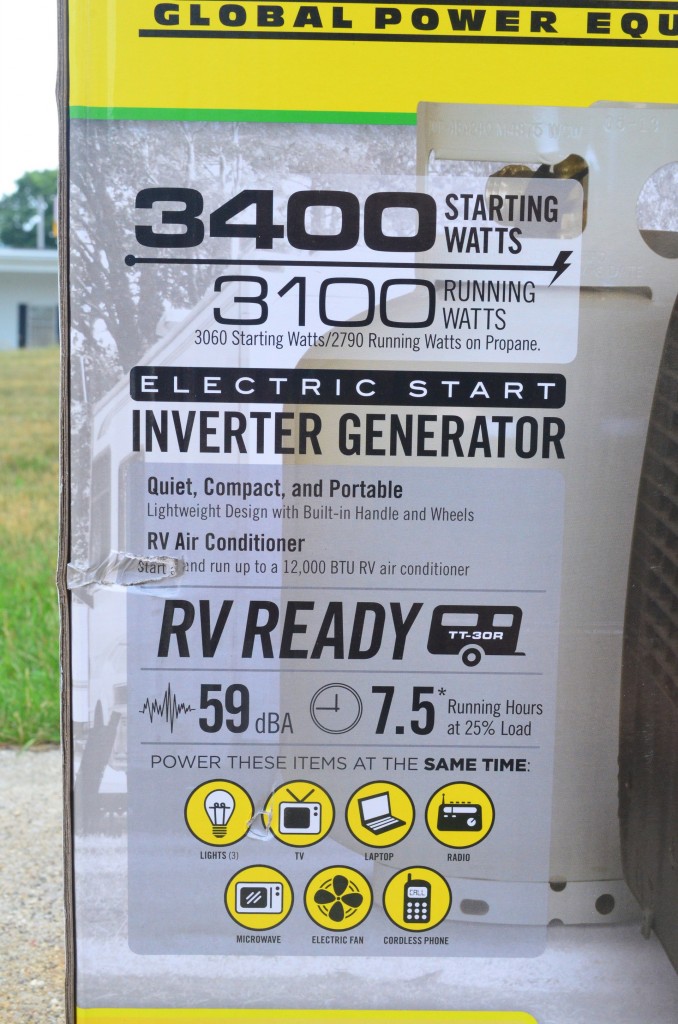 What's in the Box:
Dual Fuel Inverter Generator
1 sheet startup pamphlet (and a manual too)
Oil funnel
12 volt DC automotive style USB adapter (2.1amp and 1 amp ports).
Wall adapter, for maintaining the starter's battery
Propane regulator for a normal 20lb tank (like on your gas grill)
Specs:
3400 starting, 3100  running watts on gasoline
3060 starting, 2790 running watts on propane
Push button starting
recoil starter for backup purposes
1 120v, 30 amp "camper" plug,
2 normal 120 volt, 20 amp, 'house" outlets,
1 12 volt dc outlet
1.6 gallon gasoline capacity
60 hz
110.5lbs filled with fuel
18.3″ H x 17.3″ W x 25.1″ L
Approximately 7.5 hour run time on a tank of gas, at 25% load.
Approximately 14.5 hour run time on a 20lb propane tank, at 25% load.
59 dBA at 23 ft.
Champion Dual Fuel Inverter Generator Review Breakdown
Design: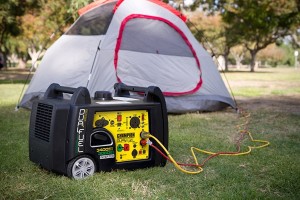 This is a sleek looking box with controls well marked and easy to follow. Starting with the 1 sheet 'startup' pamphlet, all the way through to operation, most every thing about this generator is easy. With the ability to plug in a camper without a special cable, and charge your USB devices right off the front panel, the people and Champion Power Equipment have thought through all your basic needs and then some. The fold out handle on the front makes wheeling this 100lb generator a breeze, and the two solid carry handles make it just as easy to pick up 1 person or with 2 people, to put in the back of a vehicle for transport. Just about every inch is covered in plastic, but it's sturdy and solid construction and we weren't afraid of breaking it while moving it around or using it.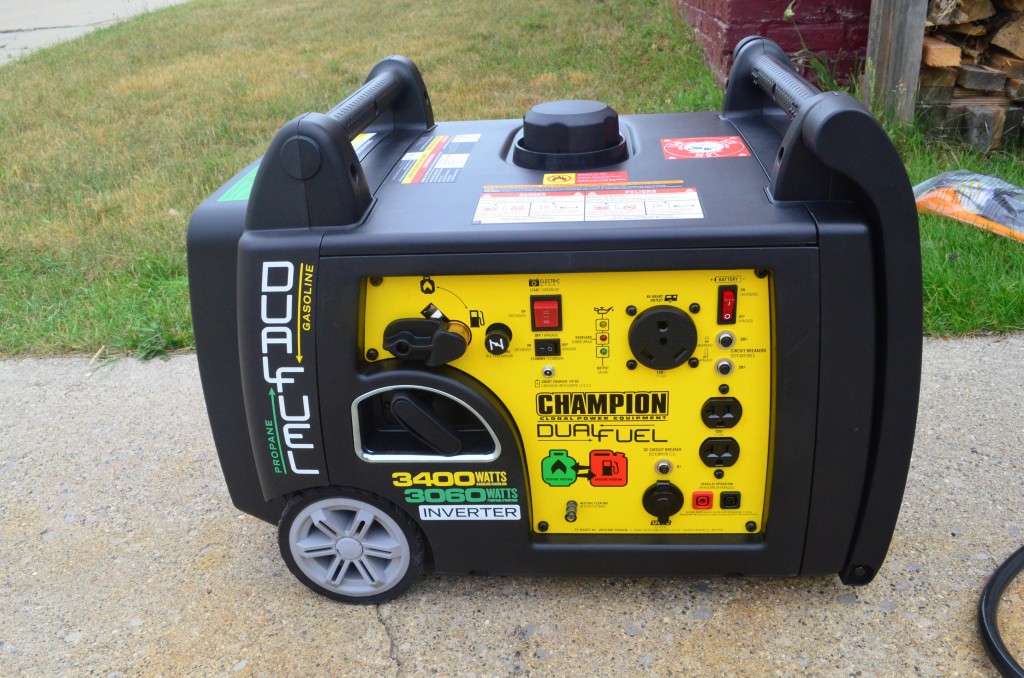 About the only downsides we found were the lack of a fuel gauge and the limited clearance to change the oil (after the 5 hour break in, and then every 100 hours). The drain plug has a knock out under it to let the oil drain out the bottom of the engine, but there is limited clearence under the body of the machine too. I put the whole unit up on 2 2x4s when cooled off, and then had plenty of clearance. My brother suggested using a gallon zip lock freezer bag because it's only .6 of a quart you need to drain. That would work well too. As compact as this device is, it's hard to ask for more room though.
Setup:
It took about an hour to read through the guide and follow the steps to fill the oil, connect the battery, and connect a propane tank. It's a four stroke, so no mixing of gas and oil is required. We were also taking pictures and not in a hurry, but don't think you can just leave it in a box until the morning you want to use it. As soon as you get it you'll want to run it for the 5 hour break in period and then change the oil. After that, it's very little maintenance to keep it ready for your next camping trip or tailgate party. Right after it showed up at Busted Wallet we had a major storm and power outage. Needless to say there was some excitement about breaking this out of the box and running every conceivable thing we could fine. Our local power utility had our power restored in 2 hours though, so we hadn't even gotten started unboxing it. It's a good thing too, there are several caveats to this generator, as there are for most small units. Don't run it in the rain or snow, keep it 25 feet from an open door or window. If you are looking for a standby generator for your home, keep looking. I'm not saying this wouldn't work in a pinch, but it isn't what it was designed for. And, as it turns out, neither is my house. I'm still doing the math on how far I need to run extension cords to power both my fridge and furnace, or fridge and AC unit. I'd have to make some choices, and in the case of my furnace, I'd need to wire in a standard plug as it is hardwired into my home.
Starting:
This could not be more simple: Push a button. There, it's started. Really it is that simple. We also tried starting with the backup recoil/pull starter and after several minutes of pure frustration, we remembered to turn the propane tank valve on. Once we did that, it started on the next pull.
Power:
With 3100 running watts on gas and 2790 running watts on propane, this inverter generator really pushes out the power for all the toys you want to hook up to it. There is an Economy mode that keeps this at the lowest noise level possible and conserves fuel. Did we mention how quite this generator it? even when you load it down, you can easily have a conversation next to it with out yelling. That means you won't be annoying the camper next door, or having a hard time hearing the big game on your TV at the tailgater.
This generator will run all your normal house hold items, in the out of doors. Computers, refrigerators, microwaves, waffle iron, big screen TVs, projectors, AC units (which was a great test of load during the break in run). It's not built for certain tools, like circular saws or table saws because it wouldn't have the starting watts for most of those tools, so if you are looking for work site power for that specifically, keep looking, but otherwise this would recharge batteries, run lighting, fans, AC units and other work site operations. Or, connect it with a second unit. Champion made this line of generators so they can plug together and increase the running and starting watts accordingly.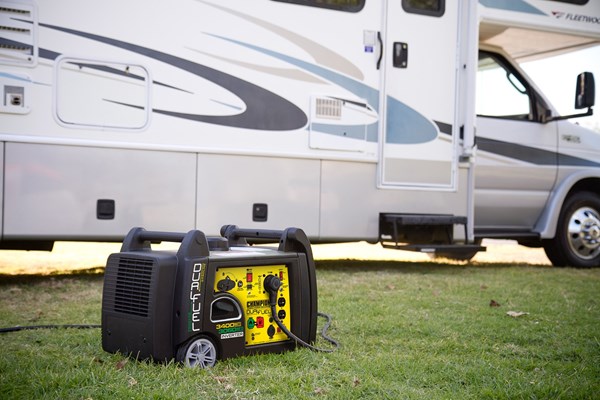 Value:
At What price is this a good value? It provides more running watts of power for the same weight as the Briggs & Stratton P3000 PowerSmart Generator we reviewed in 2014. It has multiple power outlets and when setup, can be started by anyone that can push a switch to "on". It's quiet and will certainly supply the power needed for most small campers, some larger campers, and a great setup for tailgating.
Buy Now: $1099.99 or to learn more, go to: ChampionPowerEquipment.com
Champion Dual Fuel Inverter Generator
For the price, this generator packs a lot of power in a small, convienient packages. The option to run on propane means not keeping extra gas cans around and super easy fuel changes. Most times when you are camping or grilling at a tail gate, you have propane with you already. This is a definitely a line of generators you'll want to look at.
The Good:
Duel Fuel, Propane or Gasoline
Lots of power for its size
Quiet
The Not So Good:
No fuel gauge
Limited clearance for oil changes