Engineered to be ultra portable and ultra powerful, the Briggs & Stratton P3000 Generator is billed as the ideal power-house for energizing all your tailgating, camping and work-site needs. In fact, the PowerSmart Series P3000 inverter generator produces enough power to run just about everything you need, where ever you want to go – from the most basic tailgate essentials to higher-wattage items including: big screen TVs, crock-pots, small refrigerators, microwaves and blenders.
Throughout the first half of this tailgate season we've been lucky enough to spend our time outdoors testing the P3000 at some of our favorite power-free locations. From the parking lot at Spartan Stadium to Deer Camp in the middle of BFE, we put this compact generator through the paces testing it's merits for more than 24 hours at a time.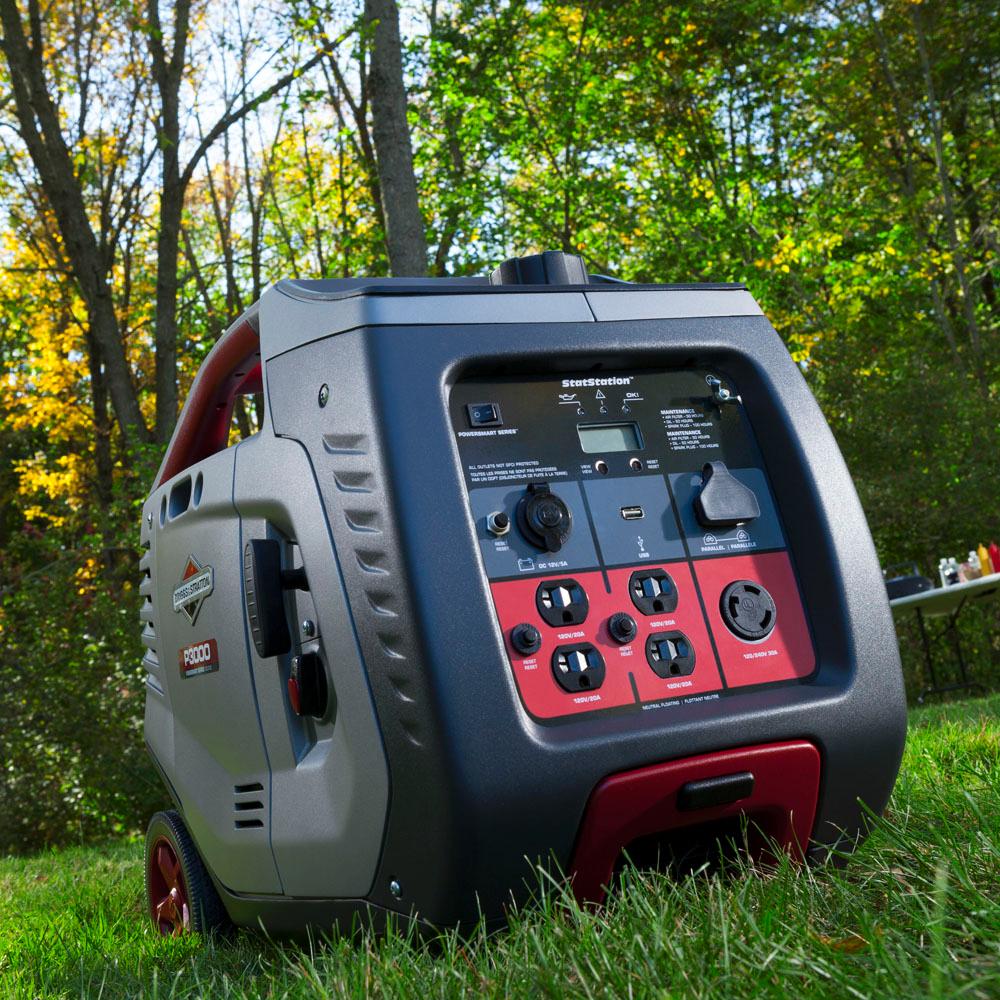 If you like to tailgate or camp in style, there's no bigger let down than having no power to electrify all your gadgets. Briggs & Stratton built the P3000 with that in mind – making it big enough to power lots of equipment yet small enough to pack on any trip.
"This fall sports fans can transform their part of the parking lot into a tailgating haven with the quiet, affordable power provided by the new Briggs & Stratton PowerSmart Series P3000 inverter, along with its ability to provide super quiet power, the P3000 inverter is also lightweight, easy to transport and maneuver, has great run time and offers more power than the common 2000 watt generator." -Eric Loferski, director of marketing for Briggs & Stratton
Key Features:
StatStation LCD display
USB charging port
Telescoping handle + rolling wheels
Automatic Idle Control
2 year warranty
Specs:
Watts: 2600 Running  / 3000 Starting
Amps: 21.7A
Displacement: 171 cc
Fuel Capacity: 1.5 gallons
Dimensions: 26″ (L) x 14″ (W) x 31″ (H)
Briggs &Stratton P3000 Review Breakdown
Design: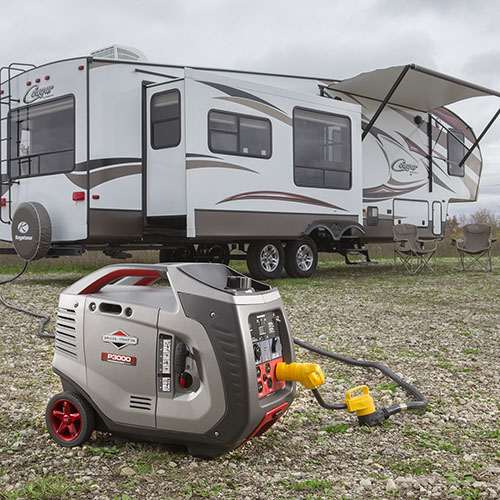 The P3000 comes equipped with all the bells and whistles you might expect from Briggs & Stratton, including an auto-idle mode recommended for best fuel economy, a standard fuel gauge and a handy LCD display "StatStation" for monitoring power output as well as low oil warnings. With 7 power outlets in-all (four 120V outlets, one 12V DC outlet, one 120V (30A) RV outlet, and a USB Port) there's plenty of ways to deliver power to your devices. But what really impressed us about this generator was the fact that it is so easy to transport.
At the back of the generator you'll find two beefy air-less wheels and at the front a telescopic handle – allowing you to drag the generator around with you effortlessly. Not to mention, up-top there is twin lift handles that allow two people to lift this 94 lbs generator with ease.
Another design aspect we can't leave out is the simple fact that this generator looks down-right beautiful. Sure that might be all plastic molding and not much else, but for what it's worth – this generator is very easy on they eyes. Something that can't be said for most of the competition.
Setup:
With no special tools or mechanical know-how, right out of the package the P3000 is very simple to setup and run. Just follow the quick-start guide and you'll be up and running in a matter of 5 – 10 minutes. And since it runs on a 4-stroke engine, no mixing of gas and oil is necessary. Simply add the included oil to the engine, gas it up and the generator is ready to run. Setup really couldn't be easier.
Starting:
Pull starting the P3000 proved to be a simple process as well. To get everything up and running, turn the ON/OFF switch to "ON", slide the choke lever to "ON" and give the pull handle a strong pull. After 2 or 3 pulls the generator will start right up. You can then slide to choke lever to the "OFF" position and the P3000 will purr like a kitten.
Once the generator is running for a few minutes we highly recommend switching to auto-idle mode. This will give you the best fuel economy. The P3000 is outfitted with a micro processor that can determine how much power to send to your devices. In auto-idle mode, when more voltage is required the engine will automatically rev-up and supply more power. At times when less power is needed the generator knows to slow down – thus consuming less gas and running quieter and longer.
Power:
The P3000 is capable of delivering 2600 running watts and 3000 starting watts. So, what does that mean for you? Well, quite a lot actually. For such a relativity small generator the P3000 packs quite a punch. This generator is capable of powering small AC units, Microwaves, small refrigerators, big screen TVs (not all at the same time) as well as a slew of smaller appliances and devices. During some of our heaviest tailgating this season we ran a TV, Satellite Dish, Sound bar, and microwave all at the same time. As soon as we pushed start on the microwave the generator kicked into high-gear, pushing the limits of what it could handle, but every device stayed on without a glitch.
Other times when the power consumption got to be too much for the P3000 to handle one or more power outlets would trip. When that happens the generator keeps on running, but then you need to unplug one or more devices or reset the outlets.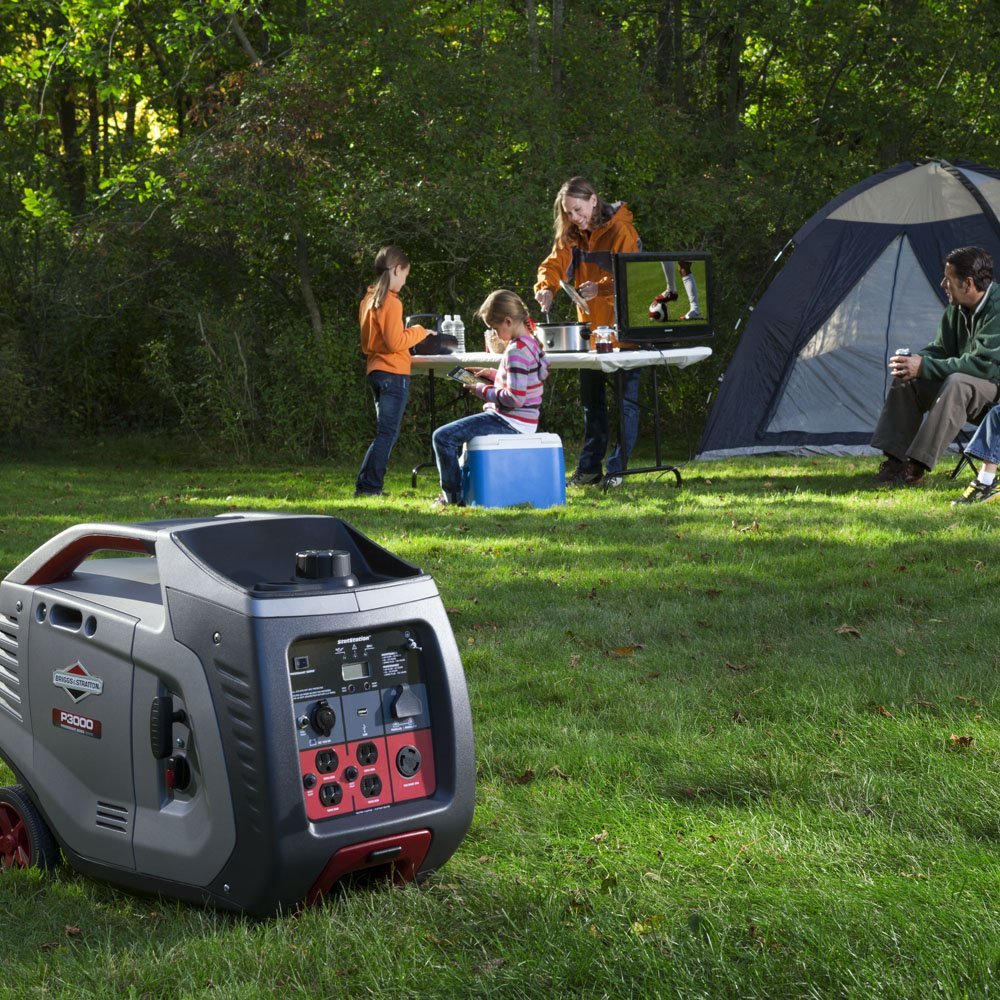 This generator won't power your entire house in the event of an outage, but that's not what it's designed for. It's built to bring power to your campsite, tailgate, work-site or anywhere in-between.
PRO TIP: Need more power? You can nearly double the power by connecting two P3000 generators together with Briggs & Stratton's parallel kit.
Value:
Ringing in at $1299.99, the P3000 from Briggs & Stratton is one of the most powerful and feature-packed generators in its class. With 7 outlets, a LCD monitoring screen and the ability to easily transport from location to location, we found great value for the price in this generator. Its price tag might seem a little steep at first glance, but after putting it to use any sense of buyer remorse quickly fades away.
Briggs & Stratton P3000 PowerSmart Generator
Briggs & Stratton hit the nail on the head with the P3000 Generator. This generator is perfect for outdoor enthusiasts and sports fanatics who want to bring the luxuries of home into the great outdoors. As for tailgating, you simply won't find a more portable, more powerful or more handsome generator on the market. If you're in the market for a portable generator that packs a punch - do yourself a favor and consider the P3000, we highly recommend it.
The Good:
Easy to Setup, Start, and Transport
Fairly Quite While Running
One word... StatStation
The Not So Good:
Only Holds 1.5 Gallons of Gas