Ahhh, the golf GPS… a finicky device with many iterations to choose from – some golfers love em', while others can't stand to use them, or simply don't trust the yardages, but today with so many options on the market you'd have to be living under a rock not to have tinkered with one yourself or played with someone who was. Until recently golf GPS's were designed in rather bulky sizes and were required to be left in the golf cart or attached to your hip (like a 90's Nokia cell phone) while taking a swing – making them neither convenient nor comfortable to carry on the course. Leaving us asking all too obvious question "what's the point?!"
Then walks in the GPS watch, introduced a few years back, you can find a slew of different models produced by well-known and not-so-well-know brands in just about every sporting goods store. The GPS watch has ushered in a new era of convenience and comfort for accessing yardages, layup distances and even drive distances. While the GPS watch might seem like a fool-proof idea, it still has its stumbling blocks – mainly due to comfort, size and user interface issues. A properly designed GPS watch should fit comfortably, deliver accurate yardages and allow the golfer who's wearing it to forget they even have it on – until they need the next distance to the pin.
Introducing the Bushnell NEO XS GPS Watch, Bushnell's lightest and thinnest golf GPS ever. The NEO XS is designed for pure accuracy on the course and total comfort on your wrist. With over 33,000 pre-loaded golf courses and no membership fees to speak of, the NEO XS is said to be user friendly, simplified, deadly accurate and easy on the eyes. If you ask me, that's a whole hell of a lot to happy about if you're a weekend warrior like myself, but as you already know, we can't just take product descriptions and press releases at their word… nope, we have to go hands-on. And that's exactly what we've done with the NEO XS over the past three weeks. In-all we've logged 7 rounds, 14 birdies, 2 eagles, 22 pars and well… we'll leave the bogies out of it.
Key Features:
Pre-loaded with 33,000+ courses in more than 30 countries
Long Battery Life – over 3 rounds between charges
Auto Course Recognition and Auto Hole Advance
Easy-to-read Front/Center/Back Distances
Hazard/Layup Distances (up to 4 per hole)
Comfortable Sports Band
Round Odometer
Shot Distance Calculator
No Membership or Download Fees
The Black Model (368550) features a Reverse Display for easy readability in bright sunlight
Bushnell NEO XS Review Breakdown
Design:
The slim design of the Bushnell NEO XS is a welcome diversion from some of the more bulky models we've tested in the past, in fact the NEO XS is by far the lightest and slimmest golf GPS we've ever gone hands-on with. From a strictly subjective standpoint we found the NEO XS to be quite good looking. The black/lime green model we tested was rather subdued and on many occasions never caught anyone's attention on the course. Something that I personally appreciate, because that's one less distraction to deal with on the course while i'm trying to go-low.
Another feature we have to mention is the battery life, which lasts approx three rounds or about 12 hours on average. It's not a crazy number at first glance, but we found it to be more than enough for the average golfer and bests most competitors by a long shot. The real question we have and were unable to test is the longevity of the battery life over time. (look for an update next year this time)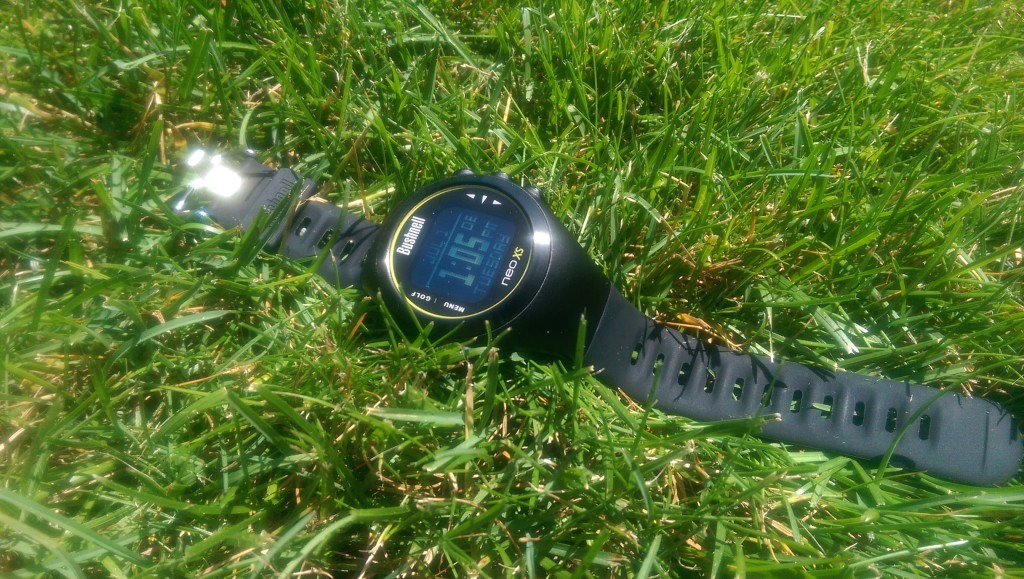 The only design feature we found to be odd was Bushnell's choice to use a five-pin to USB charging adapter to juice up the NEO XS. The five-pin system (located on the back of the watch) works just fine and all, but if you happen to loose the adapter you're out of luck and will need to order a new one. In a world were almost every portable/rechargeable device is charged with a micro-USB cord we were a little surprised to see this choice – though if we had to guess it's probably got something to do with keeping the overall slimness of the watch as low-profile as possible.
Comfort:
Overall, we were very happy with the comfort of this watch. The slim body and well place buttons meant no pinching or discomfort throughout the golf swing. I personally don't like to golf with my watch on and prefer to take it off before each round, but the NEO XS didn't bother me one bit throughout testing, which I didn't expect. Adding to the comfort is the fact that the watch itself is impressively light weight – you hardly notice you're wearing it after a few holes. It also has a super soft adjustable rubber band that doesn't grip or pull out arm hair. All-in-all, it's one of the more comfortable sports watches I've ever put on.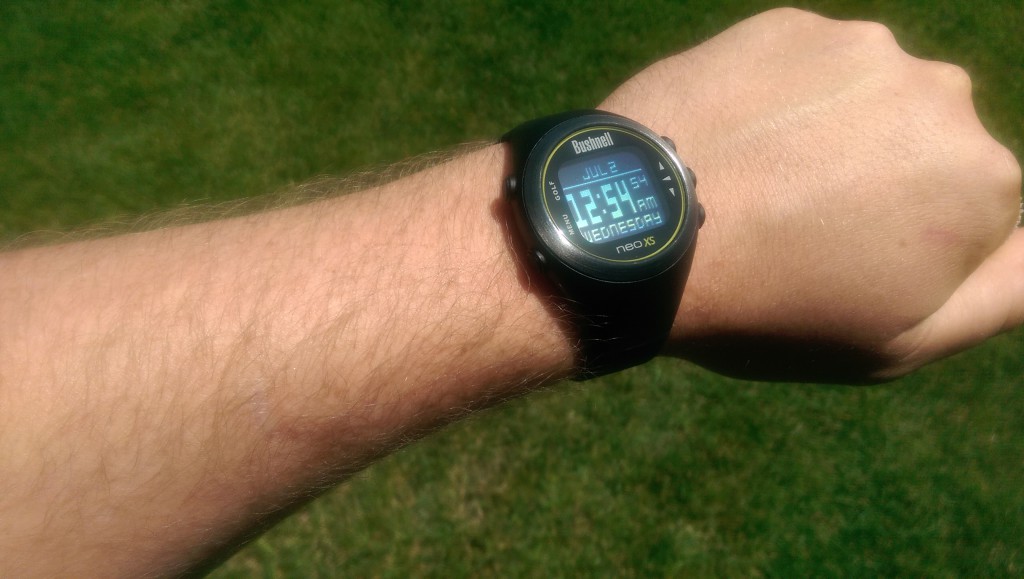 Ease of Use:
With modes for keeping track of the time and date, setting up tee times, an odometer, as well as main menu to tinker with general settings – the NEO XS is more than a simple "distance to the hole" type of GPS, in fact it's much more. And the best part… it only has 5 buttons, which are easy to locate, push and understand even without help from the users guide. Pro Tip: take 10 to 15 minutes after un-boxing the GPS to get it all set up and feel comfortable with all the buttons and modes. Then when you hit the course you're ready to rock with no surprises.
What impressed us most about the NEO XS is that it's more or less ready to rock straight out of the box. In fact we were able to take it straight out of the box, make some minor time/date adjustments, fully charge it and then take it to the course and play. No downloads, no membership fees… NO NOTHING! Just turn it on, select your course and play golf. It truly was as simple as that.
I've personally tested few golf GPS devices myself and this is by far the easiest to operate for golfers who just want to get out on the course and play. You don't need a computer or tech skills. The key modes you'll want to get familiar with are the "play golf" screen which gives you distances to front/middle/back of the green from anywhere on the course. As well as hazard distances and ball distance tracking modes. By quickly being able to access these modes you'll have a much better chance of keeping your ball in-play and close to the hole.
Click to enlarge:
Accuracy:
When tested side-by-side with a laser range finder and another comparable golf GPS unit we found the NEO XS to be accurate within +/- three to five yards on average, which is actually pretty damn impressive. The only factors the NEO XS is incapable of accounting for is elevation and of course wind and weather conditions. For that you'll need to be on your game and make the proper club selections and adjustments.
Throughout testing we didn't encounter any satellite connection issues thankfully, though from experience that can be a problem on very overcast days or in densely wooded areas. One benefit of using the standalone GPS system like the NEO XS opposed to a smartphone app is that when cell service is weak (or completely out) so is your GPS, but with a unit like the NEO XS as long as you have somewhat clear skies, your distances should be quite accurate.
Value:
Priced at $200.00 in most retail stores, the Bushnell NEO XS is a fine value if you ask us. It simply preforms like you need it to – delivering convenience, accurate yardages and a handsome look – all that with a comfortable fit that's easy to wear for 18 holes or more. I'm sure they'll find a way to make GPS watches slimmer and even more comfy in the future, but for now the NEO XS tops the charts and has one of the most intuitive user interfaces yet.
Bushnell NEO XS GPS Watch - Range Review
If you're in the market for a golf GPS watch, you've found what you're looking for. The Bushnell NEO XS allows you to play golf at a quick pace by delivering accurate distances and an easy to operate interface - giving you more time to concentrate on your next shot - or that freshly opened cold-one. The fact that it's impressively comfy to wear and is feathery light weight is a bonus in our book. If you're serious about dropping some dough on a golf GPS watch this season, do yourself a solid and make sure to consider the NEO XS. It's our clubhouse leader in 2014.