Bowers & Wilkins, a company well known in the audiophile space for their high fidelity loudspeakers, has been a player in the premium audio space for over 50 years. The P7 wireless over-the-ear headphones are Bowers & Wilkins' response to increased demand for mobile ready, audiophile quality headphones.
With a unique design, premium materials, and unmatched acoustic balance, these headphones deserve a spot in your lineup. Whether you are commuting to the office, flying across the country, or settling in for a productive workday, the wireless P7s are a versatile pair. With the option of Bluetooth or wired connectivity, you can rest assured that your tunes will continue to flow even when the battery runs dry. With that said, you shouldn't have to worry too much as these headphones boast 17-hour battery life – you may never need that pesky cord!
Key Features:
HiFi Sound
aptX Bluetooth Connectivity
Up to 17 Hours of Battery Life
Pairing with up to 8 devices
Foldable Design For Easy Travel
Optional Wired Passthrough Connection
Removable Ear Cups
Bower & Wilkins P7 Wireless Review Breakdown
Sound Performance & Quality:

The sound quality is superb from this headset. Bass is audible, but not overwhelming, mids are clear, and highs are crisp. Although these headphones are not noise canceling, the ear cup design provides fantastic ambient sound deadening. With the P7s at half volume, music can be heard perfectly (and nothing else). Digital audio streaming via Bluetooth is preferred to the included pass-through cable, but the difference can be corrected with a cheap USB digital audio converter (DAC). I use the passthrough cable with a DAC at the office and have zero complaints.
The P7s can be used for voice calls when wirelessly connected to your cellular device. Calls come in clear and the volume is easy to adjust during calls. Folks at the other end of the line reported great sound quality and volume level.
Design:
These headphones are as functional as they are stylish. Over-ear headphones are large by nature, so with that style in mind, the P7s fold down to a reasonable size for transport. If space is tight, you may be better off bringing your earbuds, but for this class of headphones, the P7s hold their own. 
Design Functionality:
The wireless P7s have a simple selection of controls: power, volume up/down, and a multi-purpose center button for play/pause and answering calls. The power button is a spring loaded slider that is very easy to operate. Audio cues are used to confirm power on and power down. To activate pairing mode, the user must press and hold the center button until the LED indicator flashes blue. The device will give audible cues when pairing mode is initiated and when a connection is established.
If a corded connection is needed, the P7s adapt quickly and easily. Simply pop off the left side ear cup and plug the curved end into the port. In corded mode, the headphones can remain off and will draw power from the device they are connected to – see image below.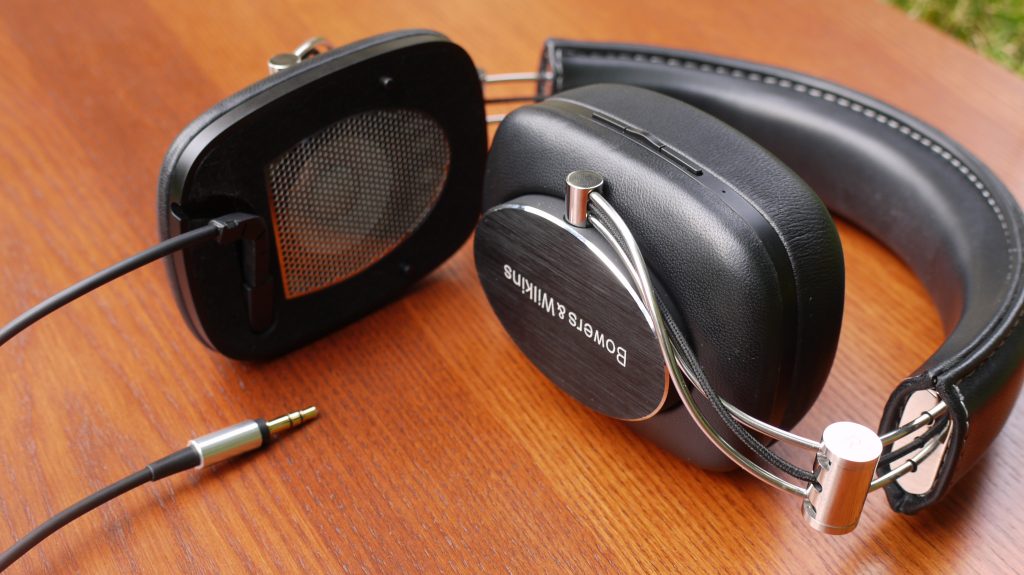 Comfort & Fit:

With memory foam ear cups and a padded arch, the P7s offer all day comfort in a lightweight package. The arch is easily adjustable and can be tweaked for any ear height. Additionally, the earpieces sit on a rotating axis that adjusts to the angle of your head when you wear them. B&W designed the ear cups with airflow in mind; these headphones are more breathable than comparable headsets and remain cooler around the ears during extended use.  
Value:
At $400, the wireless P7s land on the pricier side of the spectrum when compared to many of the over-the-ear headphones on the market. Bowers & Wilkins may have only recently joined the personal audio market, but they are dedicated to their craft. B&W's passion for sound and quality is evident the moment you try the P7s on: well-balanced sound, high level of comfort, battery life, and quality of build materials certainly justifies the price. Minimal plastic is used in the build of these headphones; they truly feel like a quality engineered product.
Compliments aside, these headphones are extremely versatile for both travel and office use. The added flexibility of corded connection increases the number of devices that could be paired with these headphones. If you are an audiophile on the go, or simply want to embrace the beauty of modern Bluetooth technology while experiencing high-quality sound, these headphones are your new go to.
Buy Now: $399.99 or head over to Bowers & Wilkins to learn more.
Bowers & Wilkins P7 Wireless - Tech Review
While they are on the higher end of the price range for over-ear headphones, they deliver Hi-Fi sound with the convenience of Bluetooth connectivity and all day comfort.
The Good:
Rich Bass
Long Battery Life
Bluetooth & Corded Connectivity
The Not So Good:
Portability
Not Fully Noise Cancelling