The world knows Sony as an industry leader in electronics and they are no stranger to the headphone market place but they have recently launched their new MDR-1000X Noise Cancelling Bluetooth headphones for your eardrums delight.  As you wrap up your holiday shopping for your friends and family we thought it was important to share our hands-on review of the new 1000x headphones because you might be able to deliver the best gift of the season if you stock up on these headphones.  They are jam packed full of some great technology and feature some phenomenal acoustics that anyone will enjoy.  For the full review breakdown, read on!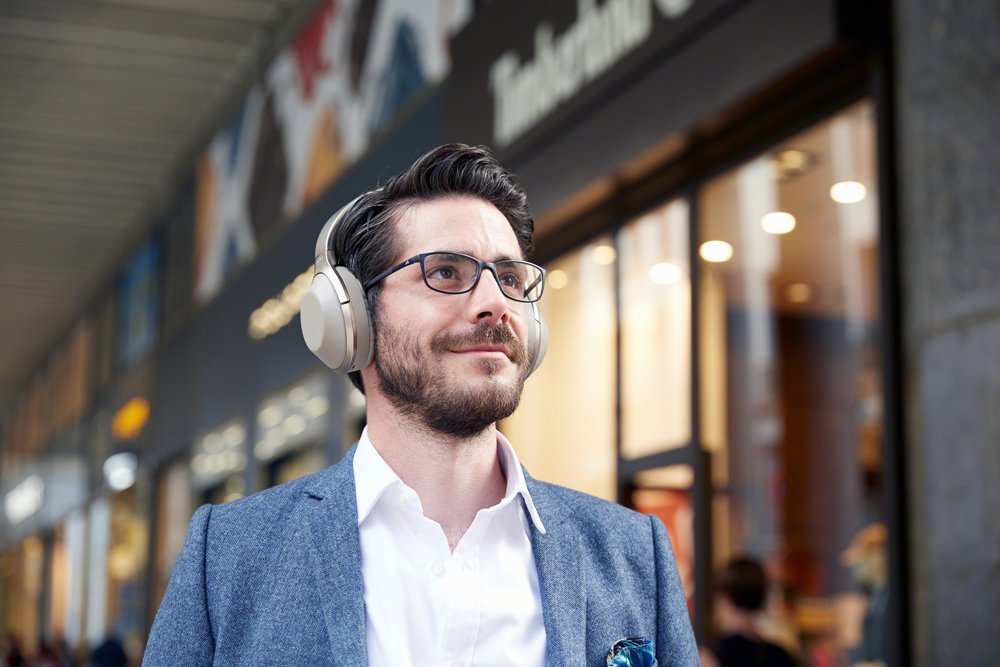 Tech Specs:
Digital Noise Canceling technology
High quality wireless audio with LDAC
High-Resolution audio compatible
1.57″ HD driver unity
Aluminium-coated LCP diaphragm
4 Hz-40,000 Hz Frequency response
Usage time: 20 hours with noise cancelling on
Charge time: 4 hours
1000X Noise Canceling Bluetooth Headphones Review Breakdown
Design/Tech:
When you take the Sony 1000x headphones out of the packaging the first thing you will is how sleek and beautiful they are.  The headphones feature soft synthetic leather on the housing and the earpads and have a nice luxurious look and feel to them. The headphones are designed to fit securely over your ears and provide nice comfort so you can listen to your tunes for hours.  The earcups are also designed to  swivel in so they can easily travel with you or fit nicely in the carrying case.
On the technology side of things is where these headphones really show their value.  The earpads feature a gesture panel so that you can simply touch the gesture panel on the earpads to stop, play, skip through tracks, change volume or activate the smartphone's voice assistant features.  Inside the of the headphones features some pretty impressive technology such as the industry-leading noise cancellation. There are small microphones mounted inside and outside each ear cup which are designed to detect ambient noise in the environment. The headphones then produce mirror-image sound waves that cancel those unwanted noises without masking desirable frequencies in the music you're listening to.  Finally, the 1000X headphones use a 1.57-inch driver with a liquid crystal polymer diaphragm capable of reproducing a frequency range of 4Hz up to 40kHz.
Sound Quality:
Wow. We could end this section after that statement alone.  The Sony 1000x headphones have produced some sound quality that we have not seen in awhile. If you only wear Bose or Beats by Dre then you will definitely appreciate the sound quality from the 1000x's.  In addition to great sound quality the headphones features an ambient sound mode.  You can turn it on for voice-mode or normal mode and it will allow you to hear outside noises so you are aware of your surroundings.  This was incredibly helpful while at the airport, we could hear my music and also catch the flight updates without having to turn down the music or take off the headphones.  While on the flight, we engaged the noise cancelling mode and said goodbye to outside distractions or annoyances that would normally seep through your headphones.  These are must have for any upcoming travel you might have or if you have are conference calls all day and need to tune out the outside world.
Comfort:
The Sony MDR 1000x headphones are designed to never leave your head.  Sony wants you to immerse yourself into your music, phone calls, etc and they made it easy for you to simply pause, start, add in outside noise or block it out.  The reason they did this is so that you are never interrupted and don't have to take your headphones off.  In order to accomplish that they had to make them extremely comfortable and boy did the folks at Sony make that happen.  The soft synthetic leather on the housing and earpads make the earpads extremely comfortable and they are adjustable so you can find your perfect fit.  Rest assured, you will be able to wear these for hours and immerse yourself into whatever you want, just the way Sony intended.

Bluetooth:
The Bluetooth was very easy to connect and had good range. While you are most likely to have your device nearby you could get about 15-25 feet away before we noticed any break in the connection.  These headphones also worked great for making calls.  The 1000x has a built-in microphone and HD voice support that enables you to conduct crisp and clear calls.
Value:
Priced at $399 the Sony MDR 1000x Bluetooth headphones definitely will hit your pocket book but if you want some of the best headphones on the market, then it is a small price to pay.  The 1000x headphones are comfortable, feature great sound, and have some of the best technology in the market place.  If you travel or are always on the go with headphones then you should consider the Sony MDR 1000x, you won't be disappointed!
Buy Now:$399 or visit Sony.com for more information
Sony 1000X Noise Cancelling Bluetooth Headphones
Sony really delivered a great product with the MDR 1000X noise cancelling headphones. If you are the market for headphones that feature great sound, great technology, and superior comfort then you found them!
The Good:
Great sound quality
All-day comfort
Impressive Noise Cancelling technology
The Not so Good:
Price point is a barrier for people
Limited color options