We are no strangers to Jabra at Busted Wallet.  So when it came time for us to test their first true wireless earbuds, the Jabra Elite Sport, we were very excited.  There a ton of "wireless" (but not really wireless) earbuds that have hit the market in the past years, however, these are the first that are truly wire-free and still manage to produce excellent synchronized sound.
Not only does the Jabra Elite Sport earbuds have amazing acoustics, but they also have an integrated Heart Rate Analyzer and In-ear audio coaching with a waterproof housing.  I'm sure you're starting to see that the Jabra Elite Sport are way more than just a simple pair of earbuds that play music.  That's true, and in our case, they've become a necessary workout accessory.
Key Features:
True Wireless Smart earbuds
Light weight
Water proof up to 1 meter
Jabra Sport Life for Apple iOS and Android
Music and Calls
Performance Tracking
Heart rate analyzer
In-ear audio coaching
Up to 9 hours of battery
Jabra Elite Sport – Review Breakdown
Design: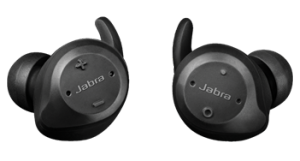 Starting with the obvious, these are TRUE wireless earbuds. No connecting phone wire, no connecting earbud to earbud wire, just simple untethered goodness. The Elite Sport has customizable fitting options that include a variety of ear wing and ear gel sizes. Even while doing an intense round of plyometrics, these bad boys stayed in place without ever having to adjust them.
The controls are simple and can be adjusted right from the earbuds or from your phone. You can control the volume, play, pause, track forward/backward, answer, end, or reject calls, HearThrough, Siri / Google Now activation, and start/stop and pause real time coaching workout feedback. Yeah, that's a ton of great options right from a pair of small wireless earbuds.
Performance & Software: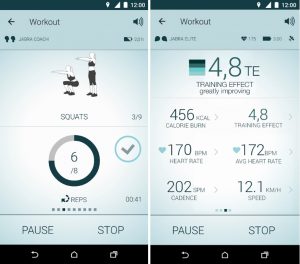 For the size and design, these earbuds have some amazing tech inside. For the sole purpose of training smarter not harder, these buds are equipped with in-ear heart rate monitor that work in sync with the integrated fitness app, Jabra Sport Life. Having the ability to track and analyze your fitness not just after your workout, but during, is huge. Plus, there's also personalized audio coaching to help guide and push you through your workout. "You can monitor your absolute fitness level, have your reps counted automatically, predict your race pace and finish time, and get recovery tips to avoid over training."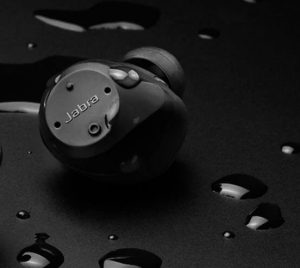 Working out takes a ton of focus, so having the ability to easily switch to "hear through" with a touch of a button so you can hear your surroundings is very convenient.
Once the batteries run low you can still get an additional two charges from the smart case. Being Android and iOS compatible, the Jabra Elite Sport earbuds are a must have if you love to get the most out of your workouts. Plus, once you're done with your workout, you can run these earbuds right under the water to clean them.
Acoustics:
It really all comes down to acoustics.  I mean, that is the sole purpose of any good pair of headphones and earbuds.  Jabra Elite Sport earbuds have a surprising full sound and even carry a good amount of lows to help pump that beat through your skull. We tested these earbuds with a variety of music genres and they all sounded great.  Even when taking calls, the sound was bright and easy to hear.  If you have a snug and secure fit, the sound will be full and sound great all the way through the highs and lows.  However, if you don't have the earbuds in correctly, you won't get that nice full bass they offer.  So be sure to place these guys in your ear right to take full advantage of the amazing acoustics.
Comfort: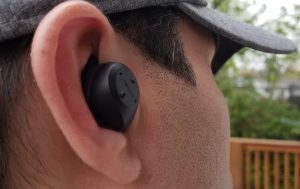 Aside from the excellent design, performance, and software, the Jabra Elite Sport has a fair level of comfort. It has a great secure fit, but I actually felt some ear fatigue (didn't know that could happen) after about 30+ minutes. If your workouts are short but intense then you probably won't even notice them, however if you are just going for a bike ride or long run, they might fatigue your ears after a while.
Value:
Having the ability to be totally untethered as well as having a built in heart rate monitor and personalized fitness coach is truly handy when you want to get the most out of your workouts. So with the price tag of $249.99, we feel this is a good deal.
Buy now: $249.99 or to learn more, check out: Jabra.com
Jabra Elite Sport Wireless Earbuds - Tech Review
Jabra has created a supreme quality of truly wireless earbuds that do way more than just play music. These are a must have if you love getting the most out of your workouts or simply want to have a truly untethered experience.
The Good:
Truly wireless
Heart rate analyzer
Integrated Personal coaching
The Not So Good:
Comort isn't ideal for long periods of time