Designed with attention to detail and plug and play simplicity, the Boston Acoustics TVee 26 soundbar and wireless subwoofer system is reserved for audio hungry entertainment junkies who are sick of running speaker wire all over hell and back in search of the ultimate home theater experience. The TVee 26 system requires nothing more than a couple of power outlets and an optical cord (included) to get started. No unsightly wires and very little set up is the name of the game. The TVee 26 system offers a clean look that appears to be ideal for minimalists who like it loud.

But… how is the sound quality? Is setup really that easy? We found out…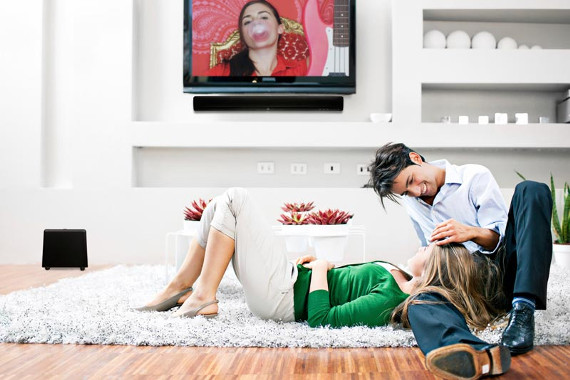 Recently I outfitted my personal home entertainment system with the Boston Acoustics TVee 26 soundbar and wireless subwoofer system. Replacing the five-speaker (wired) setup from Sony I've had for the past several years. I have to admit I began testing a little weary of this system's ability to deliver high quality immersive audio due to its diminutive size and simplistic layout. Even though the specs indicate it's capable of delivering 150 watts of power and has what Boston Acoustic is calling "Digitally Optimized Virtual Surround" (DOVS), which is said to recreate the cinema surround experience using sophisticated digital processing.
                                           Key Features:

Powerful audio performance for any TV
Easy one wire hookup & wireless subwoofer
Soundbar learns your existing remote control
Dolby Digital and Boston's Digitally Optimized Virtual Surround
Dedicated music and movie modes
Boston's BassTrac circuitry for more bass without distortion
Both analog and optical digital inputs for flexibility; cables included
Mini stereo AUX input
Integrated keyhole mounts for easy wall-mounting

Specs:
Frequency Range: 40Hz – 20kHz
Soundbar Speakers: Dual 2 x 5" HHRT Drivers
Wireless Subwoofer: 6.5" Woofer
Soundbar Dimensions: 3.4″ x 31.5″ x 3″
Subwoofer Dimensions: 9.3″ x 10.5″ x 11″
Weight: 4.8 lbs (soundbar) / 6.6 lbs (subwoofer)
– TVee 26 Soundbar Review –
Setup: 
(10 out of 10) We were truly impressed with the ease of setup the TVee 26 provided. After plugging in both the subwoofer and soundbar to power and connecting the (provided) optical cable there was very little left to do, except for sync the woofer and soundbar and let the audio blast. If you've ever attempted to wire a home theater system it's easy to appreciate the TVee 26's ability to keep it simple.
Design: 
(9 out of 10) The entire system is sleek and understated. In all black, the soundbar and woofer blend into almost any background without drawing attention until the volume is cranked. We liked the touch sensitive flush mounted controls and the soundbar's ability to be a table top speaker or wall mounted. Though when wall mounted access to the AUX-IN and Optical inputs become difficult to access.    Beyond its simplistic good looks, the TVee 26 also has the ability to learn your current TV's remote. Making volume adjustments simple. No need for multiple remotes. A very nice touch!
Audio Quality: 
(9 out of 10) With the ability to position the wireless subwoofer anywhere in the room that you please the TVee 26 system truly delivers a surround sound experience. It took us some tinkering to find the optimal location, but once we did we knew it instantly! It's hard to believe that such a small package can produce such a rich listening experience, but I'm here to personally vouch for it's depth and quality. The sound bar creates crystal clear highs while the subwoofer, with its down-facing 6.5″ woofer delivers deep thumping sound that you can actually feel.   During my time spent testing the TVee 26 I never experienced moments of distortion or fuzzy qualities even at max volume. I would best describe the listing experience as rich and immersive, yet mellow. On the down-side, there are no EQ settings to adjust and it's also bit annoying that you have to physically go to the subwoofer to adjust the bass levels. Something they should have added to the remote in our opinion.
Value: 
(9.5 out of 10) The decision to shell out $350 for this system may seem painful, but after you experience its 5 minute setup and wonderful audio quality you'll never think about its cost again. Not to mention the piece of mind that Boston Acoustics offers in the form of a limited warranty that protects against defects in materials or workmanship that occur in normal use. We think the pricing is spot on.
The Bottom Line

:
Whether you're an apartment dweller or home owner, the Boston Acoustics TVee 26 is an excellent complement to any entertainment system in our opinion. It has a minimalist approach in design with sound quality that is truly impressive. We enjoyed this system mostly for its room filling audio and the ability to locate the subwoofer anywhere – wirelessly. If you're looking for a streamlined, almost complelety wire-free way to upgrade from your flatscreen's tin can speakers we highly recommend you seek out the TVee26 from Boston Acoustics. It's simplicity amplified.

Buy Now: $350 or go to: BostonAcoustics.com