When it comes to durable, functional, and lightweight gear, I am a huge fan of Big Agnes products. Big Agnes is a company that encourages people to get outdoors and explore, and they use and test all of their gear to make sure it meets these three conditions.
When we were offered the opportunity to review the Big Agnes Copper Spur UL 3 Tent, I immediately wanted to get outdoors and see how this tent held up. For an up close look at the ins and out of the Copper Spur UL 2, including setup and tear-down, check out the embedded video below…

Key Features:
Three person, ultralight backpacking tent. Designed for three season use.
Hubbed pole design with DAC Featherlite NSL poles and DAC Twist Clips.
The tent body is made from lightweight nylon with polyester mesh openings that provide great airflow.
Rain fly and tent floor are treated with an ultralight silicone and a 1200mm waterproof polyurethane coating.
Two doors+vestibules which allow easy access in and out of the tent.
Eight interior mesh pockets which provide plenty of easy-to-access storage.
Specs:
Trail weight: 3lb 11oz
Packed weight: 4 lbs
Packed size: 6.5 x 21.5 inches
Floor dimensions: 90 x 70 inches
Head height: 44 inches
Copper Spur UL 3 Review Breakdown
Packability
As you can see from the specs listed above, this tent is not only ultralight, coming in at 4lbs when packed (includes tent, rainfly, poles, steaks), it also packs down relatively small. The packed weight of the UL-3 is only 7 oz more than my lightweight two person tent, but has significantly more room. Even if you are traveling with just two people, having the additional room to spread out or store items might make the additional weight worth it. The space-to-weight ratio of this tent is exceptional.
Set-up
Setting up this tent was easy, to say the least. You simply snap all of the poles in the pole system together, insert each of the corner poles in the system into the corner of the tent, then connect the DAC Twist Clips on the tent to the poles, then connect the last cross pole to the DAC H clip in the middle. If you need the rain fly, it attaches via buckle clips in each of the four corners, and you can adjust the tension in each of the corners. We went through the process of putting the rain fly on and getting it set up for the sake of the review, but we were lucky to have beautiful weather on our trip and did not need to use it.
Overall, it may have taken me, at most, 5 minutes to set up the tent. I really can't imagine it being any easier.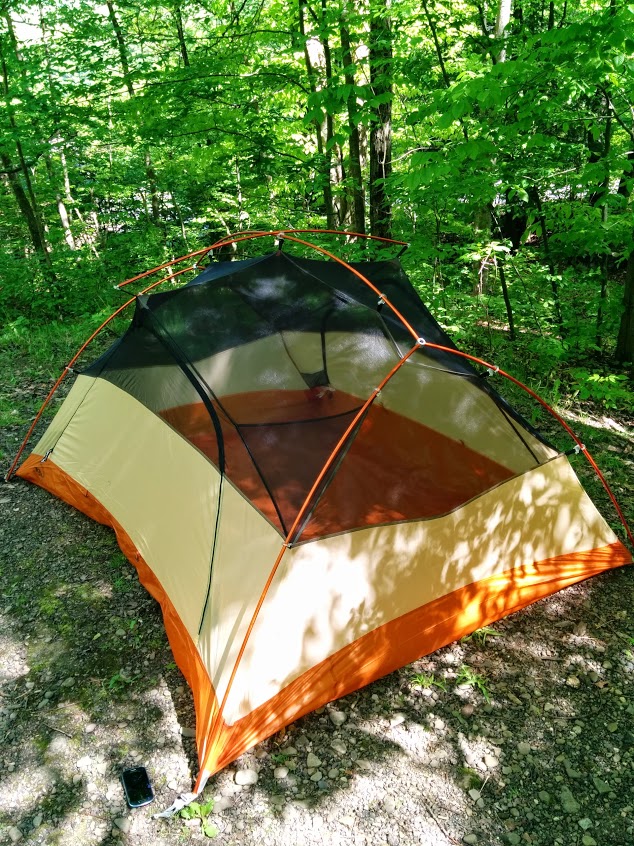 Design
This tent is roomy! Three people fit comfortably, and you could easily fit in two people with lots of additional gear if you wanted to. Having two doorways is great, and reduces the need to climb over other people. This may seem like a small feature, but if you have ever had to do this, you'll appreciate the two doors.
The entire top part of the tent, on all sides, is mesh, which provides great airflow. We picked a beautiful weekend to get away, so having the rain fly off and feeling the warm, summer wind blow through the tent was wonderful.
The tent also features gear loft loops, which you can use to attach a Big Agnes Gear Loft to store additional gear. We didn't have any issues storing our gear with the 8 mesh pockets inside of the tent, but this is a nice feature to have.
Durability
The DAC poles feel very sturdy, and are made from TH72M aluminum, which is ideal for situations that require maximum strength and minimum weight. Helinox, the creator of this alloy, claims that it is stronger than all previous lightweight alloys.
The tent material feels very thin, which probably helps reduce weight. We have only had the chance to take this tent on one trip, so it is hard to comment on the durability of the material, but we didn't have any issues. Doing a quick search, other people have reported that they were worried about how thin it felt, but that it has lasted them several years. Being an owner of several other Big Agnes products, I trust their reliability.
Comfort
We slept great in this tent! As noted above, the mesh provided great airflow, so it was not humid or muggy. There was plenty of room, and we did not feel squished. All of our additional items (headlamps, phones, glasses, etc.) were stored in the mesh pockets, so there was no rolling over onto a headlamp to wake us up in the middle of the night.
Value
At $499.95, the Copper Spur UL3 is no cheap tent. If you are a serious backpacker, and want a tent that is lightweight, roomy, and can pack down, I would say it is worth every penny. If you aren't concerned about weight, or how small this tent can pack, it may be harder to justify the price. Regardless, if you want a high quality tent, this is a great option.
Big Agnes Copper Spur UL 3 Tent - Gear Review
Overall, the Big Agnes Copper Spur UL 3 is a fantastic tent that I would gladly take on my backpacking trips. It is light, easy to setup, provides plenty of storage, and is roomy. In my experience, Big Agnes makes fantastic products that are practical, lightweight, and are made to last. This tent is no different, so if you are a backpacker that looks for those three things, look no further.
Pros
Lightweight
Compacts small for backpacking
Spacious
Cons
Price is a bit high if you don't need an ultralight tent. You are paying for high quality, lightweight materials.