If you are a regular visitor of Busted Wallet, you've seen previous versions of the Arlo product line reviewed by us. Previously, we test drove the Arlo HD Security Camera and the Arlo Pro Security System. Now, Arlo has launched their Arlo Pro 2 Security System. As you can see in our original Arlo Pro review, we found it to be one of top home camera systems on the market. Instead of going with a full-on revamp with the Arlo Pro 2, they built off their impressive camera and just made some significant improvements.
We will get in to the specifics in detail, but we can already tell you our favorite thing about the Arlo 2. They decided not revamp the base unit and made the Arlo Pro 2 cameras compatible . If you are an Arlo Pro System user already, you can simply supplement with more cameras and use your original base unit. This is an excellent idea by Arlo and helps you keep up to date with your system while being able to save some money. How did the whole system perform? Here's what we discovered…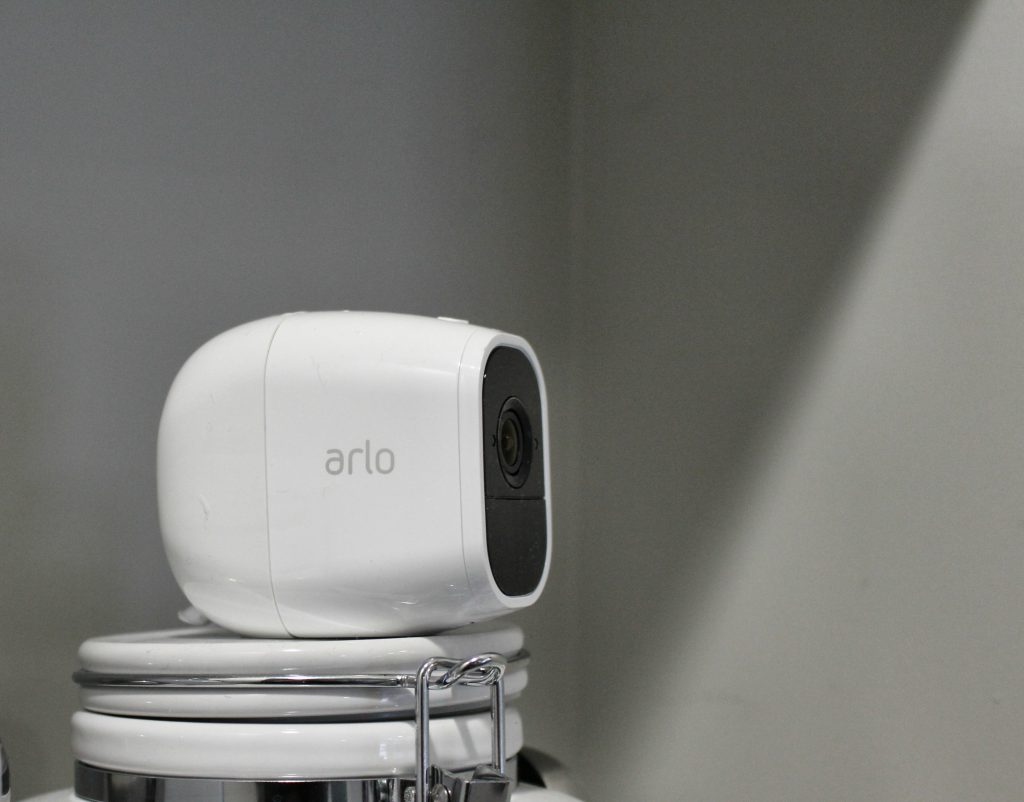 Key Features:
1080p HD Quality
Activity zones- Highlight areas in your camera's view where you want to receive motion and sound alerts. Available when plugged in and used indoors.
3- second look back- Capture activity 3 seconds before a triggered event so you'll always know what happened, from start to finish. Available when plugged in and used indoors.
Sound and Advanced motion detection
Optional 24/7 CVR
Flexible powering options but can always be wire-free if you choose
Rechargeable Battery
Weather-Resistant- IP65-certified to stand the rain, sun, heat or chill.
Arlo Pro 2 Security System Review Breakdown
Design:
The exterior of the Arlo 2 Camera is virtually the same as the original Arlo Pro we reviewed last year. The only difference being a smaller black front panel. The main differences are inside the camera, which we will get to. One of our favorite design features continues to be the magnetic mounts which allow you to quickly mount to any wall with a single screw.  A nice feature is the rounded mounts that allow you to easily adjust the direction and angle of the camera as well. The base unit is the same as last year's model and we previously noted it is kind of big but it fits in with your routers, cable boxes, etc. The only downfall being you have to find space for it.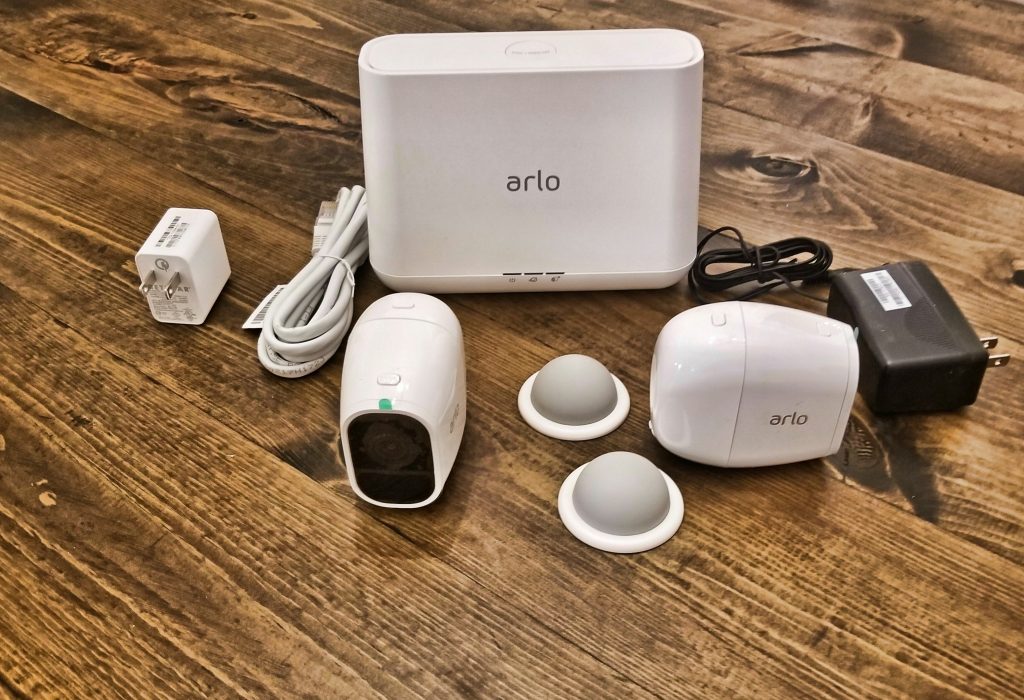 Technology:
The Arlo 2 system comes with a host of technology upgrades but the biggest will be in video quality. You now can stream and record 1080p video. The previous Arlo system topped at a respectable 720p, but when it comes to security more clarity is always a good thing. If you are a current Arlo Pro user the feature that might stand out the most to you is the enhanced activity detection. Arlo does not really tout this as an upgrade but there is a noticeable difference.
In the backyard, we set up an Arlo Pro and Arlo Pro 2 to cover the same area. The Arlo Pro 2 picks up more activity. For example, a bunny or a squirrel got picked up on the Pro 2 but the original Pro. Now this will give you more alerts, but it seemed to detect all movement versus the Pro that didn't catch everything. The big alerts were still detected by both so we didn't feel as though we were missing anything important. It is a nice improvement knowing your camera now gets everything. For us, it was peace of mind.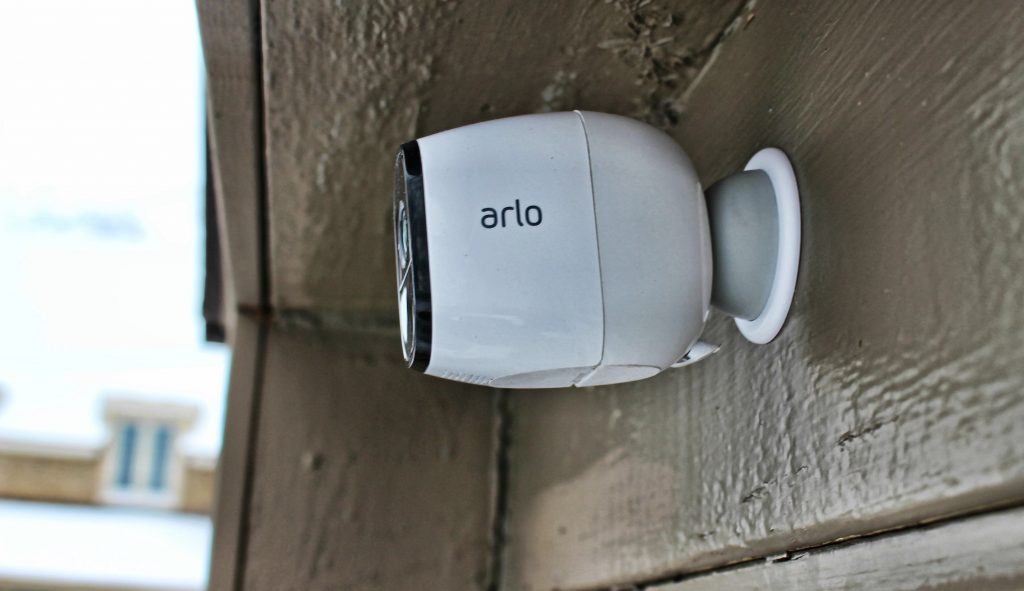 Arlo's cameras continues to be wire-free. However, there is now more incentive to keep the camera plugged in at all times. The Arlo 2 comes with new activity zones that allow you to highlight areas in your camera's view where you want to receive motion and sound alerts. This allows you to focus on a specific area in the view. For example, you can now focus on just your dog's kennel and eliminate other areas around it from getting alerts. This feature can only be used when plugged in and indoors.
Also new is the 24/7 CVR capabilities. You can upgrade your account to keep nonstop recordings in the cloud. This allows you to never miss a thing. Thinking about leaving the kids home alone for the weekend and want to check in on the party in your house? Now you can. Again, this feature requires the camera to plugged in and indoors. Also new this year is the 3-second look back feature. This new feature allows the camera to capture activity 3 seconds before a triggered event so you'll always know what happened, from start to finish. Again, this feature can be accessed only when plugged in and indoors.
Finally, there is a noticeable change in the recording settings. For example, in the original Arlo Pro it was a set 10 second recording when it detected movement. If movement continued then you would have another 10 second recording. It was quite possible things got missed in the gap of new recordings. However, with the new Pro 2, it will continue to record as long as there is movement. we had recordings up to 2 and a half minutes because there was constant movement. If there is a break-in or something in your yard, having the recording be continuous is a really nice feature. Overall, Arlo continues with impressive technology. We do wish some of the new features offered could be done without being plugged in, but that would definitely hurt battery life. If history is an indicator, Arlo will soon have a solution in future models.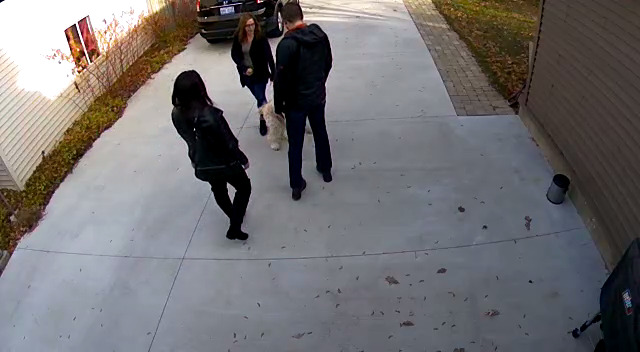 Battery Life:
The battery life continues to be ridiculous with the Arlo series. Touted as getting up to 6 months of battery life, we see no reason to disagree. With about 2 months of use we were are holding at 75 percent battery life. We do notice it can drain a little faster, especially if you are live streaming in the higher HD quality. Charging can be done in a few hours and you are back online. Our concern with a wire-free system was having to recharge the cameras all the time but with Arlo, it isn't a big deal at all.
Value:
Priced at $479.99, the Arlo Pro 2 system continues to carry a heavy price tag but in our opinion it is worth it. This system comes with 2 rechargeable cameras and a base unit. Also, if you are an existing Arlo Pro user you can supplement with a new camera for $219.99. This allows you to skip the base unit purchase.
The value of the Arlo Pro system is improving by keeping the base units compatible with the cameras.  Now you don't always have to get a new base. This allows you to improve your technology where you want it, in the camera, and save in your pocket book. Overall, we highly recommend the Arlo Pro 2 Security System. If you want to improve your home security, which will allow you peace of mind and keep an eye on things, then we suggest you look at the Arlo Pro 2 Security System. You won't be disappointed.
Buy Now: $479.99 or visit Arlo.comfor more information
Arlo Pro 2 Security System - Tech Review
Arlo continues to offer impressive indoor/outdoor cameras to help give you security and monitoring around your house. The long-lasting, wire-free cameras allow them to go anywhere around your house and yard. The Arlo Pro 2 offer enhanced 1080p HD quality video and several new features that do not disappoint.
The Good:
Cameras are compatible with the original Arlo Pro base units
Enhanced motion detection catches everything from rabbits to humans giving you peace of mind that your house is covered
Great battery life
The Not So Good:
Most new features can only be used if connected to A/C power
Price point will scare some off