This post brought to you by ALEX Wearable Posture Tracker and Coach. The content and opinions expressed below are that of Busted Wallet.
Stop what you are doing right now and take a look around you. How many people do you see with heads down fully involved in their phone? How many are slouched in front of a computer? Are you one of them? I am. Every day. Never really thinking too much about my posture, I wondered just how bad it was on an average day. The folks over at Alex Posture gave us the opportunity to try out their new ALEX Wearable Posture Tracker and Coach and I have never been so aware of how I am sitting or standing until I put that little posture coach on. The results of my initial posture tracking were frightening. No wonder why I have so many pains. The ALEX Wearable Posture Tracker and Coach has a goal to help beat neck and back pain and to prevent 'text neck'; which is all too familiar these days.
Key Features:
Beat neck and back pain – ALEX accurately measures your neck angle and head position to prevent 'text neck'
ALEX gently vibrates when you slouch into poor posture, coaching you toward perfect pain-free posture
ALEX is a sleek and discreet wearable that sits comfortably around the back of your neck
ALEX tracks your progress over time and monitors your posture in real time via mobile app
Longer battery life – ALEX lasts up to seven days without recharging
Design:
Equipped with flexible little arms that loop around your ears, ALEX is lightweight and non intrusive while you're working at your desk all day. It is small, though not as small as I'd like it to be. It is a simple design and just hangs around your ears and the back of your neck. Women have a better chance at hiding it under their hair, but for the men and women who have short hair or put it in an updo, ALEX may not be that discreet. The upside to this design is that it can easily look like a pair of headphones, and won't draw too much attention. The back side of the ALEX Wearable Posture Tracker, where the main sensors are located, rests against your neck and pivots with your head and neck movement then gives a gentle vibration when you've been in poor posture for too long. Be aware though that the vibration can be heard by others, so it might not be ideal to wear it in a uncomfortably quiet setting. The battery can last up to seven days before you need to recharge again. Charging can be done by simply using the included USB cord.
Technology: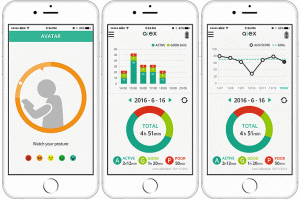 The built-in sensors, found in the main base of the ALEX, are able to detect the position of the head. It then sends the data to the mobile ALEX app. The app works well. It is nothing too complicated to learn. In the app you can set up your profile and calibrate your bad posture angles. This is the angle that will set off the vibration warning that you have entered into a bad posture. The app stores all your tracked data and lets you compare your progress overall. At one point I did have an issue with the device disconnecting from the app. After some powering off and on again with a little refresh of the data on the app, I was able to reconnect them.
Ease of Use:
Easy to use straight out of the box. You just need to charge up your ALEX Wearable Posture Coach before use, download the app to your mobile device and then sync it to your ALEX via bluetooth. The app was simple to navigate through and setting up my profile (avatar) was a breeze. It allows you to set daily goals and re-adjust your posture angle. Adjusting the ALEX device to fit your around your ears and neck is also made easy with the flexible arms.
Results:
After only just a week of using the ALEX Wearable Posture Coach, I became more consciously aware of my posture at any given time. I can't say that my back and neck pains have gone away completely, but I foresee ALEX aiding in the progress slowly over time. Even when not wearing it I noticed myself correcting my posture quickly, almost as if I was worried that ALEX would track it and give me a bad score against my daily goal. It became almost a competition in some ways, and there is nothing wrong with a little competition that could help improve your posture and possibly relieve neck and back pain. Now if only we could compete against other ALEX users in challenge groups…
Value:
While it may not cure you of your back issues, ALEX Wearable Posture Tracker and Coach can definitely help you prevent 'text neck'. It is a good device aid for those who are always slouching at their desk on their computers or constantly looking down at their phones. For only $85, ALEX can have you standing and sitting all proper.
Buy Now: $85.44 or to learn more go to: Alexposture.com
OR! enter to win your own ALEX right here…
ALEX Wearable Posture Coach Giveaway!

ALEX Wearable Posture Tracker and Coach
Best suited for the desk slouchers who sit in front of a computer all day, and those glued to their phones. ALEX can help combat 'text neck'.
The Good
Lightweight.
Easy to use.
Accurate aid device.
The Not so Good
Vibration is loud.
Hooks around ears can get in the way of glasses.
A little large and can draw attention.