If you were to make a list of the most unique vehicles on the road, you know that list would have to include the Polaris Slingshot. A sporty, one of a kind, head turning vehicle that blurs the lines between motorcycle and car.
In 2021, Polaris took notes from feedback on their 2020 offering and made many improvements that solidly amplify nearly every aspect of this attention grabbing, street-legal rocket ship that makes you feel like a celebrity in a race car everywhere you go.
Key Features 
203 HP ProStar 2.0L Engine

AutoDrive 5 Speed Automatic Transmission

Paddle Shifters

18″ Forged Aluminum Front Wheels

20″ Forged Aluminum Rear Wheel

305mm Wide Rear Tire

Leather Wrapped Steering Wheel

7.5″ Wind Deflector

7″ Ride Command display

Turn-by-Turn Nav

Apple CarPlay
2021 Polaris Slingshot R Road Test Details
Design
The design of a Polaris Slingshot stands all on its own. Yes, it's a car that's missing a wheel in the back, and yes it makes up for it by using a rear tire like you've never seen. But the design of this thing hits on so many other emotions for people looking at it. For many, the realization that there are only 3 wheels seems to be an afterthought to the sheer awe of the optical slap in the face you receive when seeing its design queues approach in the distance.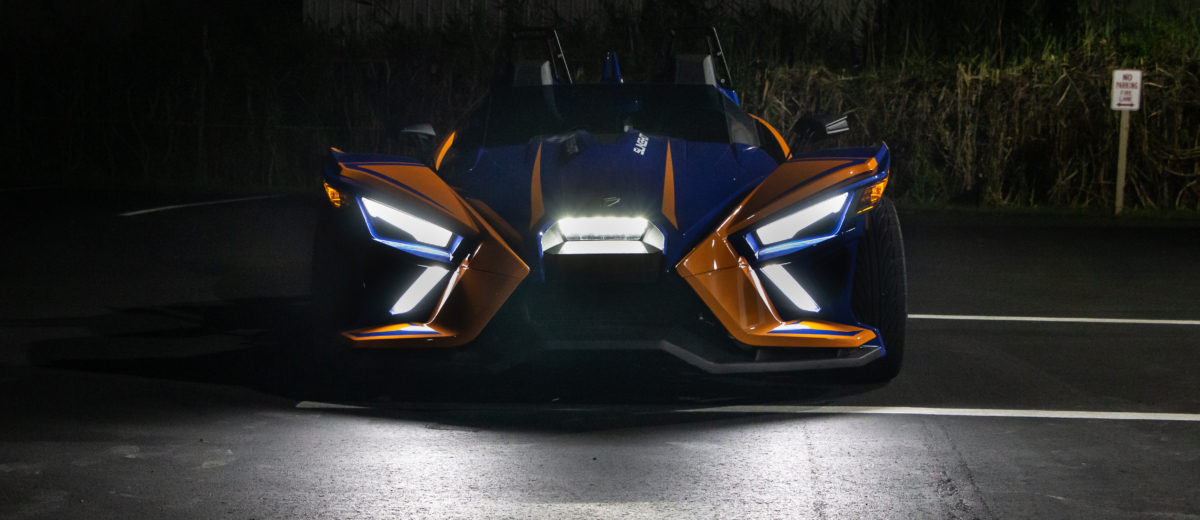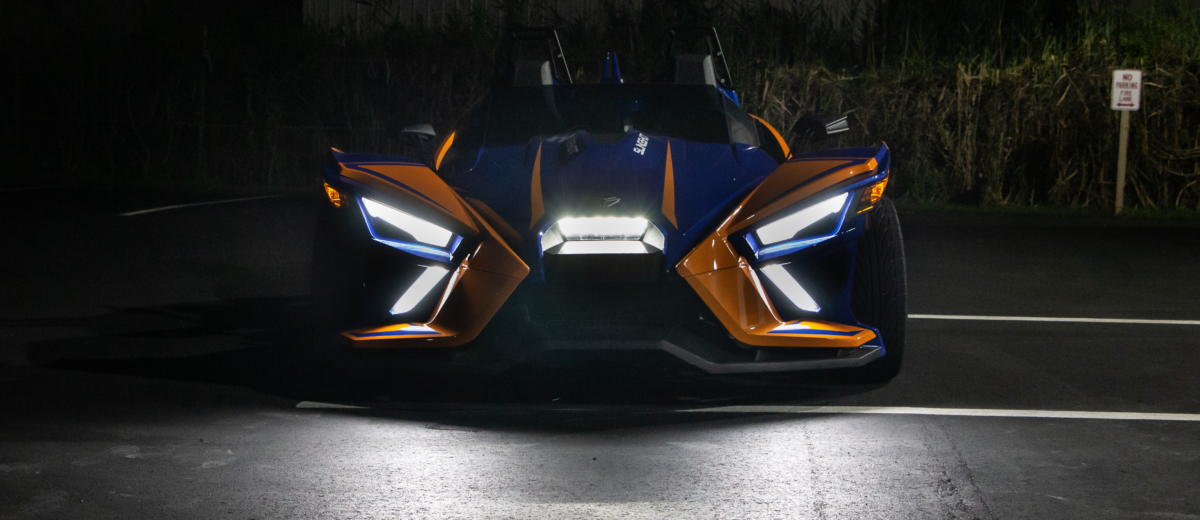 There are 2 states of mind when you see one on the road. The first is those who know "OBVIOUSLY, that's a Slingshot" while the second is those who don't yet know so the overwhelming response is "WHAT is that?!" As a driver, the first camp will undoubtably want a closer look and the second camp will also want a closer look, but also come talk to you like you had a box filled with the friendliest puppies on earth. No really, if nothing else, the Slingshot remains the ultimate conversation starter and as the years progress, it only gets better and better at grabbing all the right attention.
Of course, it may have been our color matched furry helmet covers that made it look like a few Muppets were screaming their way around town, but it was probably the car. Maybe both?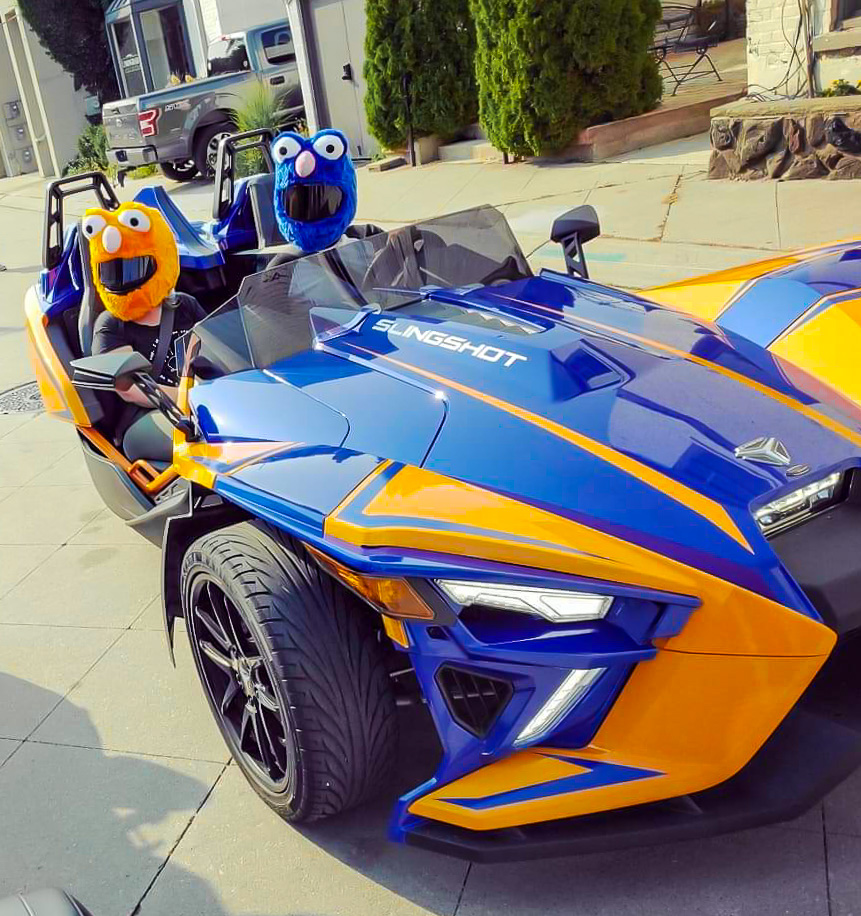 We took out the Sunrise Orange Slingshot R with color matched tube frame, mean LED headlights, massive color matched swingarm and let those giant batmobile-looking fenders and shark fin taillights do the talking. From the race car inspired seats and steering wheel you are treated with a wide open view of the road mixed with just the right amount of breeze coming in the doorless sides.
This year the interior continues to stand out thanks to a cool LED interior lighting scheme and bright neon color matched trim pieces that pull the exterior style right next to you. If the optical loudness doesn't quite stand out enough, thanks to Rockford Fosgate there is a new and improved stereo system that will blast your favorite tunes loud enough for all to hear. But the added tweeters and speakers aren't just for others to enjoy. The extra power really makes it easy to listen through a full face helmet at highway speeds, so it's much appreciated.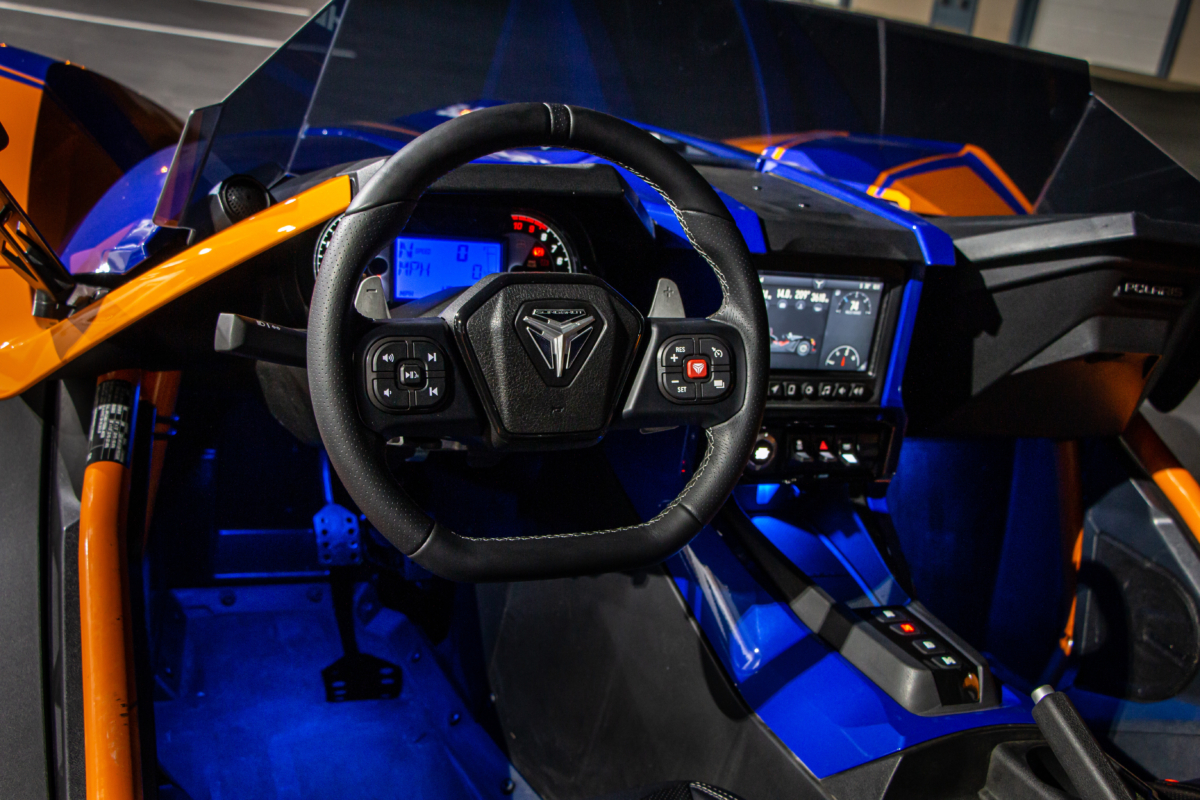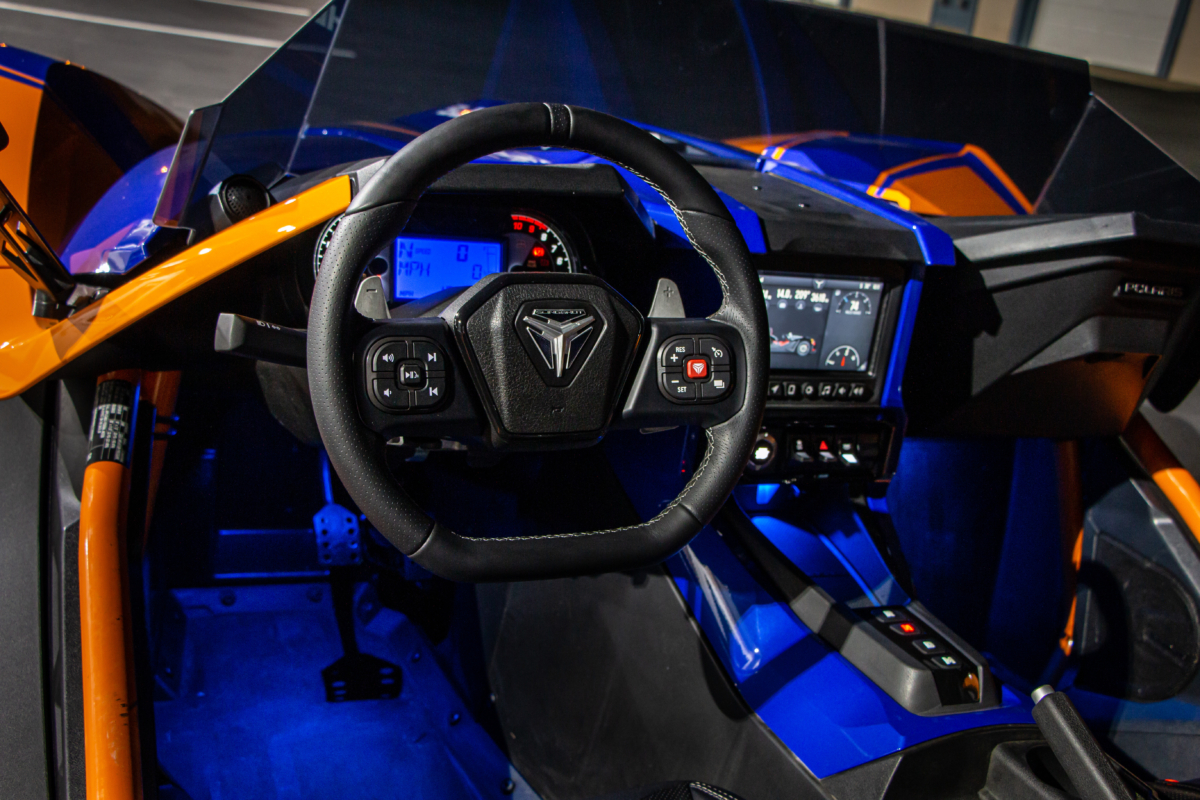 Performance
This is not the first time we've driven a Slingshot. Yet, a pattern has begun to form. When you sit down and buckle in, there is an excitement like you're about to drive it for the first time.  The Slingshot is all about celebrating the feeling of sport driving.
The raw startup noises and vibrations immediately transmit vibes of a race car ready to take the track every single time. You hear the chime of the computer as the fuel pump is priming. Then the push button start triggers a quick firing starter motor that leaves a nice steady RPM that sounds like its aggressively resting like a F1 car on the grid.
Not much changed on the 2.0L ProStar engine for this year. It still puts out the same 203 HP at 8,250 RPM with 144 ft/lbs of torque at 6,500 RPM, and it still weighs 1,654 lbs. But, that just doesn't get old. It's still a power to weight ratio similar to the C8 Corvette…minus a roof, doors, windshield …wheel…
But if you were looking for a power boost this year, you're not out of luck. Included in accessories for '21 is an optional stage 1 tune that will add nearly 15% more power.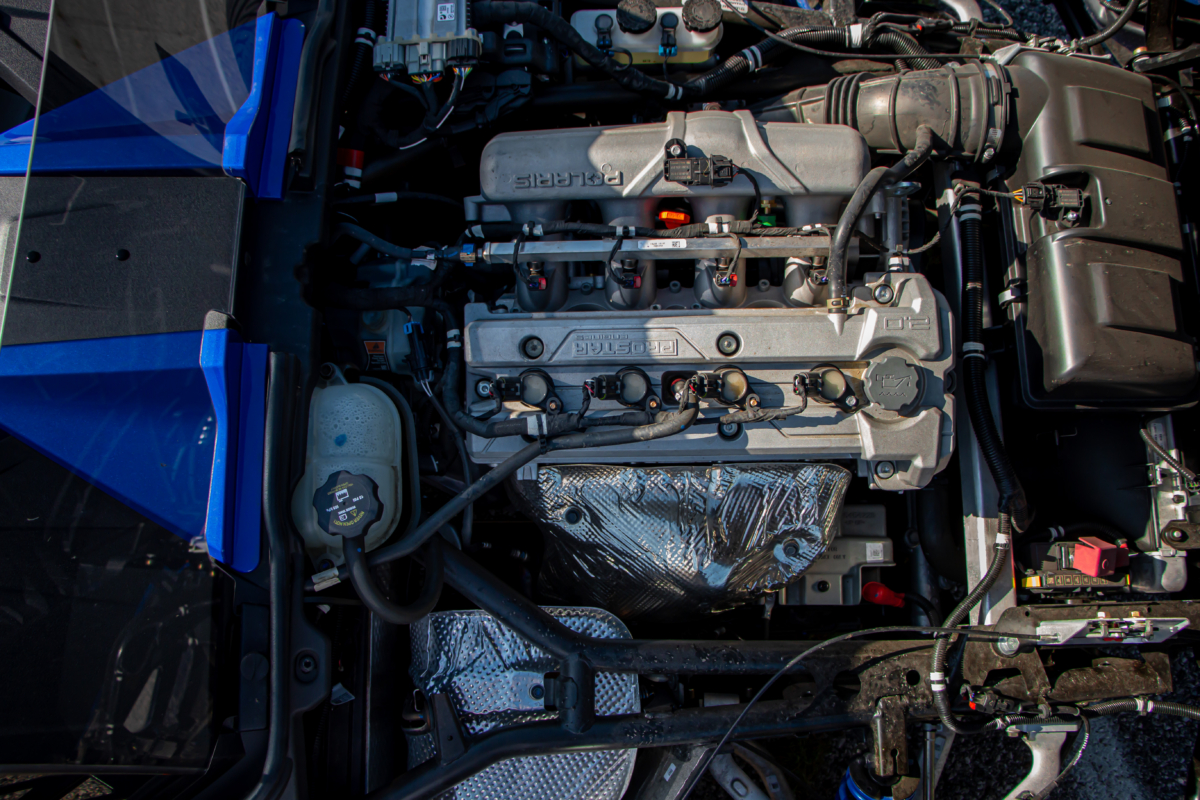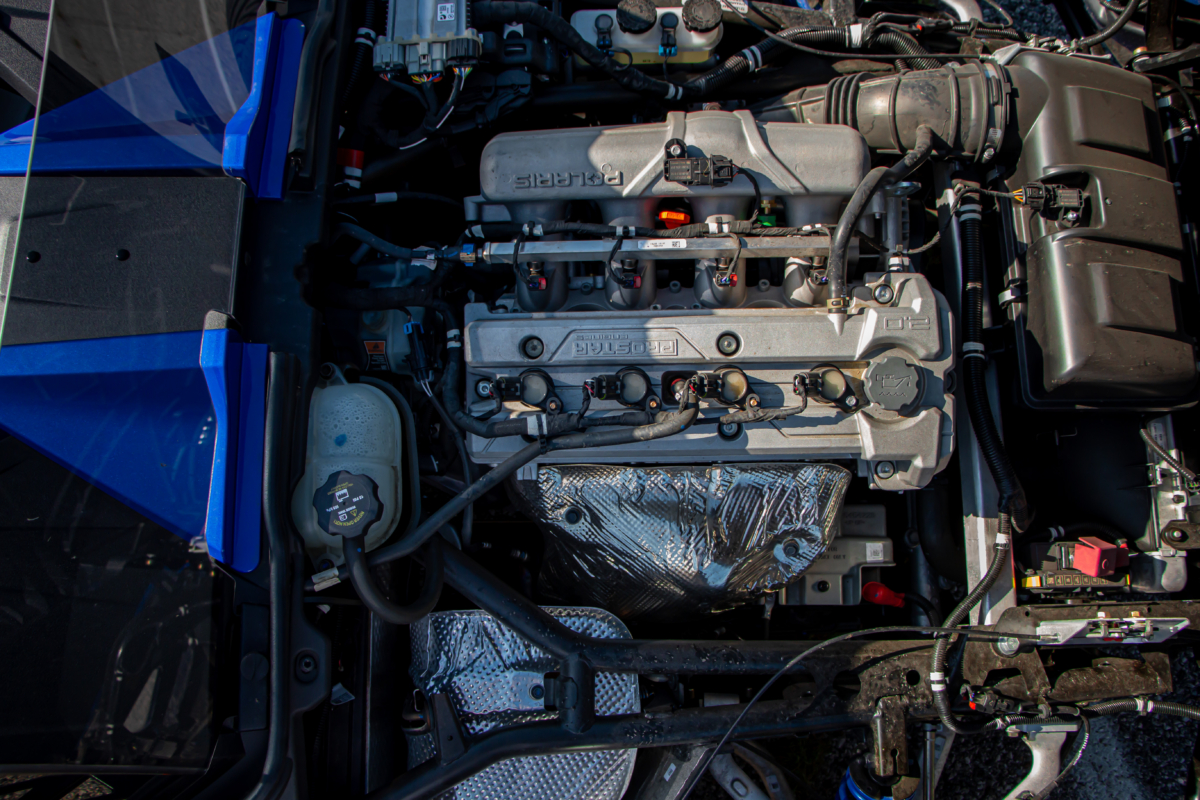 However, there was one big change that addresses one of our only complaints from the 2020 models. The AutoDrive transmission. You may remember that it was not great, but in a fun way. Well, it was retuned in 2021 and I'm happy to report that now they've got it. 
The new transmission tune is so much more predictable but also extremely playful and eager. The shifts are hard and is a good example of a sport tuned "manual automatic" where the shifts happen automatically, but the resultant feel is that of a manual.
A nice bonus to the new transmission is the addition of a hill hold feature that will prevent any rollback and makes slow speed driving much more reliable and less scary. You'll remember this is where we had some issues on the '20 model. However if you already got a '20, the awesome news is that you are not missing out. If you go to your local dealer, they can do a software update that will add the new tune and hill hold found in '21. It's not often that a manufacturer actually makes an improvement to an older model, so huge kudos to Polaris for that!
Also not gone is the spectacular little red "Slingshot Mode" button that results in more noise, higher revs, harder shifts, stronger downshifts.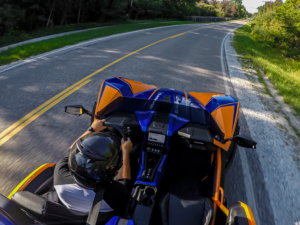 Perhaps the greatest performance improvement in '21 that would easily sway me from purchasing a '21 over a '20 is the addition of the paddle shifters to take manual control over the AutoDrive system like you are a professional race car driver. The paddles pair perfectly with the clutch pedal-less AutoDrive transmission for added fun and the ability for some more performance oriented moves. There is something so satisfying about using your fingertips to drop a gear, rev up the engine, stomp the right pedal and just keep grabbing gears as the MPH increases.
As for the rest of the performance, it is the same exhilarating driving on rails, rear-wheel-spinning, over-steering (if you don't use traction control), not-body-rolling, fast-feeling driving experience that the Slingshot is all about. Just like last time, it's a car that may not be "actually" fast but it looks and "feels" like it belongs on a racing circuit. I suggest you check out our last article for more on that.
We also got word that driving performance is about to take a nice boost in '22 when 4-piston Brembo Brakes will be standard on R models! 
Comfort
We've established that this still feels like a race car. But it may be so comfortable as a race car that it feels more like a motorcycle that encloses you inside. That is to say that there are comfort cars that are fast, like those of the German variety, but that's not what we're talking here. Its probably best to say that it feels comfortable for something that's been stripped completely down for track days but somehow remained street legal.
Storage options are the same as previous. Plenty of room for helmets and a few small bags. Though I did find that when running to the store or to pick up a burrito to go, my carry-ons were best left on the passenger floor.
The heavily bolstered seats are still very comfortable and surprisingly adjustable for something that looks fixed in a single position.
Speaking of seats, from last time you'll remember that I suggested you look into the cooled seat option due to the engine heat in the cockpit. Well Polaris comes through again and made the heated and cooled seats standard on many models. This included ours and while there is still a lot of heat that comes into the cockpit, the cooled seats really took the edge off and didn't leave me arriving with a sweaty t-shirt back because I was in traffic.
We also got a sneak-peek at the '22 and we are super excited to hear that one of the big changes will be a vented sport hood! The new style will improve cockpit airflow thanks to a hood scoop and vented fenders. Plus, hood scoops & active vents?! You know that's a look all of its own.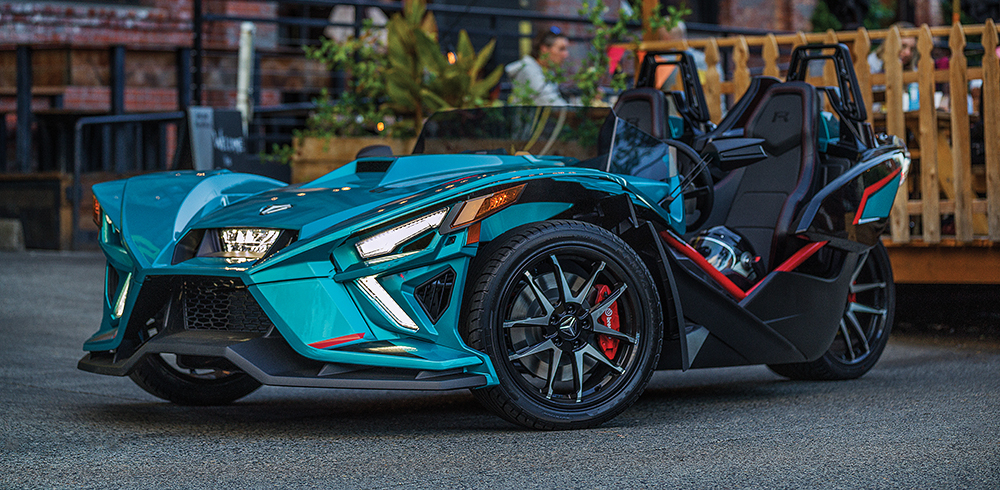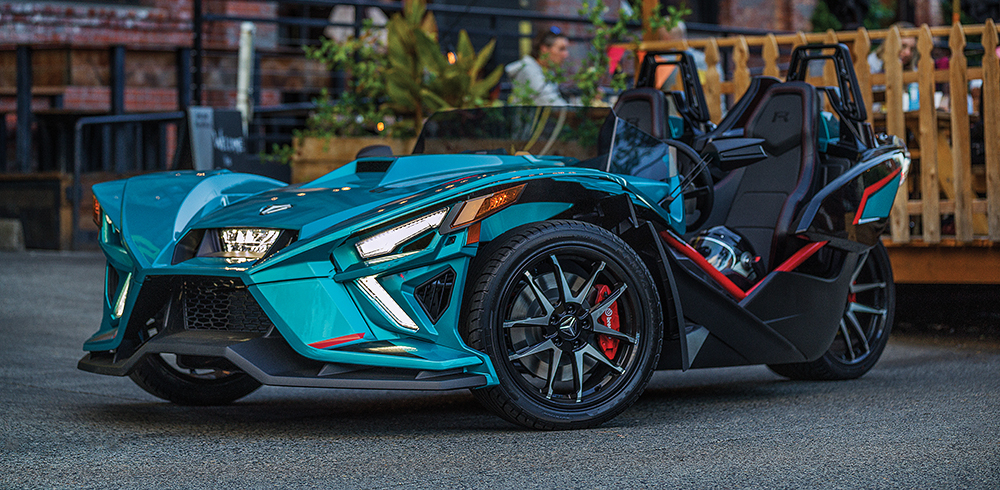 The Polaris Ride Command infotainment also is top notch. Like mentioned above, the Rockford Fosgate stereo system got some upgrades on our unit including 100 watts, redesigned speaker pods, tweeters in the dash and also the addition of speakers behind the headrests. But you can go even further in your audio journey thanks to other accessories by Rockford Fosgate.
Many things also stayed the same on the Ride Command including the crystal clear rear view camera, Bluetooth, USB, AM/FM radio, touch screen GPS, weather, traffic, ride summaries and cool infographics. 
However there is one excellent addition and that is Apple CarPlay! Standard on the R trim like ours, this may be worth adding to other models as well. Plus, remember how you could take your '20 in for a transmission tune? While you're there, you can also get Apple CarPlay added to your existing system. Again, Polaris offering upgrades for previous models. All you other manufacturers, pay attention, please.
The rest of the interior is also still completely weatherproof. The optional roof can be added for your comfort or just for looks, but if it gets wet inside the Slingshot, no problem.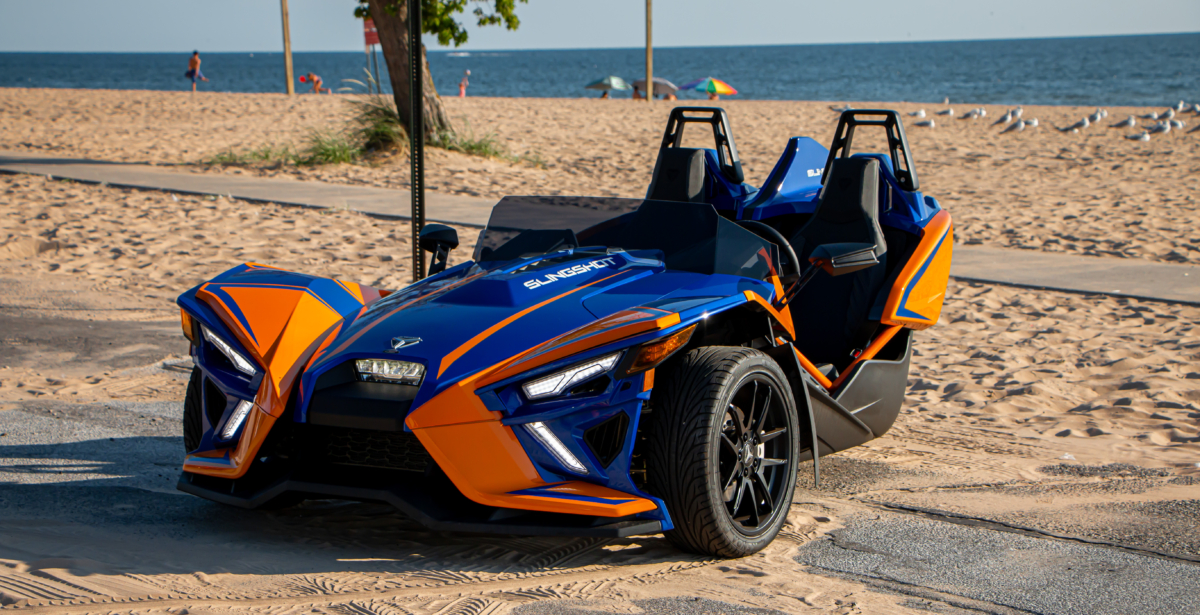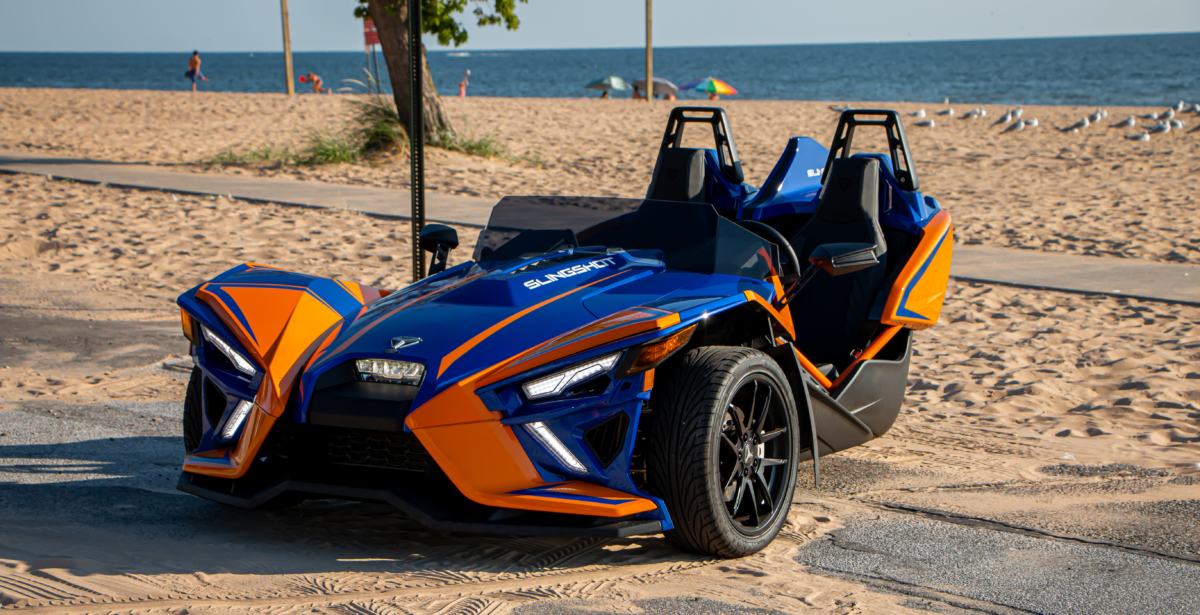 The front wind deflector seems to be the same as previous and remains just as effective. It keeps enough wind off that you don't feel overpowered, but it also lets some in so you can feel and enjoy what you're doing. Someday, I would love to see this be adjustable. The ability to control how much wind hits sounds nice. But then again, it also saved me from more than a few pieces of road debris, so I still suggest a full helmet (and so does Polaris) even though you may not legally be required to wear one.
Value
I think that the Polaris Slingshot is actually a great value. There are several tiers of Slingshot for different budgets:
S ranges from $19,999-$23,999

SL ranges from $24,999-$26,699

R ranges from $31,299-$33,299

R Limited edition ranges from $32,799-$34,799+
Also, looking forward, we've been told that '22 will have a SLR model to better balance style with performance and fill the gap between SL and R models.
We drove the Slingshot R with a few accessories and I think it's pretty fairly priced. The performance is on par with cars much more expensive. The looks remain to turn all the heads at a fraction of the price.
As with most cars, you can always go crazy with accessories. Some you may not need, but the ability to make the Slingshot your own is another great way to have your money go towards the whole experience and not just a thing. In '22 you'll also see a new roof accessory with integrated toolless install for a reasonable $1,800. Something we'll be keeping an eye on.
It is mainly a toy, but it's not totally impractical. I took it to the store plenty of times. We picked up take out more than once. I even went through McDonalds drive-thru. Although admittedly the drive-thru is a bit tricky because you sit well below the window. But good news: no roof!
In the end, it is SO MUCH fun. For me personally, is it worth what you get for your money? I'd say so, and it seems to be always getting better!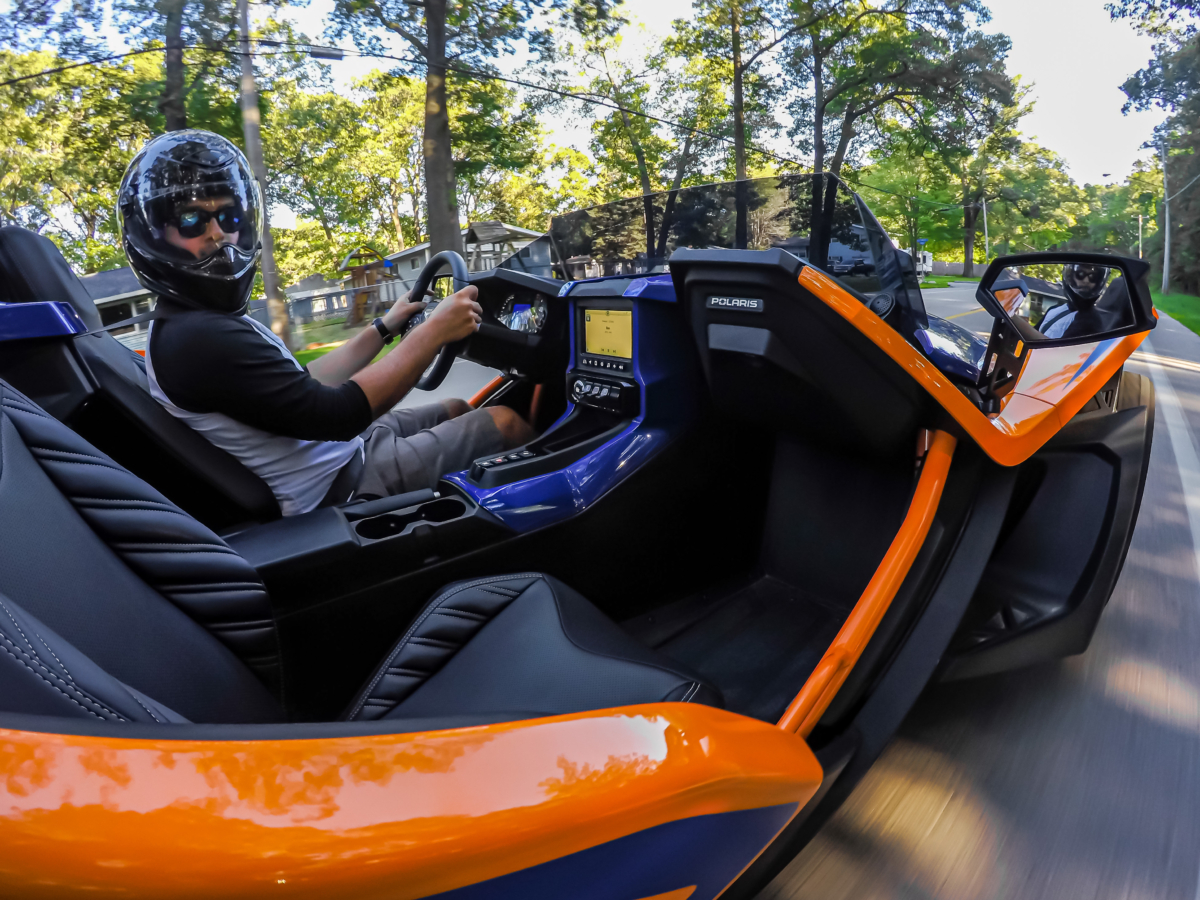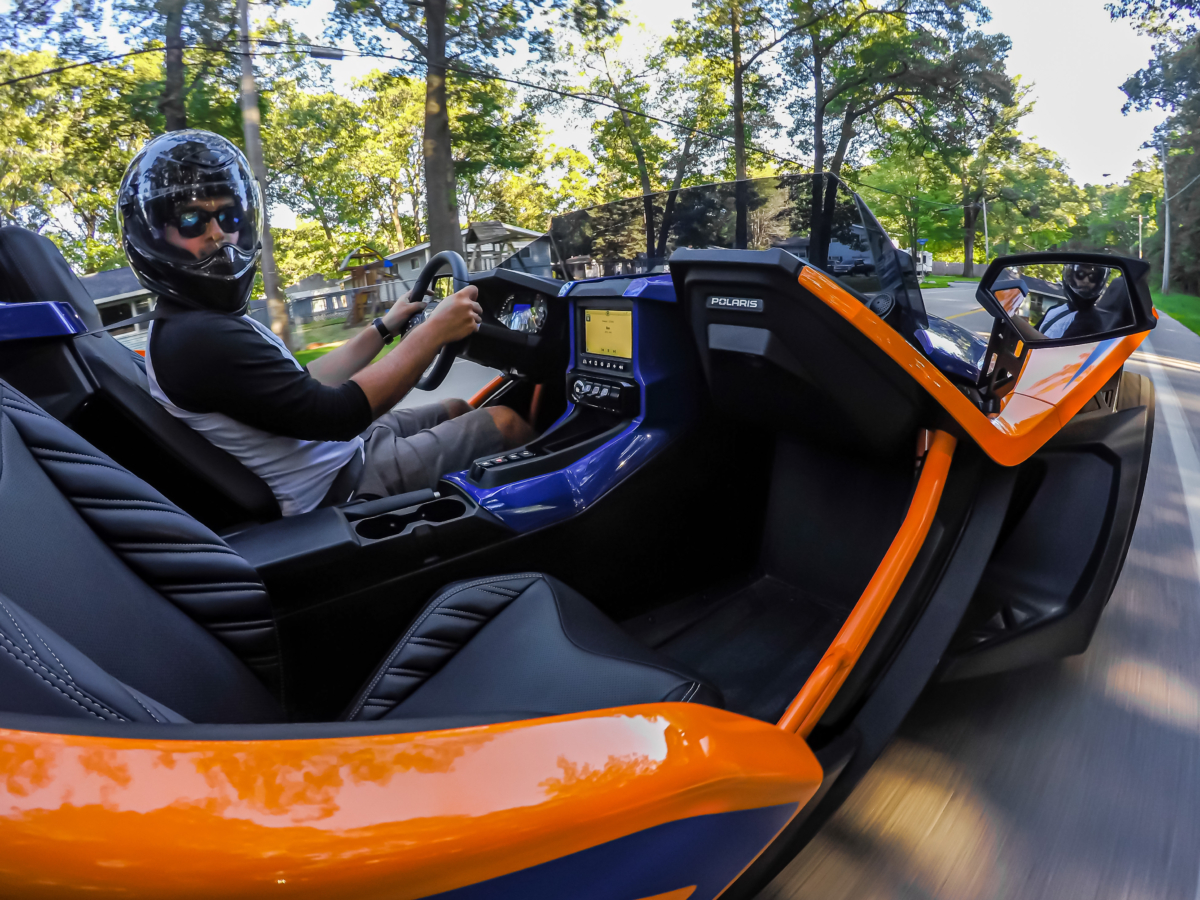 Build Yours Now: https://slingshot.polaris.com/en-us/build-category/ 
Check out all the photos here:
2021 Polaris Slingshot R - Road Test
The '21 Polaris Slingshot R combines the full on-road experience of a race car with head-turning looks that could kill but finishes it off with a comfortably techy driver experience that continues to get better and better every year.
The Good
New AutoDrive transmission tune is on point!
Cooled seats take the edge off on a hot day!
Paddle Shifters!
The Not So Good
Engine compartment heat in cockpit
Windshield blocks too much wind
Android Auto?