There is not much like the feeling of the open air on the open road. The choice usually comes down to whether you like that feeling with 2 wheels or 4 wheels. But at Polaris, they have created another option in the Slingshot R that sets you free on 3 wheels.
With an all-new design in 2020, the Polaris Slingshot R is a whole new machine that brings the experience of driving to a whole new level for anyone.  We took one out on the road and around the town to get a hands-on feeling for what this not-car, not-motorcycle, autocycle is all about.
Key Features
203 HP ProStar 2.0L Engine
AutoDrive 5 Speed Automatic Transmission
2-Piece Composite Brake Rotors
18″ Forged Aluminum Front Wheels
20″ Forged Aluminum Rear Wheel
305mm Wide Rear Tire
Leather Wrapped Steering Wheel
7.5″ Wind Deflector
7″ Ride Command display
Turn-by-Turn Nav
2020 Polaris Slingshot R Road Test Details
Design
It doesn't take much studying the looks of the 2020 Polaris Slingshot R to recognize that this thing is a MAJOR head-turner. The aggressive styling all around gets looks like not much else.
In fact, there was a time I was cruising down the beach and passed a beautiful Lamborghini Huracan Performante coming from the other direction. (That's a Lamborghini that'll set you back around $275k if you were wondering) Both of us were passing a few pedestrians and guess what happened, the heads followed the Miami Blue Polaris Slingshot R as the Lambo putted by. (Admittedly, I feel bad about this…a car like that deserved the look, but the streets have spoken.)
The looks continue everywhere. Nearly every stoplight and gas station involved thumbs up and strangers stopping and asking "what IS that thing?!" There were even times when little kids would ask to have their picture taken with it or yell out the car window "THAT'S AN AWESOME CAR". In short, you feel like a superstar when behind the wheel…and, yeah, it's a pretty cool feeling.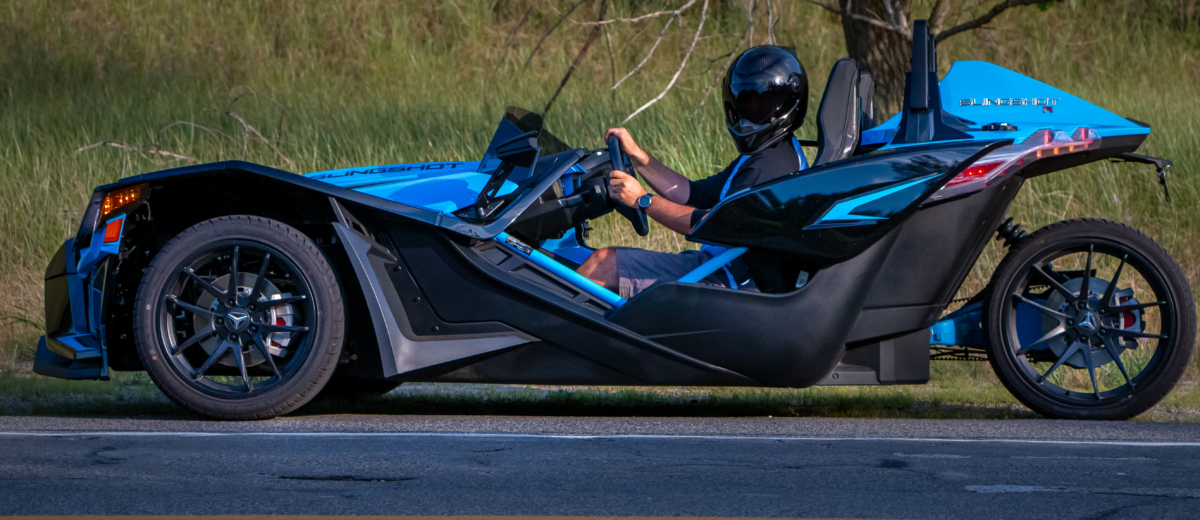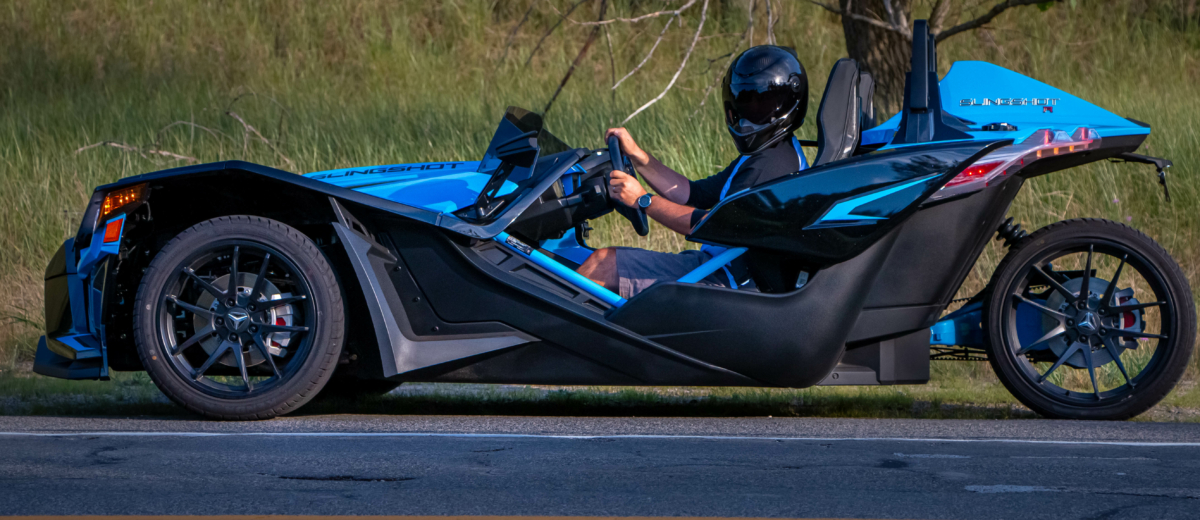 The aggressive lighting scheme in 2020 is what really grabs the looks. The headlight pattern seems to be inspired by an X-Wing fighter and the radical supercar inspired LED lights wrap around to the back where the taillights continue up the spine of the slingshot like a glowing shark fin.
Combine these lights with a body kit that appears inspired by an F1 racer and it's no wonder it looks great.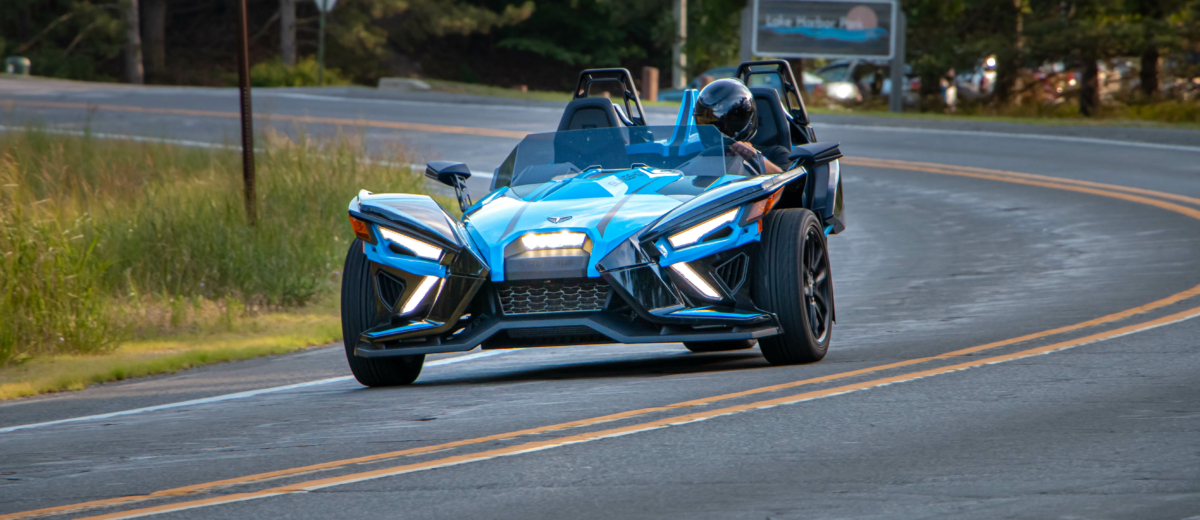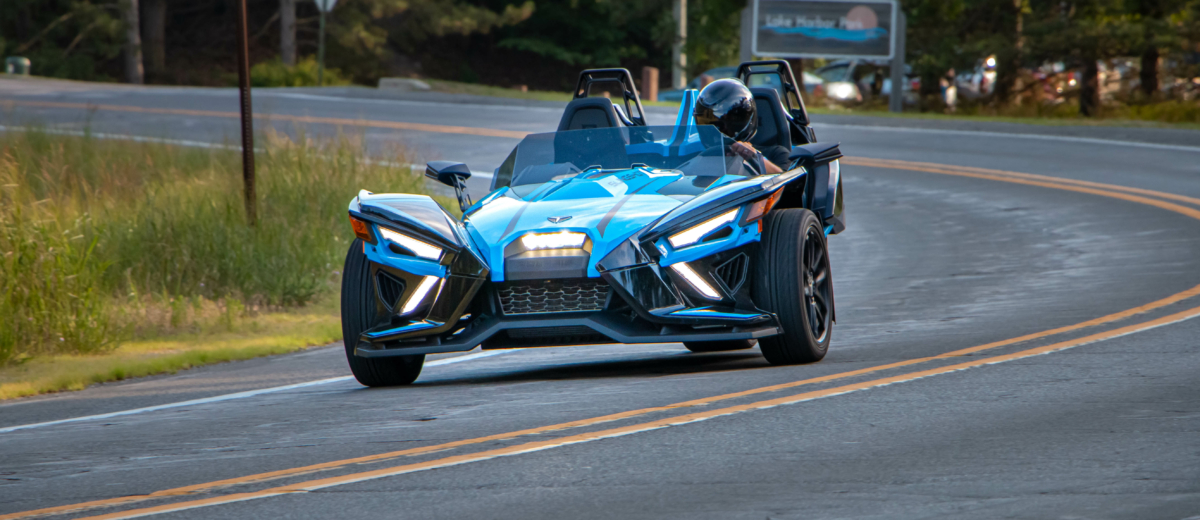 Under the hood, a lot is new for 2020. Changes included Polaris Industries' first 4 cylinder 2.0L motor called the ProStar. In previous years, the Slingshot did not include an in-house built motor, but not anymore.
Another huge change under the hood is the mating of the ProStar engine to the all-new AutoDrive transmission. This is a 5 speed hydraulically actuated automatic synchromesh transmission. This means that anyone can hop in and get behind the wheel. No experience with a clutch or manual transmission is necessary. Just tap the "D" button and go.
The sporty cockpit of the 2020 Slingshot Type R also brings an entirely new interior design. Details include a race car-inspired steering wheel, color-matched trim panels, mobile phone storage, Rockford Fosgate stereo, touch screen display, cup holders and some pretty trick LED accent lighting to match the color of the car.
Around the back is the business end of the Slingshot. The GIANT single rear drive wheel that gets this rear-wheel-drive up and moving. This is the only place that looks like a motorcycle with a big, oversized swing arm and belt drive turning the 20″ wheel.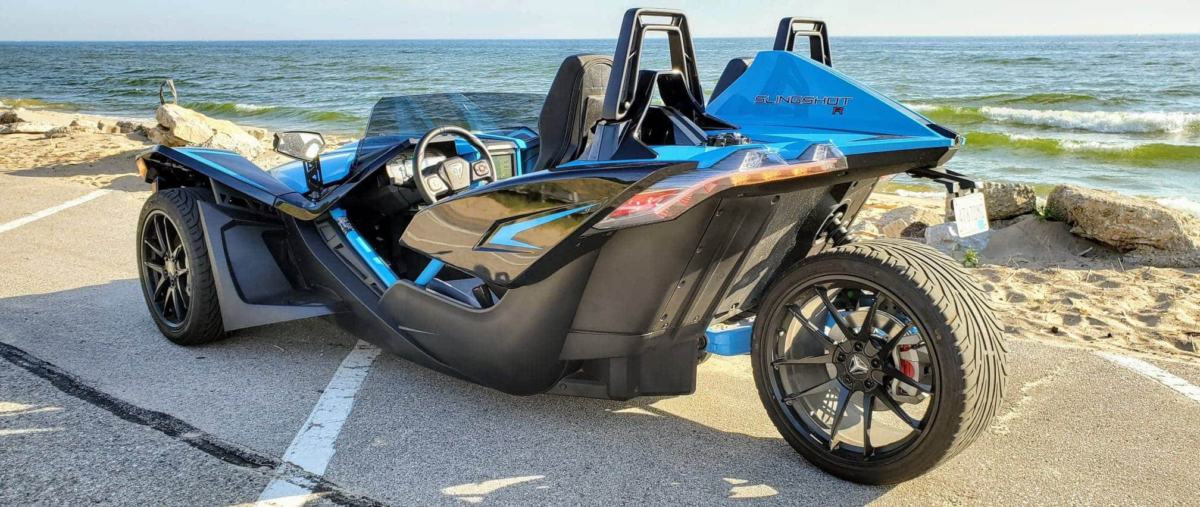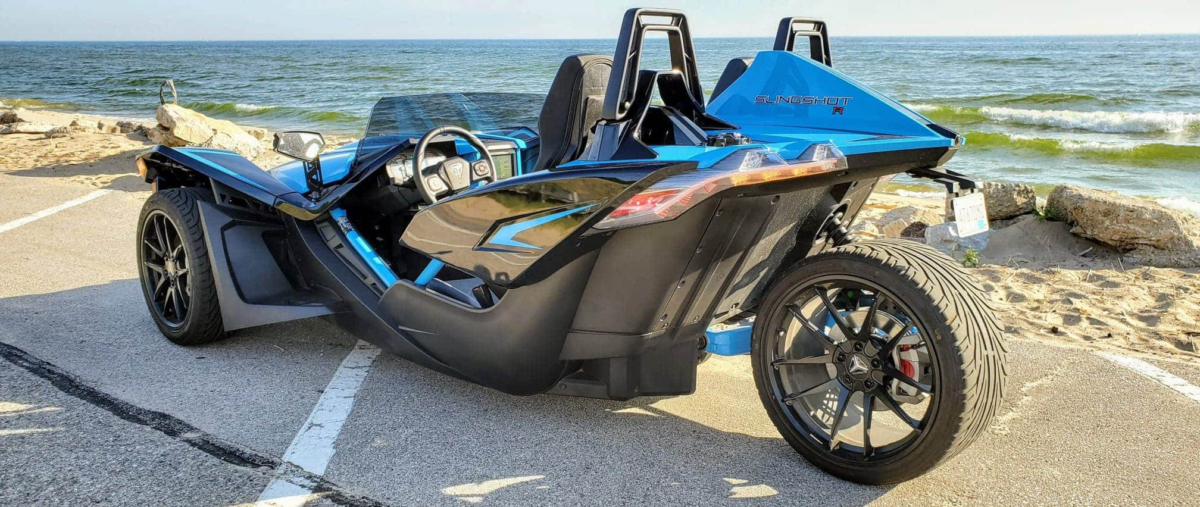 Performance
By the numbers, the Polaris Slingshot R is pretty impressive on paper. The 2.0L ProStar engine puts out 203 HP at 8,250 RPM and 144 ft/lbs of torque. Which is a lot for a vehicle that only weighs 1,654 lbs and is on par with some of the high dollar special edition modern muscle cars when looking at power vs weight. Polaris advertises a 0-60 time in 4.9 seconds. A VERY respectable time for this price category and fast enough to keep you firmly in the back of the seat.
There is even a big red button on the steering wheel that will engage a fantastic little thing called "Slingshot Mode" with a quick press of the thumb. In this mode, the automatic transmission and throttle are instantly retuned so the engine revs up high before shifting, making lots of beautiful engine noise and letting you feel like the car is waiting for your input to just go faster! It even downshifts hard for some great feeling engine braking.
Not to mention that every time you push it there is a feeling of great satisfaction knowing you have now engaged "Slingshot Mode" as the digital dash reflects the change back and puts up a special logo reserved just for this experience.
Part of that driving experience is also the sound of the Polaris Type R. With an open-air cockpit like this, you really experience the engine. This means the sound of the exhaust is loud but not obnoxious and you can feel the heat coming from the engine compartment. All things that seem to make this feel more like a race car or something that loves speed.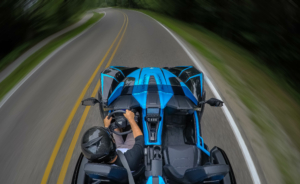 The handling on the Slingshot is complicated to describe. The front end grips like you are on rails. The 2 front tires have an easy job due to the extremely low center of gravity designed into the suspension. Body roll is nearly impossible.
However, that rear end is a tricky thing. All the power goes to the single rear wheel which means it LOVES to drift around. While there is full traction control to keep you in check, you know it's moving around. Which can be pretty fun. For this reason, you won't be zipping around a track at record speeds or even keeping up with a sophisticated suspension on another sports car, but you'll have a fun moment.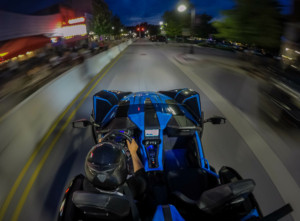 The new automatic transmission is another performance point. On its own, its…not great. Sorry to say. But, I have to say *asterisk-keep reading. It shifts pretty hard, has a pretty large delay between shift points, and has 1 scary tendency. When downshifting, it will automatically rev up to RPM match as many sport auto transmissions do. But on occasion, while coming to a slow stop, it seems like it forgot to disengage the clutch! While braking, it would rev up while engaged and nearly send me into the back of the car in front of me. A sort of spooky feeling.
So the first question you'll be asked in the Polaris Slingshot is "Is that thing fast?!" and after driving for a while, I came to a very perplexing answer. Well, no. It's not going to your next track day and you're not going to be winning any underground road races.
*BUT* does it feel fast? RESOUNDING YES!! You see in modern sports cars, there are so many aspects that make the car smooth, refined, easy to drive to the point that you wouldn't know if you were doing 45 or 145. As I highlighted above, the Slingshot is not one of those cars. It has quirks and those quirks all combine to give you a driving experience like you are driving around the Monaco Grand Prix everywhere you go and I love it for that.
Sure it will go fast but the great part is that you can get that same feeling without flying around at actual death-defying speeds and anyone can do it safely. So performance is tricky to answer here. There are a few things that are individually not great but when put together, performance is balanced, safe, exhilarating, and just plain FUN. I embraced its quirks and enjoyed them!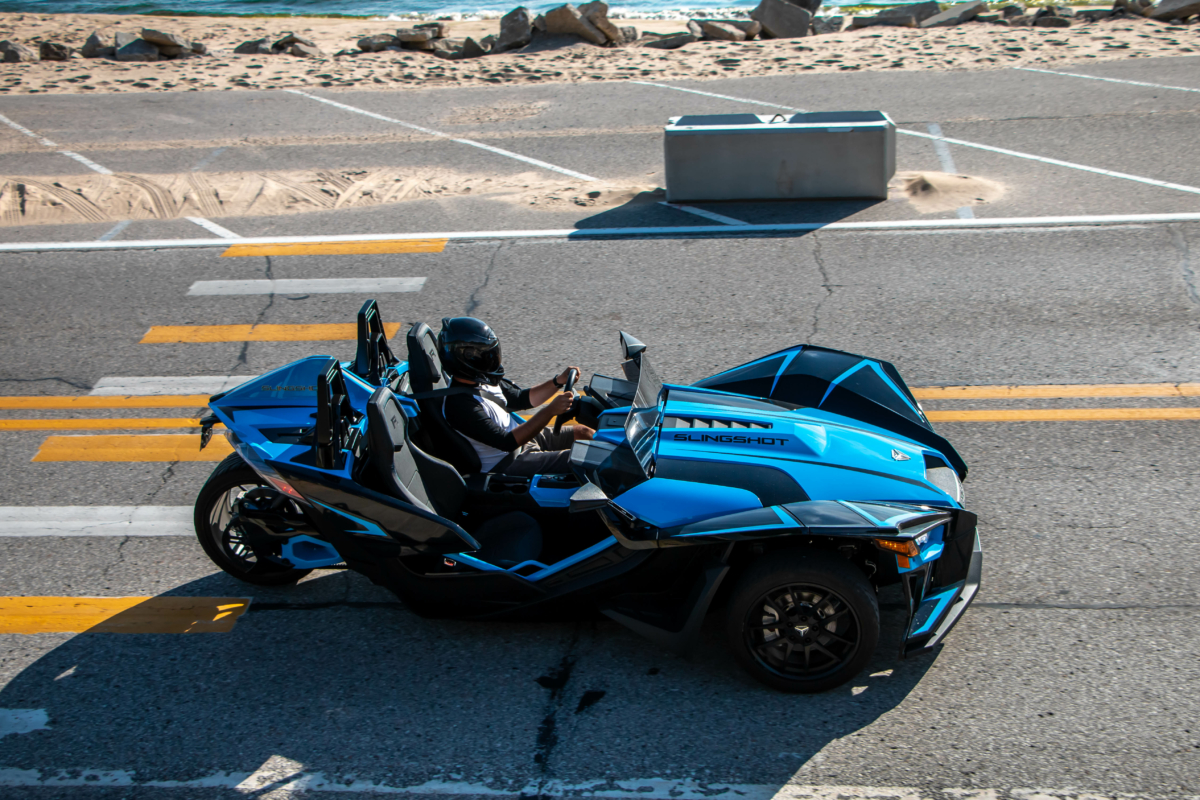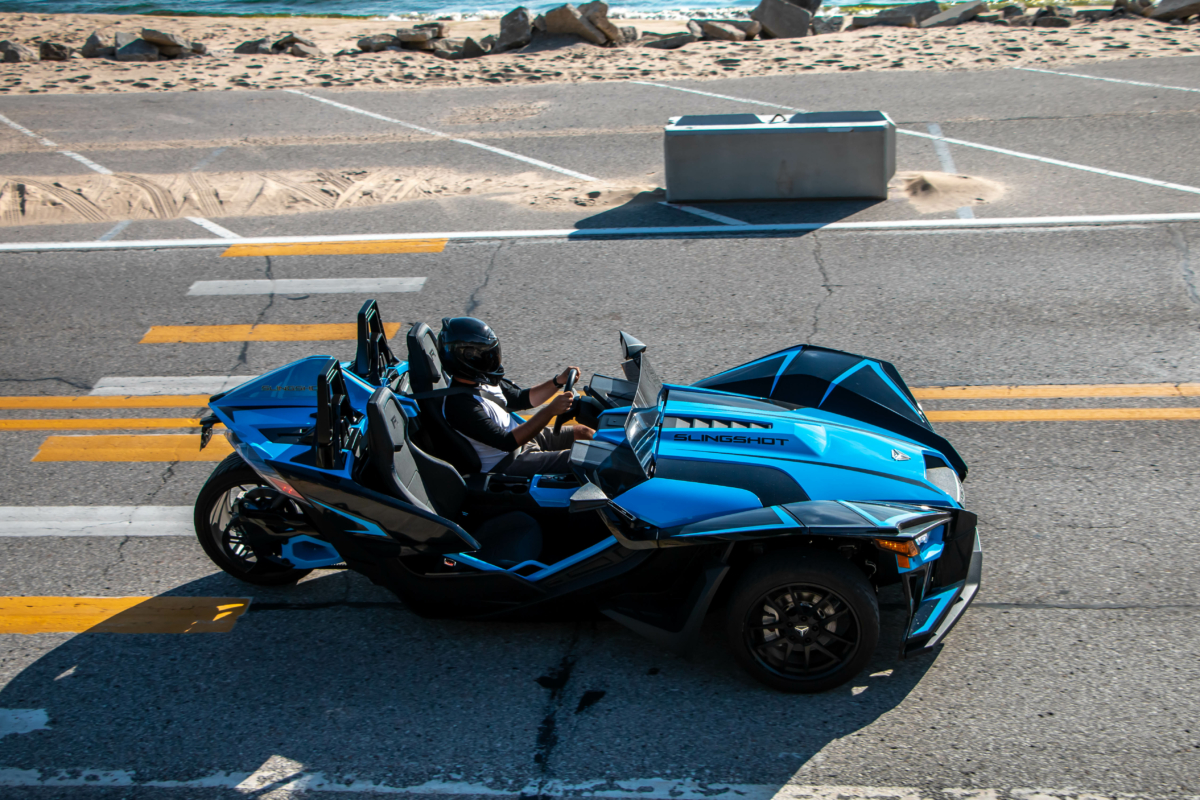 Comfort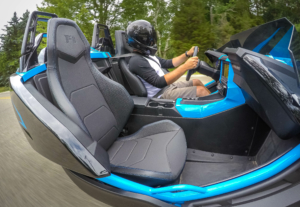 So I just described a harsh race car feeling to you. Was Polaris able to round it out with a comfortable interior? They sure did! Can you sit back and cruise in the 2020 Polaris Slingshot R? I'd say that's what its best at.
The bolstered racing-style seats have a really comfortable feel that somehow feels like you are well protected but also out in the open.
There is a decent amount of storage on board also. Enough to haul 2 overnight bags, a small gear bag, and some room to spare.
Driver comfort is excellent with a seat that has a simple 2-way adjustment to fit drivers small to surprisingly large. The new square bottom steering wheel is thick and comfortable to grab with lots of buttons to put all the controls right at your fingertips.
These controls include full cruise control, the big red "Slingshot Mode" button, and also buttons to control the 7″ touch screen Ride Command infotainment system.
The infotainment system includes Bluetooth, USB, AM/FM radio, touch screen GPS mapping for several driving modes (shortest, fastest, most scenic), weather, traffic, ride summary pages that include some cool infographics and a 100-watt Rockford Fosgate stereo system with auto volume controls.
This system can even be paired with the Ride Command app to remotely plan drives ahead of time.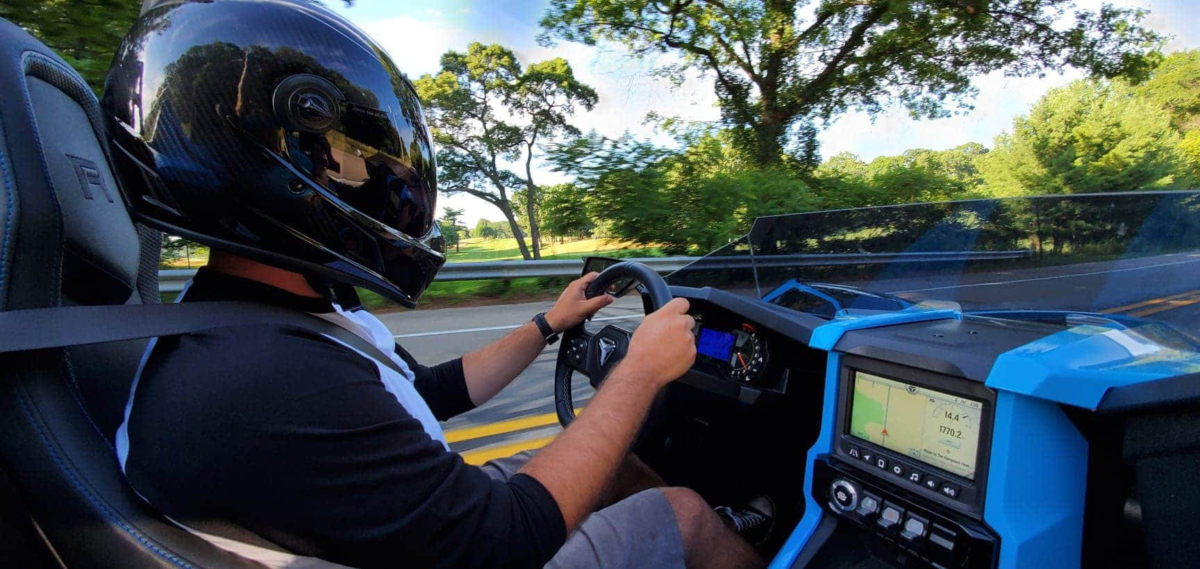 Tapping the "R" on the automatic transmission also reveals there is a rearview camera when in reverse. This pairs nicely with the motorcycle style side mirrors that provide a look back while driving.
Materials used inside have a rugged, somewhat plastic feel to them. This is good though because the entire interior is weatherproof. Since there is no roof, getting caught in the rain is no problem.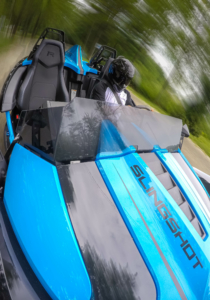 In fact, you could just hose down the interior for cleaning, but not sure how it would get that dirty since this will not be going off-road. But it does have a 5.4″ ground clearance even though the front splitter looks like it is playing dangerously close to being cracked off. There is actually much more room than it appears.
The front wind deflector is very effective also. I didn't get a full effect of the wind because I had a full-face helmet the entire time, although that is not required in every state. By feel, it seemed the heavy wind went right over my head. If you didn't need a helmet, I imagine you wouldn't be blasted in the face by the wind. Although a few bouncing pebbles coming off the road a couple of times were enough to justify a bit more protection than a good breeze so I'll keep that helmet on.
I drove around on some hot summer days and with the engine heat coming into the cockpit and a black interior, those slower drives do get a bit warm especially with the full-face helmet. There is an available heated & cooled seat. I would highly suggest springing for that option.
Value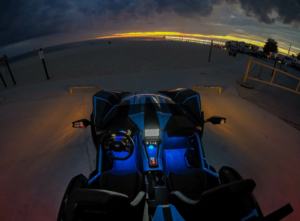 Depending on options, the 2020 Polaris Slingshot R comes in at a price that is on the low end of a typical sports car. But it also comes in on the high end of a motorcycle. So again, it sits right in the middle near $30,000.
To me, I'd say it is a toy. While you could daily drive it, that is best left for climates that don't have much in the way of weather changes and you don't have too far to go. Certainly, if snow is in your forecast, this is best left at home.
Some of the options include roofs & windows and start to push that $40,000 barrier which could extend the riding days in the mid to southern latitudes.
Fuel economy also is not bad. Depending on how hard you mash the go pedal, we figure it was about 20-25 MPG on a 9.77 gallon tank. That means you could probably do a 200-250 mile cruise on a single tank.
Even though this is an autocycle, in my mind I compared this to a sports car. Something like a Camaro or Mustang. Price-wise, it's in the ballpark. Performance-wise, it's on par, if not better. Looks-wise, it's light years ahead. The other great thing is that its size is perfect for going riding with your buddies that have motorcycles.
I admit, when it first arrived, I was a little skeptical. But it won me over. I went from "I'm not sure I'd pay that much for one of those" to "ya know… it's not a bad deal and it sure is a LOT of fun"
So if you are in the market for a unique ride or maybe you are looking for something a bit more substantial than a motorcycle, you really should check out the 2020 Polaris Slingshot R.
Build Yours Now: https://slingshot.polaris.com/en-us/build-model/
Check out all the photos here:
Photos: Bill Hartman & Geno Mallo
2020 Polaris Slingshot R - Road Test
The All-New 2020 Polaris Slingshot R is a thrilling racy super head-turning unique ride that is packed full of creature comforts and features that give a driving experience like nothing else out there at a price point matching options that are much more boring.
The Good
Turns Heads
Drives Like A Race Car
Awesome Tech Package
The Not So Good
Transmission is rough (is that not so good, though?)
Rear end loves to spin (also, is that so bad?)
Cockpit Gets Hot