The YETI Tundra 65 is a cooler that was designed by two brothers who were tired of regular coolers not performing in the harsh conditions of fishing and hunting on their boat.  Tired of hinges breaking, tops denting and ice melting, they set out to make a premium cooler that would meet the needs of any hunter, fisher, boater, tailgater or just a discerning bbq-er.
So whether you need something to keep your food cold, a platform to fish from or a way to haul your quartered deer in from the woods, the YETI Tundra 65 was designed for you.
Key Features:
65 Quart Capacity (39 cans of beer – with a 2:1 ice to beer ratio)
Rotomolded Polyethylene Construction
Full Length Self-Stopping Hinges
Bearfoot Non-Slip Rubber Feet
Doublehaul Military-Grade Polyester Rope Handles
Certified Bear Resistant
29 lbs. (empty weight)
5 Year Warranty
YETI Tundra 65 Gear Review Breakdown
Durability
The Tundra 65 brags that it is "Wildly Stronger" and once you get your hands on one, that is immediately apparent.  The feel of the cooler is not one of your typical plastic and Styrofoam.  Instead you'll find rotomolded polyethylene filled with 2 inches of pressure-injected polyurethane insulation.  The overall feel is more like fiberglass than plastic.  This sturdy feel makes the Tundra 65 capable of being a seat for you and a buddy that can be climbed on, jumped on and dropped without fear of damage.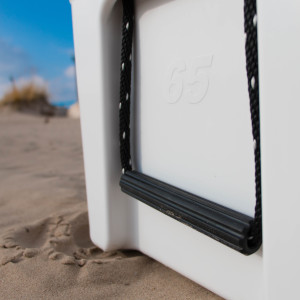 The lid is all one piece featuring molded-in full-length hinges complete with a rubber gasket to ensure a tight seal to keep your 39 cans of beer cold for a long time.  Along the lid you will also find spots to lock the cooler to something safe.  This extra accessory helps avoid theft and also locks the cooler close to avoid grizzly bears!
Yeti takes these claims of protection from hungry grizzly bears seriously, too.  Each Tundra 65 is certified as bear resistant by the Interagency Grizzly Bear Committee (IGBC).
The handles are basic and are just rope with plastic grips, but they function well and with something like that, it's just best to not mess with a good thing.  Although they do move around so it does make carrying a 2 person job once loaded.
If you find yourself stronger (or clumsier) than a grizzly bear, you can also be assured Yeti will take care of you because the Tundra 65 comes with a 5 year warranty.
Performance
As Yeti coolers become more popular, you may have heard many stories and reviews that go along the lines of "DAY 5: Still felt cold. I bet it could have gone 2 more!" Well, we wanted to nerd out and take a more scientific approach that would really let the cooler do its job while we just observed and allowed the data to speak for itself.
So we took the Tundra 65, put it next to another popular cooler (a Coleman 50 Quart Wheeled Xtreme 5) we had around that was advertised as being a top performer and then devised a wireless temperature monitoring system that would log temperatures to a computer every minute.  In the end, we had not just a gut feeling of a cooler feeling colder for longer, but real data showing that the Tundra 65 WAS colder for longer.
First, a little disclaimer; while we mention the number of days ice lasted in our experiment, your experiences may vary greatly because of the temperatures you are in and many other factors.  We tried our best to keep it warm for our experiment, you can reference the orange line on our graphs with the right side axis to see the air temperature during that point of the test.
Second, a little sciencey background; the ice you get from the gas station is just barely ice.  We tend to think that ice is ice and if its solid, its cold enough.  But those big ice freezers are set to just below freezing at 31 degrees, which is definitely not cold enough!  So we put our bags of ice in our 3 degree deep freezer overnight which brought the ice bags from 31 down to 10 degrees.  A difference of 21 degrees!  Most people miss this step.
Another step we did was to use "sacrificial" bags of ice before we started the test.  These are bags that were used just to cool the inside of the cooler from room temperature down to a colder temperature to avoid initial ice loss.  Those bags of ice are then taken out and put in the freezer for use at another time.

So now that our coolers were prepped, lets test!  We filled both coolers with the same amount of ice with a small difference to match the ice to air ratio of the inside of the cooler.  The temperature of both coolers was right around 39 degrees after the sacrificial cool down and both coolers hit their coldest temperature right around 1 hour and 15 minutes in.  The Tundra 65 hit a low temperature of 22.10 degrees while the other cooler dropped to about 20.12 degrees.  Not statistically a significant difference, but interesting that the Yeti didn't quite get as cold to start with.   But it does show that both coolers started out pretty even and if anything, the Tundra 65 had some catching up to do!

The next test was a race to see how long the coolers would stay below the magic 32 degree freezing mark.  Although it was the first length test, the Tundra 65 already started to show its greater performance.  Even though it didn't get as cold to start, it held its colder temperature below freezing for almost a day and a half longer! Over 4 times as long below freezing!

Once above freezing, the next milestone was to see how long the ice inside would last.  We tried our best to not open the coolers during the test so rather than doing a visual test like most people do, we found that it's easy to tell when the ice is gone because there will be a significant spike in temperature.   The Tundra 65 finally lost its ice after an incredible 11.5 days!  That was 53% longer than our other cooler.  A difference along the lines of 4 extra days of ice!

The final race was really the most important and that was how long the cooler would stay below room temperature because that is when your food will spoil and you would be better off to just leave it outside.  The Tundra 65 was again a great performer and took over 16 days to reach room temperature!  Almost 2X's as long as the other cooler and really showed good performance where there was no ice but it still stayed cool.  Just in that phase it outperformed by nearly 250%!

So overall, the Tundra 65 outperformed another good cooler in the exact same controlled conditions by keeping our food safe 95% longer!  Like we hoped, the data definitely does show that the Tundra 65 lives up to its motto of "Wildly Stronger, Keeps Ice Longer" and proves to be an amazing performer.
Bonus chart for you data lovers, below is all the data combined.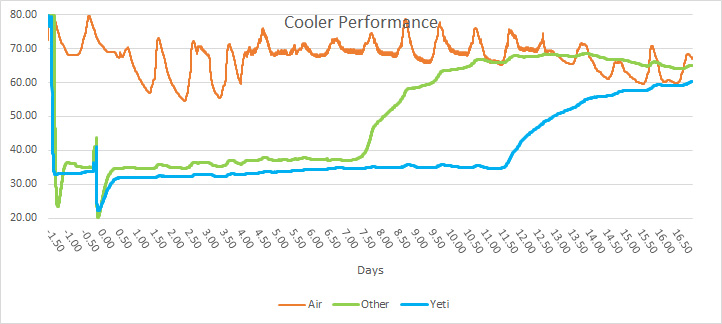 Value
The price tag for the Tundra 65 is $399.99 so this is definitely not a "value" cooler, but the bigger question is "Is it worth it?" The answer to that is quite simply "Yes."  The Tundra 65 is not just some high priced luxury item.  Sometimes you get what you pay for and in this case by paying for the best, you get the best.
Buy Now: $399.99 from Yeti.com available in 3 colors – White, Desert Tan or Ice Blue and 12 sizes from 35 quart to a massive 420 quart!
YETI Tundra 65 - Gear Review
If you are looking for a cooler that is the most durable piece of equipment you have, this would be it. If you are also looking for a cooler that can keep your important food cold long enough to outlast the harshest of heat waves and longest camping trips, this is it. The Tundra 65 has the capacity to carry, the durability to survive and the performance to last.
The Good
Keeps cold for days longer.
Incredibly durable.
Non slip feet.
The Not So Good
Heavy when loaded.
Rope handles like to slip.
Grizzly proof lock costs extra.