While Yeti certainly needs no introduction, the redesigned Hopper M30 soft cooler does. With an extra-wide mouth opening and a renewed closure system, the Hopper M30 is an updated release of Yeti's flagship soft cooler.
The most significant change between this version and the original version is the magnetic Hydroshield™ closure which replaces Yeti's typical oversized zipper with a series of hyper-strong magnets to create a watertight seal.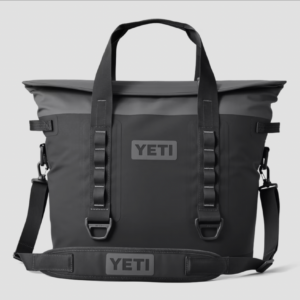 Keep on reading to see my take on the new closure design!
Yeti Hopper M30 Soft Cooler Key Features
Hydroshield™ magnetic closure
Coldcell™ closed-cell foam insulation
Dryhide™ high-density exterior shell
Built-in bottle openers
Removable shoulder strap
Quick-release buckles for added closure security
Yeti Hopper M30 Soft Cooler Review Breakdown
Design
While Yeti took a standard tote bag design route with the M30, the overall subtle additions make the M30 far from standard when considering the whole package.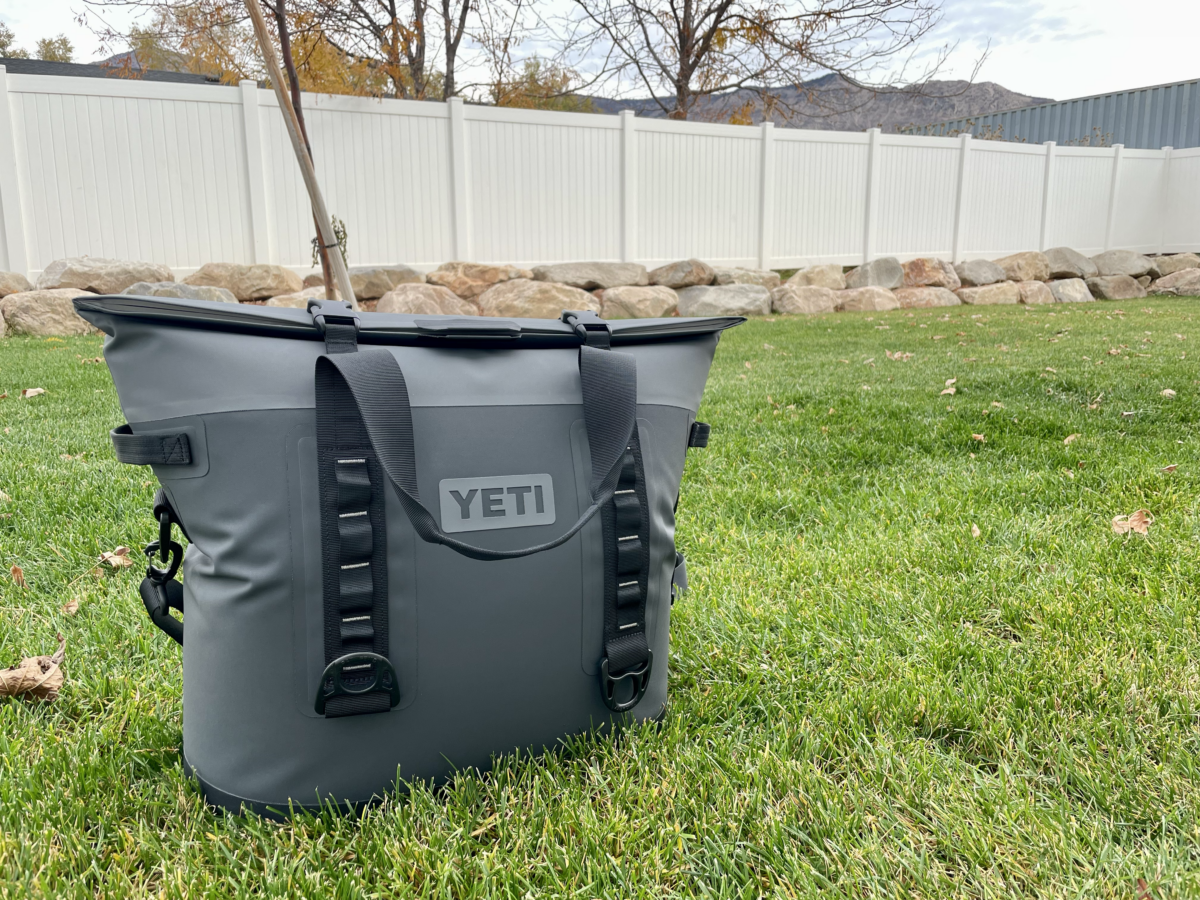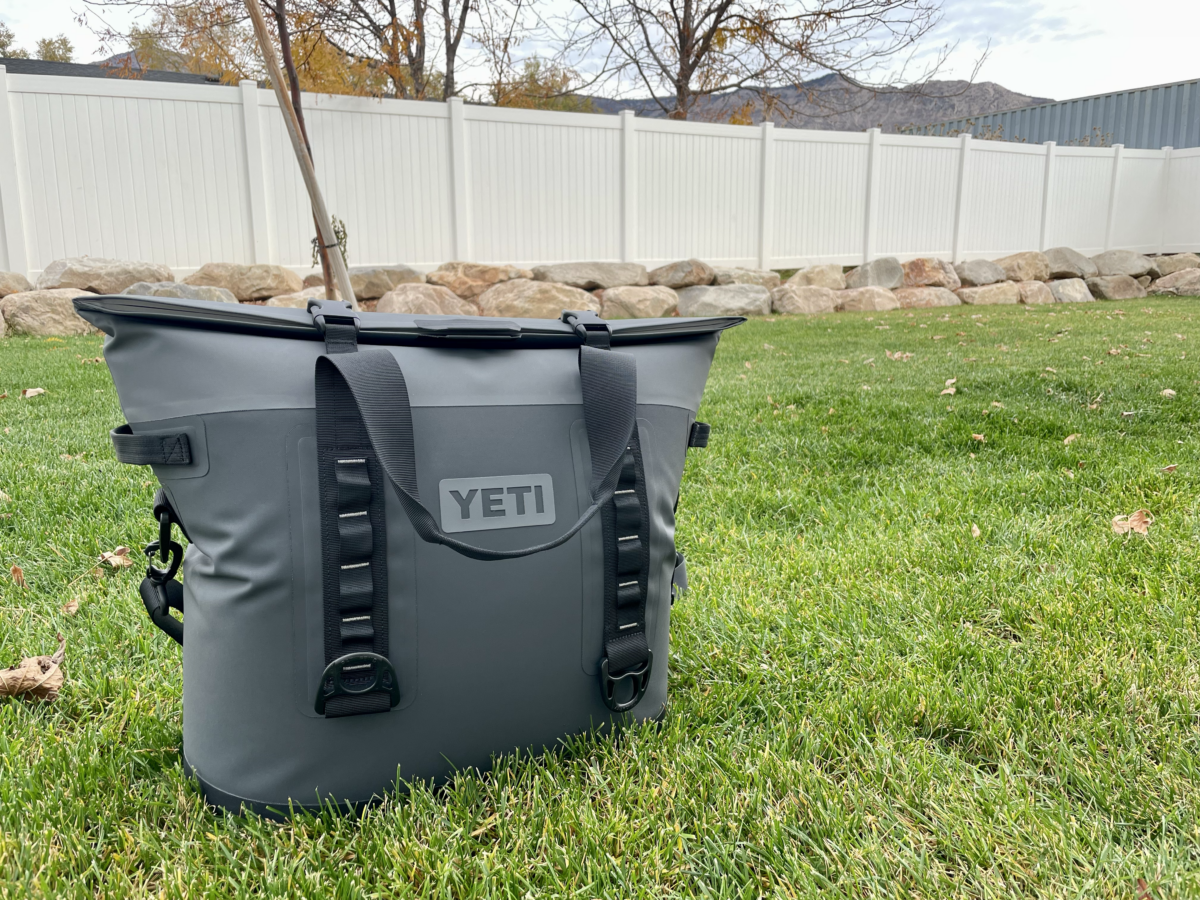 From the reinforced and padded removable shoulder strap to the webbing-filled carry handles and integrated bottle openers, Yeti added plenty of small creature comforts to step this soft cooler's game up.
Wide Mouth
As mentioned above, the M30's extra-wide mouth and new Hydroshield™ magnetic closure system is really the defining feature of this release.
Overall, the system has received mixed reviews in my circles. My girlfriend hates it and I love it. She thinks it's hard to open; I think it takes a little strategy.
The magnets are strong, there's no doubt about that, but that's how it should be for a water-tight seal! Left unattended, the M30 will essentially close itself, which is why I love it. Nothing reduces the cooling power of a cooler more than repeated opening and closing or improper closing. The magnets essentially make it impossible to 1) forget to close the cooler and 2) improperly close the cooler.
So where does the strategy come in? Loading! Since the M30 essentially closes itself, loading it takes a bit of strategy. So much so Yeti even released a little teaser video about it – see below.
My favorite loading method is the small cutting board method – this is how I also store it to make sure it dries out and doesn't smell. In a pinch, the "arm wedge" works wonders, as well.
Size
Yeti gives the Hopper M30 a 20-can rating, meaning you can hold up to 20 cans with a fair amount of ice in the cooler.
That doesn't always mean something to everyone, so to translate, that is easily enough room for a long weekend's worth of food and drink. I've fed two complete with drink and all for 4 and a half days out of this cooler.
Beyond holding capacity, the M30 is noticeably large when carrying and lifting it. At 5'10" & 165lbs, this cooler feels and looks sizeable when I am carrying it.
Depending on the distance to camp, picnic, beach, you name it, the M30 might not be as portable as you'd hope.
While Yeti doesn't offer an unloaded weight on the site, I can promise you it's no feather when fully loaded with ice, food, and drinks.
Performance
While you can expect reduced performance compared to rotomolded hard coolers, the M30 is still a Yeti at the end of the day. What does that mean you ask? It means it works! It does its job, and like any cooler, there is ice melt over time.
Pre-cool the M30 before use and bring the interior down from room temp, and you'll be more than pleased with the performance.
I didn't bother with a true multiday ice test, for two reasons: 1) I'm not the ice melt police, and 2) this is a soft cooler… it is meant to be more portable, easier to pack & take for quick adventures than a rotomolded hard cooler alternative.
On all weekend trips I've used the M30, I've returned home with some ice still floating around. Nice work, Yeti!
Durability
With Yeti's patented Dryhide™ exterior shell, the M30 is built tough and ready for anything. With a high-density fabric, the M30 is built to withstand abrasion, punctures, mildew & smells, as well as discoloring UV rays.
An added benefit of Dryhide™ is the easy cleaning and quick-drying nature of the fabric. After a dusty trip down in Moab, Utah, the M30 wipes clean no problem. Heck, I've even hosed directly hosed it off with no issue.
Value
At $299, this is a premium soft cooler, there's no doubt about that. If you're scouting out a Yeti, you're likely already a fan of the brand and need little convincing of the brand. You get what you pay for – unrivaled quality, solid customer support and warranty backing, reliable cooling retention, and thoughtful features. On this cooler specifically, you get a smart closure system that is efficient and reliable.
Sure, you can go to Walmart and grab Ozark Trail, but you'll buy 3 (and end up spending more) over the same lifetime as this Yeti Hopper M30. With the M30, you'll buy once and never look back. What's more appealing to you?
Buy Now, $299, or browse all Yeti has to offer!
Yeti Hopper M30 Soft Cooler | Gear Review
A fantastic soft cooler that lives up to the name. Thoughtful features throughout make this cooler worth the retail price.
THE GOOD:
Wider mouth makes for easier loading
Build quality is superb
No zipper = no moving parts to break/wear out
THE NOT SO GOOD:
Magnet closure is tricky for some users
Fits less than expected when loaded with ice