I have been testing Yakima's EXO Hitch Rack System for about a year now – spoiler alert, it's excellent! The system has traveled with me on half a dozen road trips from my home base in Ogden, Utah to California, Wyoming, and Southern Utah. It has also been on a handful of shorter weekend camping trips. 
The system I have been testing consists of the following. 
Yakima offers a whole range of components, including a camp kitchen system, a bike rack, a ski or board rack, and a gear cage. Check out the full lineup here.
While I plan to expand the system and test out the bike rack or the camp kitchen in the future, this current setup has been an excellent entry into the flexible magic this system offers.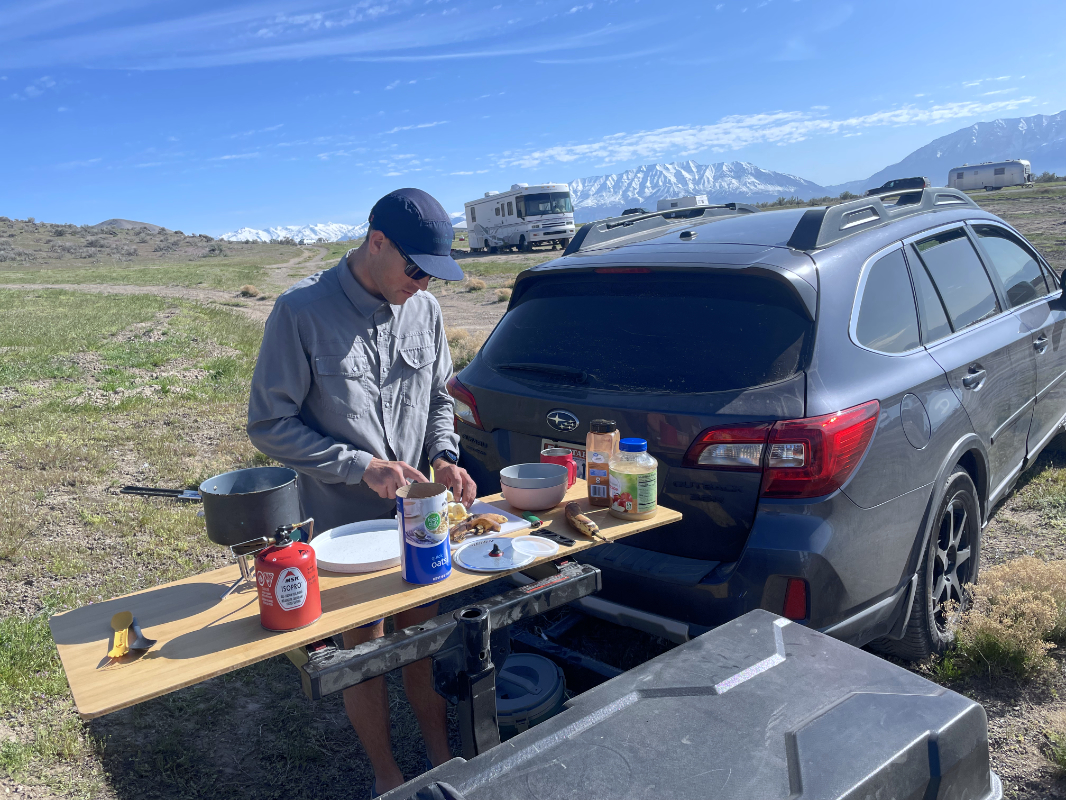 For the purposes of this review, I will focus most of my attention on the SwingBase functionality, system ease of use, and my experience with the GearLocker. 
Let's dive in and get to know the Yakima EXO Hitch System!
Yakima EXO Hitch Rack System Review Breakdown
Design
One glance at the EXO system, and you know Yakima spent a considerable amount of time brainstorming, planning, and designing the system to suit multiple vehicles, fill the needs of multiple hobbies, and appeal to a wide range of adventurous buyers. 
In short, the EXO system is a modular hitch-mounted rack system that is designed and built around the track system of the SwingBase and TopShelf. From a storage locker to a bike rack, you can swap out your component to suit the season or the hobby.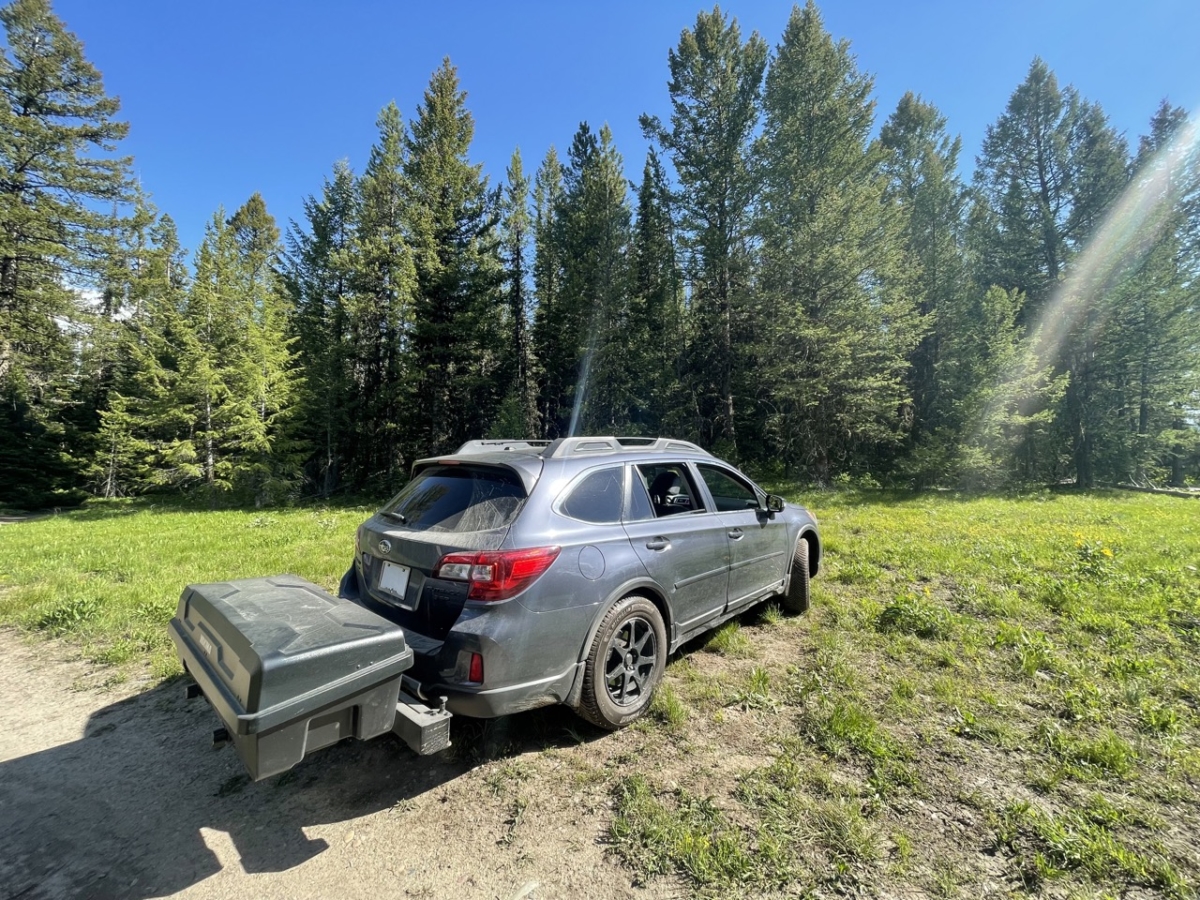 Yakima's marketing team also pitched in the efforts with a well-done welcome YouTube series covering installation and use of the components to help you get started. Here's one on the entire system overview.
Each component is designed and built to stand up to Yakima's quality standards. The EXO SwingBase is a whopping 68.5 lbs by itself, so you know it's good.
It's bombproof and meant to be. 
Product Details 
Swings away from car with gear loaded to provide easy access to rear of vehicle

Accessories install in seconds using the tool-Free EXO Cleat system and locking SpeedKnobs

Accessory arms fold in when not in use

Fits 2″ hitch (class 3 and 4) receivers only

Included HitchLock locks EXO SwingBase to vehicle

Includes 2 extra SKS locks cores for use with EXO accessories

Built-in bottle opener – cheers!
Setup
The EXO SwingBase and any EXO component you pick up are packed very securely. Yakima also provides everything you need to get the rack built up and ready to install on your vehicle. This includes heavy-duty wrenches, all bolts and nuts, and several locks and keys.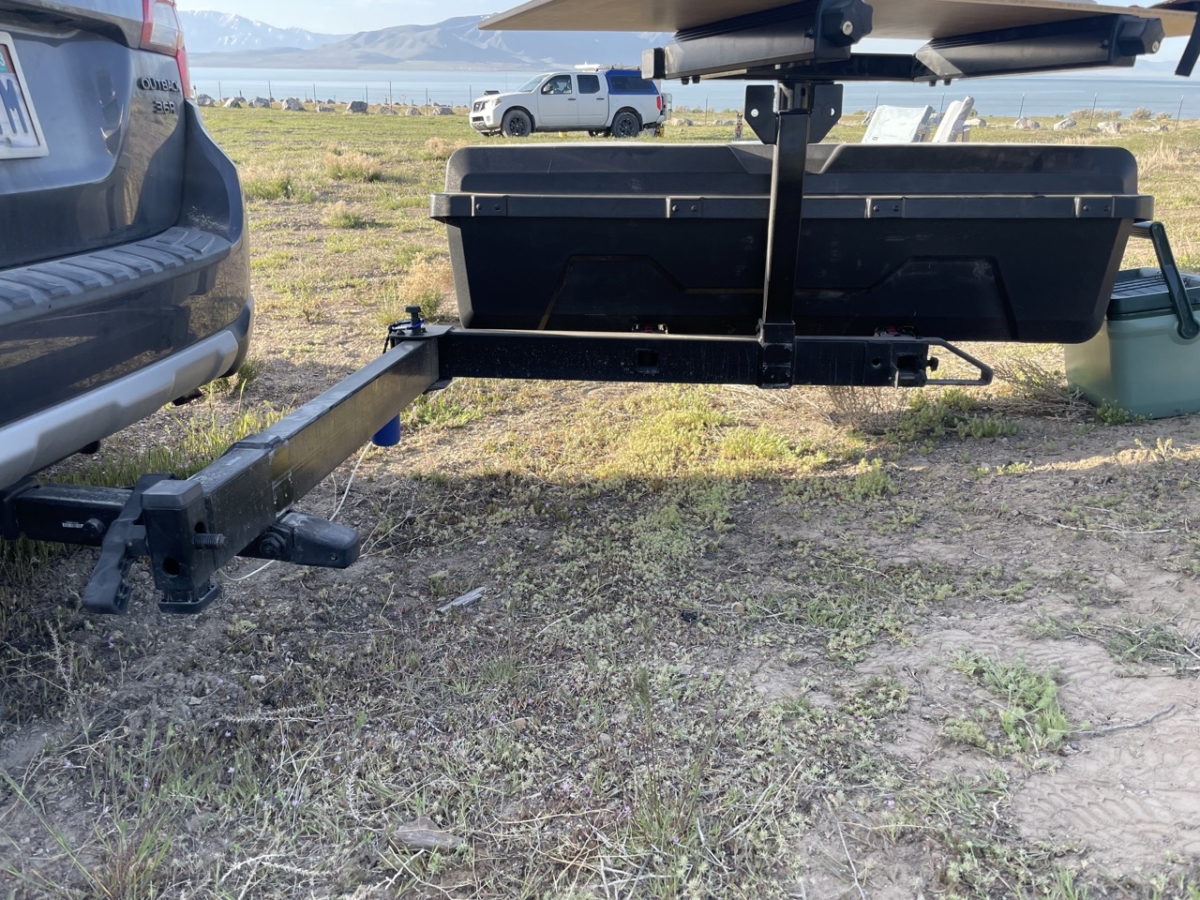 A critical factor to consider when purchasing your EXO SwingBase is the space between your hitch opening and the oversized wing nut that locks the swing arm in place. I have a 2015 Outback, and I realized shortly after the rack was first mounted that I didn't have enough space to turn the wing nut. Luckily, Yakima's StraightShot hitch extender is compatible with EXO. This does extend the box out an extra 6 inches or so, which can increase the challenges of parking, but it makes the rack no less secure at highway speeds. 
A few complaints about the EXO SwingBase is that the swing arm attachment is reliant on two heavy-duty, non-locking bolts. In theory, someone could wrench away all but the tongue that attaches to your hitch, but the reality of that experience happening seems slim. Someone would be better off picking the lock than ratcheting away the bolts and grabbing the whole system, but some folks are more paranoid than others. Anyone can easily break into car windows, too! 
You'll see this complaint at 1:05 in this installation video. 
Once you have the base installed, swapping components is extremely easy and fast. Taking the whole SwingBase on and off is also no more than a 10-minute process. 
To swap components, you simply unlock the built-in knob key cores, ensure the extra push pin lock is in spin mode, and turn the knobs as far as they'll go. Then you drop your component in and reverse the steps. Cake! Nice job on this part Yakima. 
I love the fact that I can unload the GearLocker when we get to a destination like an AirBnb, take the GearLocker off, and fold the SwingBase arms away to improve parkability when at the trip destination.
Lastly, testing the swing arm is easy. It's as simple as unwinding the oversized wing nut, pulling the release lever, and walking the box outward. Yakima did include a swing arm support that can be put under the arm hinge if you're planning to leave it open for an extended period of time.
The GearLocker
The GearLocker is an excellent solution for those that want easy-access cargo space, but that's not the only benefit. The hitch-mounted box significantly reduces wind noise, drag, and the "top-heavy" feeling in high winds.
Apart from reducing the effectiveness of backup cameras and parking sensors, driving with the GearLocker feels effortless. Honestly, you don't notice it's there, even at highway speeds. I cannot say the same about my experiences with roof-mounted boxes. 
At just under 28 lbs, it can easily be mounted and removed by a single person. One classic SKS lock and key securely closes the lid with 3 distinct closure points along the front of the box. With 10 cubic feet of storage and a 100 lb load limit when attached to the swing base, the GearLocker is perfect for bulky items like camp chairs, small camp tables, tents, sleeping pads/bags, and more. 
One of my go-to items to store in the box is our box of camping cookware, stoves, and fuel canisters. I'd rather have them stored in the external box than in the car on a hotter summer day!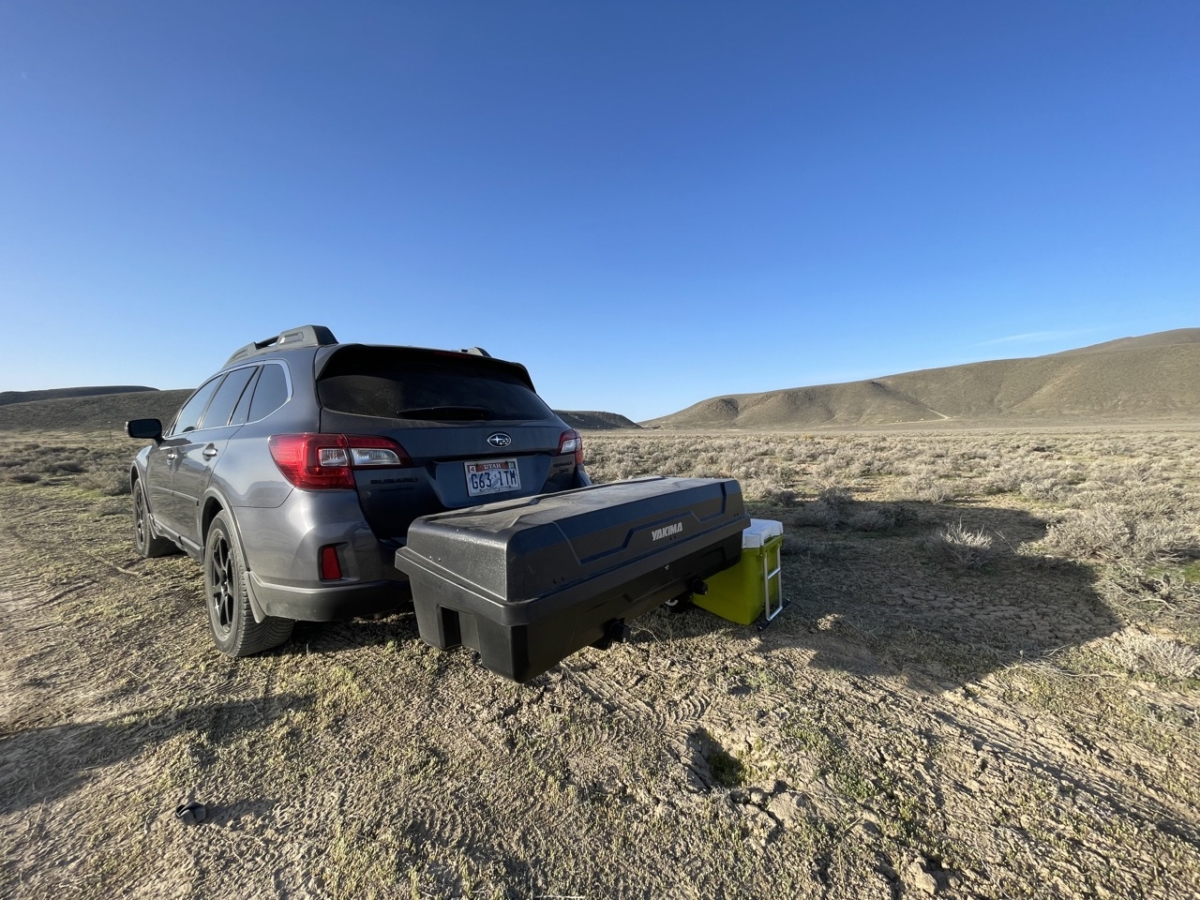 The single key lock, paired with the waist-level easy access, makes getting in and out of the box a breeze. I have no issue storing items I need multiple times a day within the box. 
If I could change one thing, I'd make it ever so slightly wider so it fits my 156cm snowboard, but, I guess that's what EXO top shelf and ski rack are for 🙂
The TopShelf 
The TopShelf is what makes this system even more interesting, expansive, and versatile. It adds a second deck that allows you to attach a second component that'll best accompany your trip and gear-hauling needs. From the bike rack component to a second GearLocker to the BackDeck for cooking at camp, the TopShelf is the key to truly packing what you need for your trip.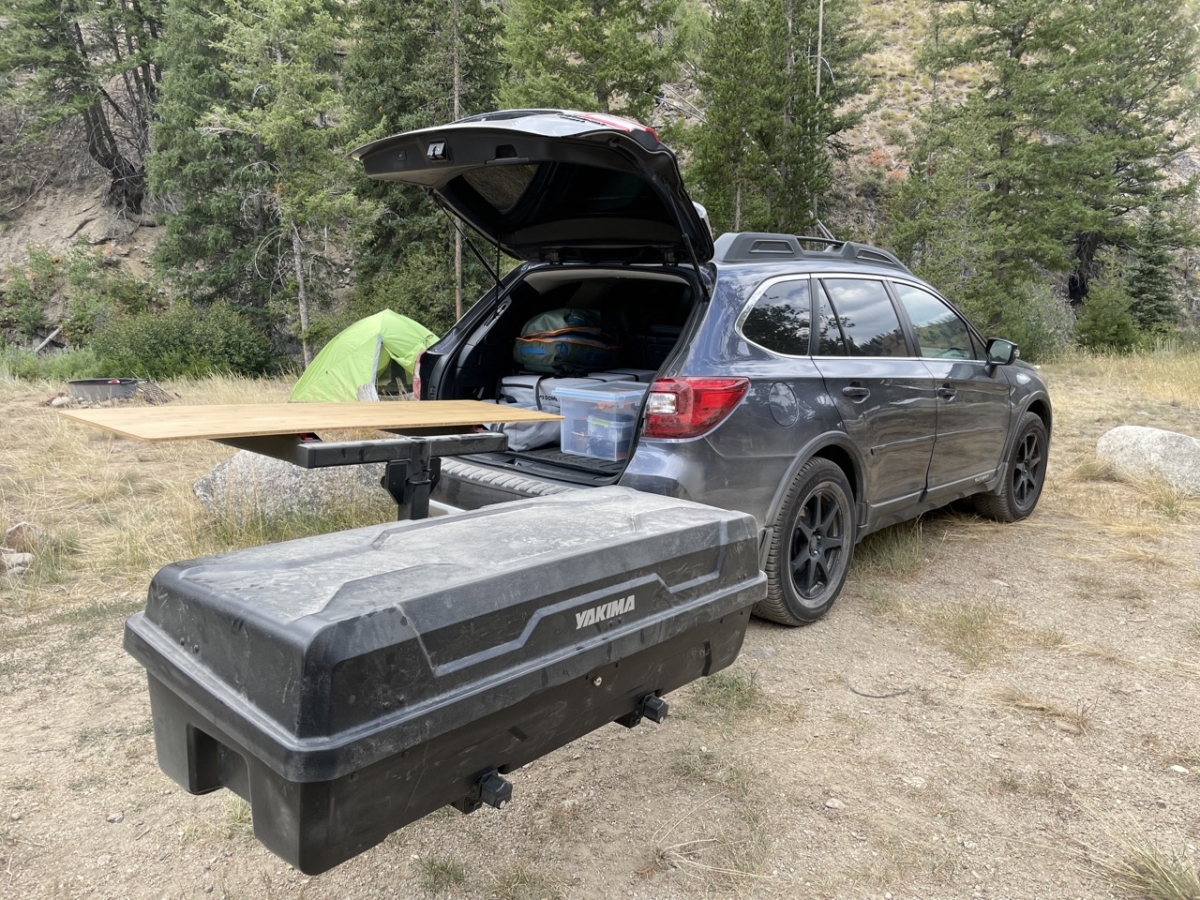 Straight from Yakima's site, the TopShelf rotates 180 Degrees relative to EXO SwingBase for easy access to gear on the lower level or to set up base camp mode. 
I referenced base camp mode earlier, but it's essentially the EXO in its prime – when you're done driving for the day and the system is fully opened up – SwingBase swung open, the included jack stand supporting the swing arm, and TopDeck pivoted 180º back toward the vehicle.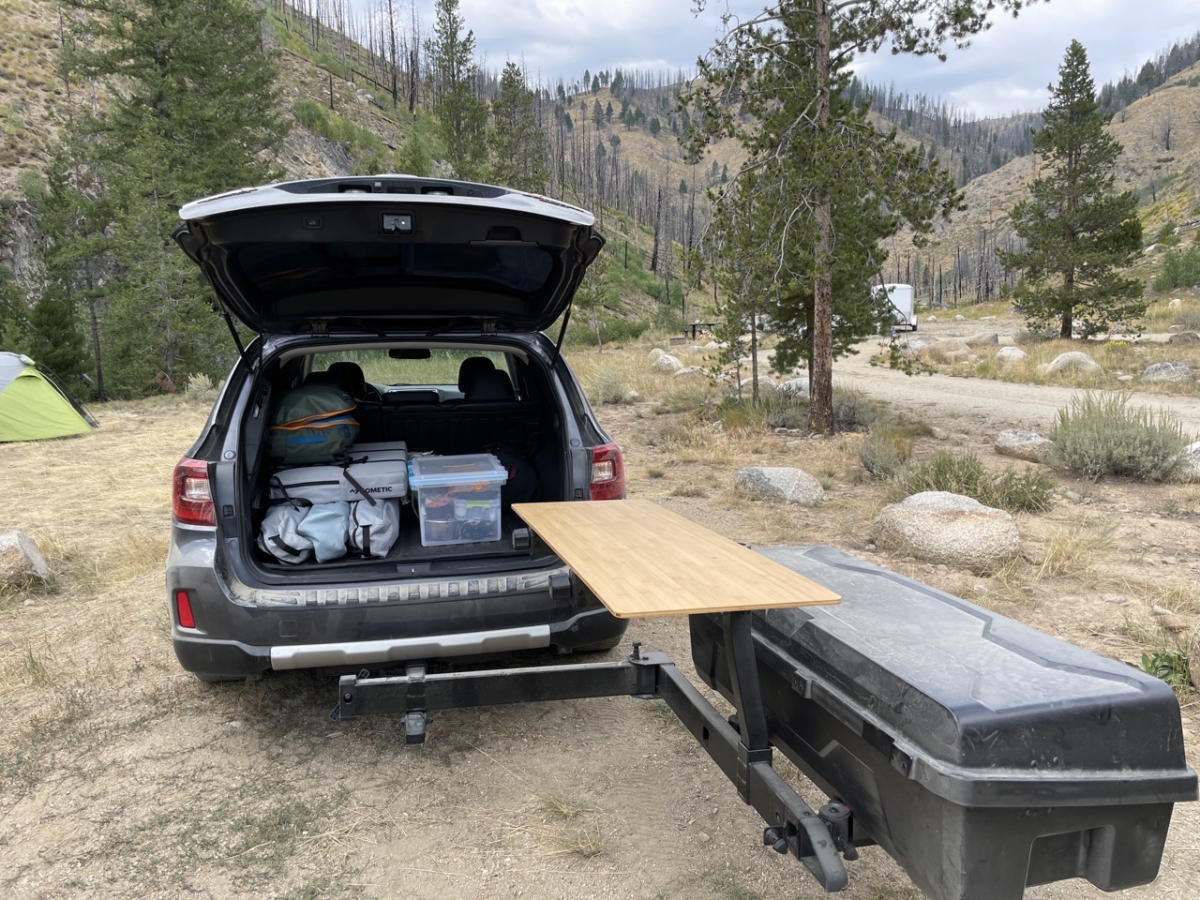 Attaching the TopShelf isn't all that difficult when the EXO SwingBase is already set up. You simply insert the TopShelf into its slot in the SwingBase, insert and tighten the three included bolts, and then ensure the hand knob bolt is tight and the lock pin is in place before driving away!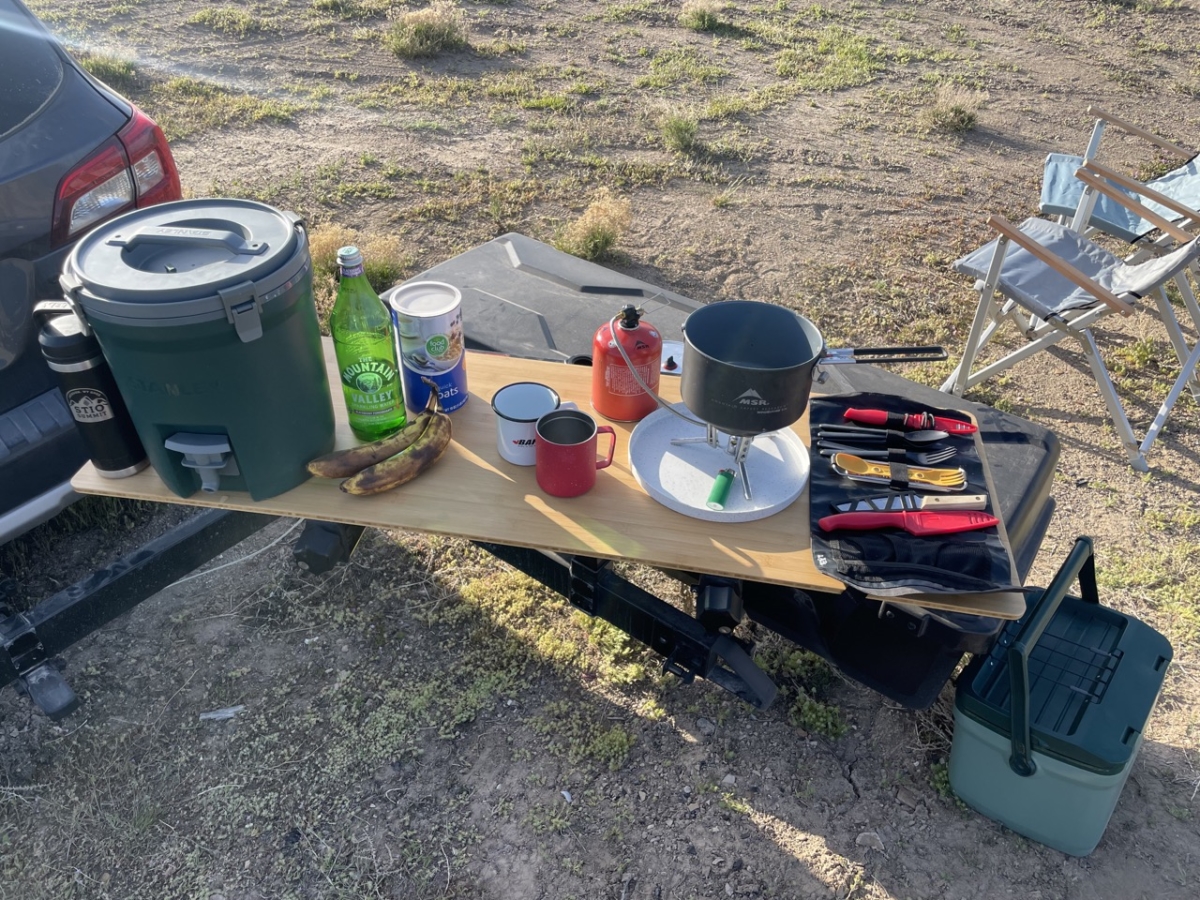 Value 
Depending on the number of components you decide to buy, this system can run you anywhere from $3k to $6k. While this system is certainly premium, it has unmatched versatility. The quick, plug-and-play component switch is an adventure junky's dream. It is a true multi-sport and multi-season system that can save you a lot of hassle, wind noise, and gas mileage hits. And hey, that last point might make up for the higher buy-in cost over time! 
All that said, if you buy a roof box, hitch and bike rack, and ski racks, you're looking at a few thousand dollars anyway. Why not opt for an incredibly versatile, bombproof system that is sure to keep expanding and growing in versatility over time?