In the Midwest it's that glorious time between summer and fall. It's the perfect time for a bike ride. Sure the city is nice, and taking a cruise down to the beach would be great, but venturing further into the forest is more our style.
Yakima has been making quality roof racks, truck racks, bike racks and trailers for years, so when we saw the opportunity to test drive the Yakima FourTimer and log some hours on the trails we jumped at the chance, driving more than 200 miles in 2 weekends, here is what we discovered.
What's in the box:
Specs:
Holds 4 bikes
Folds up on vehicle to 16″ when not in use
66lbs
Fits a 2″ receiver
Can convert to a 2 bike rack
Each bike can weigh 45lbs, total rack capacity of 180lb
Holds ANY kind of bike, adult, youth, men's or women's.
Can hold fat bikes with accessory straps.
Yakima FourTimer Review Breakdown
Assembly/Installation:
The Yakima FourTimer comes in 4 main parts that need to be assembled, the best way to do that is on the vehicle. It can be a 1 person job, but a second set of hands makes this go a little quicker, and hey, it holds 4 bikes so hopefully you've got some good people around already. Assembly took about 30 minutes and we had our first 2 bikes on just a few minutes later ready to hit the road to our cousin's house to pick them and their bikes up to. What would have normally taken us two vehicles, now took just one. The instructions are clear with good illustrations and a logical order. Nothing was difficult or required special tools. Yakima gets full points for assembly.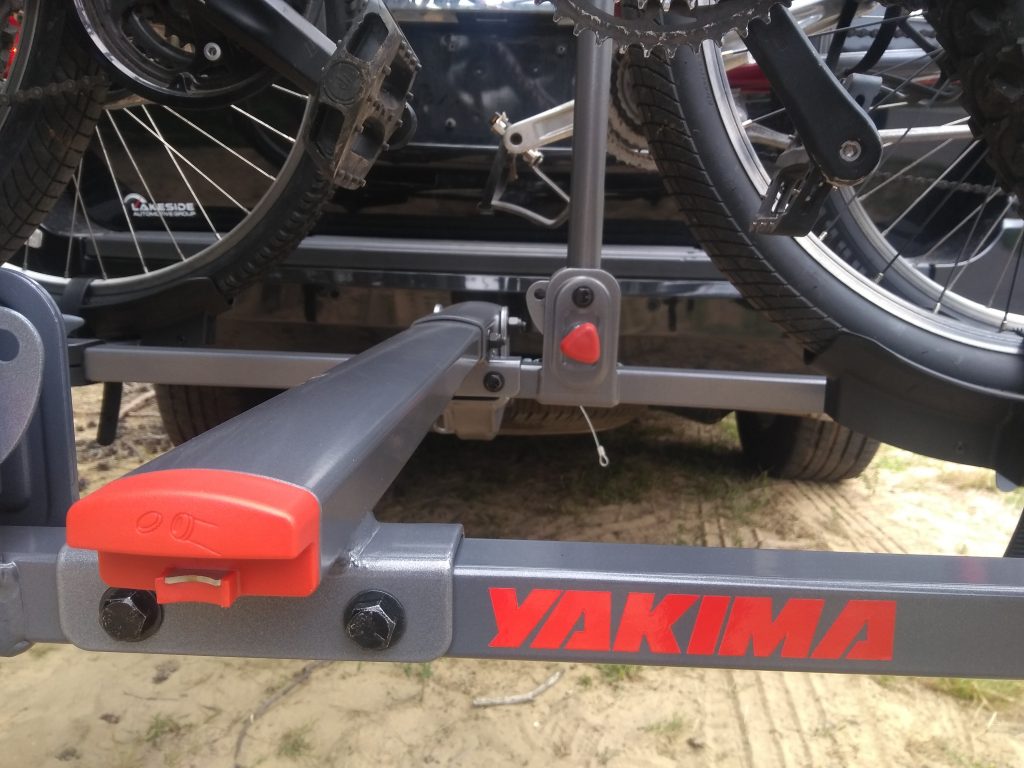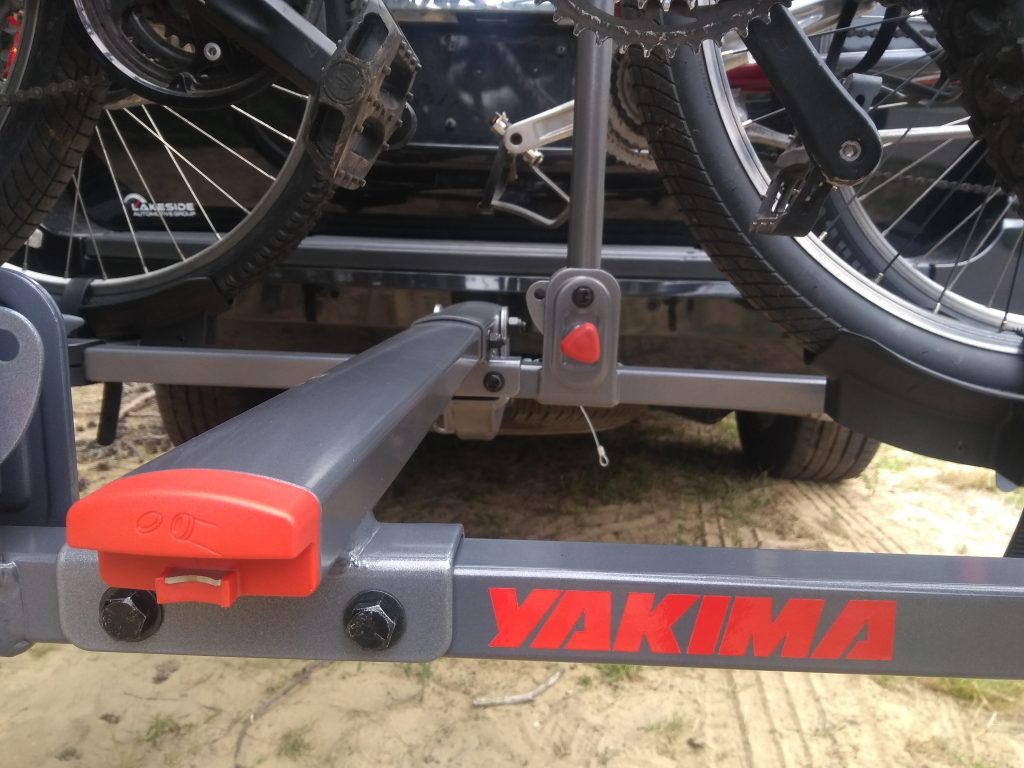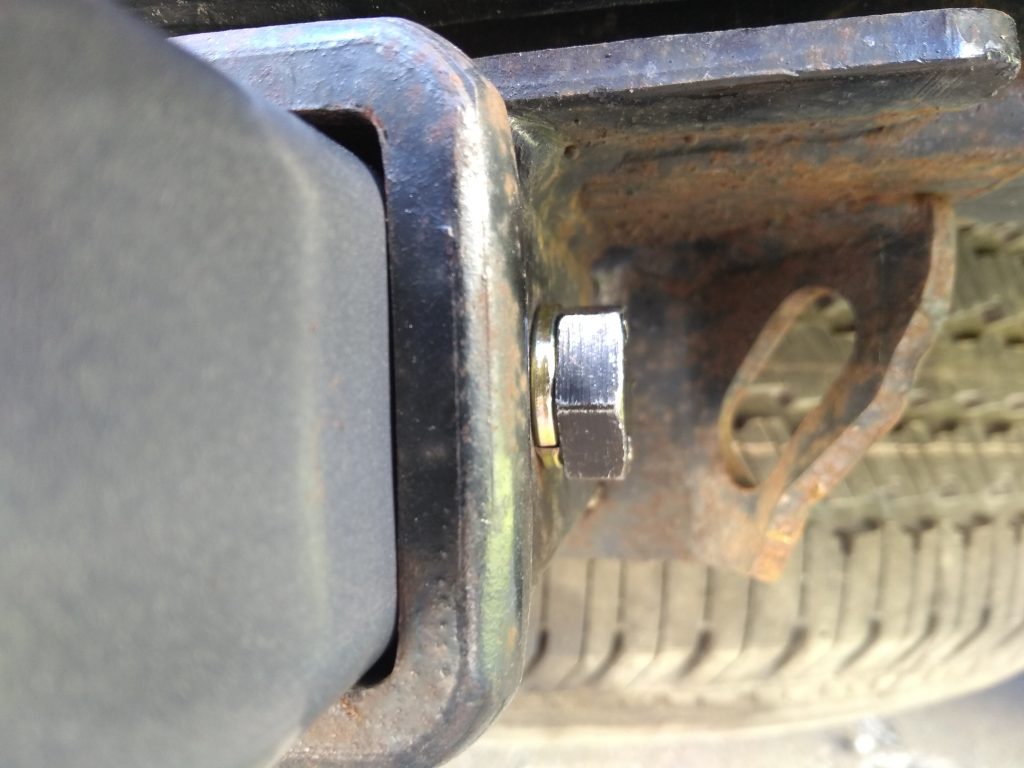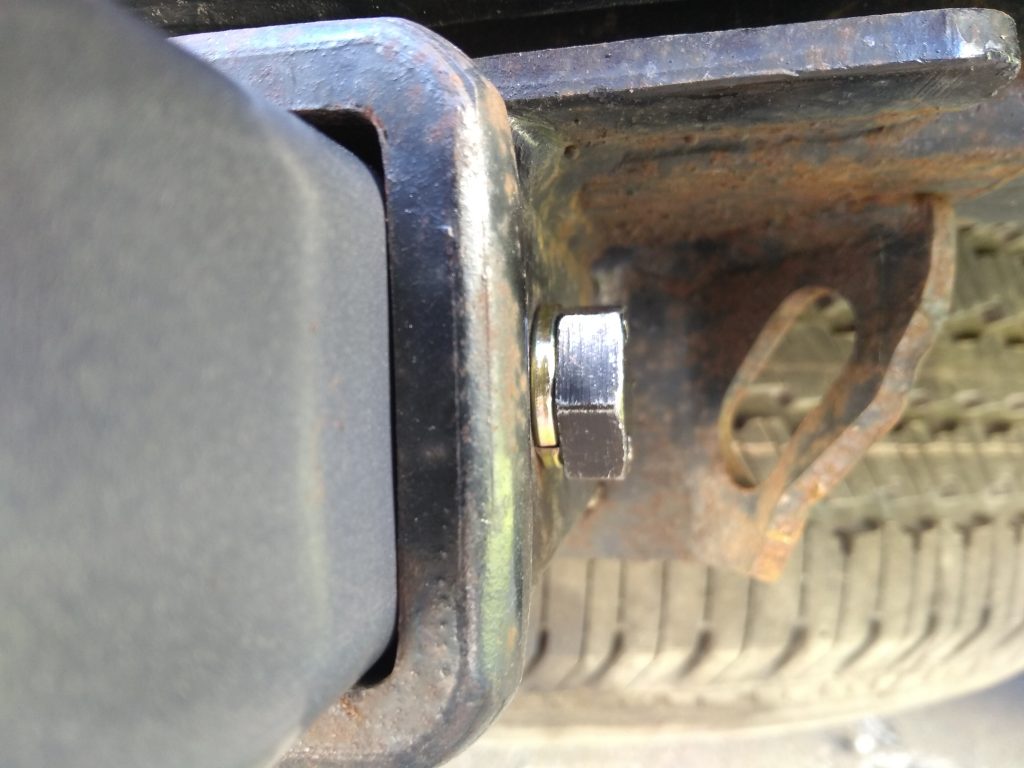 Now that it is on the vehicle, what about removal? You'll need a wrench (a large adjustable works) and the security keys. This can be a one person job also, but keep in mind it is an awkward 66 lbs. of metal, so again, having some help isn't all bad. Storage of the rack when it isn't on your vehicle is an issue. This thing is big. We bought a $19 bolt on bumper hitch and we're going to fasten that somewhere in the shed or basement to hold the rack out of the way when not on the vehicle.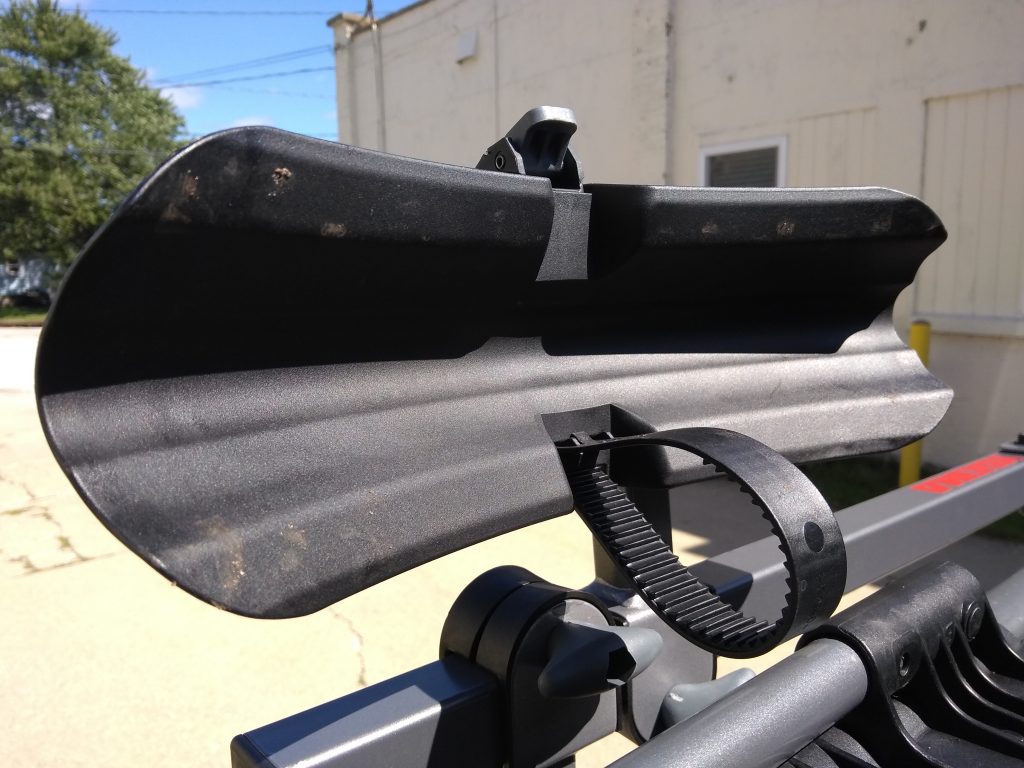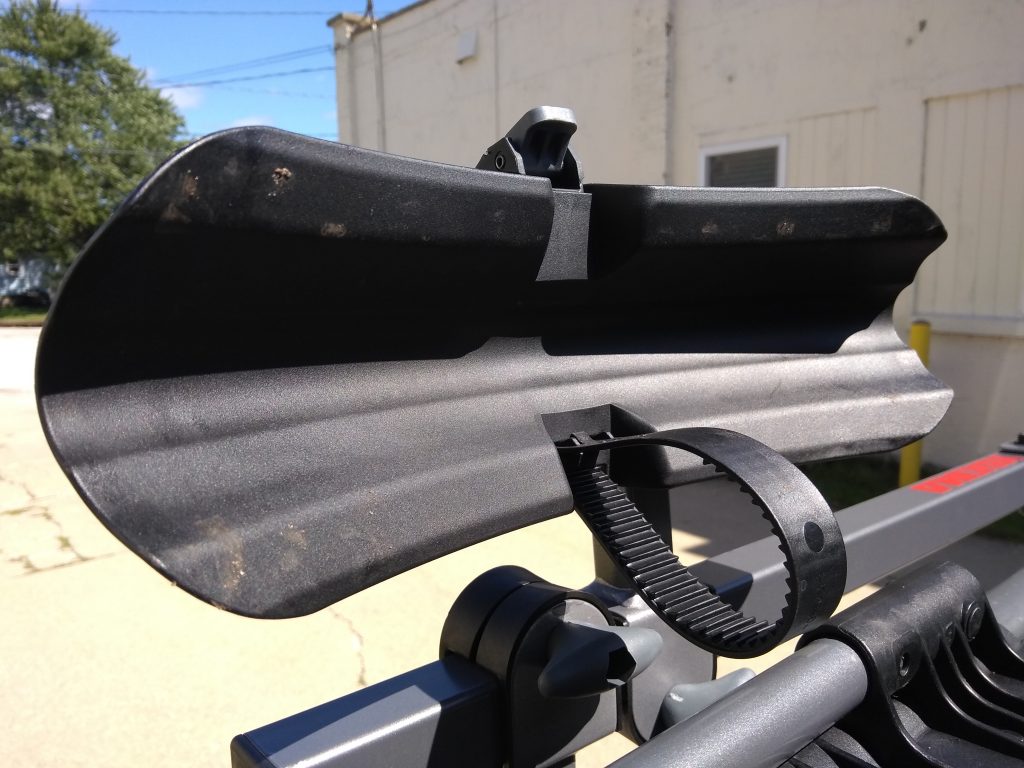 This is a tray mount rack. Part of the reason we liked this is we tested it with a multitude of bikes, mens bikes from the 90s, modern womens bikes, fat bikes, and kid bikes and it held all of them. Hanging racks require a top bar accessory to work correctly, but this rack adjusted to each one. Wheel trays slide easily and can be flipped to position for larger bikes and if you are going to be hauling adult bikes, just start out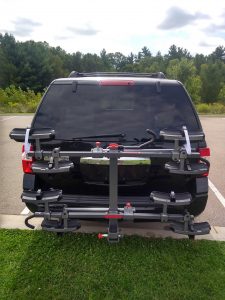 by flipping them (see the inset box on step 3 of the instructions). The hold down hooks work great on straight bars and angled bars. By having a good 3 point hold on the bikes, they become part of the fixture. If possible, pair your bikes up based on bar height, one tall with one short. It'll make adjusting the hooks easier. Load the tall one first.
Last step of installation is to use the included straps to pull two bikes together toward each other and the center bars. It's covered in the instructions, but we'll repeat it here: If it looks like something will catch air, it WILL CATCH AIR. Make sure everything is tight. With the wheels strapped in, the hold down hooks locked, and the straps tightened, the bikes are as solid as the rack itself.  Going down the road there is minimal movement and what movement there is is up and down based on road conditions. Even there we had to look for it. It didn't seem to affect the ride of the vehicle at all.
Design/Features: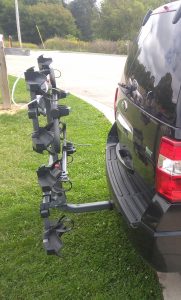 On the one hand we mention it's an awkward 66 lbs. of solid metal. On the other hand, the Yakima FourTimer is pretty solid because it is 66 lbs of solid metal. It doesn't just feel well build, it IS well built. Welds are beautiful, bolts are strong and well placed. Fully loaded with four 45lb bikes, you could be holding 180 lbs so it better be solid. The heaviest load we put on the rack was about 130-140 lbs of bikes, It didn't sag one bit.
Almost everything moves based on locking pins on springs. When loading and unloading, the hold down hooks can also fold up against the rail so you can put them up/take them down, between the bikes and not hitting handle bars/frames/pedals.
Driving down the road the bikes are well protected behind the vehicle. Parking, we were still able to back into a space and the rack held the bikes up over parking barriers. The loaded rack sits at a good balance between protecting the bikes and making them still easy to load and unload. This let us unload on the grass, instead of the middle of the parking lot and it seamed a safer way to do it. The furthest bike in is the hardest of the 4 to load. You have to lift it the furthest and it is supposed to be the heaviest of the bikes, but it wasn't a problem for us. Again, 2 people make loading and unloading faster, but 1 person can do it safely.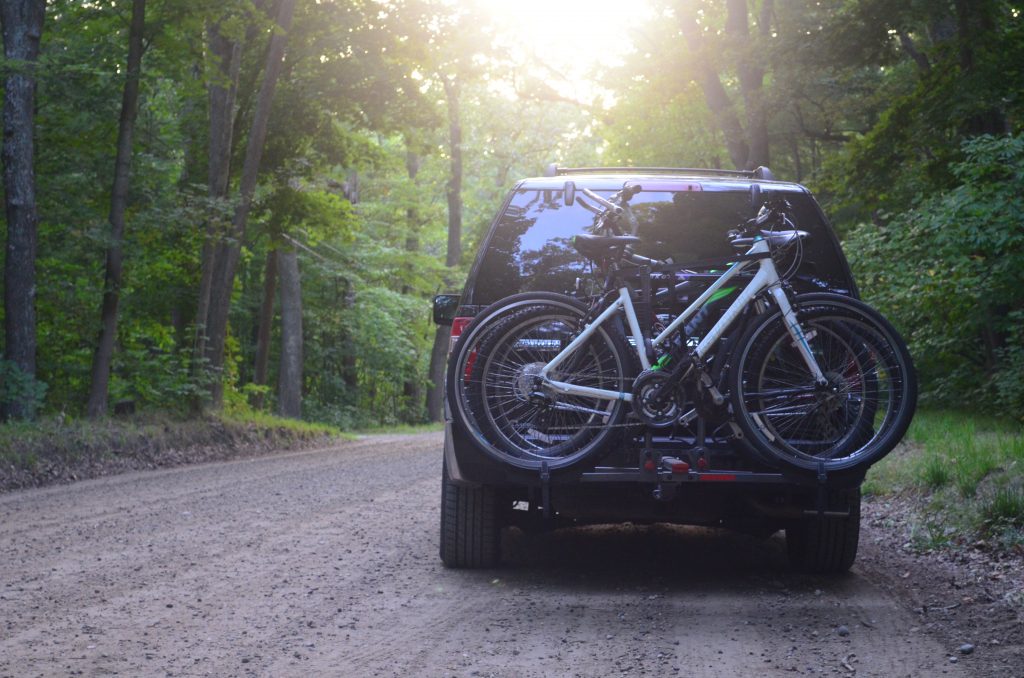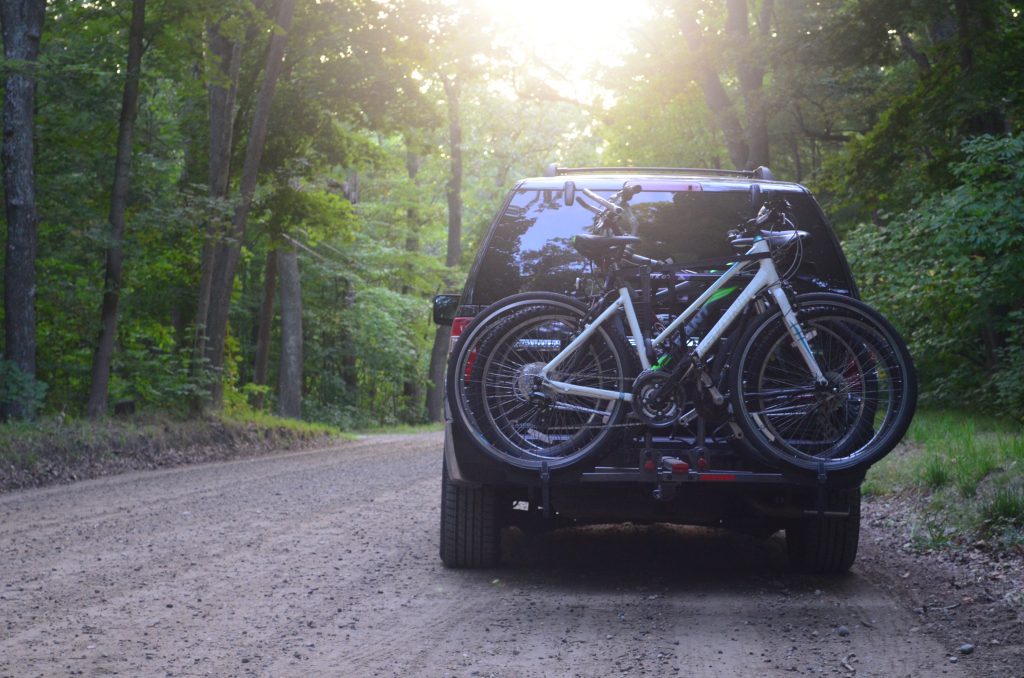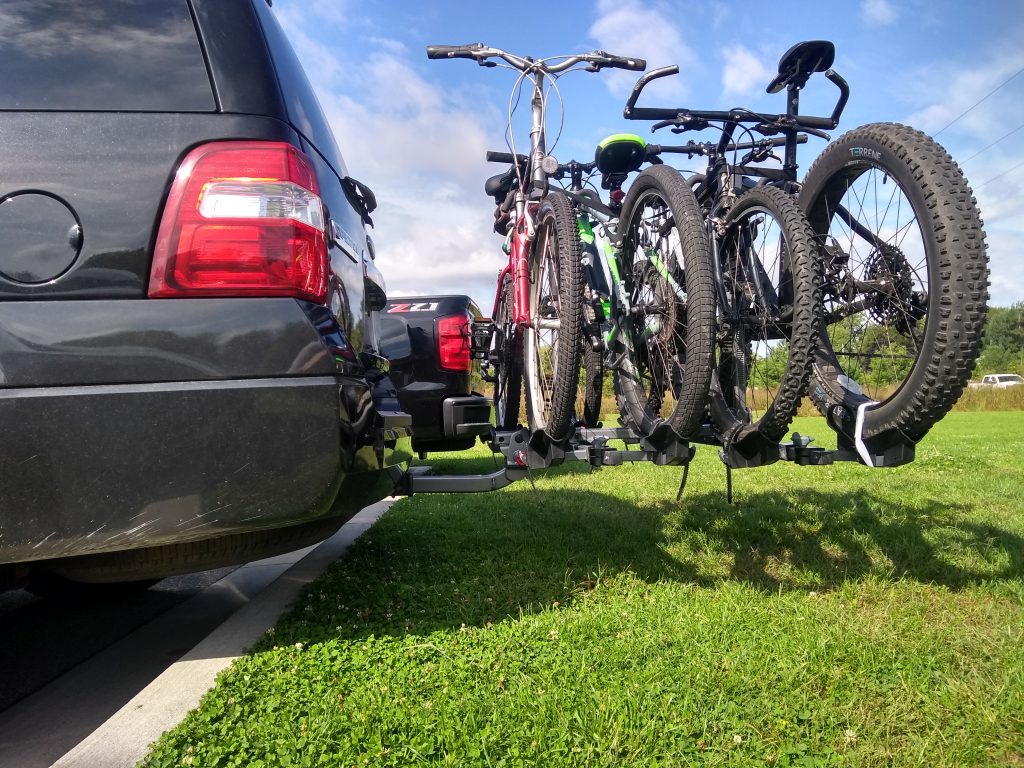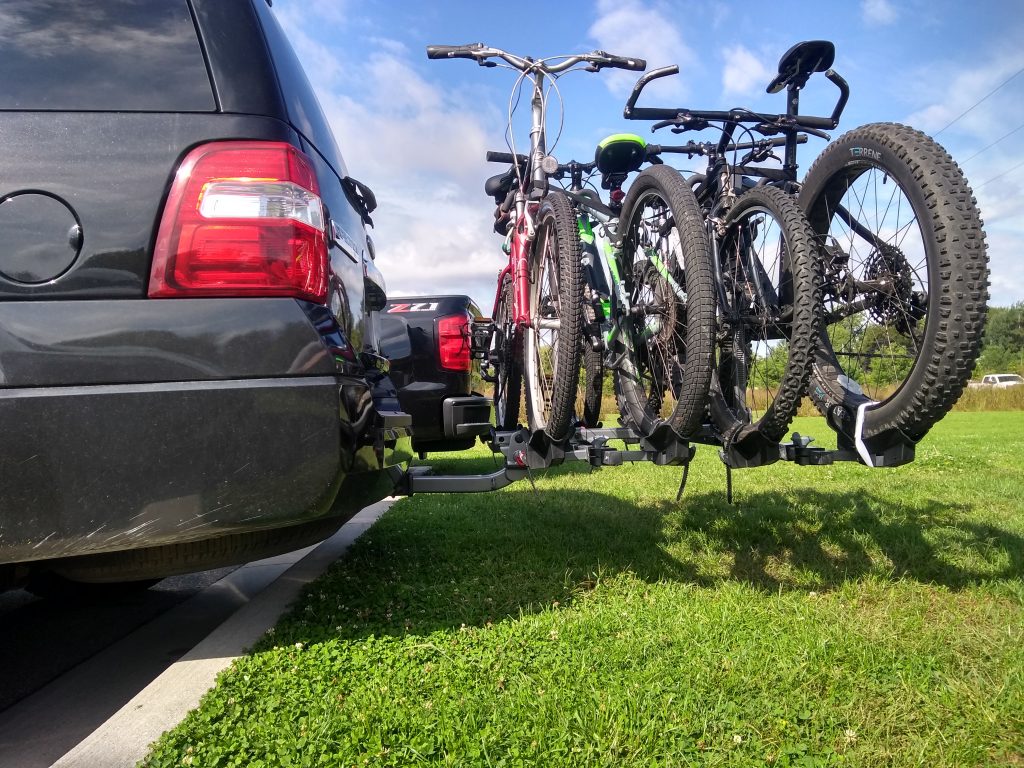 With a few minutes of work you can change it from a 4 bike rack to a 2 bike rack and an interesting feature is the integrated bottle opener on the end cap with will come in handy at the campsite. Have the rack loaded and need to get the tail gate open? Get someone to hold the far end, pull the safety pin and locking pin, and you can drop the end down at an angle to allow the back hatch to open. simply lift the rack when you are done and put the safety pin back in place.  This WILL take two people, because in addition to 66 lbs of rack, you're lifting the combined weight of the bikes too. We di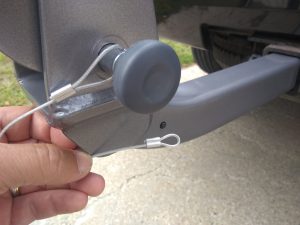 dn't attempt this while fully loaded, but it was nice to know the option was there.
The Yakima FourTimer folds up against the vehicle making it add 16″ to the back of the vehicle when not in use.
Last, for as well built as the rack is, the locking pin on the bottom is held to the main rail with a safety cord and a piece of plastic. We broke that plastic clip the first time we removed the pin. We secured it to the main rail security loop with a small carabiner and it didn't bother us after that.
Security: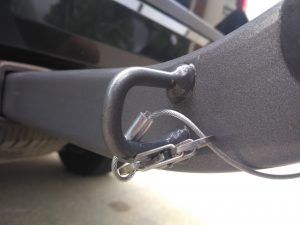 For the bikes there is no built in security like other racks, but there is a security loop on the main hitch that slides into the receiver on the vehicle, you can run a looping cable/wire lock through that and around the bikes. You'll need something probably in the 9-10 feet range. The rack itself is protected from theft though. It gets fastened in the receiver with a very serious bolt, it also has a lock on the end preventing just any random person from undoing it. Yakima provides two keys. We put one on a carabiner that we clip to the rack when not in use, and goes in the glove box when it is on the vehicle.
Durability:
Did we mention this is 66lbs of solid metal? Well, almost. There are a few pounds of plastic wheel trays, knobs and clips too. It is built to last longer than the vehicle we put it on. If you left it on all the time, the sun would eventually take it's toll on the plastic. The wheel straps are replaceable as they get worn, or break from bending and use, we imagine they'll be first to go, probably followed by the plastic wheel trays (which are how most wheel trays are).
Value:
The Yakima FourTimer is actually part of their value line. Why? Sure it holds 4 bikes, but it is also one of their heaviest, and largest racks. They have more compact, lighter weight racks in their premium line. To hold 4 bikes this solid for transport isn't free. It's an investment for a family that'll work today, and years from now as kids grow into larger bikes. There are larger straps for fat tire bike wheels even. It's even adjustable for 2 or 4 bikes as needed. At $579 the Yakima FourTimer is not an impulse buy, but it's a value for what it does for a family with different style and size bikes.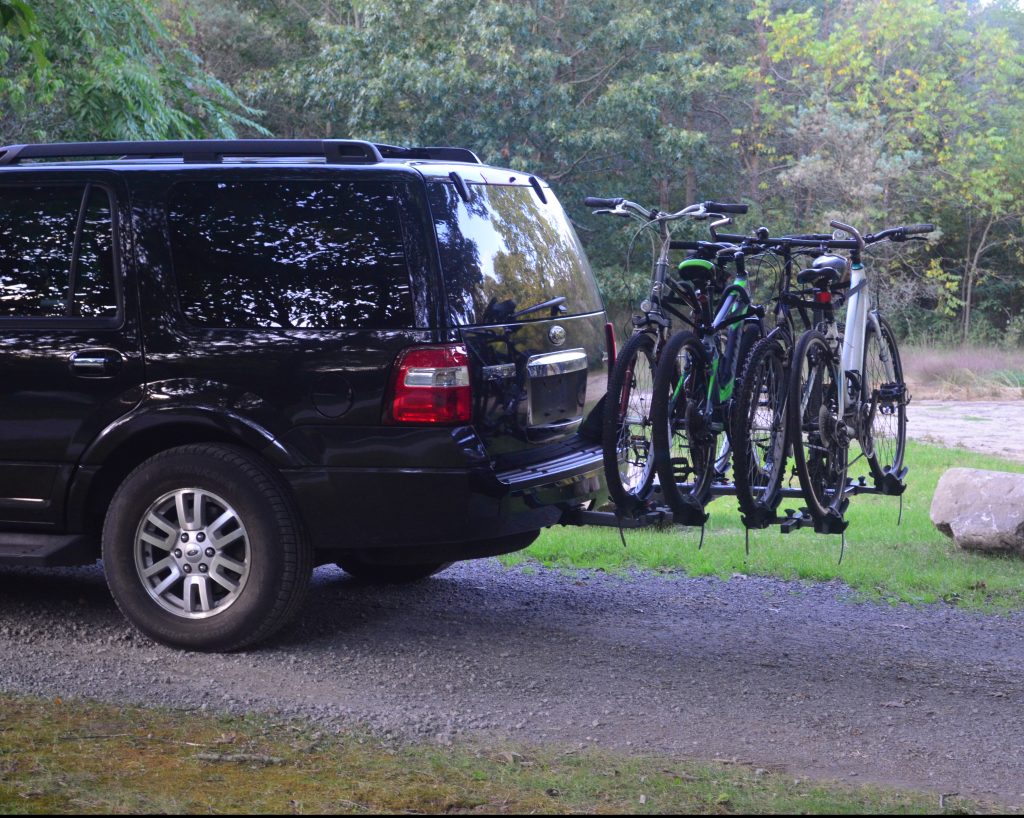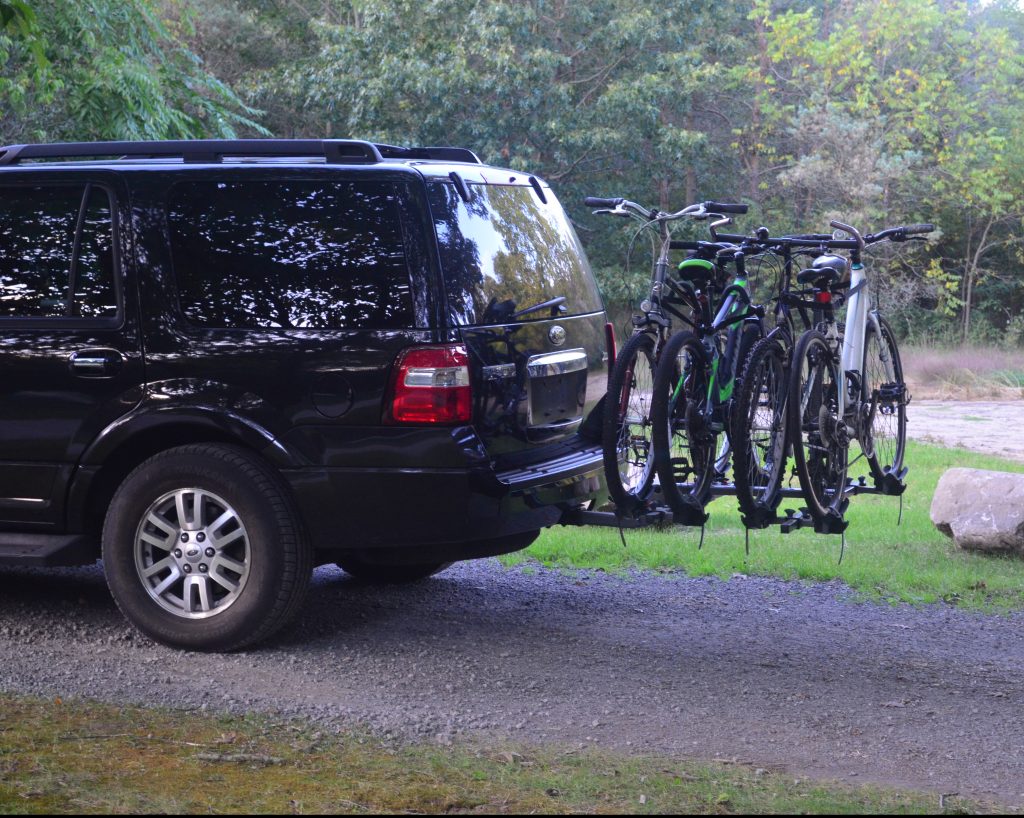 If you're trying to decide what kind of rack is right for you, Yakima has a 7 minute video that covers the pros and cons of the main types of bike racks, roof, hanging, and tray: School of Rack.
Buy Now: $579, or learn more, head over to: Yakima.com
Yakima FourTimer Bike Rack Review
If you're looking for a quality rack that holds up to 4 bikes and you've got a place to store it when not in use, it's going to be hard to find a better rack that'll last like the Yakima FourTimer. It's a value rack, but it's quality built to last.
The Good
Very Solid
Holds any 4 bikes securely
Folds up when not in use.
The Not So Good
Really Heavy
Hard to store when it is off the vehicle