Designed specifically for the video game Medal of Honor: Warfighter (available October 23) in partnership with Electronic Arts, The Voodoo Hawk was is a combination of SOG's tactical Tomahawk and FastHawk. Featuring an extended cutting head, compact glass-reinforced nylon handle, and metal butt cap. The Voodoo Hawk is an apocalyptic dream weapon that also doubles nicely for chopping wood in the back yard while scaring the bu-jesus out of Mrs. Johnson!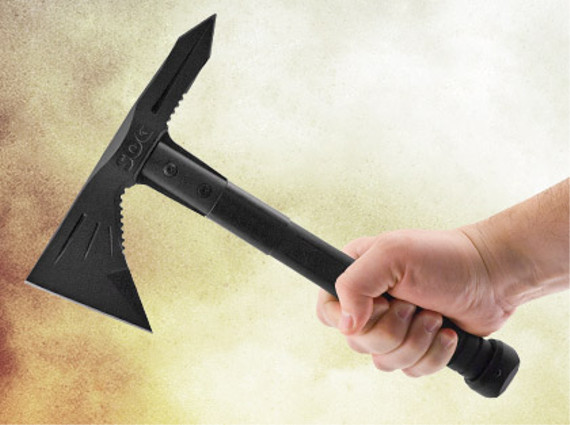 Key Features:
420 Stainless Steel
Hardcased black coating
Nylon carry sheath
Ballistic Polymer Handle
One year warranty
Specs:
Blade Length: 3.5″ x .26″
OverallLength: 12.56″
Weight: 28.5 oz.
Edge: Straight
Finish: Black
      The Voodoo hawk will be available for $75.00 in October 2012.