Braving the elements of winter can be a daunting challenge for even the most well versed of outdoor enthusiasts. Whether you're outdside for work or play this time of year, the season's fluctuating outdoor temperatures combined with the body's heat can turn into a harsh and uncomfortable experience quickly if you're not suited up properly. This winter, we picked up the snow shovel a few times so that we could back out of our driveway and make our way to the slopes, and we prepared ourselves for the experience wearing the new Volcom Stress Pant from their VS Collection.
Key Features:
15,000mm Waterproofing
10,000gm breathability
Slim Fit (Modern Articulated)
Duck Cloth Oxford fabric
Zip Tech® jacket to pant interface
Mesh Lined Zipper Vents
Adjustable Inner Waistband
Triple Reinforced Rise
Stretch Boot Gaitor
Stone Butt
Ticket Ring
Volcom Stress Pant Review Breakdown
Design:
The Volcom Stress Pant has been designed with a new articulated fit, combining a slim fitting style with enough room to remain functional during whatever activity is required.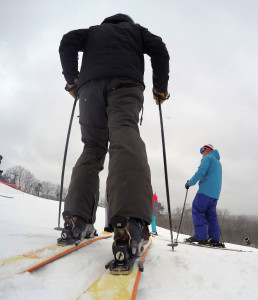 Not overly loaded with pockets, the Stress Pant is geared more towards the fashionable than for someone who wants to carry everything they could possibly need for the journey. The basic design of two front and two back pockets should be enough for general use though. The zippers on the front pockets do go all the way to their lowest depth, so it's best to be aware that items may not stay put when they are open.
As an added bonus, the Stress Pant comes equipped with the Zip Tech® jacket to pant interface. This feature is designed to create a seamless layer of protection from the elements in the waist, but only works with Volcom jackets. Just an extra added nicety for anyone who prefers to wear the Volcom brand from head to toe.
Aesthetically, we are very happy to say that we got a lot of great feedback along the way with these pants and their style, and we did get some positive remarks out on the slopes. Some said they "just looked plain comfortable", and there was mention that they "looked more like actual pants instead of big baggy snow pants". The bottoms do have a little flair to them, but once wrapped around a pair of ski or snowboard boots, it makes perfect sense.
Comfort: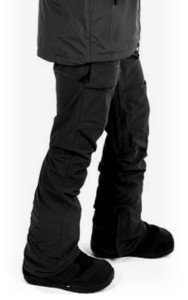 We were a little unsure about the articulated fit at first, but we were very happy indeed with the mobility and comfort that the Volcom Stress Pant provides. Not overly tight, the Stress Pant conforms to the body's natural shape, remaining loose enough on an athletic frame to provide optimal mobility, but its not so loose that it will expel any extra needed warmth in the meantime. The only area of concern for those with a bulkier physique may be in the back of the knee where the design is at its most slender. We did notice some snugness at times when we had our knees fully bent.
Getting a proper fit with snow pants can be tricky at times, but the adjustable inner waistband design on the Volcom Stress Pant is easy, and when it has to be cinched down there is no bunching anywhere around the waist to speak of.
Performance:
Not only do these snow pants fit properly where they need to, the Volcom Stress Pant V-Science breathable lining system keeps the warmth in without overheating while the fully taped seams keep the cold out. Although this is technically a shell with minimal insulation, The Gore-Tex outer is optimal for the best efficiency of breath-ability and dryness.
With regards to heat regulation, the Stress Pant also has mesh lined zipper vents on the inner thigh of both legs. Should you happen to be working harder than you've prepared for, the sun comes out unexpectedly, or you've gone indoors for a long break, this extra bit of ventilation will help you to prevent an over-heating situation.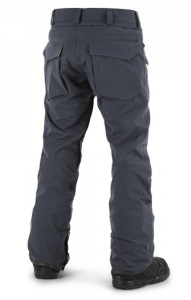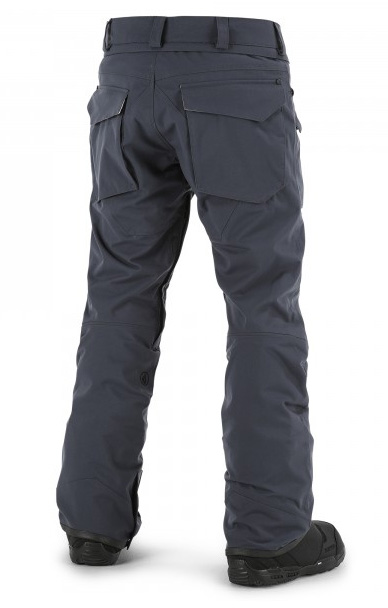 The stretch boot gaitor, a common attribute in most snow pants, is of reasonable size by our estimation. It's worked fantastically with our ski boots, but remained slightly loose on just a few pairs of our winter boots. So far, we haven't had any problem with snow or moisture making its way in through the under-side.
Value:
Performance that goes well beyond the expectations we would normally have in a basic shell, the Volcom Stress Pant stands out in style as well. Never have we worn a snow pant that got this much attention along the way. Staying warm and dry is the main goal during any work task or adventure, but looking good in the meantime makes this moderately priced Gore-Tex snow pant more than reasonable.
Buy Now: $230.00 or to learn more, go to: Volcom.com
Volcom Stress Pant - Gear Review
A basic shell, not meant for the harshest conditions out there, the Volcom Stress Pant out performs the bar it set for itself in every way. Breathable yet dry, Comfortable but not excessively loose, this is a top notch snow pant for the winter warrior who's interested in adding a little style to their adventure.
The Good:
Slim Fitting, but Remains Comfortable
Stays Dry and Warm Beyond Expectations
Stylish in Design
The Not So Good:
Minimal Pocket Space
A Bit Tight in the Knee