When I ask myself, "What are all of the things I would want in an ideal hiking boot?", I think of four main things. First and foremost, I want a boot that is comfortable. I don't care about all of the fancy tech specs if my feet are going to be uncomfortable during a hike and sore at the end of the day. With that said, a comfortable boot isn't going to do me much good unless it performs well. Performance boils down to the level of stability, support, and traction that a boot provides. I also want a boot that is breathable, because having hot and sweaty feet during long hikes is never fun. Last but not least, I want a boot that is waterproof. More often than not, I am hiking in wet conditions or in areas that are prone to water.
Here's where the Vasque Inhaler II GTX steps in. Recently we had an opportunity to test these hiking boots ourselves. After a month of testing we're ready to report how these boots held up.
Key Features:
1.6mm waterproof leather
3D mesh panels which provide excellent breathability and make these boots Vasque's most breathable hiking boot
Lightweight – 1lb 14oz (860g)
Dual Density EVA footbed
Molded EVA midsole
Vibram® Pneumatic with Megagrip Compound outsole that provides great traction and is exclusive to Vasque
GORE-TEX® with Extended Comfort Technology
Vasque Inhaler II GTX Boot – Review Breakdown
Design: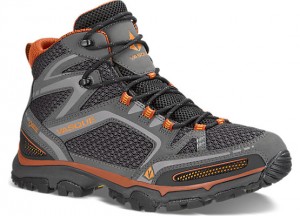 The Inhaler II GTX's promise to deliver everything I am looking for in an ideal boot: comfort, performance (stability, support, and traction), breathability, and a waterproof lining.
Starting with the bottom outside of the boot, the outsole is made of a Vibram® Pneumatic with Megagrip Compound material. This material is said to provide great traction, especially on wet surfaces, which I am happy to say is accurate. This outsole performed great, and I had no issues with traction. This outsole provides great traction and stability, and protects your feet from rough terrain.
The midsole is made of an Ethylene-vinyl acetate (EVA) polymer, which is lightweight and provides impact and stress resistance. Having a quality midsole can make a big difference when it comes to ankle or knee soreness, and I haven't experienced either during my testing of the Inhaler II GTX boots. The footbed is composed of dual density EVA polymer, which provides stability and comfort.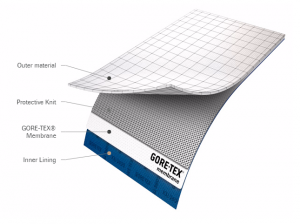 Looking past the bottom of the boot, you will find a liner that features GORE-TEX® with Extended Comfort Technology. This liner promises to keep your feet dry by not only keeping water out, but allowing heat and moisture inside of your boot to escape. On top of the liner, you have mesh panels and 1.6mm leather that offer excellent airflow. Vasque claims that the Inhaler II GTX boots are the most breathable boots that they offer.
We received Inhaler II GTX boots in the Magnet/Burnt Orange color, and I can say without a doubt that they are the nicest looking boots that I own. The orange and light gray highlights are not overdone, and act as a nice accent color that gives the boots a very clean and modern look.
Comfort:
I have to admit that I was a little nervous the first time that I took these boots out. I had not broken them in at all, and the first hike I had planned in them was a 10-mile trek through an area with a variety of terrain. We were not only going to be hiking on dirt trails with rocky sections, but due to the start of the season being wet, some of the areas were swampy. I knew that this trek was going to be a great way to test all of the features that Vasque had promised, but I was worried that my feet would be sore because I did not break the boots in.
Throughout the hike, my feet felt comfortable. I received the boots in a 10.5, which is what I normally wear, and they fit good. They were a little wider than the boots I typically wear, and I did notice my feet move around in them a little more than normal due to this, but this didn't affect my stability, and it didn't cause any soreness or blisters. At the end of the hike, I checked my feet and did not have any blisters or red areas.
While in the swampy areas that were hit hardest by the rain, I accidentally stepped in areas that I thought were fine, but ended up dunking most of the boot into water. This happened a handful of times, and each time it happened, I thought for sure that the GORE-TEX® lining was not going to hold, and my feet would be wet. My socks remained dry, which was a happy surprise.
In terms of breathability, the Inhaler II GTXs are the most breathable boot that I own. I've owned boots before where, when worn in dry conditions, my socks would be damp from sweat from hiking all day. At the end of the hike, when I took my boots off, my socks weren't completely dry, but they were dry enough where I could have continued wearing my socks without feeling uncomfortable.
Durability:
Although we can't give a final verdict on durability, due to the fact that we haven't had the boots long enough, the VIBRAM® Megagrip outsoles are rugged and can take a beating. The outsole extends to cover the front tips of the boots, which adds additional protection from wear on the trail. The leather and mesh material that make up the outer layer of the boot appear to be well made, and we don't foresee having any issues with this part of the boot after you've logged a couple hundred miles with the Inhaler II GTXs.
Value:
The Vasque Inhaler II GTXs have an MSRP of $159.99. For a boot that is lightweight, comfortable, provides great stability, support, and traction, and is extremely breathable, this price seems very reasonable when compared to other boots in this same category. Not only do these boots perform great, but they look great, too. Overall, these boots are a solid choice if you are looking for a lightweight, performance hiking boot that you can use in hot weather.
Buy Now: $
Vasque Inhaler II GTX Boots - Gear Review
Overall, these boots are a solid choice if you are looking for a lightweight, performance hiking boot that you can use in hot weather. They will keep your feet dry from outside moisture, and provide enough breathability to minimize sweating and allow moisture and heat to escape from inside of the boot.
Pros
Lightweight
Extremely breathable, yet waterproof
The VIBRAM® Megagrip outsoles provide great traction
Cons
I would have liked them slightly narrower to prevent my feet from sliding