For many homeowners traditional wood burning fire pits simply aren't an option. Whether your city ordinance won't allow for it or you just don't have the proper space – wood burning fire pits are typically reserved for residents outside of confined city lots. That being said, there's still nothing better than a cool Summer evening spent by the fire relaxing with good friends, good music and a glass of topped off with your favorite drink. If you can make all that happen, in the comfort of your own backyard, you've got it made my friend!
Introducing the UniFlame Propane Fire Pit Table (Model: GAD860SP). This propane powered fire pit table is a great solution for homeowners who either can't have a traditional fire pit or simply don't want to deal with the smoke, the time it takes to light a fire and all the heavy lifting it takes to keep wood fire pits burning and stocked with wood. Its sturdy handcrafted slate/marble top, aluminum frame and cast iron burner were designed for extended burn time and years of use. If you've searched for similar fire pit tables online or in the stores, by now you know, you won't find a better looking table for the price. And that's exactly why we decided to hook up with the good folks at UniFlame to put their handsome fire table to test. From assembly to ignition and burning through a full tank of propane (which lasts up to 11 hours) – we tested UniFlame's propane fire pit table inside and out just in time for Spring and Summer to kick off.

Key Features:
Gas outdoor firebowl with porcelain steel bowl and slate/marble mantel
40,000 Btu cast iron burner for plenty of heat and durability
Hidden control panel with electronic ignition for easy starts
Handcrafted slate/marble mantel dresses up any venue
Protective cover included; requires 20-pound liquid propane tank (not included)
Dimensions: 41.26 by 41.26 by 21.7 (W x D x H).
What Amazon Customers are saying:
"We have enjoyed this firepit almost every night since it was delivered. It puts out an impressive flame and a decent amount of heat. Plus, the table around it is wide enough to set drinks or feet up on. Great product!!" -5 Stars

"We love this fire pit. We have received a ton of compliments on it. It has easy igniter for starting it and looks very attractive on our deck. It doesn't put off a ton of heat, but is great for roasting marshmallows or taking a little of the cold out of the immediate vicinity." -5 Stars

"Works great. Takes some time to put it together. After it is all together it is fine. Very nice looking and just the right amount of flame." -4 Stars
After seeing all the positive reviews for UniFlame's Propane Fire Pit Table on Amazon we knew we had a winner on our hands, but the proof is away in the pudding for us. So we reserved our comments until we got a chance to put this fire pit through the paces ourselves. Now, more than a month into testing, we're finally ready to share our thoughts and observations with you. So here we go!
Uniflame Propane Fire Table Review Breakdown
Design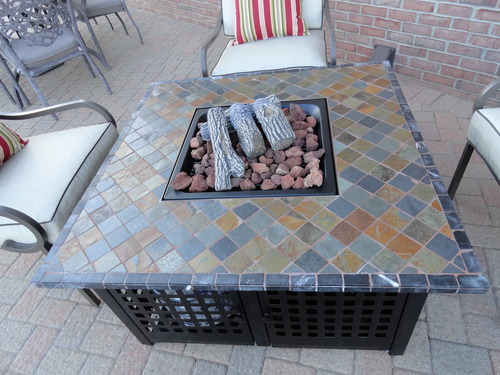 It's easy to see that this fire pit table is an absolute knock-out visually. The table top tile work is impressively sturdy and the entire unit is actually quite heavy overall. The sides are made from steel and aluminum, but you wouldn't know just by looking at it – because Uniflame painted them with a rustic bronze coat that's truly handsome. If you're searching for a better looking "rustic" fire table stop wasting your time… here it is!
Other features that were very well thought out in the design of this fire pit table were the slide out propane dock, which allows you to access the on/off valve as well as change out an empty tank. Additionally the flame controls and electric start are also nicely setup, easy to access and control.
Overall, this table has everything we were looking for from a desing aspect, including space for drinks, storage underneath and a luxurious rustic look that is now the center piece of our backyard.
Setup & Assembly
I'd be lying if I told you this was an easy install… so I won't. If you have the option to pick this table up at the store fully assembled – buy it! It will save you time and stress. It does come with instructions, but we found them to be confusing for the most part and not terribly well written. After 2.5 hours we had the table fully assembled and glimmering with flames. It's no land-speed record but we were pretty proud in the end.
All assembly and instruction woes aside, installation can be managed by two people over the course of an afternoon. Some of the pieces are quite heavy so you'll want the extra set of hands. One nice assembly feature is that you don't need a bunch of tools. All that you'll need is a phillips-head screw driver to piece this fire pit together, everything else is included.
Ease of Use: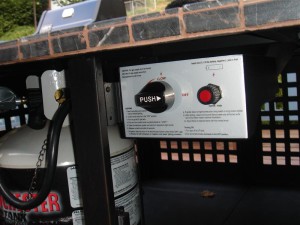 Once you've finally got the assembly out of the way this fire table couldn't be easier to operate. Under the table in the storage compartment there is a gas flow knob and an electric ignition (powered by 1-AA batery).
To Start: push the flow knob in and to the left while pushing the ignitor button. Once lit, hold the flow button for about 15 seconds until the flame is rolling on its own now. Once the flame is running on its own you can adjust the level of flames by turning the knob from left to right. Left = more flames, Right = less.
To Stop: when you're finished and ready to head in for the night simply turn the gas flow knob all the way to the right, to the OFF position. We also suggest you turn off the gas at the propane tank as well. This is a fool proof way to make sure you won't loose any propane.
Warmth:
Delivering 40,000 BTU's, this fire pit is great for roasting marshmallows, keeping you nice and warm on nights when the temps are in the the low to mid 50's and up. Anything below 50 degrees is a little too cold for this fire table to combat. One other thing you'll want to know is that the actual flames from the fire start 27 inches from the ground. So what, right? We'll as you probably know, heat rises, so don't expect this fire table to keep your feet nice and toasty. If you're going out on a chilly night to sit by the fire you might want to bring a blanket for your lap and feet.
Value:
For the money this fire pit table is one of the very best we could find, both visually and from a function standpoint. If you're going to shell out more than $500 on a fire table and you're searching for a rustic/rugged look you won't find anything better than UniFlame's Propane Fire Pit Table. Believe us… we tried!
UniFlame Propane Fire Pit Table
If you're looking for a propane powered fire pit table to fill out your backyard, patio or deck we highly recommend you check out the UniFlame Propane Fire Pit Table yourself. It's got that handsome rustic look, easy to control flames and over-sized table top that's great for drinks, food or playing cards, We've had the opportunity to test our unit for just less than a month now and we're absolutely in love with it. Assembly could have been easier, but you only have to do that once - then the late night fun and relaxing can begin. This fire table gets our official stamp of approval no questions asked!
The Good:
Easy to operate
Lots of table top space
Sturdy build quality
The Not so God:
Assembly is time consuming and requires two people
Quite Heavy - not easy to move
Soot collects on the logs and lava rocks in the immediate area of the flames