From the smoked, juicy turkey, to the mouth watering sides, and even the tasty drinks; we decided to make the Ultimate thanksgiving feast in the Ironwood 885 Traeger grill. One could simply roast a turkey in the oven and slay away in the kitchen all day. But we decided to take it up a few notches and make it fun by smoking and grilling the entire feast in the Ironwood 885.  I gained inspiration after being invited to watch BBQ Pitmaster, Diva Q, as she elaborated on the fine art of "smoking" a turkey on a Traeger wood-pellet grill, while delving into Thanksgiving tips, tricks, do's and don'ts to make this year's (and beyond) Thanksgiving experience as seamless and enjoyable as possible. So let's dive in and explore the Ironwood 885 grill and see how each dish turned out.
The Grill
Key Features:
Downdraft Exhaust & Super Smoke Mode
Pellet sensor
Dual Position Smoke/Sear Bottom Grate
WiFIRE Technology
D2 Grill Controller
Double Side Wall Interior
Included Meat Probe
Porcelain-Coated Grill Grates
All-Terrain Wheels
Locking Caster Wheels
Grill Tool Hooks
Aside from a superior quality frame and double-sidewall insulation, this grill also comes equipped with smart features. WiFIRE® Technology lets you monitor your cooks, adjust grill temperature, and get alerted when your meat is done. You'll also have access to over 1,600 recipes through the Traeger App.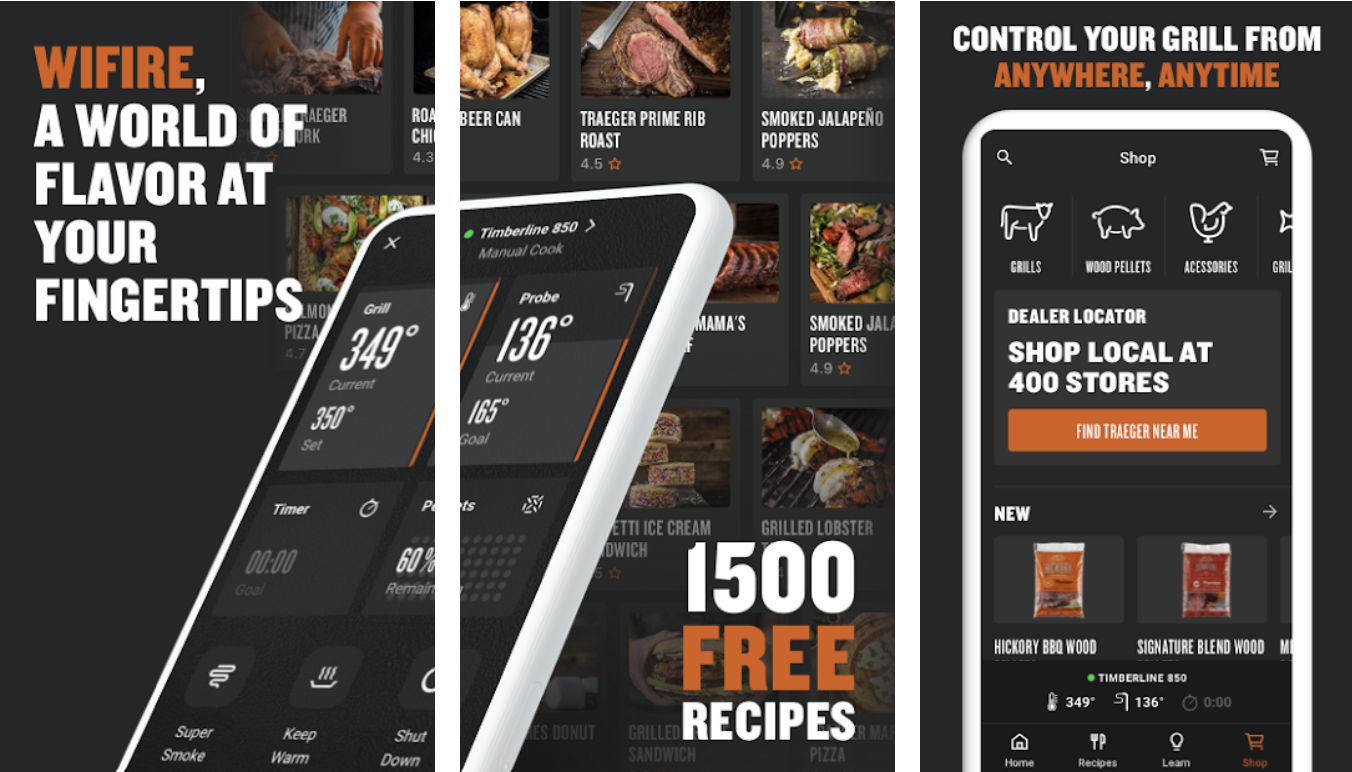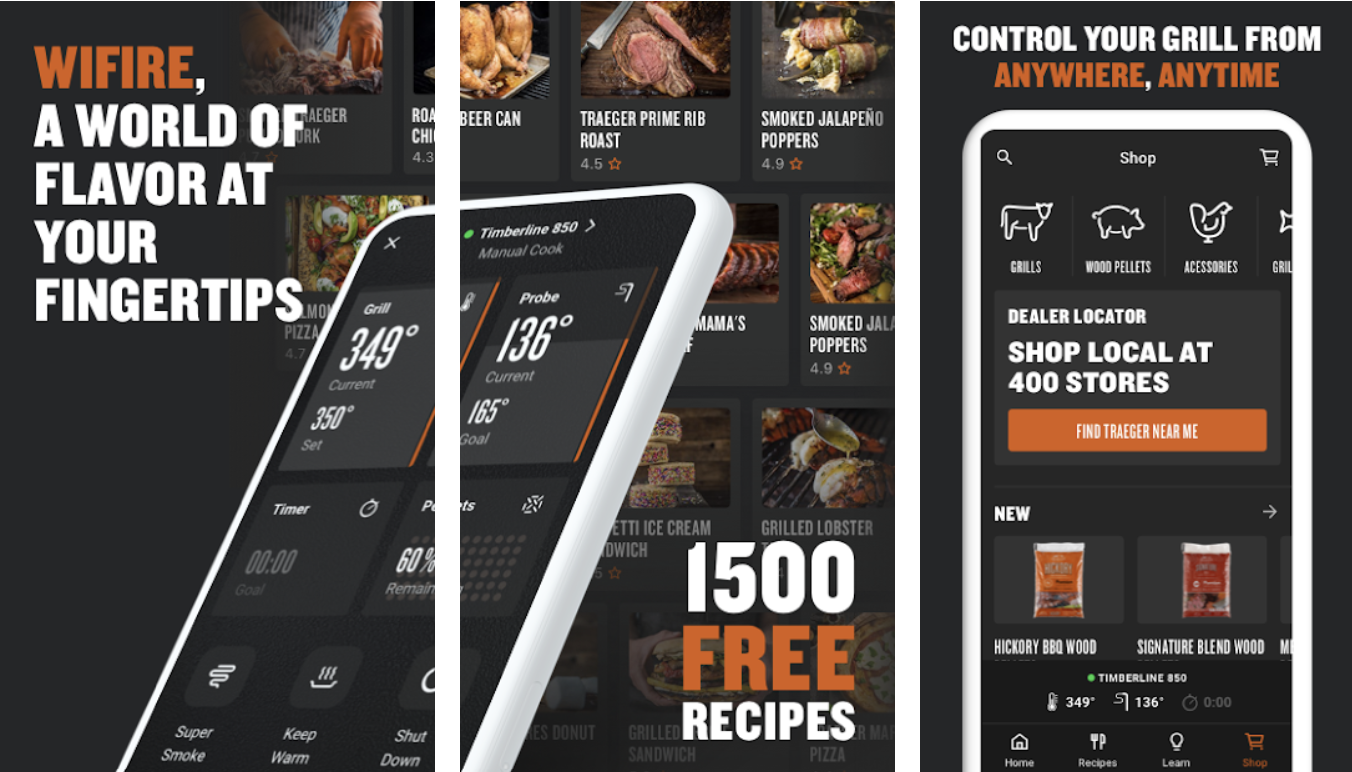 If you've ever tried grilling using a traditional grill, then you already know how tedious getting (and maintaining) the proper temperature can be. Not an issue with the Traeger 885 thanks to the D2 controller with digital display. With a simple turn of the dial you can set and adjust your temperature in 5°F increments.
The only real chore that comes with cooking on a pellet grill is maintaining the proper amount of pellets. However, the Traeger Pellet Sensor mounts in hopper so you can monitor pellet levels and receive alerts (through the app to your phone) when pellets are low, making it less of a chore and more of a "set and forget" feature so you can enjoy that beer and time with friends and family.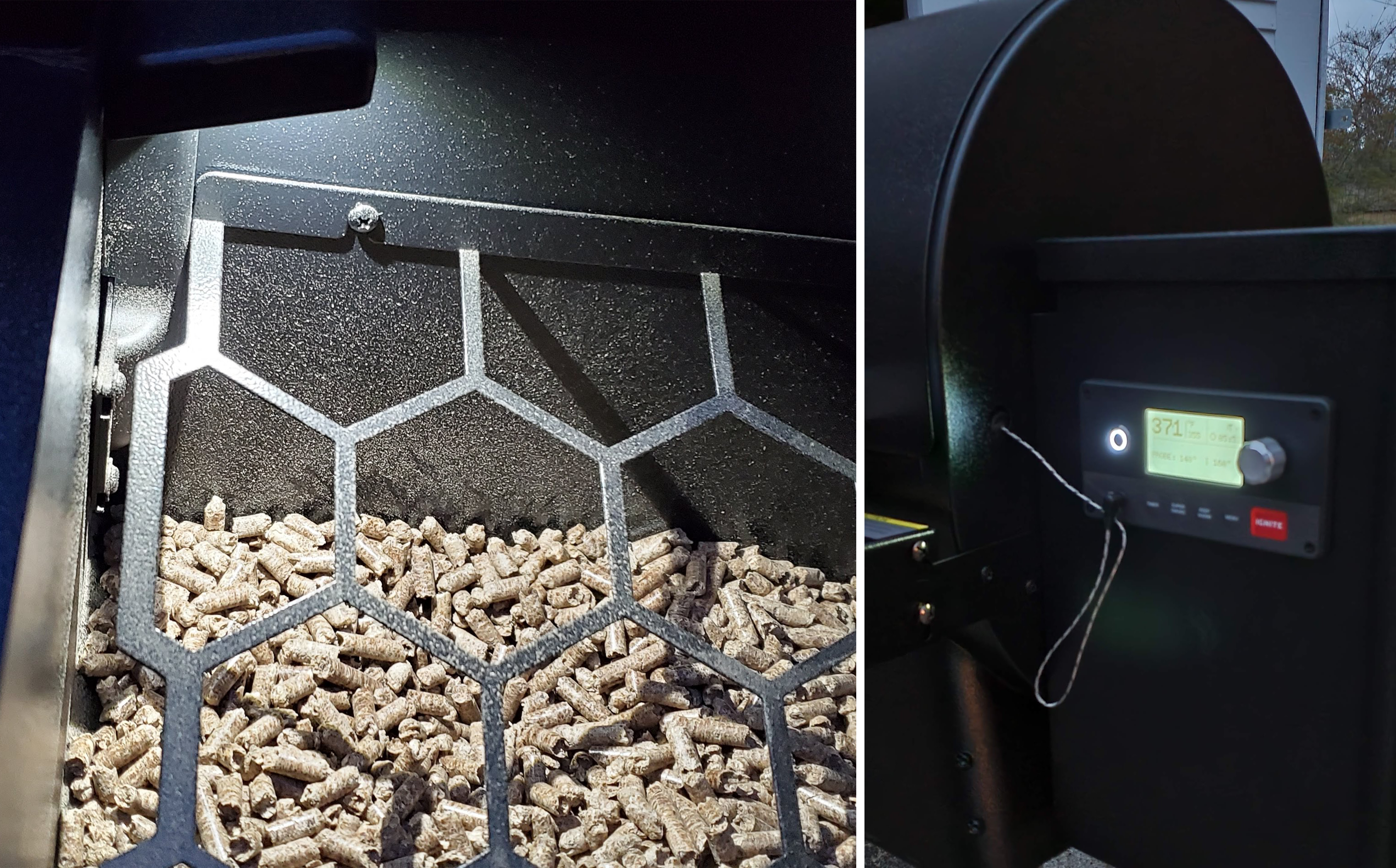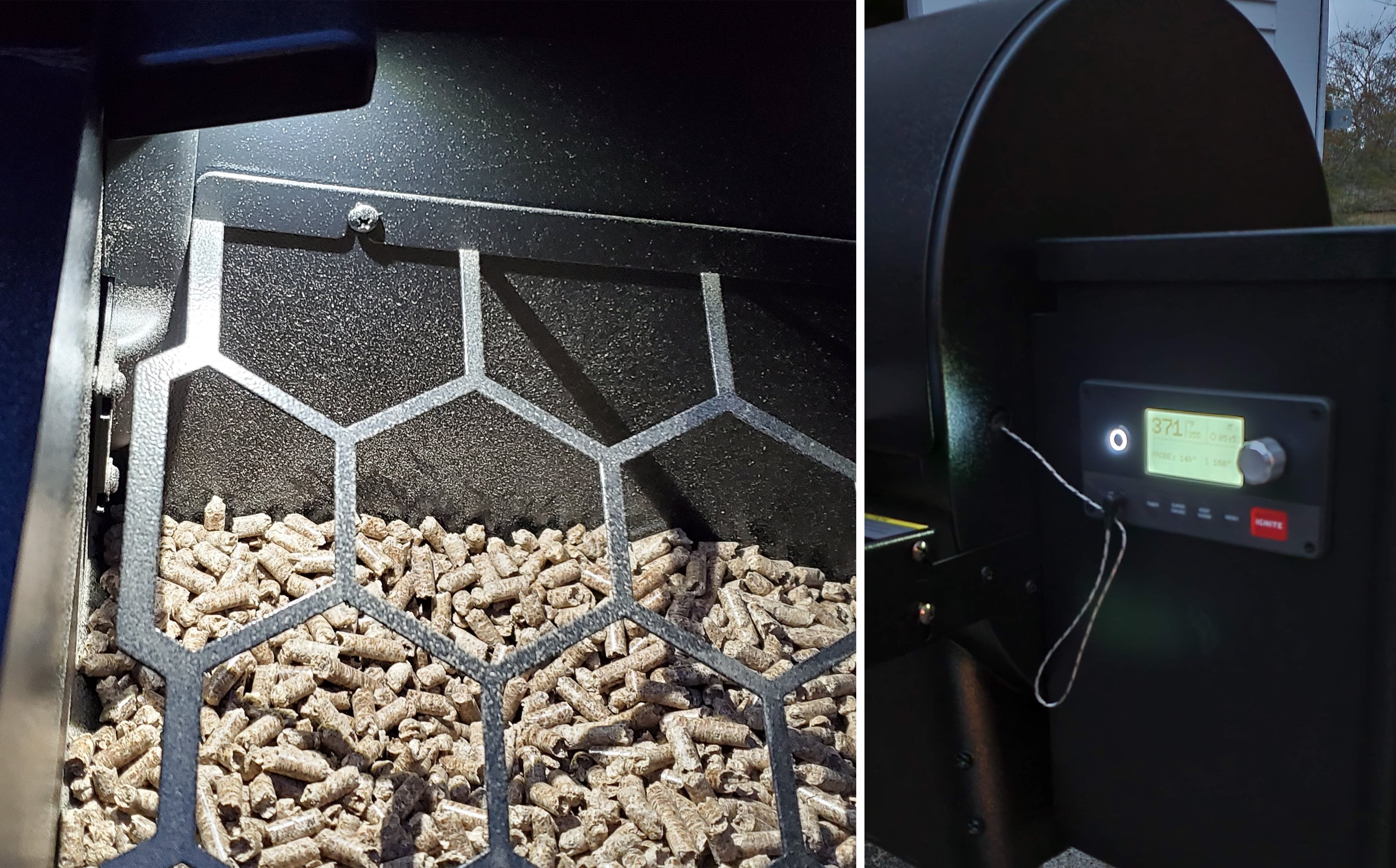 One of the main reasons to get a Traeger is because of the unrivaled wood fire flavor. The Downdraft Exhaust® System keeps fresh smoke flowing over your food to ensure the best possible wood-fired flavor. And if you want an even smokier flavor, that's an option with the Super Smoke Mode, which increases the amount of smoke with the push of a button (under 225 degrees) when you want maximum wood-fired flavor.
Don't get hangry, instead use the TurboTemp® to speed up startup time so you can grill faster and eat sooner. This mode also helps grill temperature recover more quickly after lifting the lid.
If you're worried about an even cook, have no fears! The TRU Convection® System directs smoke through specially designed channels, creating a vortex of heat and smoke that cooks your food faster and more evenly without fear of flare-ups.
So what if you're less concerned about an even cook and more concerned about searing or slow cooking? Well, simply adjust the dual-position smoke/sear bottom grate to position your food closer to the fire when searing at high heat. Or if you want a slow-smoked flavor, you can position the grate higher up to allow for a smokier flavor.
One of my favorite features is the ease of swapping out pellets, or simply cleaning the access pellets out for the next cook with the Hopper cleanout trapdoor.  With 885 sq. inches of cooking surface and 20 pounds of pellet capacity, you can cook for the whole block or a grill a feast for the family.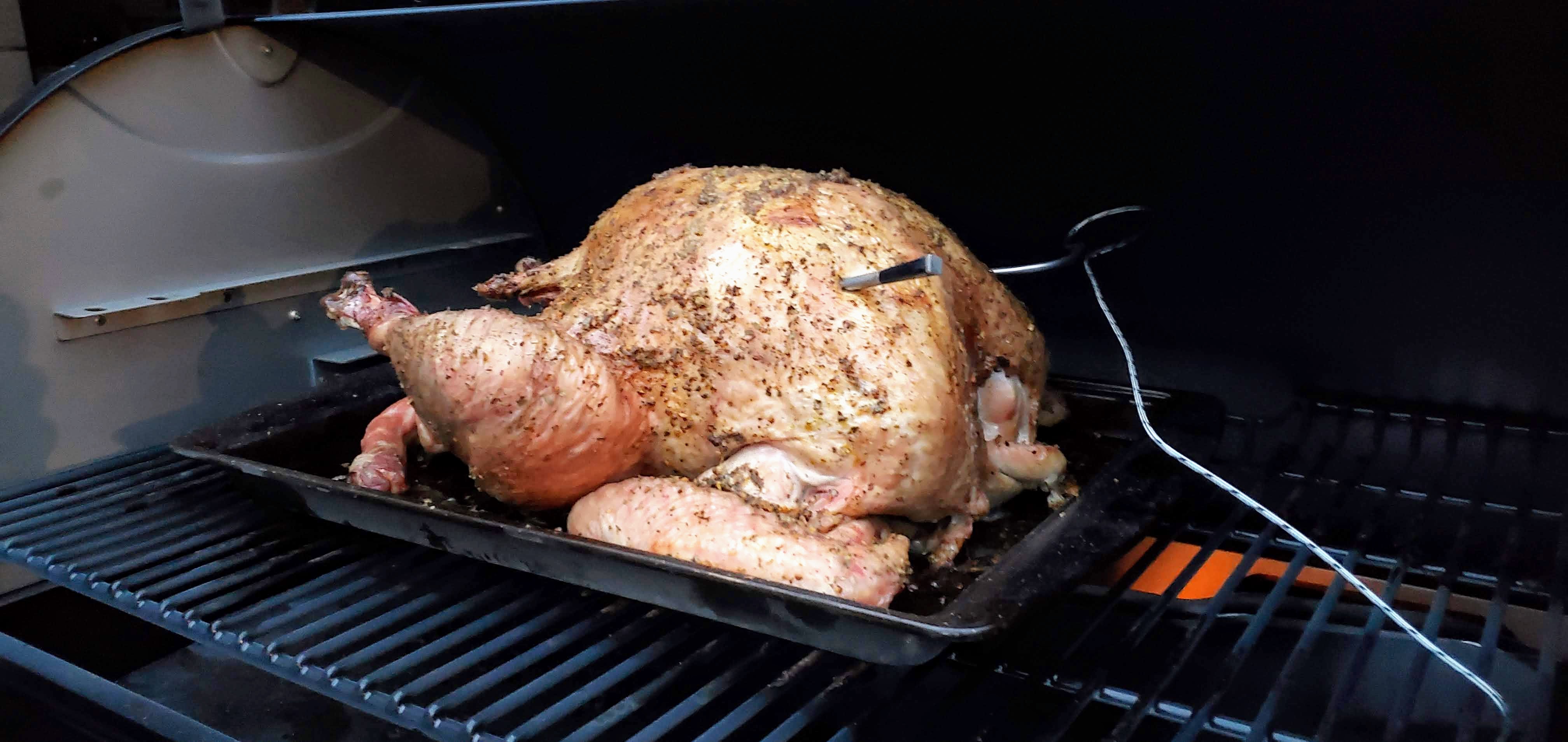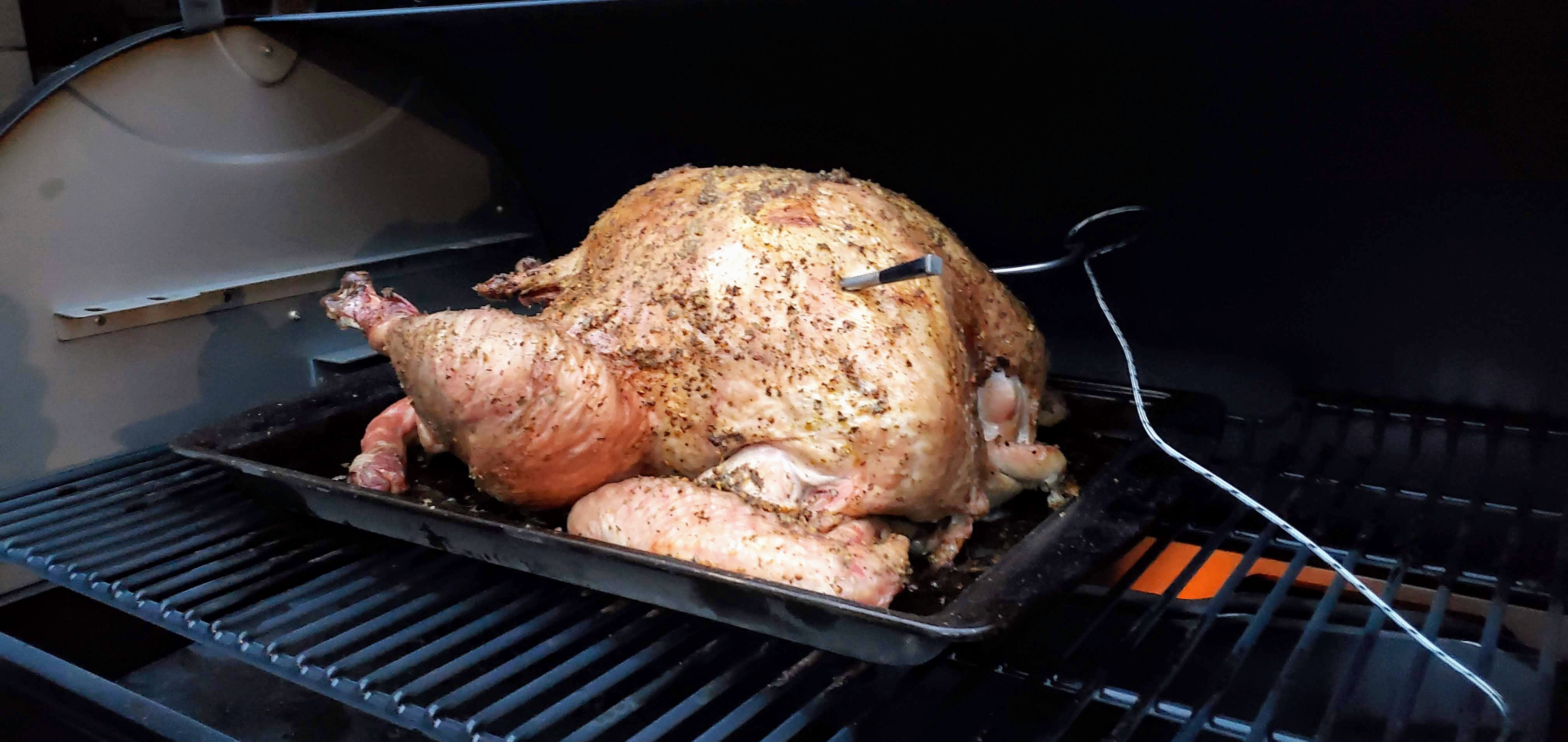 No other grills can match the versatility, ease, and consistency of a Traeger. This is more than a grill. You can grill, smoke, bake (yes BAKE), roast, braise, and BBQ to perfection.
Smoked Old Fashion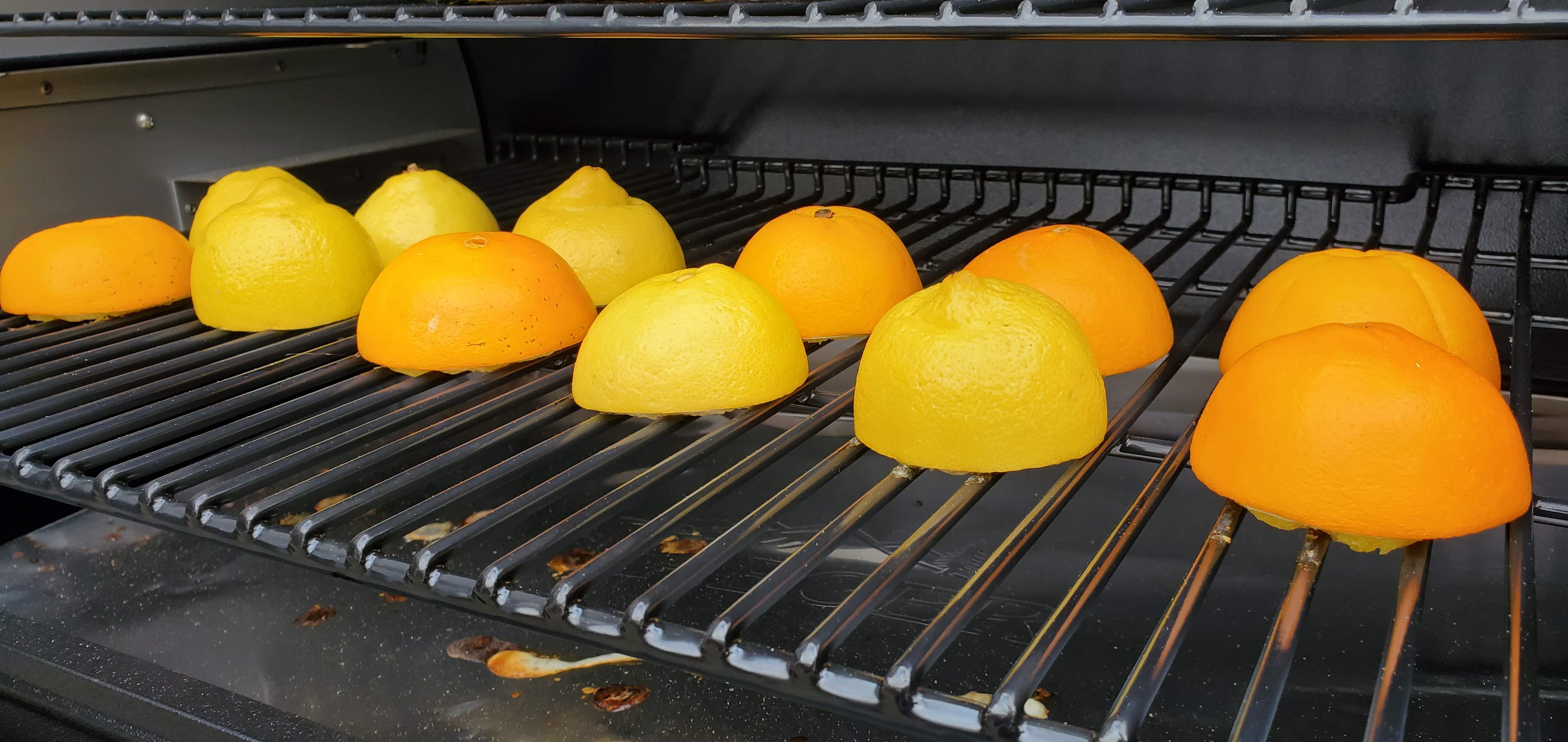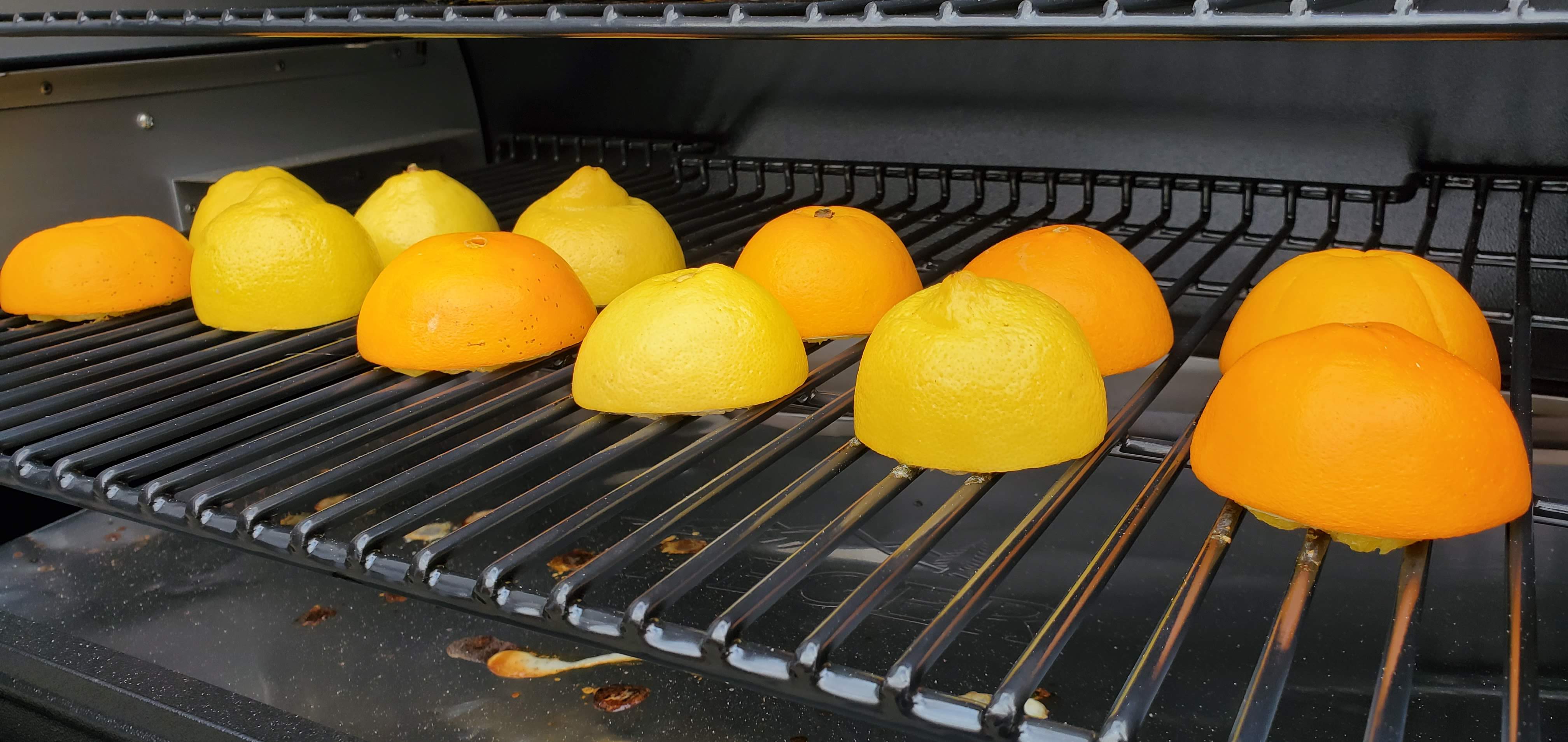 One of my favorite drinks is an Old-Fashioned. I've tried many variations throughout the years and I'm definitely a fan when there is a smoke box around to give it more flavor. What better smoke box than a Traeger Grill? I sort of followed the recipe that was on the Traeger app with some minor alterations. So instead of starting the grill off at 350 degrees, I set it at 225 degrees with Super Smoke mode. I tossed in the halved oranges and lemons as well as a cup of water in a glass bowl for about 30 minutes. I then took everything off the grill, let cool, juiced the oranges and lemons (set the juice aside for later), then cut the peels. Next, I set the grill to 350 degrees and grilled until the peels started to darken around the sides. While the grilling was doing its job, I was inside doing the rest. You can buy Traegers simple syrup, but I decided to make my own. I took the cup of smoked water and stirred in a cup of sugar until it was dissolved for the smoked simple syrup. Place that in the fridge to cool.
Once the peels are ready, the fun can begin. Start with a nice whiskey ball or cubed ice in a glass. Add in a couple peels, a shot of bourbon (or two), a tsp of the juiced lemon and orange, a tablespoon of the simple syrup, and a few dashes of bitters. Stir and enjoy!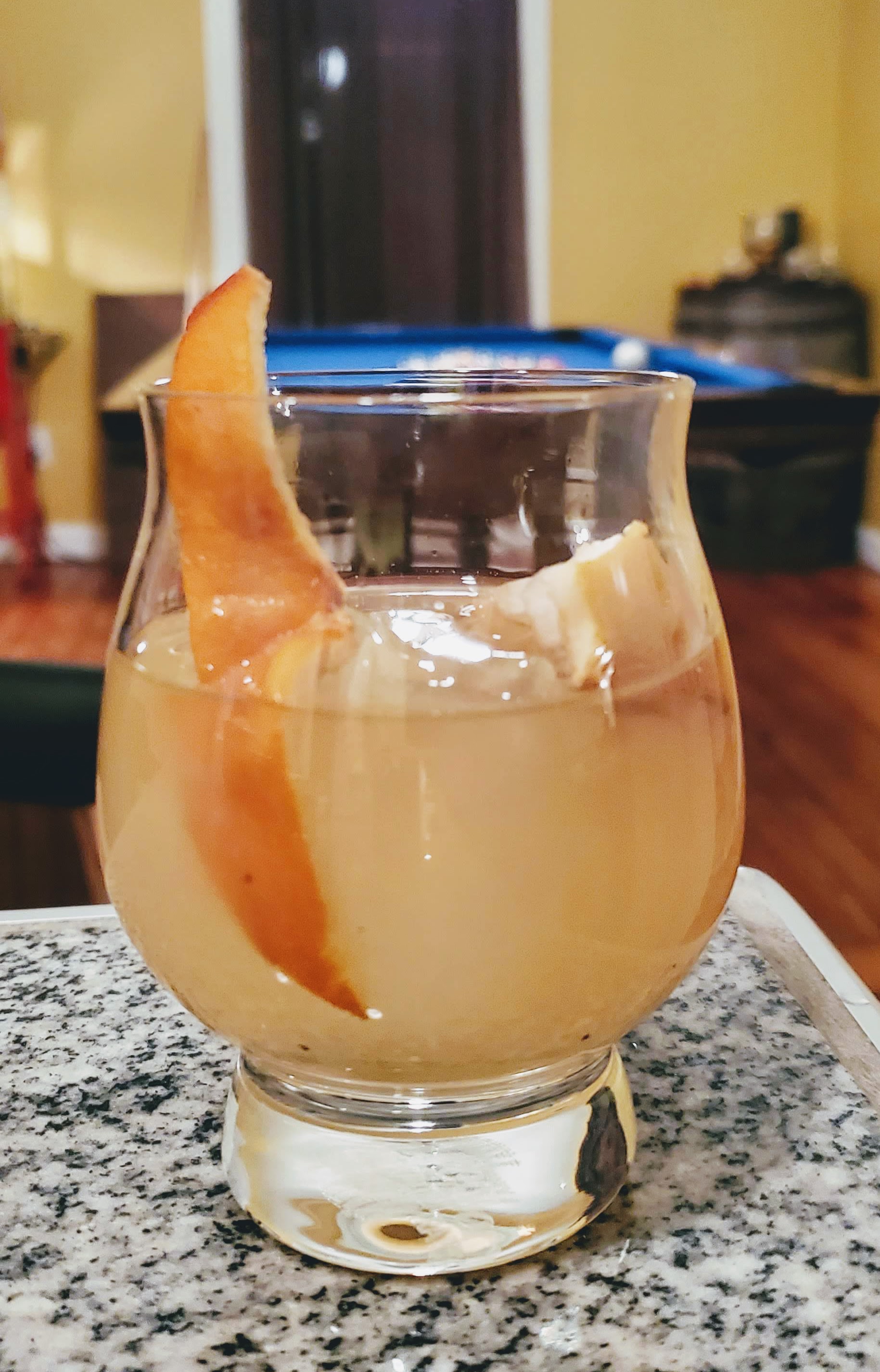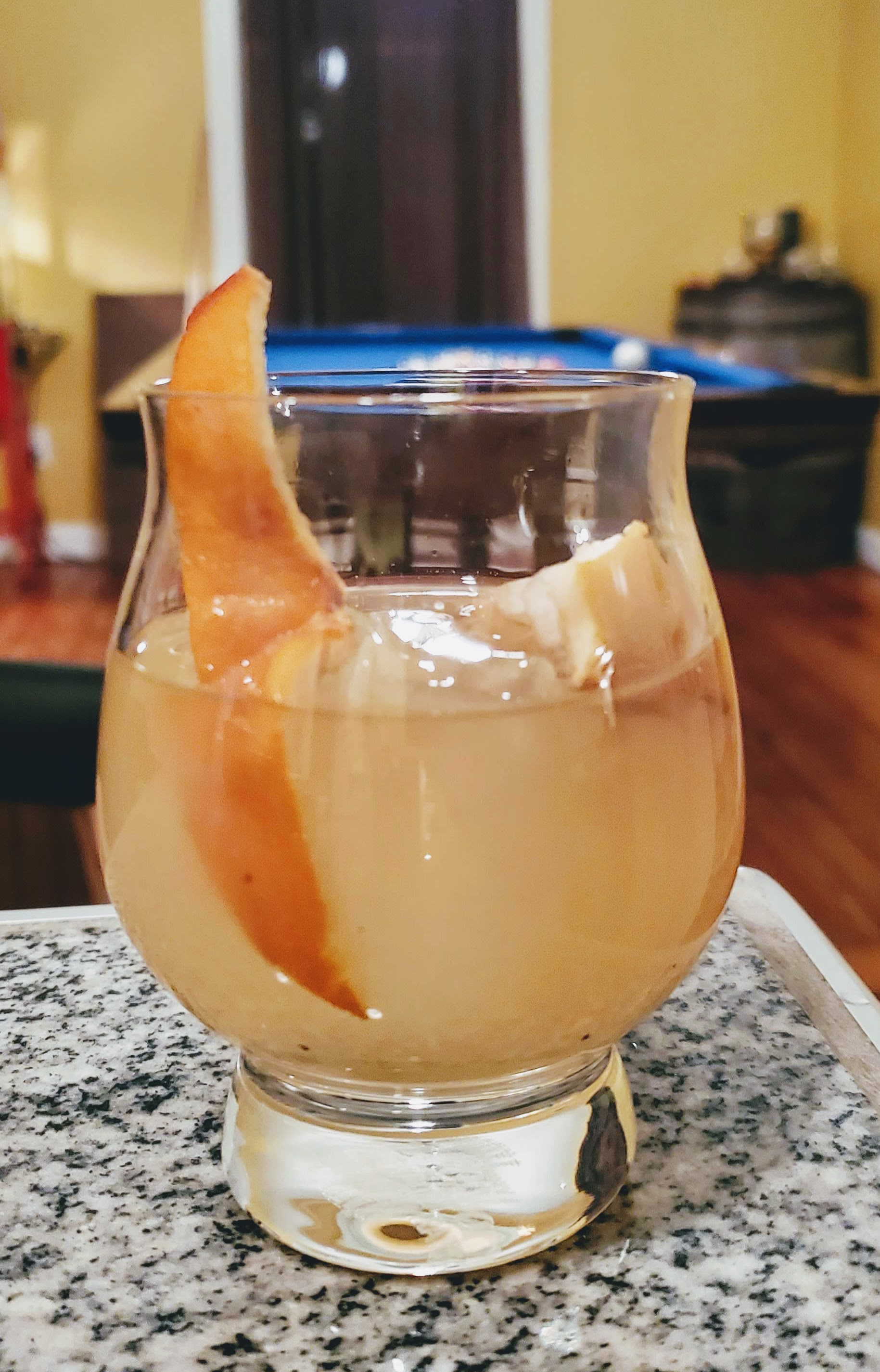 Traeger Old Fashioned Recipe here.
Hasselback Sweet Potatoes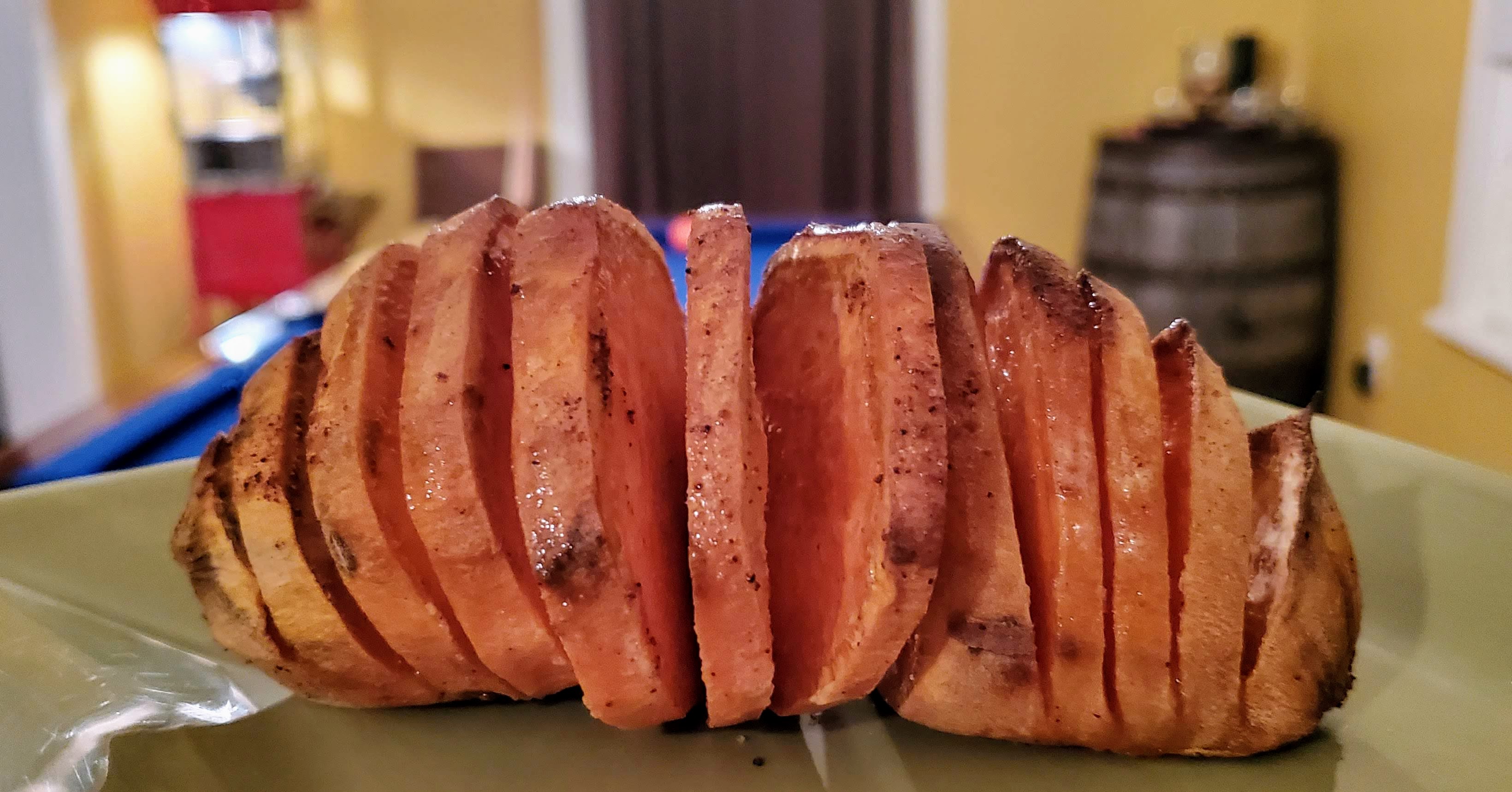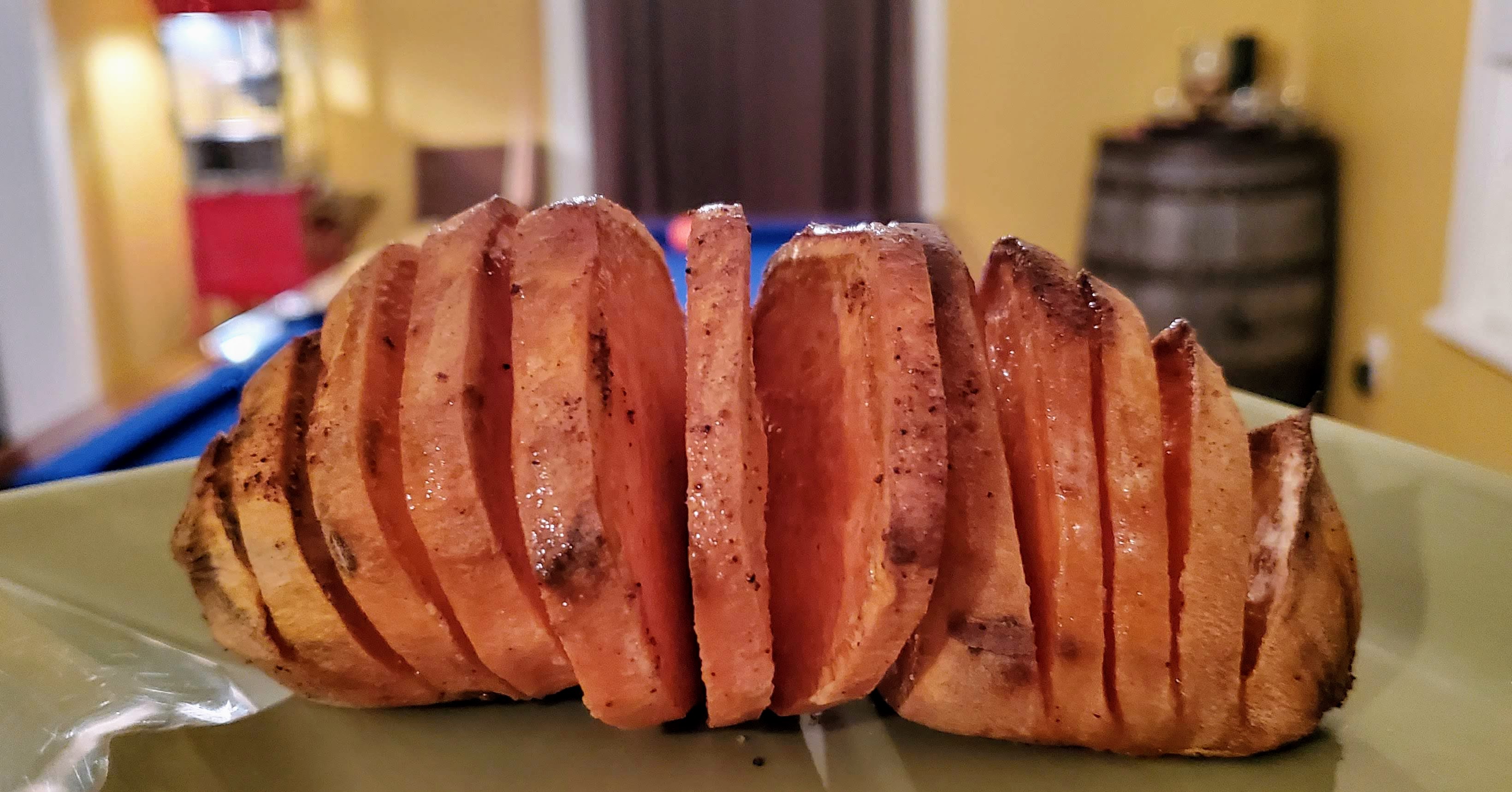 These Hasselback sweet potatoes were hassel-free. Simply set a couple spoons on each side of the potato, cut down 1/4 in. widths until the knife reaches the spoon guards (to prevent from cutting all the way down). Then toss a thin slice of butter between each layer, sprinkle with brown sugar, a little salt, and nutmeg. Set the grill to 425 degrees and grill for 60 minutes. If you want more sweetness, after taking the potatoes out, you can add a dollop of melted marshmallows and some more brown sugar. Toss back in for 5-10 minutes for some hardy-sweet goodness. Full recipe here.
Smoked Green Bean Casserole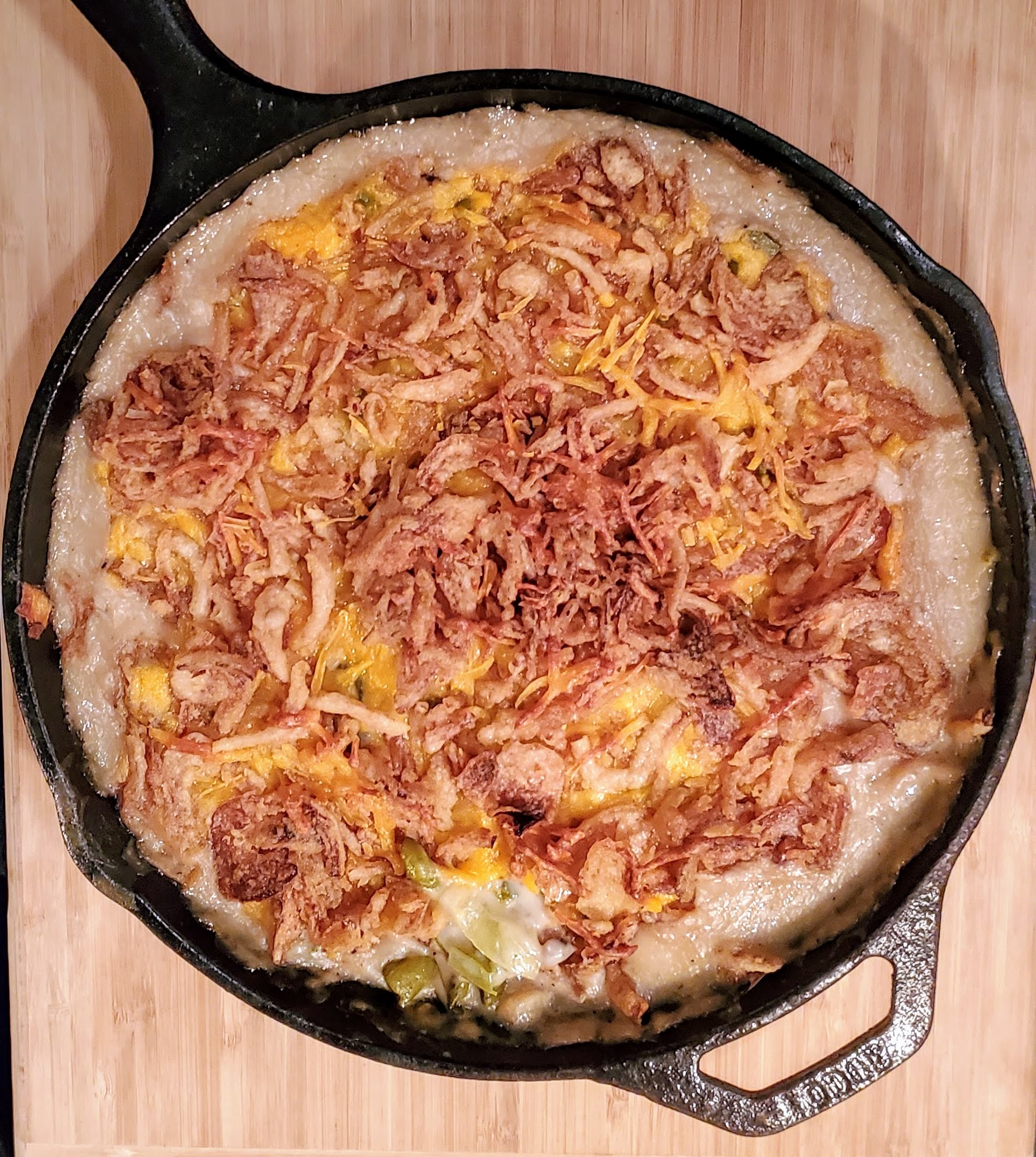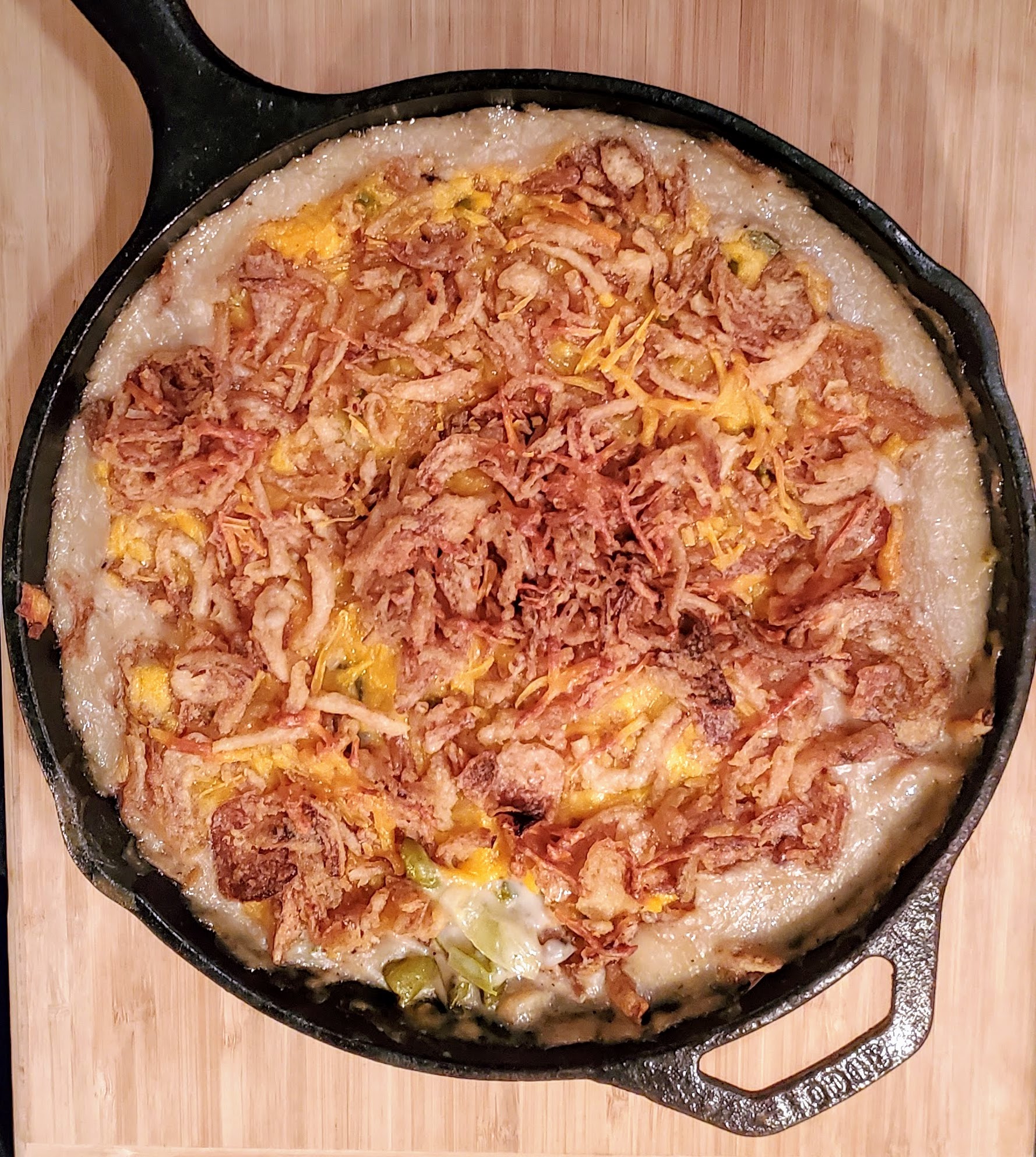 Probably one of the easiest (and most flavorful) recipes I've followed for green bean casserole.  Set the grill to 375 degrees with lid closed for 15 minutes. While the grill is heating up, melt butter in cast iron skillet, add onion, mushrooms, stir occasionally until softened. Add drained green beans and cream of mushroom soup. Stir and season with salt and pepper. Then add grated cheddar cheese and fried onions. Toss on the grill for 25 minutes and BAM, you have a very tasty and easy green bean casserole. Full Recipe here.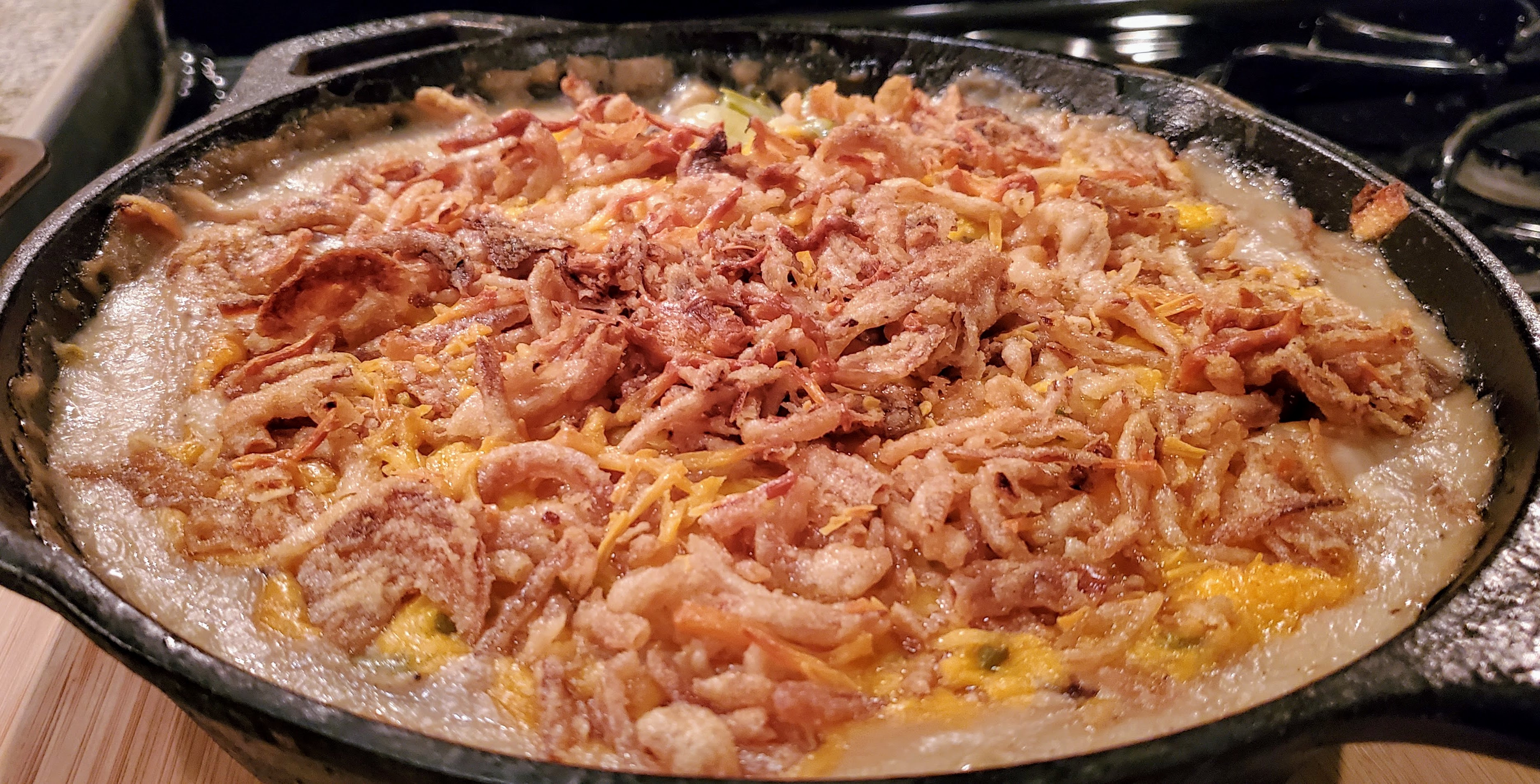 Ultimate Smoked Turkey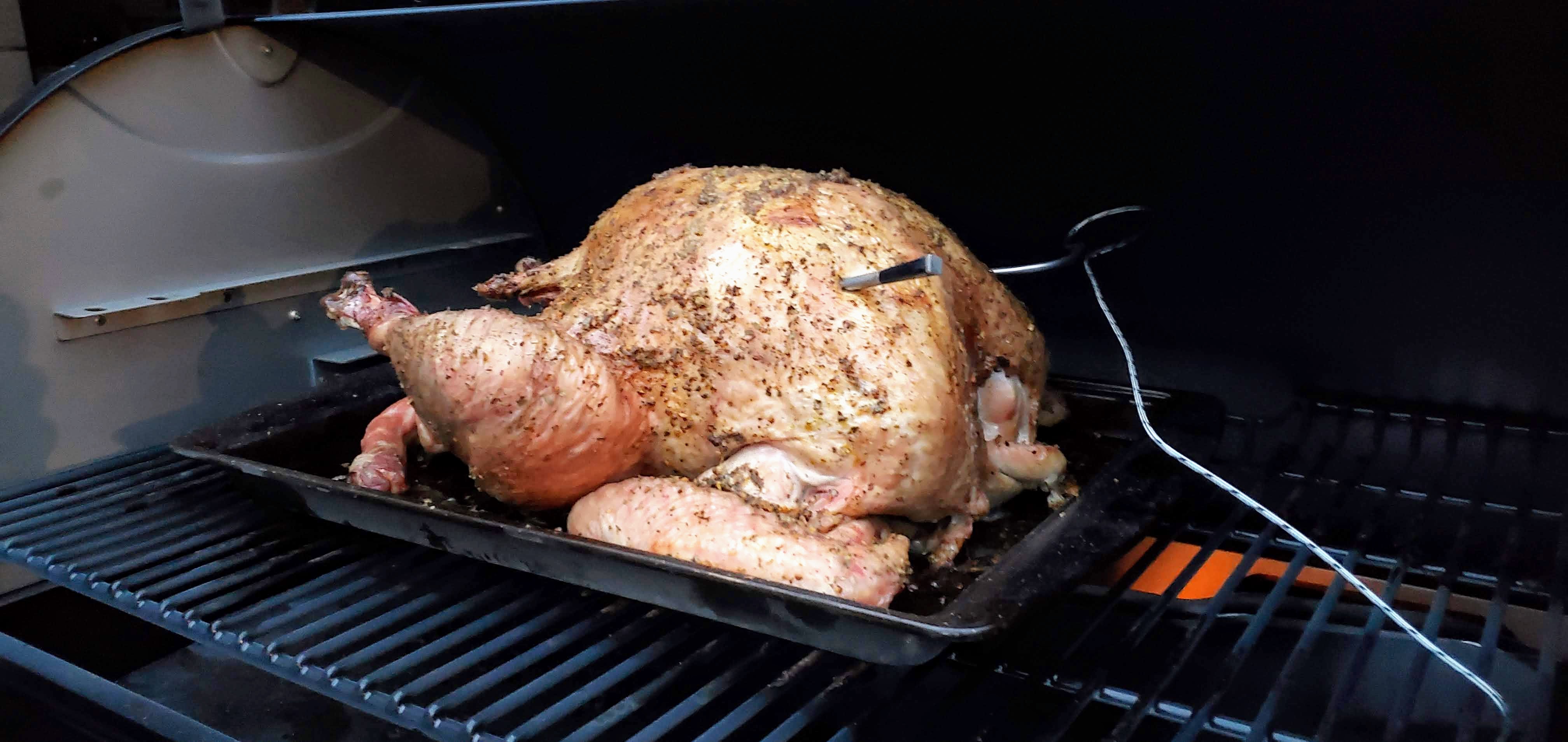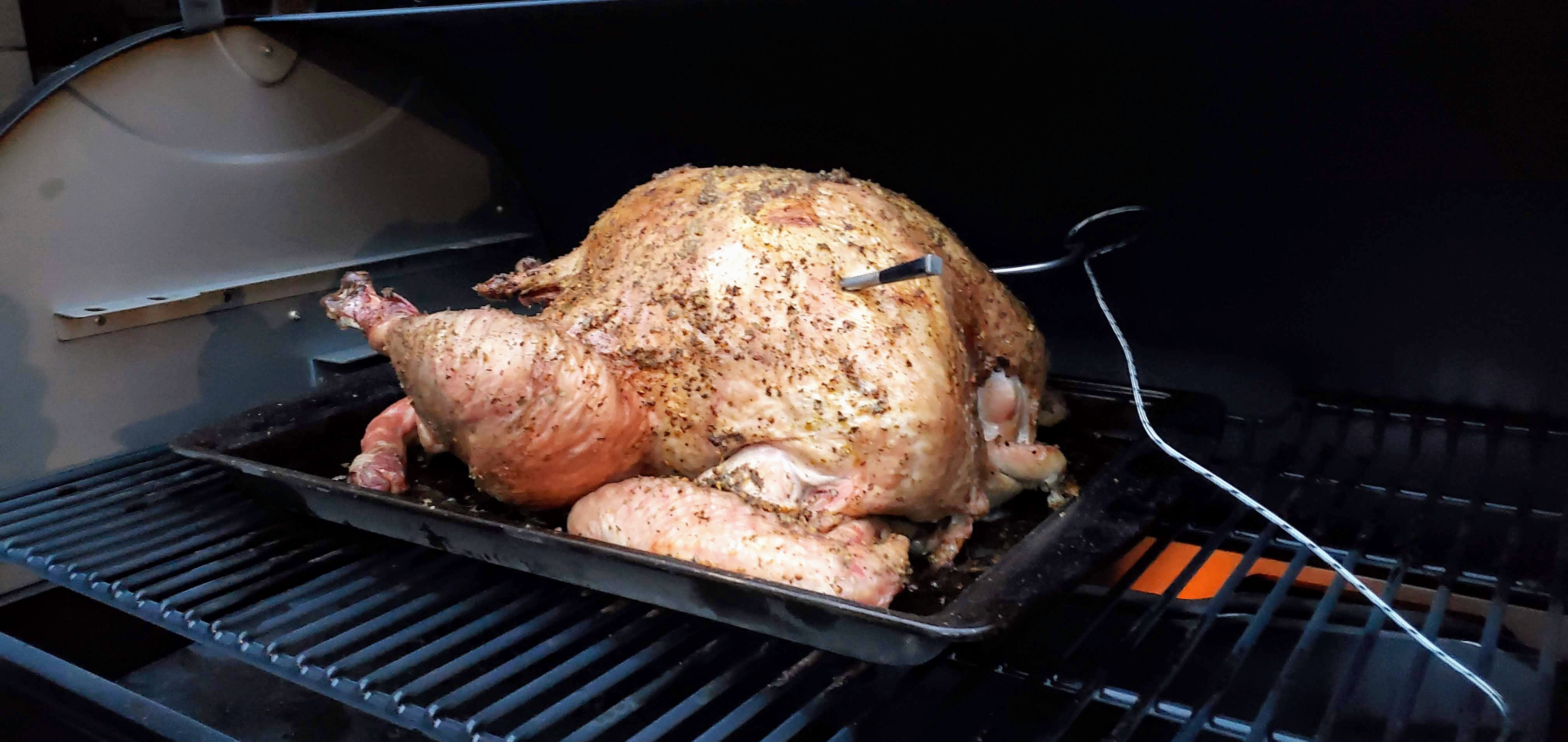 The moment we've been waiting for. The Ultimate Smoked Turkey. Ultimate indeed. This was my first time smoking a turkey and I will continue to smoke my turkey every year. The day before I smoked the turkey, I used the brine that came with the Turkey Blend Pellets. After 24 hours, I removed the brine, rinsed, pat the turkey dry and prepared it by separating the skin from the breast. I then stuffed the pocket with softened butter and chilled the turkey for 1 hour. After that, simply add the rub to the turkey and toss on the grill at 225 degrees (using the Super Smoke mode). Once the internal temp reached 110 degrees I cranked the grill to 350 degrees and cooked until the internal temperature reached 160 degrees. I am a big "foodie" and I honestly loved how this turkey came out, but I was really looking for the opinion of my good friend that owns his own BBQ restaurant; Roots. His notes on the turkey were: "The bird sits in my top 5 of all time. Golden skin, juicy, tender with a light smoke flavor".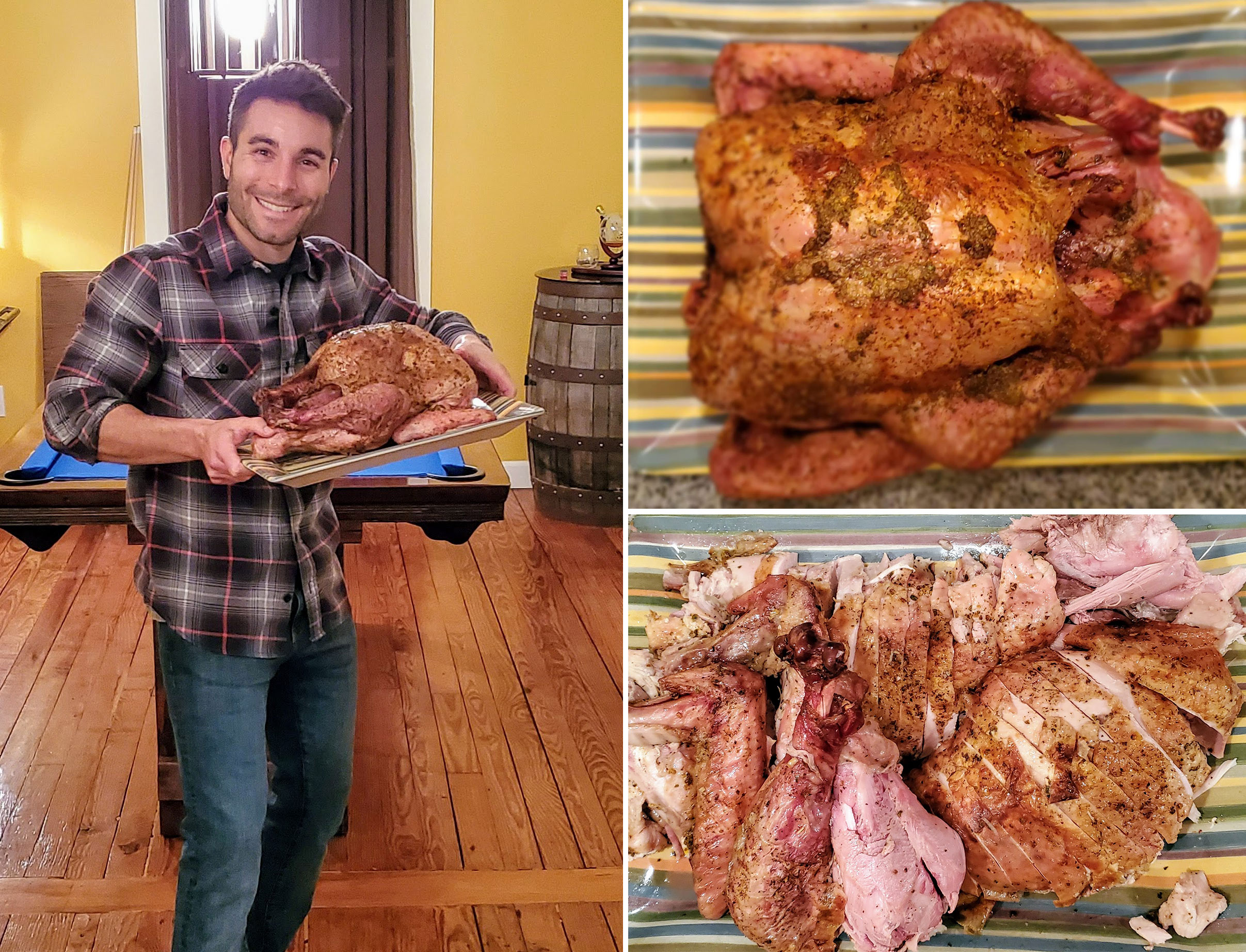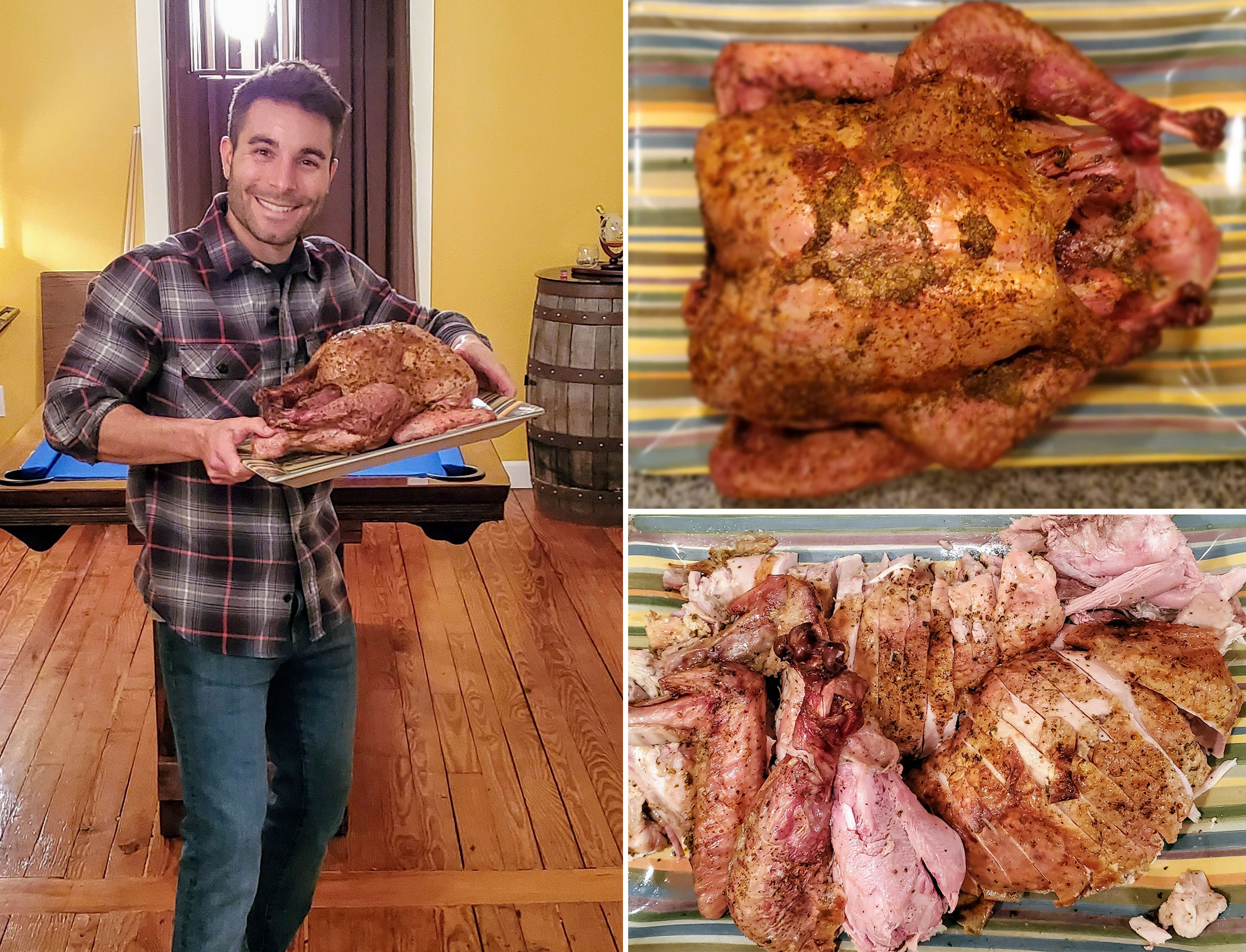 Using the MEATER Plus was a game changer. Having a wireless "smart" thermometer that connects to your phone to let you know when your meat is ready was so convenient. Because as Diva Q says… "You cook your meat by temperature, NOT by time. If you don't have the MEATER Plus, you can still get live updates and alerts from your phone using the wired thermometer probe that comes with the Trager via the WiFIRE® Technology.
Smoked Apple Crumb Pie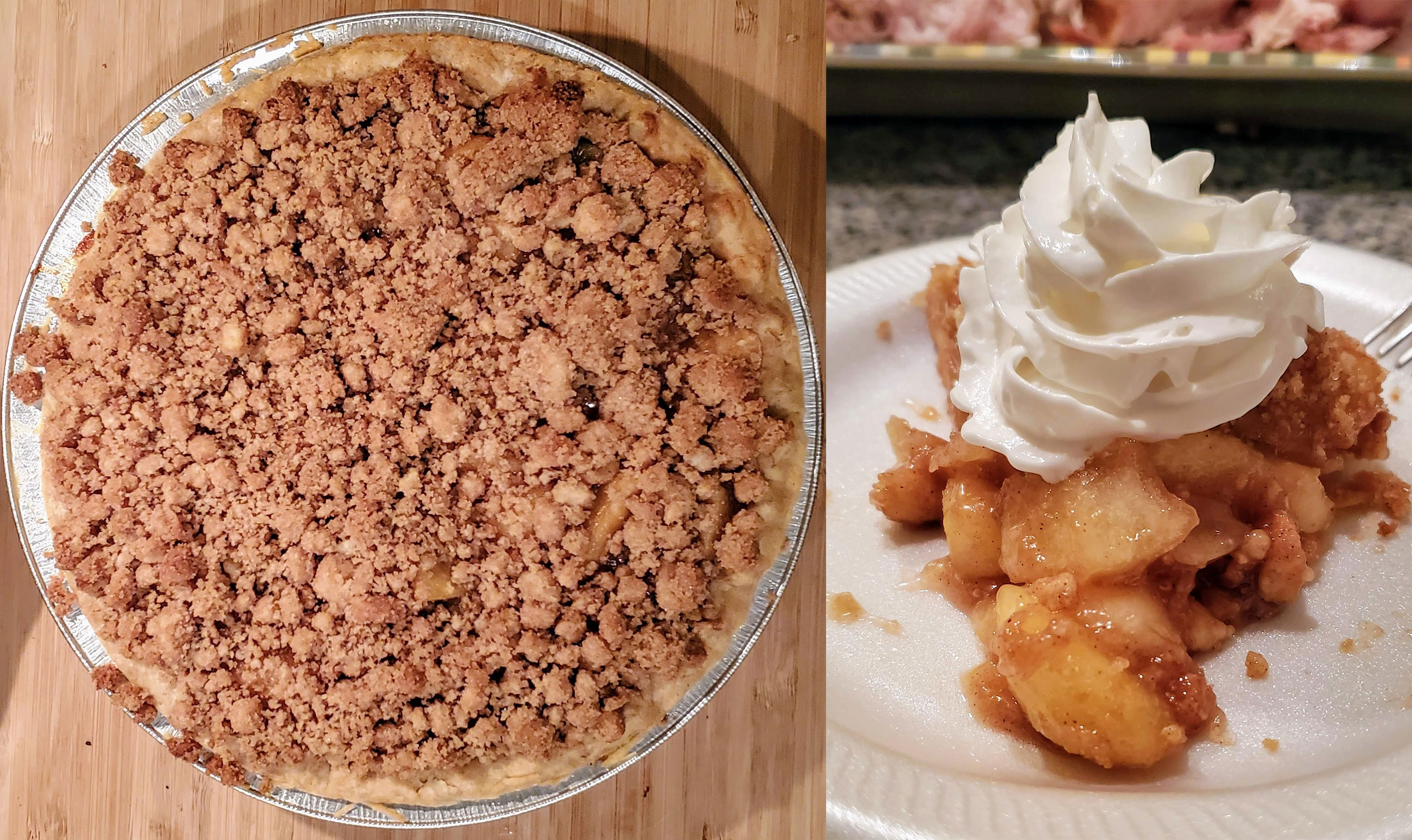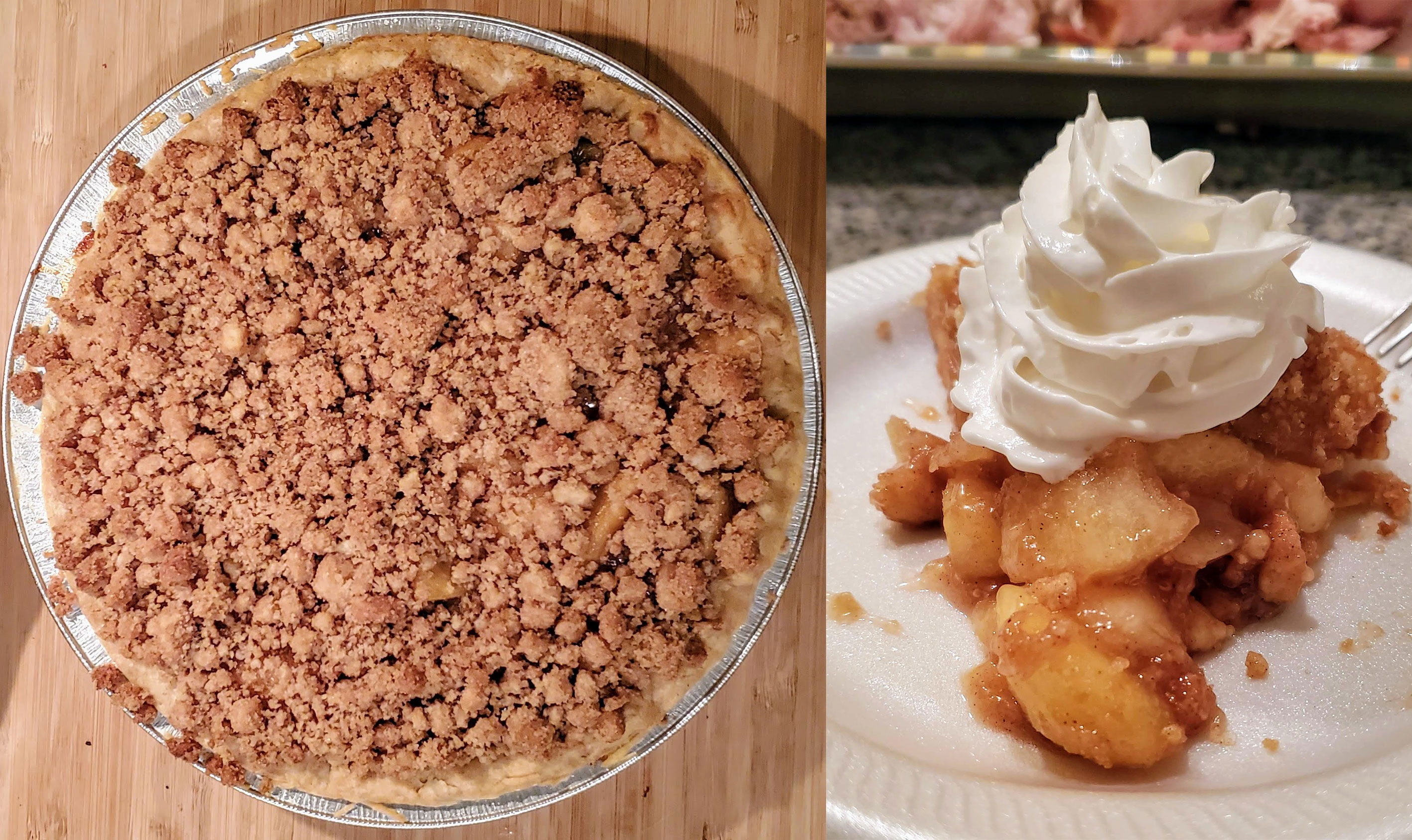 I'm not going to lie, I cheated with this recipe. I was going to make my own from scratch, but time and resources got away from me. So I simply grabbed a frozen pie from the market and smoked this bad boy until it was done (super smoke at 225 degrees for about 30 minutes, then baked at 400 degrees until done). One good thing to note here is that you can use a frozen dish to still add a great smoke flavor with great results while saving a ton of time.
Overall, this year's experience with making the Ultimate Thanksgiving feast went smooth and turned out excellent. I was more than pleased with the results that came from the 885 grill and I am very excited to keep testing the features as well as explore the thousands of recipes Traeger has to offer. If you're looking to take your food (and drinks) to the next level, I highly recommend investing in a Traeger grill for some amazing results.
Buy Now: $1599.99 or to learn more, check out: www.traeger.com
Ultimate Thanksgiving Feast with Traeger
No other grills can match the versatility, ease, and consistency of a Traeger. This is more than a grill. You can grill, smoke, bake (yes BAKE), roast, braise, and BBQ to perfection.
The Good
Best smoked flavor
Ease of Use
Smart features
The Not So Good
A little pricey - but worth it