Snow. It's the stuff of endless fun! Skiing, sledding, snowball fights, and snow angels. Ain't winter grand? Sure it is…that is, until the moment you need to back out of the driveway and get to work the next morning. With the good comes the bad, and keeping that driveway cleared all winter can be one of the most challenging tasks homeowners will have to face this year. Now that winter has officially arrived, and we all need to be ready to clear the way for 2017, we've taken the Toro SnowMaster 824 QXE out to the driveway to see exactly what it's capable of handling this winter.
Specs:
In-line 2-Stage Auger System
24″ Clearing Width
Snow Cut Depth – 1 Pass – 18″
252cc Toro OHV Engine
3.2 Quarts (3 L) Fuel Capacity
Compression Loaded Scraper
11″ Deep Lug, Directional Tires
Quick Stick® Chute Control
Personal Pace® Drive System
252cc Engine Displacement
Electric Start Engine
Up to 40′ / 12 m Throw Distance
3-Year Limited Warranty
Toro SnowMaster® 824 QXE – Snow Blower – Review Breakdown
Design:
Built for meneuverability and power, the Toro SnowMaster 824 QXE is loaded with great features that make snow removal easy and efficient.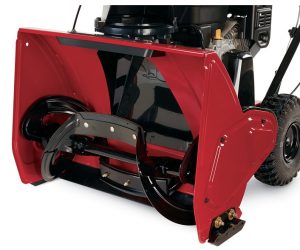 The unique in-line 2-stage auger system with all-steel construction and replacable throwing edge clears the full 24″ width of this snow blower with ease thanks to a helical design that propels the snow into the throwing area at 10 times the speed of a normal 2-stage blower. Driven by a 252cc Toro OHV Engine, the Toro SnowMaster 824 QXE is able to handle even the heavy stuff left at the end of the driveway by the local plow service.
The beveled chute design with taller than average chute height allow for greater throwing distance and control. One of the nicest, and honestly, funnest features of the SnowMaster 824 QXE is the Quick Stick® Chute Control that manages to throw a bit of an arcade game element to one of our least favorite outdoor chores. With up to a 40′ throwing distance and just over 180 degrees of direction to work with, moving the snow to the proper location the first time is made pretty much effortless.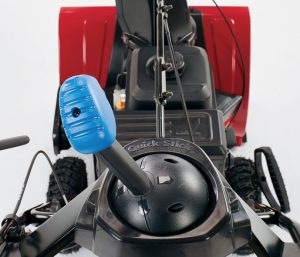 The Toro SnowMaster 824 QXE also has the extra added bonus of a compression loaded scraper and durable skid shoes, clearing snow right down to the pavement and making for a cleaner and faster job well done.
Assembly:
The Toro SnowMaster 824 QXE is delivered almost entirely assembled with the exception of the upper handle, the discharge chute, and a chute rod. With the turn of a few screws it took us less than 10 minutes for full assembly and a fill of the 3.2 liter gas tank to be operational. This snow blower comes oiled and ready as well, so there's no extra need to run down to the hardware store before the first use. Altogether we consider the set up from box to operation to be one of the quickest and easiest we've seen around.
Start Up:
With a gas powered equipment like this, there's no surprise that there is a recoil pull starter to get it going. We've used the recoil starter a few times with no problems getting it to turn on the first try. However, should you run into any unforeseen mechanical issues or you just threw your arm out during an intense snowball fight the evening before and you just don't feel like the manual labor, The Toro SnowMaster 824 QXE also comes equipped with an electric starter. All it takes is the plugging in of an extension chord and the push of a button, and we were operational.
Operation:
For anyone interested in trading in the traditional snow shovel for a gas powered snow blower, it seems counterintuitive to have to push a heavy, clunky machine up and down the driveway. Thankfully, Toro was good enough to add a Personal Pace Self Propel System to this model. It does take a little getting used to, and at first we did notice some jumpy starts, but after we got the hang of it we were able to get the Toro SnowMaster 824 QXE to move along at the pace we wanted from 0 to 3.5 mph with no shifting required. The 11″ deep lug tires handle the thick stuff quite well, and turn on a dime when they need to.
Power:
The 252cc Toro OHV Engine does a pretty good job, but we haven't experienced the 40′ throwing distance that the specs suggest. However, we must admit we've been testing the Toro SnowMaster 824 QXE near the coast of Lake Michigan where the snow is heavy and dense, so that doesn't surprise us.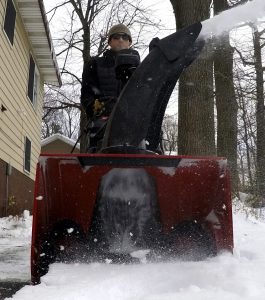 The good news is, while we have had issues throwing snow the entire distance required to clear the driveway at times due to our location, the SnowMaster 824 QXE has had absolutely no issue moving the loose access snow combined with the thick heavy drifts that have accumulated. With regards to the ultra heavy, compact stuff left by the snowplow in the morning, it may take one or two backward movements to get it all, but it rips through even the icy stuff underneath without much of a problem.
Value:
Toro has rated the SnowMaster 824 QXE to be ideal to clear 6-12″ of snow at a time on a driveway made of concrete or asphalt surfaces that can park up to 4-10 cars. This is almost exactly the testing grounds we've had to work with, including extra sidewalk space and the extra difficulty of lake effect snow. With all this considered, we see the asking price for this medium to heavy duty rig more than acceptable for the average person's needs. Throw in the added bonus of an electric start should it be needed and ease of use provided by the Personal Pace Self Propel System, and the Toro SnowMaster 824 QXE is a bargain that will last for years and save big bucks when compared to usual snow removal service fees.
Buy Now: $949.00 or to learn more, visit: Toro.com
Toro SnowMaster 824 QXE - Snow Blower Review
Remarkably tough and agile for a 2-stage snow blower, the Toro SnowMaster 824 QXE is simple to assemble, starts via recoil pull or electric start, moves at your pace, and clears the way with ease!
The Good:
Easy Assembly
Insanely Simple to Operate
Handles the Tough Stuff Well for a 2-Stage
The Not-So-Good:
Personal Pace System Can Be Jumpy
Has Some Difficulty with Dense Plow Leftovers