If you've seen what looks like a modern Stormtrooper on the slopes, then you've just witnessed a Ruroc… or an actual Stormtrooper, in which case – run for your life or grab a Lightsaber!  All joking aside, Ruroc has taken the snowboarding community by storm with their unique and patented helmets.  Although Ruroc is based out of the United Kingdom, their helmets are becoming increasingly popular in the States (and for good reason).  What makes Ruroc helmets so popular? Let's dive in.
Key Features:
X-Visor

Camera Mount

MagLoc goggles

Blue Iridescent Lenses

High Impact Mask

Aeroflow anti-fog technology

High Impact ABS Outer Shell

EPS Liner with comfort padding

15mm Woven Safety Buckle

2-inch comfort neck support
Design
:
Let's start with the obvious, the detachable face mask.  This feature is what separates Ruroc from their competitors.  Designed to help shield the face from sub zero wind chill, tree branches, and terrain park rails.  Although I did not have the pleasure of smashing my face into the rails or any branches, I was pleased with how warm and comfortable my entire head felt boarding all day in extremely cold conditions.  Although the facemask kept my face warm, I did notice a huge amount of moisture build up that ended up draining onto my jacket.  I was surprised after I took off my helmet to see a frozen pool of my wet breath on the upper part of my jacket.  I know I can breath a little heavy after shredding all day, but I felt a little awkward when I went to unzip my frozen zipper and had to chip away some frozen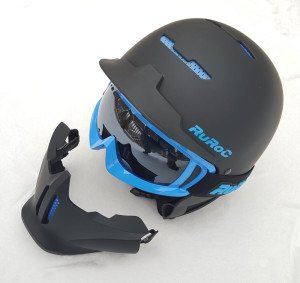 condensation.  I'm thinking a little cotton material lined on the inside of this face mask would help absorb the condensation and provide a slushy-free experience.  
The facemask is relatively easy to take off and snap into place.  I found that using a little outward pressure when pulling the face mask inward, makes it much easier to snap into place.  The seamless integration between the facemask, goggles, and helmet helped keep everything in place and created a snug fit on my noggin.  
Normally I would wear a cloth face mask that stays in place but tucking it underneath my goggles.  The major issue with this is that your breath will go straight up into the goggles creating a foggy mess.  The Ruroc face mask solves this issue by exhausting breath away from the underside of the goggles and out the face mask vents.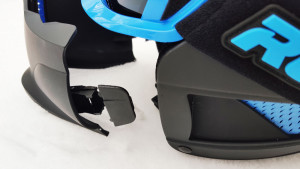 Moving on to the Magloc goggles, Ruroc was the first to create magnetic lens with in-lens ventilation.  Pair that with the Aeroflow Anti-Fog system and you have no worries of lens fog ruining your day on the slopes.  Plus when you're ready to swap out lenses, it's just a matter of pulling the top and bottom of the goggles away from each other, replacing your lens, then pressing the top and bottom of the goggles back into place until you hear a few clicks.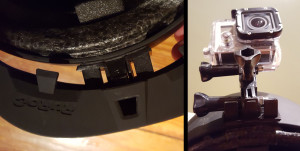 Ruroc definitely put some thought into their design.  The visor clip is multi-functional.  If you flip the helmet over and push the button on the mount inward while pulling the visor outward, it slides right off revealing the clip that is also compatible with a GoPro.  I thought this feature was rather slick as it helps disguise any exposed and unused clips.
Protection
:
The added protection you get with the facemask is much better than not having one at all (obviously).  However, I cannot say how protective it is when taking a hard spill on a jump or rail.  Luckily I didn't have any hard hits while wearing the helmet but I did hit some tree branches while making my way through some thick trails.  
Having a face mask definitely helped, and gave me a little more courage when hitting the bigger jumps. Ruroc claims that their MagLens goggles will stay firmly in place in every situation unlike other goggles that tend to breakaway upon collision.  I'll just take their word for it.  If I ever have that hard of an impact, I'll be sure to update this review with my findings (hopefully you won't see any updates.)
    Comfort:
Comfort is a big factor when you are wearing a helmet for long periods of time.  The 2-inch comfort neck support plus three-piece low density comfort foam not only creates a snug fit, but a comfortable one as well.
Aside from keeping you warm and protected, the hidden vent channels within the EPS liner help to create proper airflow so you're not a hot sweaty mess when you take the helmet off.
Value
:
Priced at $370, the Ruroc is not cheap compared to other helmets on the market.  But the Ruroc is not like other helmets on the market.  If you are looking for a unique and bold look on the mountains and a helmet that will protect and keep you warm and comfy, then I highly recommend giving Ruroc a try.
Buy Now: $370.00 or to learn more, check out: Ruroc.com
Ruroc RG1-X Black Ice Helmet - Gear Review
Bold, unique, comfortable, protective, and just plain awesome. Ruroc gets 2 thumbs up!
The Good
Detachable Face Mask
Magloc Goggles
Aeroflow Anti-Fog system
The Not So Good
Accessive Moisture build up under face mask
Pricey