Back in October we were able to get our hands on Thursday Boot Company's President boots for a review.  As you can tell, we were thoroughly impressed by the construction, style, comfort, and overall design of the boot.  To ensure this they weren't a one trick pony, our good friends at Thursday Boot Company sent over a pair of their Roughout Captain Boots for review.  You are probably wondering what a Roughout boot is, but don't worry we will get to that soon.  If you haven't discovered the Thursday Boot Company yet you really should take notice.
Thursday was started by Columbia University classmates, Connor Wilson and Nolan Walsh, who always had trouble finding the perfect pair of boots.  They always felt there was a limited boot market for men that offered good, quality crafted boots at an affordable price.  The idea behind their designs is to wear boots that fit any moment; whether you are walking on Wall Street or Bourbon street.  How did the Roughout Captain boots do in our testing phase? Read on for the full review!
Key Features:
Roughout Leather
Goodyear Welt Construction
Full Glove Leather Interior Lining
Premium Flat Wax Laces
Cork-Bed Midsole
EVA Comfort Strip
Studded Rubber Outsoles
Thursday Boot Company Roughout Captain Boot Review Breakdown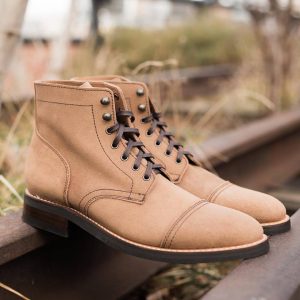 Design:
Upon receiving the Roughout Captain boot you will notice the semi-rough texture on the outside of the boot.  On first touch, the fabric seemed to be suede, but when talking with co-founder Connor Wilson, that was actually called the Roughout.  The Roughout boots use a full hide, meaning the interior of your boots is actually lined with full grain leather. Basically, in a typical boot the inside of your Roughout boot would actually be on the outside.  However, Thursday loved the look and feel of the Roughout and decided to flip the boot inside out.  Minimal processing is done on the hide to maintain the soft texture and breath-ability. What you end up getting is a very unique boot that looks amazing.
The boot also features Goodyear Welt Construction.  Goodyear welting is the oldest, most labor intensive, and most durable method of shoe construction. It can be done by machine or by hand and involves multiple labor intensive steps of construction. The pros of using the two-level stitching makes it easy to resole and the welt acts as a buffer between the insole and the outsole. The extra layers make the boot is more water-resistant and supportive.  The con of using this method is typically cost, but as you will see doesn't seem to be an issue for the Roughout Captain.
Comfort:
Boots have long been known to be very uncomfortable and also require a lot of time to break in.  When you slip on the Captain for the first time you are instantly greeted by your new best friend; the core-bed midsole.  You will instantly feel the boot begin to form and shift around your fit.  Your first steps are truly a wonderful experience.  The boots require minimal break-in time and you can really wear these boots for long periods of time.  Your feet might actually find a pair of boots that they like!
Durability:
Since you might consider these more of a "stylish" boot you might be cautious with where and how you wear these boots.  I felt the same way until I spoke with co-founder Connor Walsh.  He encouraged me to not be afraid to wear the boots wherever I go.  Obviously, don't go hiking in a snow storm if you can avoid it but otherwise the boots can handle the exposure to some elements. The boots feature weathersafe technology in case you do get caught in a rain storm or step in a puddle, you will keep the boots in good condition. Connor also noted that the more you wear the boots the more you will notice the texture of the boot to change and evolve.  While you might lose that initial boot shine the boots develop a really cool look to them.  The boots look continues to evolve the more you wear them and like wine, they seem to get better with age.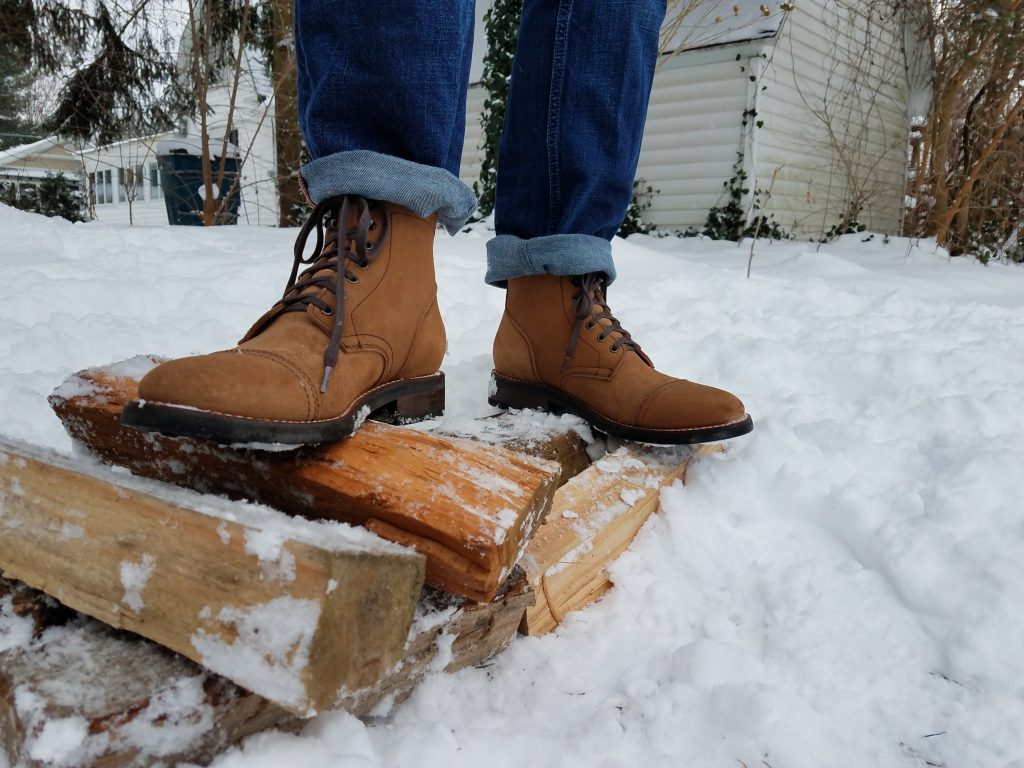 Value:
Priced at $199, the Roughout Captain boots hold great value in our opinion.  They are truly an everyday boot.  The name Thursday Boot Company came from college that on Thursday you start to transition from the week into the weekend.  Their boots are designed with that concept in mind, something that you can wear during the work week but will carry you on to through the weekend.  The problem with buying a pair of these boots is you might find yourself not wearing your other shoes.
As a side note, watch out ladies; Thursday Boot Company just launched their women's lineup and you might not be able to resist!
Buy Now: $199 or to learn more, head over to ThursdayBoots.com
Thursday Boot Company Captain Roughout Boot
Thursday Boot Company has strived to make boots that fit every occasion and can be your new go-to for your feet. The Roughout Captain turned out to be a well-built, comfortable boot that allows you to wear them on any occasion. If you are looking for a great boot, then look at Thursday Boot Company.
The Good:
Craftsmanship is top notch
Very Durable
Look very sharp on the feet