Finding a versatile, fashionable, and functional boot to dress up or dress down is no easy task. Finding one that is comfortable as well as durable is even harder to find. The Thursday Boot Company's Natural President will boost any man's style from good to great. The company's passion for the "everyday man's" style, quality materials and handmade boots comes through in every stride. Lace up men, fall is here.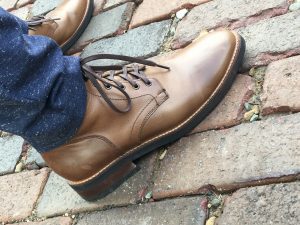 Key Features:
Cork Bed Midsole
Studded Leather Outsoles
Glove Leather Interior
EVA Comfort Strip
Handmade
Natural President Review Breakdown
Style:
Looking through the Thursday Boot's website, I felt like I finally found the style of boot I have been looking for. The Chukka style of boot has its place, but I have personally grown tired of this style of boot. The Chukka looks great in jeans but when trying to dress them up, they fall short.
The Natural President is a versatile boot that looks great dressed up or dressed down. For a casual look, I found they looked best in a straight legged, dark denim jean. Recently at a wedding, I dressed them up in a navy suit. They were a great companion to my tapered suit pant. I got many compliments!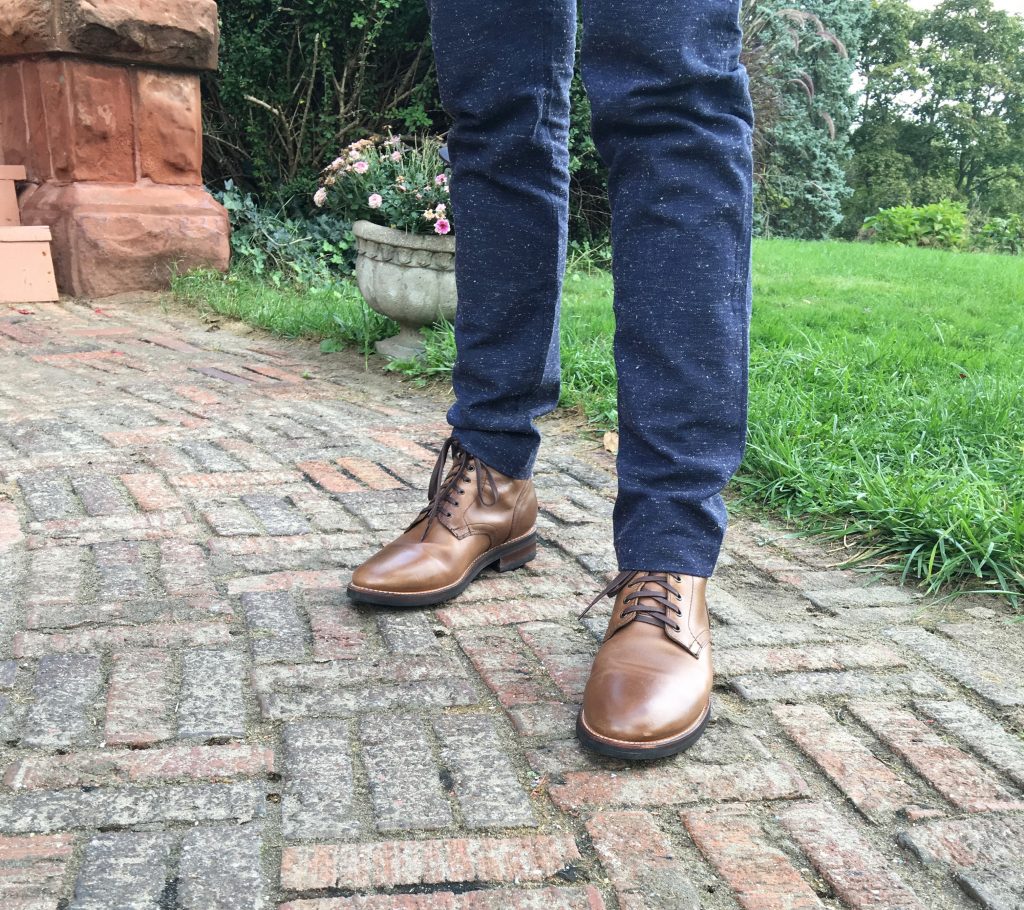 I am looking forward to "wearing in" these boots in a bit. Judging on the color and quality of leather, when these boots wear in, they will be a whole new boot. They are a little too "polished" for my liking at the moment…but that is only because they are brand new. Having a boot looking like it has been places is a great look for fall when paired with simple flannel and denim.
These boots have honestly up'd my style game across the board. Fall is my favorite season for men's fashion. I tend to style myself from the ground up and wearing the Natural President was no exception. These boots were the perfect fall inspiration I needed to transition into a new season.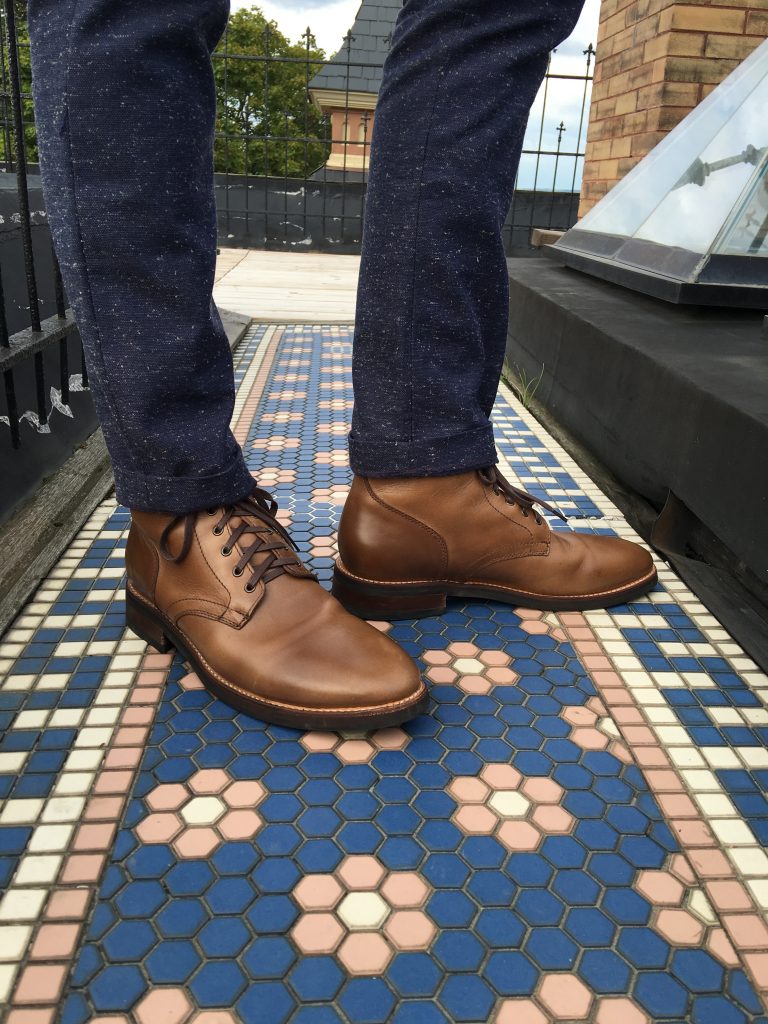 Design:
The overall construction of the boot is high quality. The Natural President is made with Goodyear Welt Construction. Goodyear Welt Construction creates a virtually waterproof seal for the boot. This type of construction is the "Gold Standard" for boots and less than 1% of men's boots use this. The boot is completely resoleable, which means I could potentially wear these boots for years to come. The Cork Bed Midsole acts as memory foam and forms to your feet as you continue to wear.
The boot is fully lined with a smooth glove-leather lining. This is the key difference for me. This lining provides comfort without overheating. Many boots I have worn in the past often make my feet too hot which breaks down the interior quicker.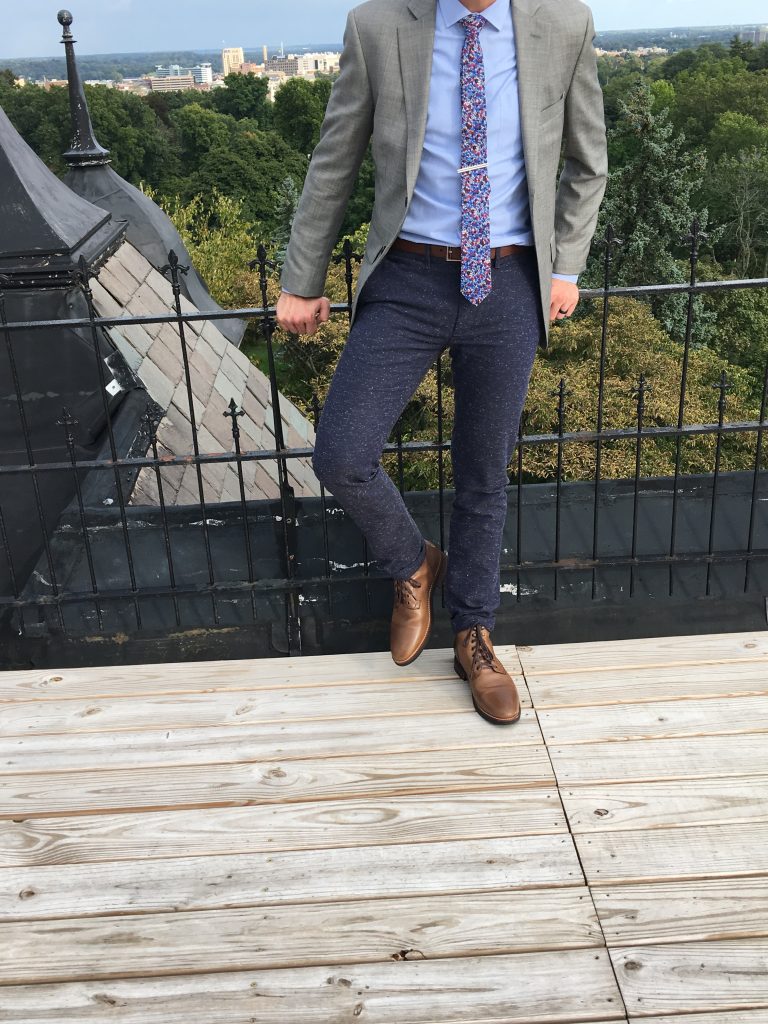 For more on Thursday's unique design, click here.
Comfort:
I was so excited to jump in my new Thursday Boots  and wear them every day. However, I had to wait on the weather to cool before I wore them. These were the last things I wanted on my feet in the heat of August.  They are, however,  a perfect fall/winter boot. When the temperatures dropped, I was excited to pull these boots on.
I had every intention of breaking in these boots little by little. However, I ended up wearing them for a whole day and night before they were fully broken in. Unfortunately, I did have feet pain the next day. They are a pretty heavy duty boot so I would recommend breaking them a little at a time. Good boots can take good time to break in so take it easy and break them in slowly. These boots are worth the time.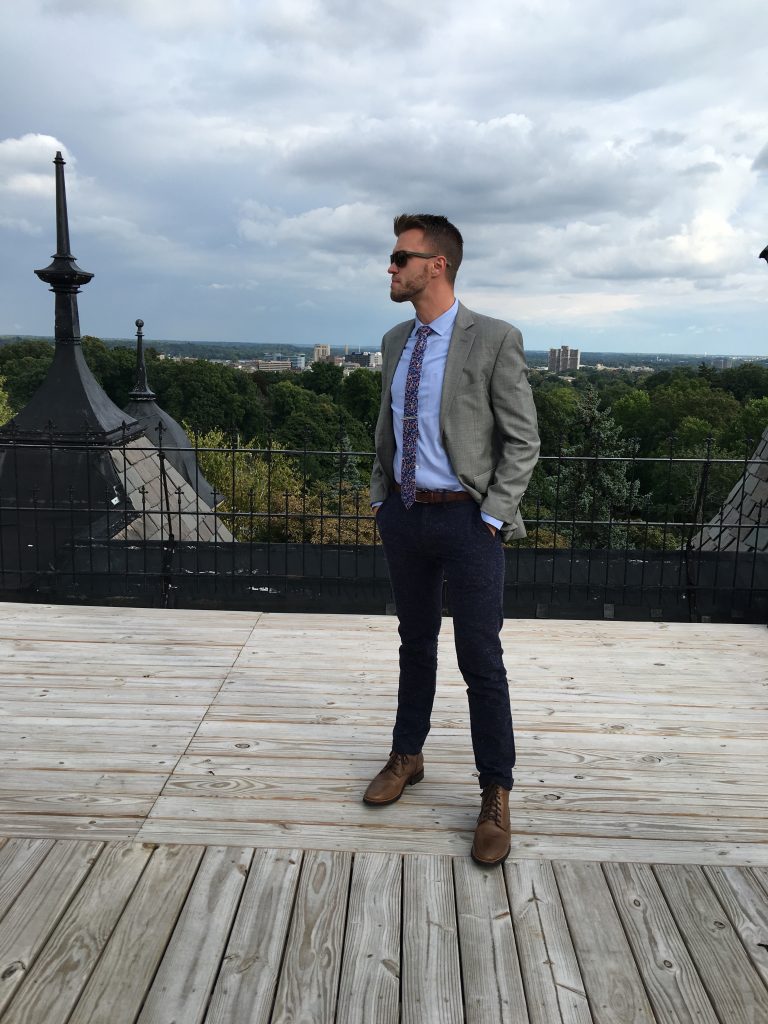 Value:
The President Boots come in at $199. For a high quality, handmade, and durable boot this is a fair price. Off the bat, I would say spend the money and get a boot that will up your style game. These boots were tested for a month and held up nicely. I am interested to see how they hold up within a year. 
Since this is a new company, I did some digging and the positive results were overwhelming. I haven't really "rooted" for a new company in a while, but I am rooting for these guys. Behind their quality boots is a passion for what they are doing. I would not be surprised if we all start to see Thursday Boots on shelves everywhere. I am excited to see where this company goes!
Buy Now for $199 or Learn more about at: Thursdayboots.com
Thursday Boot Company - Style Review
The Thursday Boots Company brings quality, on trend footwear in an affordable way to the modern male. The Natural President Boot is versiatile boot that can be dressed up or dressed down while uping your style game.
The Good:
Versatile
Virtually waterproof
Durable