If you have too much junk in the trunk and are lacking space for the rest of your gear, then we know the real reason you're here. Whether it's a weekend adventure, a long road trip, or a daily pickup run, having more space for the "essentials" is a must. Queue the Thule Motion XT L Roof-Mounted Cargo Box.  This Cargo Box is very well designed and proved it was a necessity for our adventures.
Key Features:
Optimized Design for best space efficiency
Aerodynamic
PowerClick quick-mount system for easy installation
Grip-friendly outer handles
SlideLock system with separate locking and opening functions
Volume: 16 cu ft. with a 165 pound load capacity
DualSlide box opening
Load capacity: 5-7 Skies or 3-5 Snowboards
Full trunk access
Thule Motion XT L Cargo Box Review Breakdown
Installation:
Installing the Thule Motion XT L Cargo Box was a breeze. The only adjustments needed were on our existing mounting bars. A simple adjustment to move the bars forward so we had some better clearance on our open hatch, and then we were able to install the PowerClick quick-mount system.  After lining up the slots so we could insert the PowerClick quick-mount system, it was just a matter of tightening them down until we heard a "click" sound from the torque indicator. That's it! Basically four clamps rotated and secured to your roof mounting bars and you are ready to stow your gear and hit the road.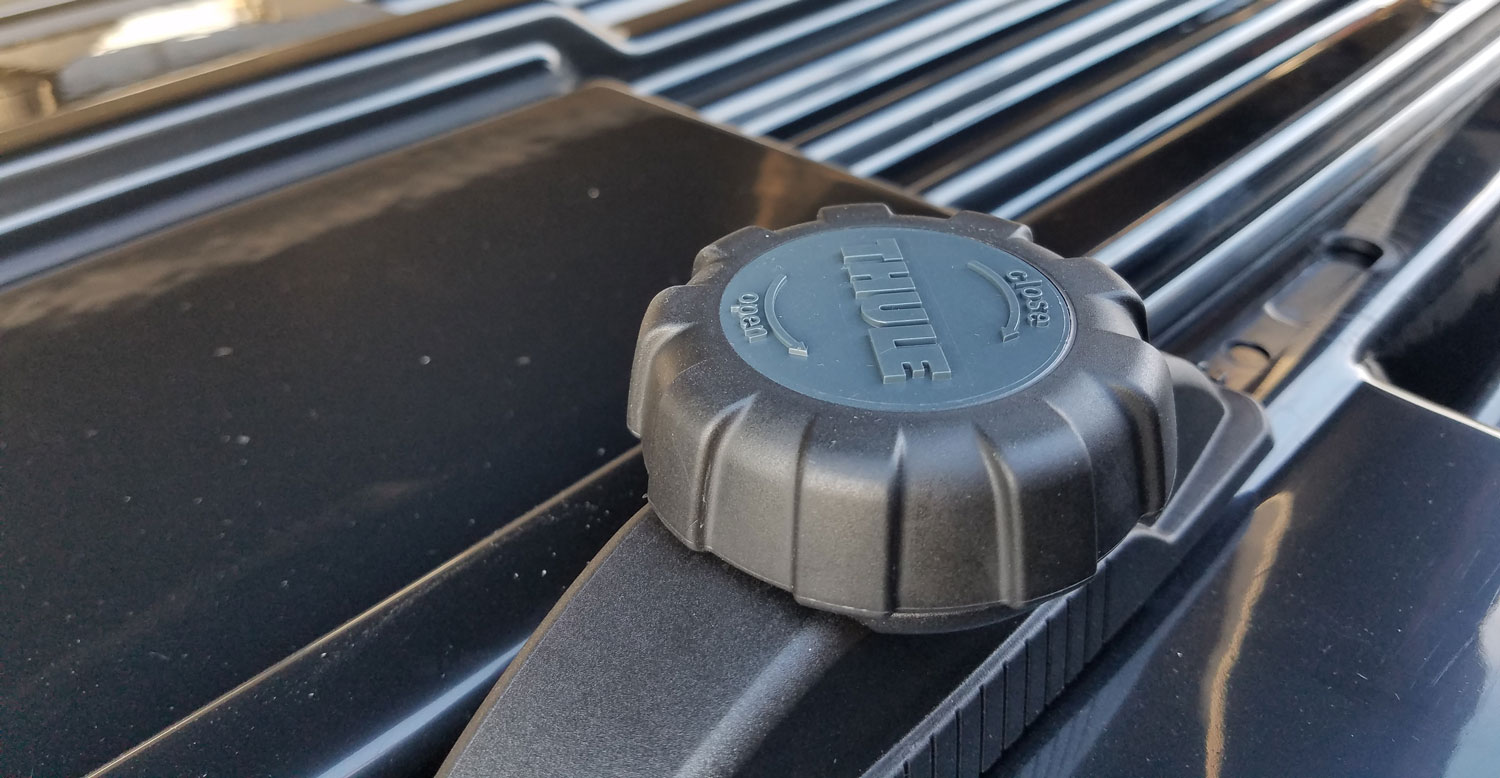 Design:
The design is very sleek and functional. The high gloss finish has a great look and cleans well too. Having full trunk access without the worry of the hatch hitting the cargo box is essential. This is possible because of the forward position on the vehicle roof and the adjustability of the PowerClick quick mount system and its track. The ability to open from either side is a great design feature and makes it much easier to grab the gear you need without having to dig for it. Plus, the aerodynamic shape helps for minimal air resistance while you are driving to your next adventure.

Cargo Space:
The cargo space is excellent; 16 cubic feet of storage to be exact. With a load capacity of 165 pounds, you can store a good amount of gear. We are talking up to 7 pairs of skis or 5 snowboards.  We were able to fit a couple pairs of skis, a snowboard, and several bags with ease and had a little room to spare. If you need more space, this model also comes in XL and XXL. I have a pair of flow bindings on my board, and not having to take them off just to stow them is a big bonus and time saver.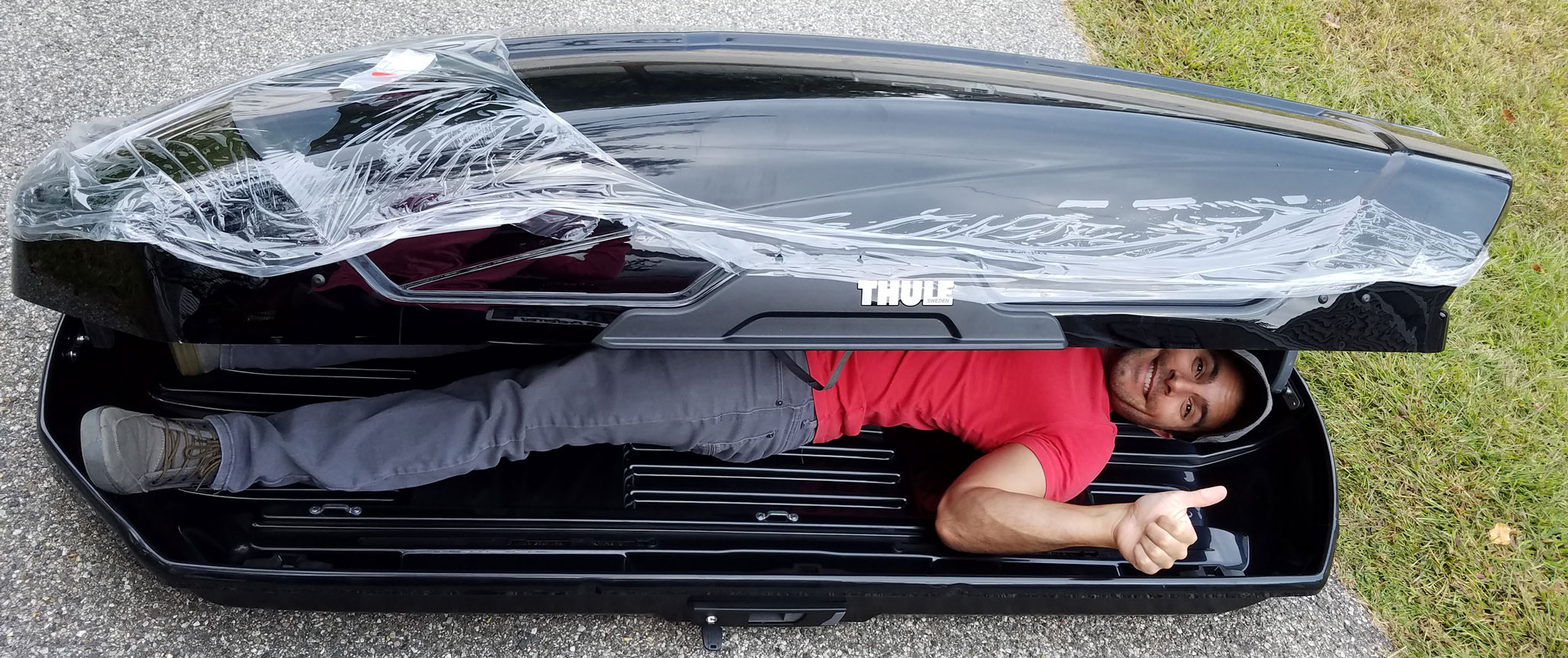 Security:
You have to protect your gear, both from the elements and theft. The integrated SlideLock system has separate locking and opening functions as well as the ability to automatically lock in place when the lid is closed properly.  The plastic levers to open the doors do the trick, but I feel like it would have been a better option to make them metal or titanium for stronger build quality.  However, the hard plastic build is tough, secure, and super light (the whole cargo box is only 42lbs).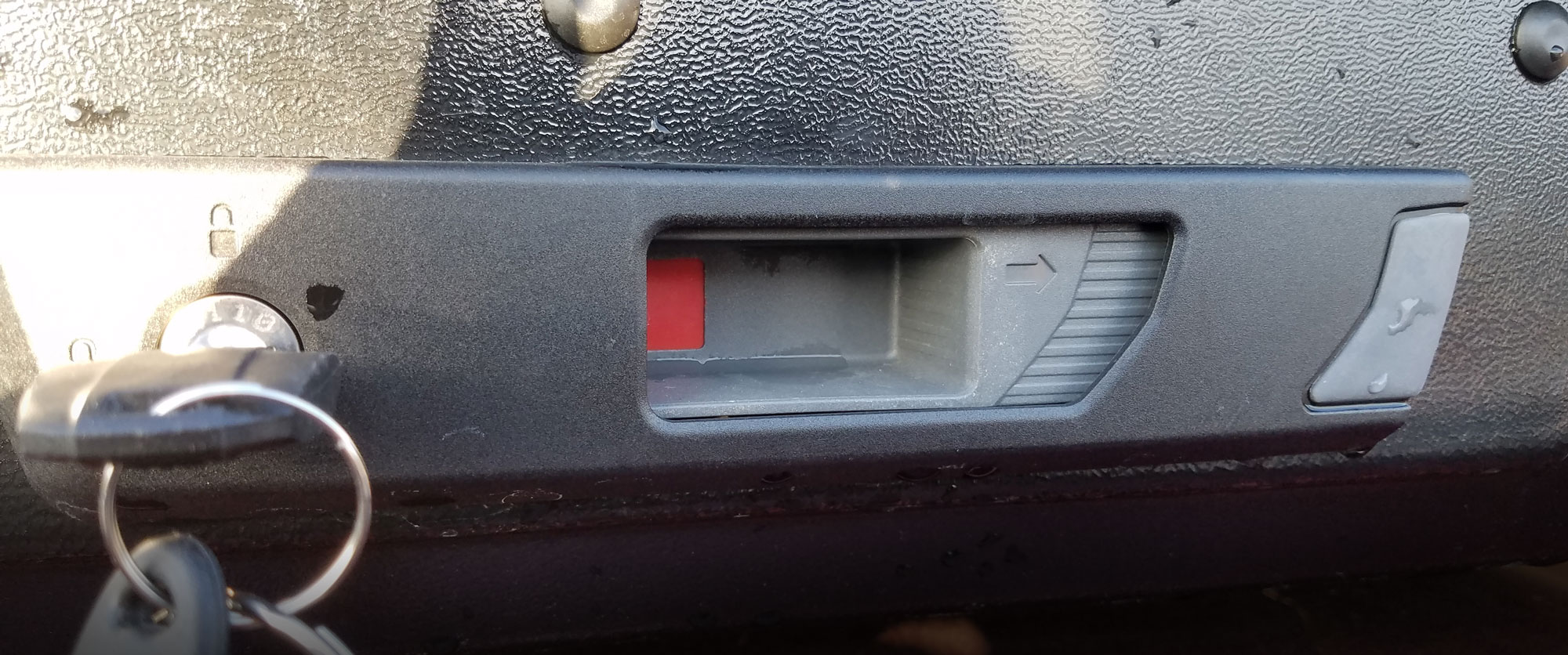 Value:
If it's more space you're after to store your gear while traveling to your next adventure, then we highly recommend the Thule Motion XT L Cargo Box. Plenty of space, super lightweight, sleek and functional design, easy to install, and not too pricey. For $649.95, it's a whole lot cheaper than getting a bigger vehicle. Thule makes some great products and the Thule Motion XT L Cargo Box is another example of one of their great designs and practical products.
Buy Now: $649.95 or to learn more, check out: Thule.com
Thule Motion XT L Cargo Box - Gear Review
Incredibly easy installation, lightweight, stylish, and packs a TON of gear... Yeah, we think the Thule Motion XT L Cargo Box is a winner!
The Good:
Sleek and functional design
Super lightweight
Incredibly easy installation