I love being out in the wildness, having fires, and stargazing as much as the next guy, but I have a hard time even sleeping in a bed at home. The news of Thermarest's Topo™ Luxe 4-inch-thick sleeping pad was music to my light sleeper ears. 
Part of Thermarest's tried and trusted NeoAir® lineup, the Topo™ Luxe is a car camping and travel-focused addition to an already outstanding range of inflatable sleeping pads. 
Winning a GearLab Top Pick award for 2020, I wasn't the only one impressed by the new creature-comfort design. Read on to see if I was able to sleep through the night on this plush pad in our in-depth Thermarest NeoAir® Topo™ Luxe sleeping pad review.
Thermarest NeoAir® Topo™ Luxe Sleeping Pad Review Breakdown
Design
Mentioned above, Thermarest's Topo™ Luxe has luxury in the name. It is an air-only pad with 3-season use and 4 inches of inflation. It's like sleeping on an air mattress without the bulk.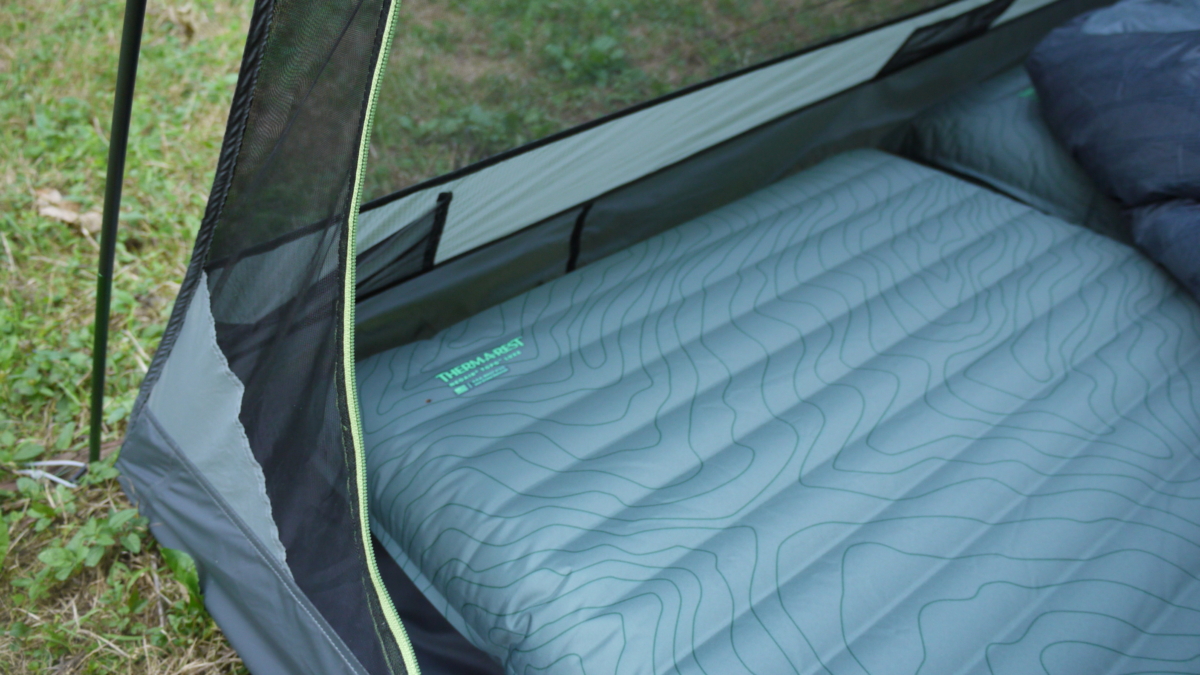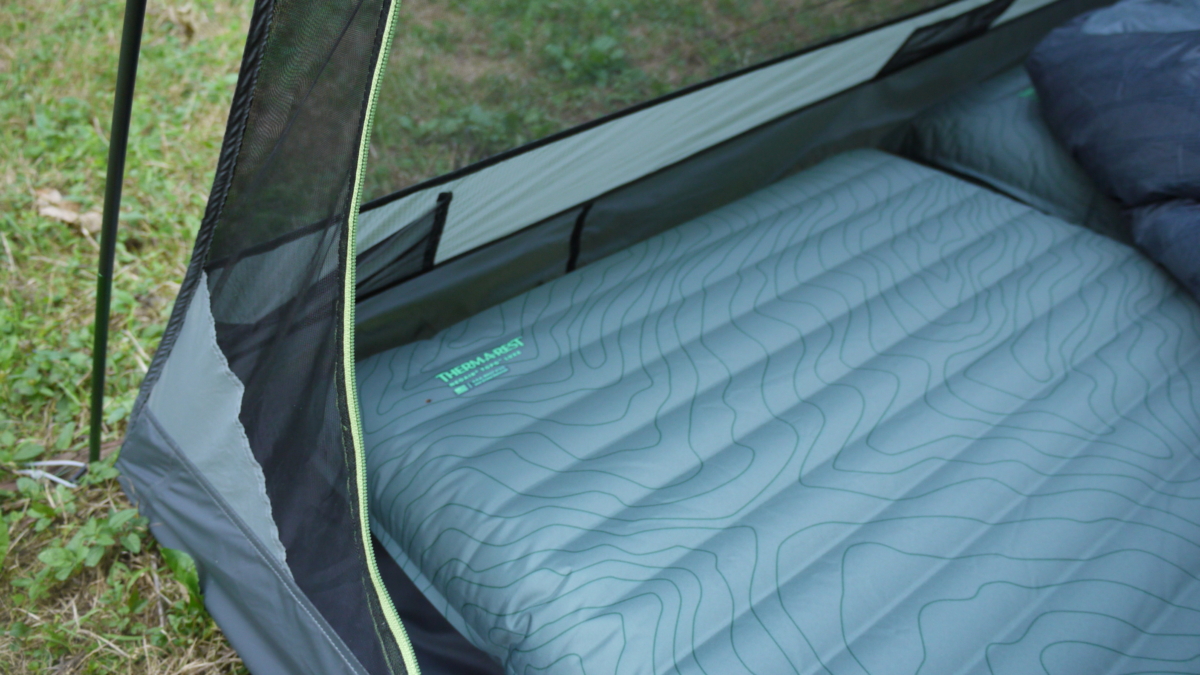 The top layer is a soft-touch, textured finish to minimize sleeping bag slip on top of the pad. It is similar to a very minimal faux suede. As the name suggests, the surface layer has a nice topographic design.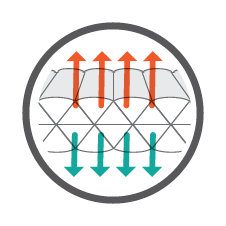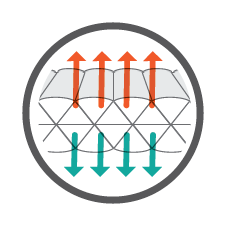 Thermarest made smart fabric choices with the Topo™ Luxe line. There is no annoying crinkle/crunch/rubber sound that typical air mattresses have. It is an all-around enjoyable sleeping experience. 
Thermarest packed some great technology inside the Topo™ Luxe. Called Triangular Core Matrix™ by the brand, the internal design uses a dual-layer system of stacked triangular baffles to add structural integrity when filled while also adding a bit of insulation from cold ground transfer. 
I opted for the large size, which gives sleepers a roomy 25 inches of width and an incredible 77 inches of length! If you drop down to the regular size, you lose just a tad bit of each at 20 inches and 72 inches, respectively. 
Comfort
The Topo™ Luxe is the most comfortable sleeping pad I've ever used, and that is no exaggeration. Topo™ Luxe is in a class of its own. It is not meant to compete with most pads on the market, with no intention to be the lightweight or super packable option – though Thermarest did do a great job with this for the pad size. It is an ultimate camping mattress solution for sleepers of any type. 
When sleeping on pads in the past, I've always found I wake up the minute I roll on my side. On thinner air pads, or foam pads, my hip bones press right through to the ground. The Topo™ Luxe's 4 inches of inflation prevent this from ever happening. The depth is forgiving to any sleeping position. If you turn on your side, air is pushed away from the depression caused by your hips – so you do sink, but you're never in danger of pressing through the pad.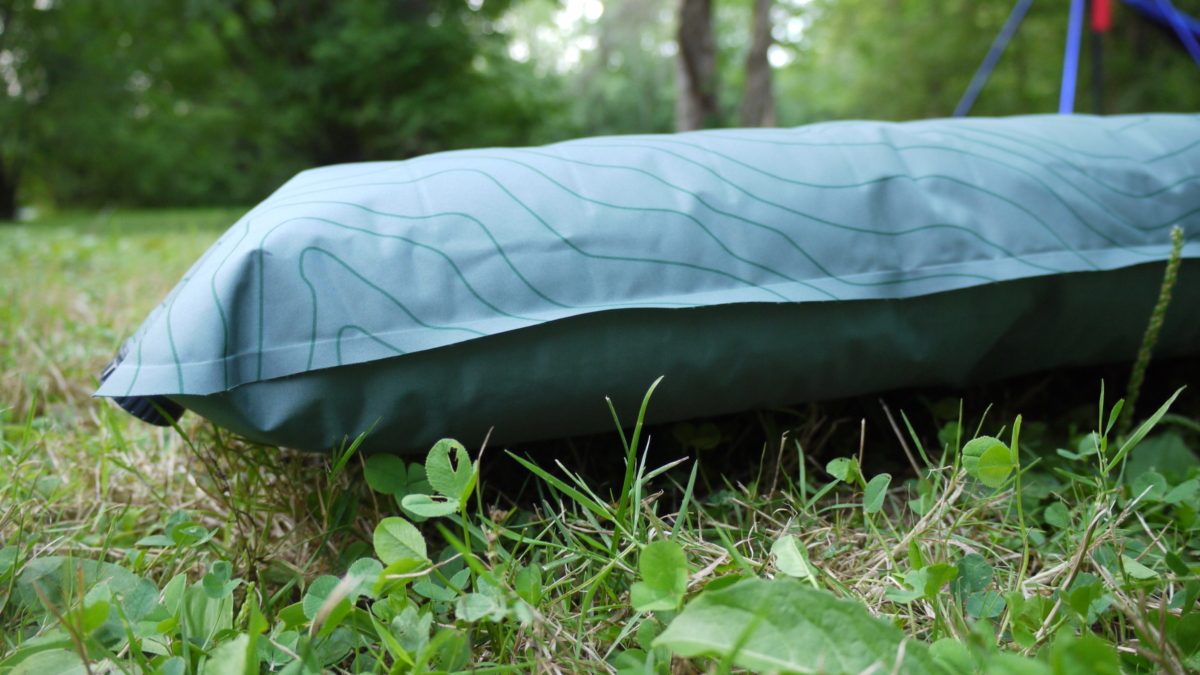 Mentioned above, this pad is designed for 3 seasons of comfort. There is no insulation barrier at the bottom of the pad, with colder ground temps, the air inside the pad will cool down drawing warmth away from your body. Honestly, I am not a winter camper, so this wasn't an issue for me, but could be a deal-breaker for some. 
Inflation/Deflation
While you can inflate the Topo™ Luxe by hand with the included pump sack, I opted to go for Thermarest's NeoAir® Micro Pump to save myself the hassle. With 4 inches of depth for a full-length pad, you need a lot of air to get these comfortable, but the pump is set it and forget it. It takes about 10 minutes to fill with the micro pump, so I've found setting a timer helps remind you to ensure you're not overinflating or petering out the pump.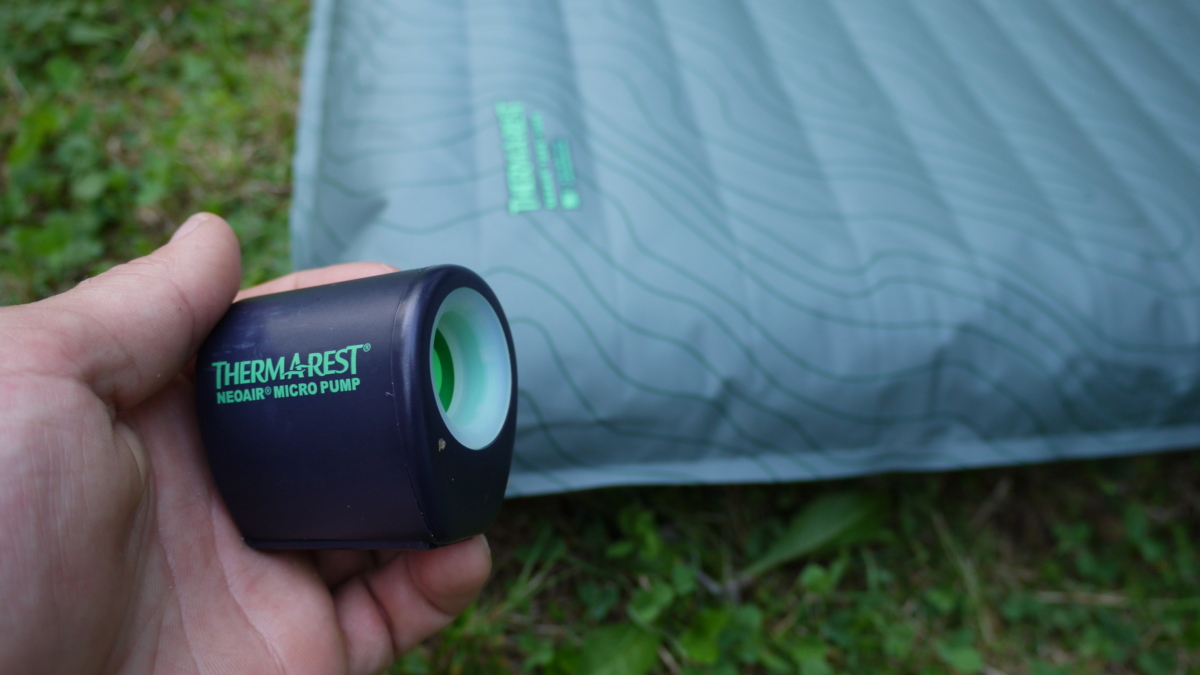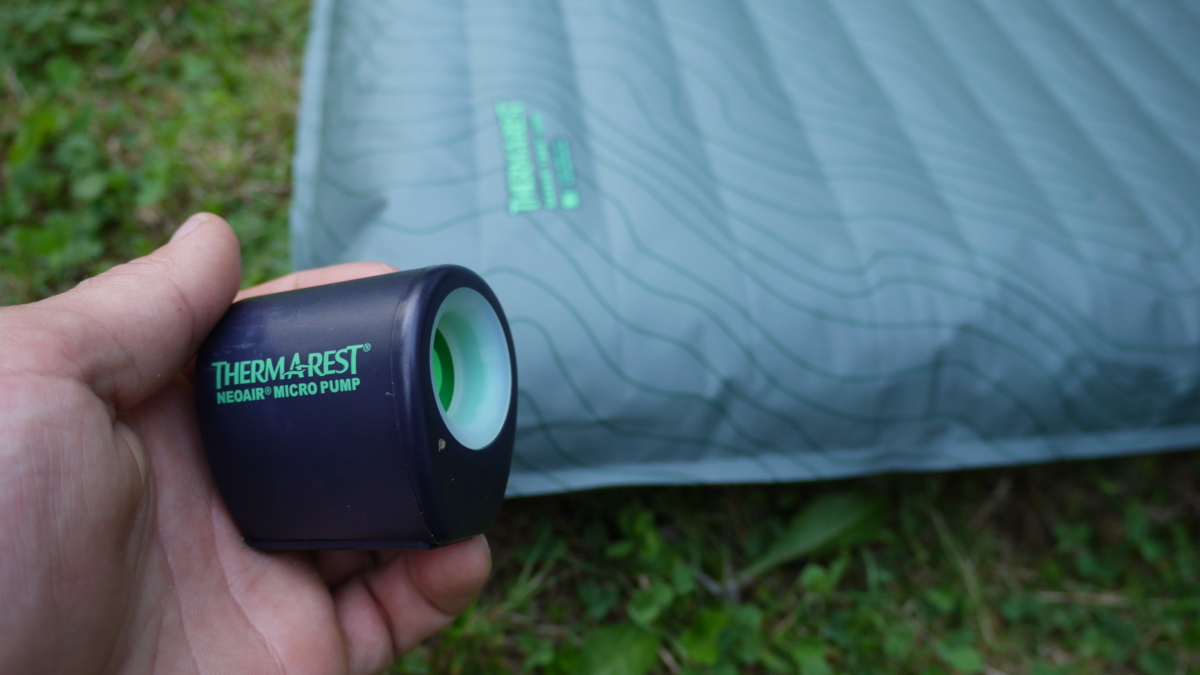 Thermarest included their famed TwinLock valve system on these particular pads. This system includes two dedicated one-way valves, one for inflation and one for deflation. The micro pump securely slides over the top of the inflation nozzle and will remain there for the duration of inflation.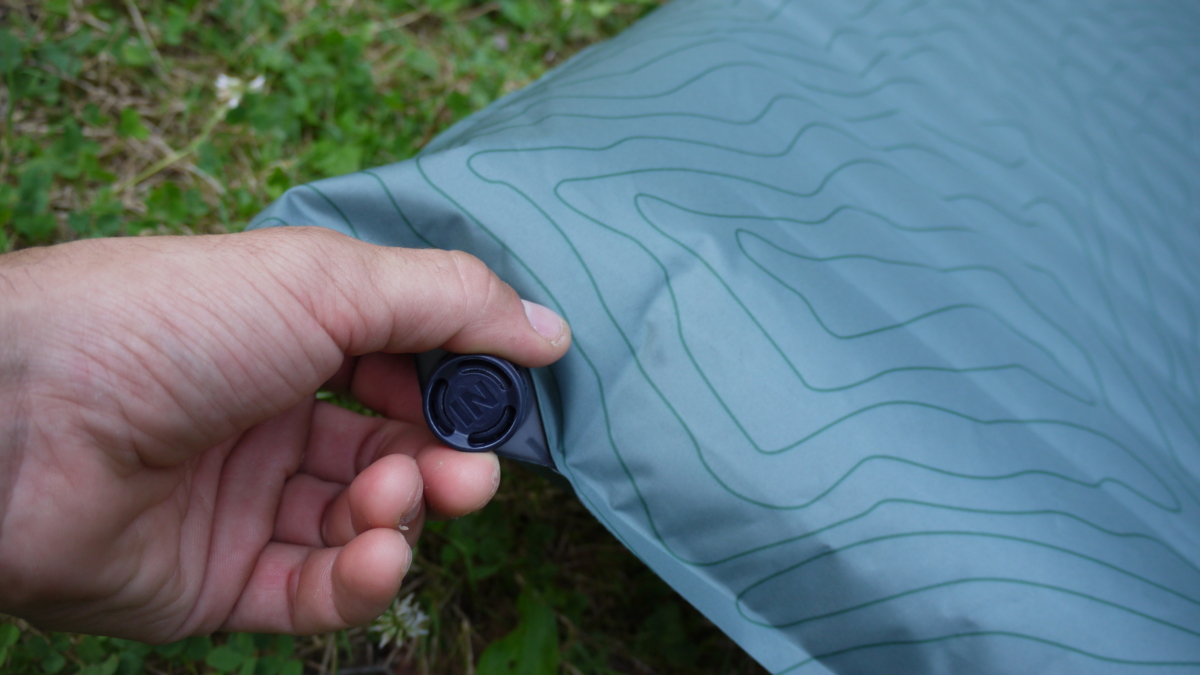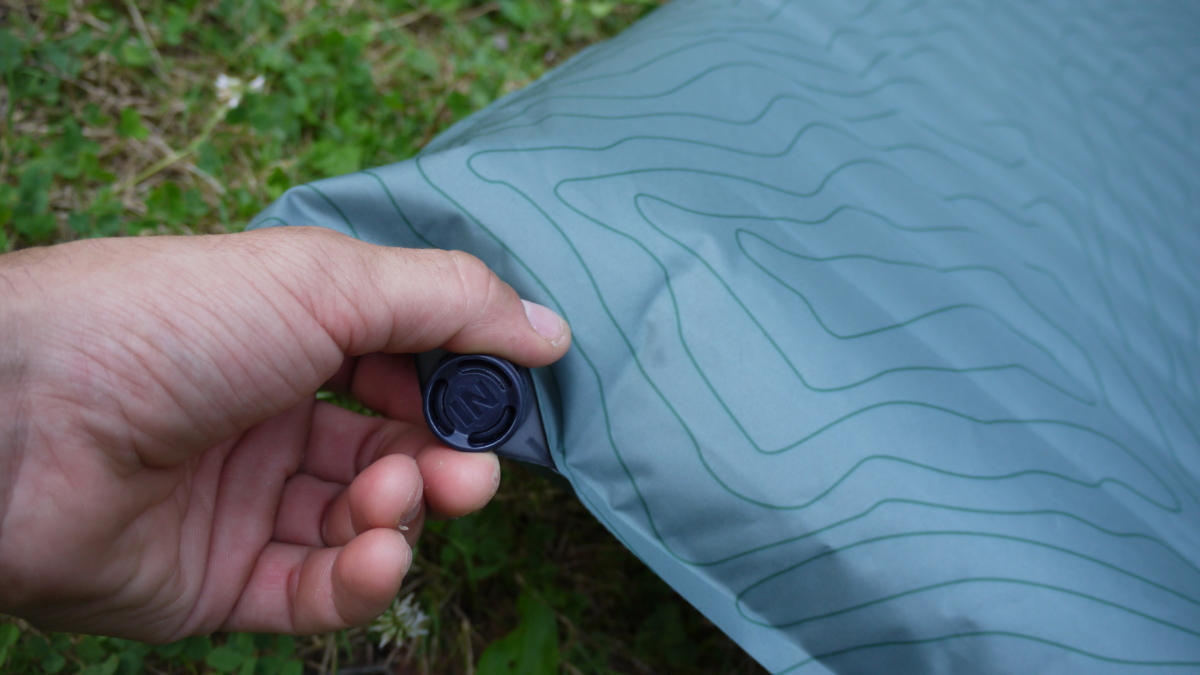 When it comes to packing up, simply open up both nozzles and listen for the rush of airflow. The wide-opening deflation side will do most of the work for you, with the remainder of the air pushed out when rolling the Topo™ Luxe up. I've found either folding in half or folding in thirds works great for returning the pad to its stuff sack.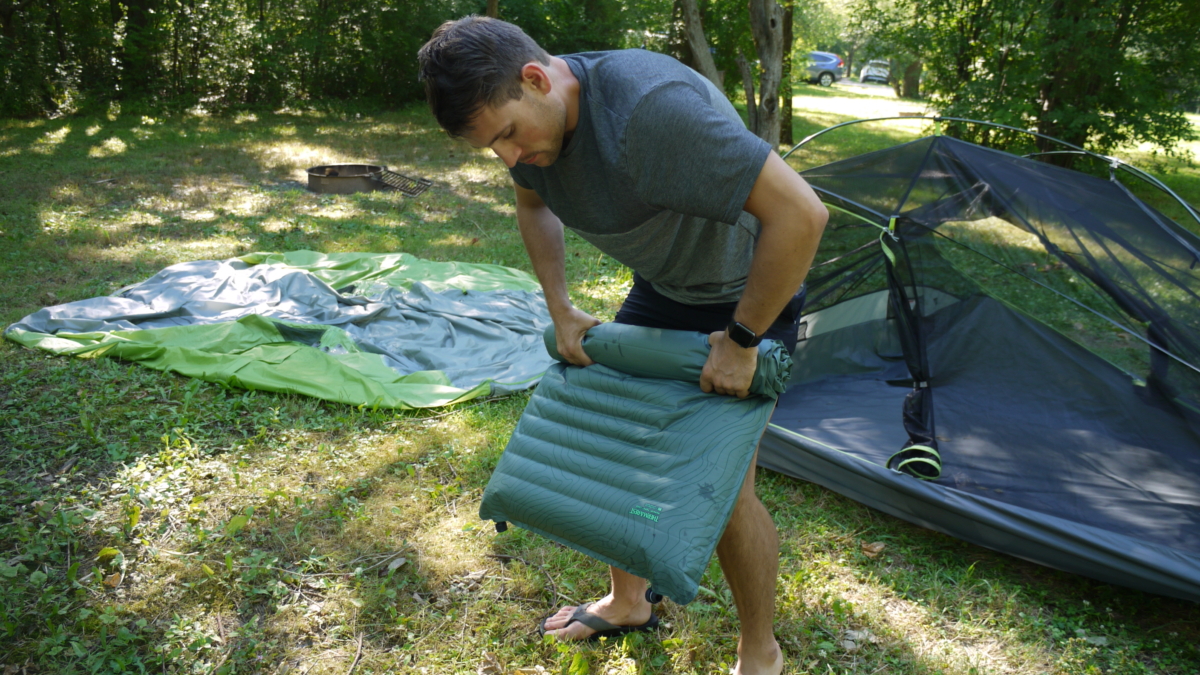 Packability
Weighing in at 1lb 13oz for the large size, the Topo™ Luxe is certainly not ultralight, but Thermarest still calls it a backpacking pad. Opting for a little less roominess with the regular size will shed you 6oz from the large. For 2 to 3 day trips, hikers could definitely justify the weight. For 3+ day trips, packing the Topo™ Luxe along might start sacrificing food or clothing in pack weight. Depending on the time of year, you could also balance out the weight of the pad by bringing along a summer weight sleeping bag.
Here they are next to my Kelty TN3.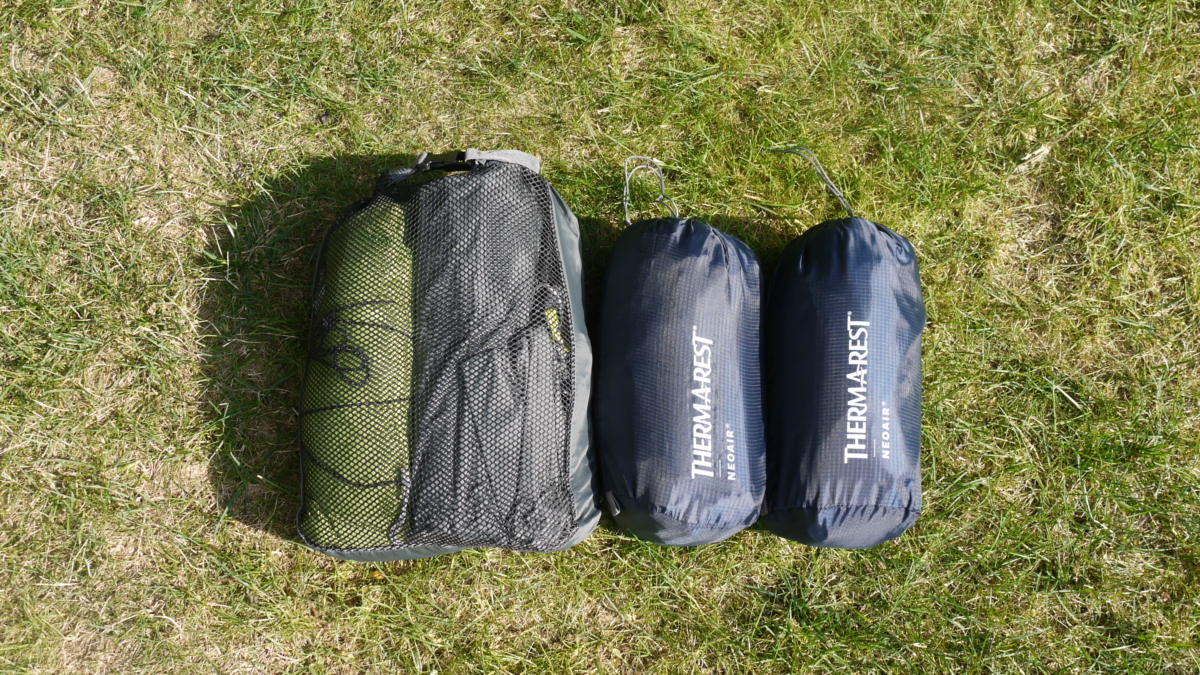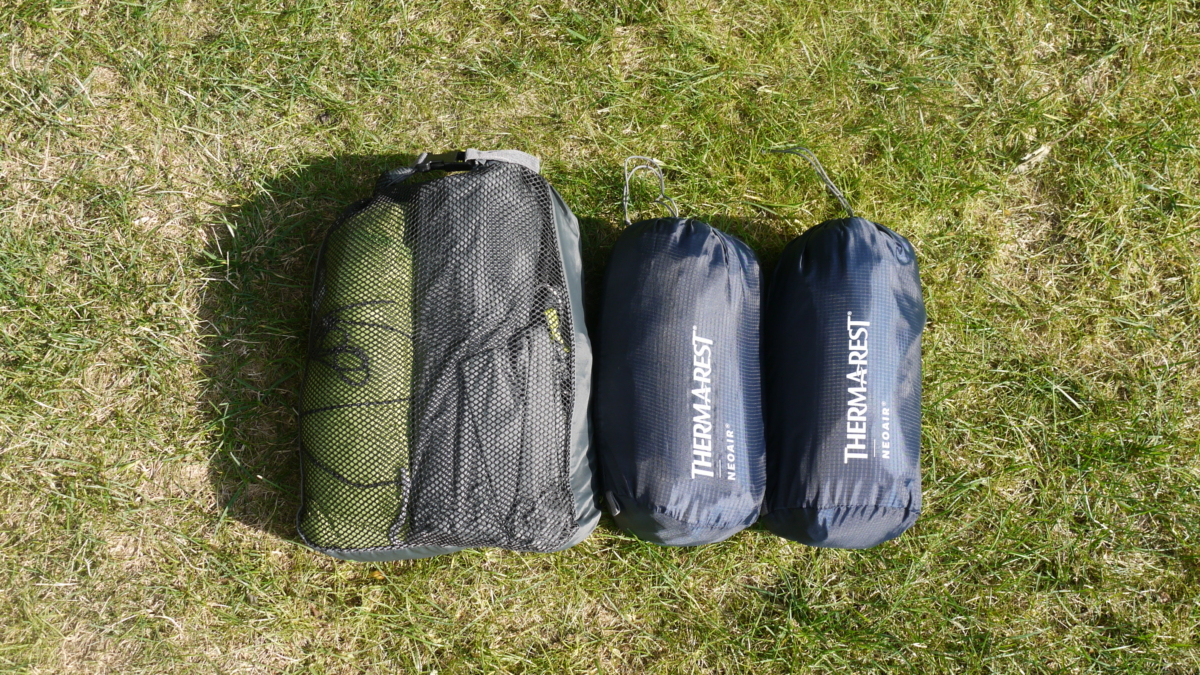 Bringing along the pump adds another 2.3oz (before 2 AAA batteries), so you might want to use the included pump sack instead! All this said, I've only used the Topo™ Luxe pad for car camping since it landed at Busted Wallet HQ, so none of this is a major concern for me 🙂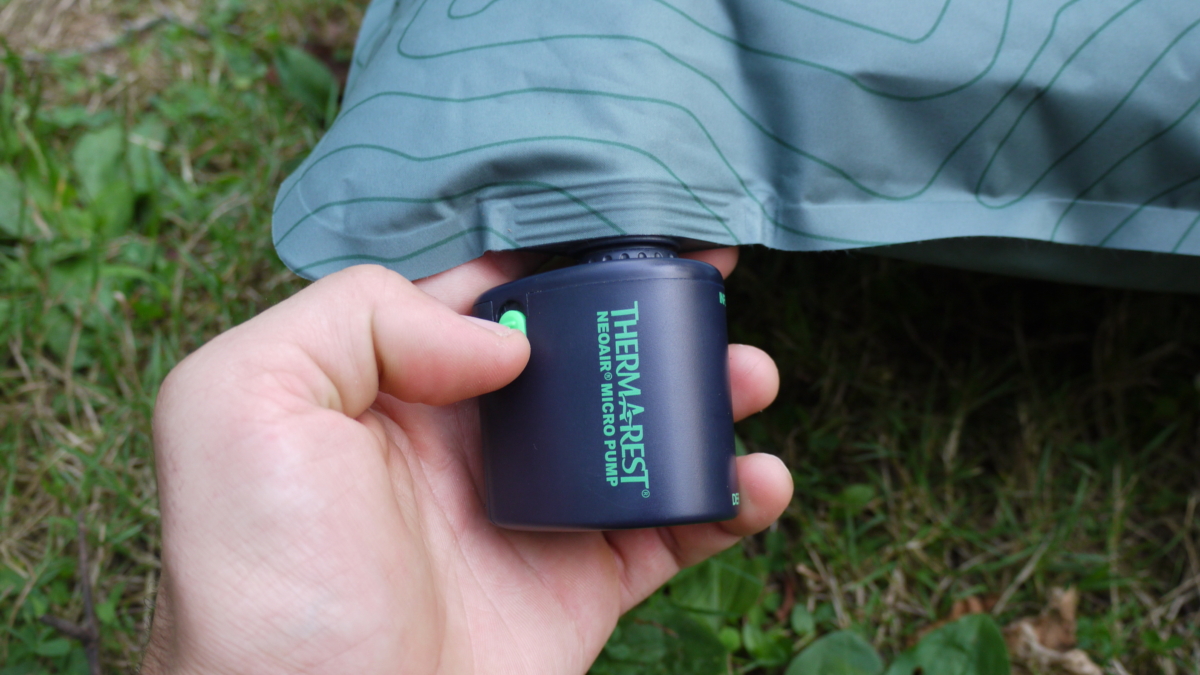 Doubling Up
Thermarest built an entire two-person sleep system around the Topo™ Luxe pads. The math is simple: take two Luxe pads, push them together, add a sheet, and you end up with one backcountry bed!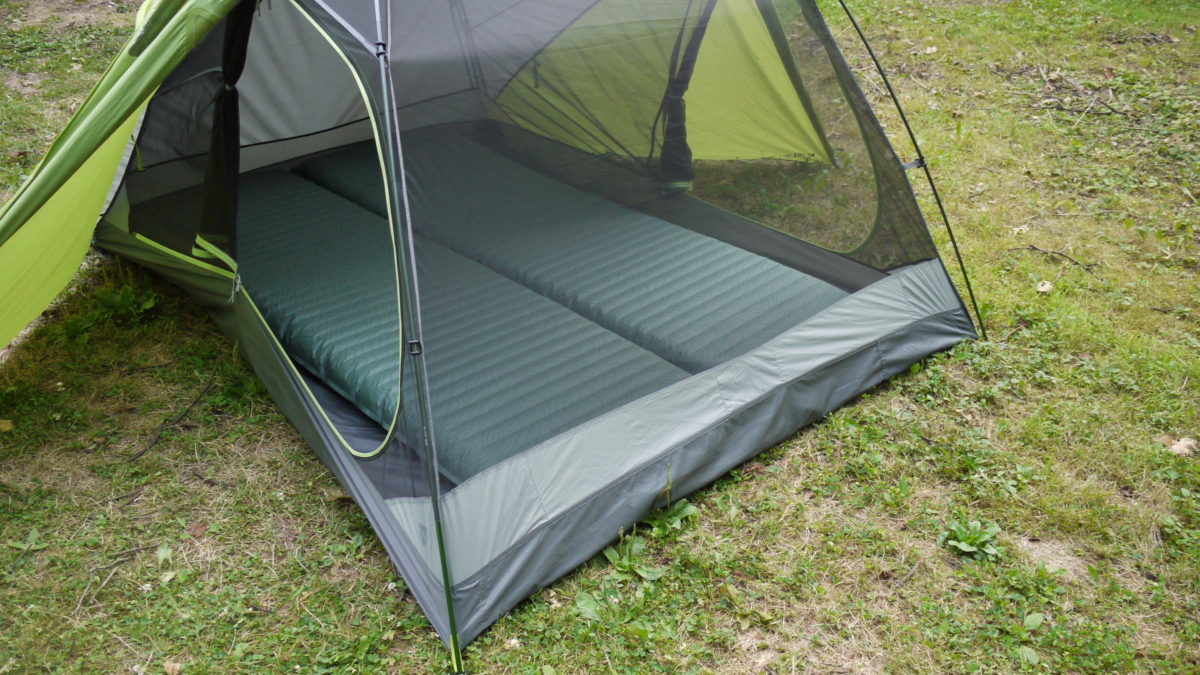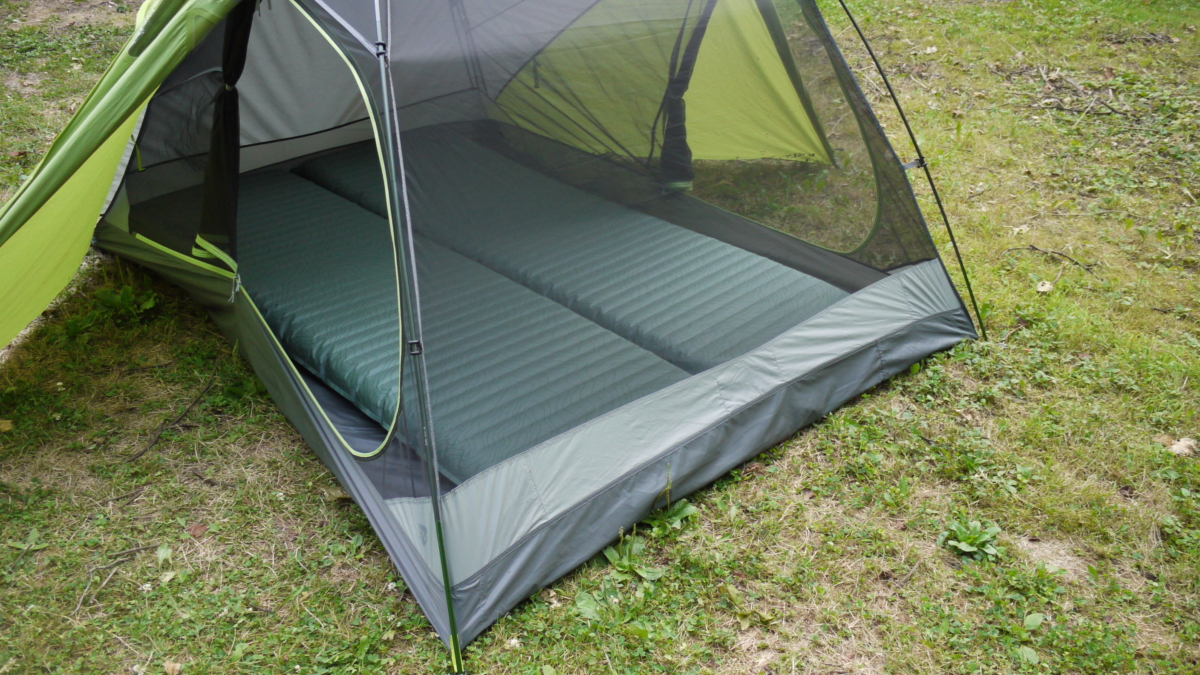 Thermarest does sell a sheet specifically designed for this purpose. It has elastic that wraps underneath to keep the pads tightly pressed together. I opted to just use an old full-sized bed sheet from home, but I am sure using the dedicated sheet would be an even better experience. 
That said, setting them up in this way is more comfortable than you'd think. You don't notice the gap between the two pads. It really is a luxurious way to sleep as a couple or a family with a younger kiddo.
Vela
™

Backcountry Down Comforter

I did opt for Thermarest's Vela™ Double 20º 650 Fill Nikwax® Hydrophobic Down™ backcountry comforter/quilt. It is purposely designed to pair with two Thermarest pads, whether that is the Topo™ Luxe pads, or another pair in Thermarest's trek & travel line. It feels just like a giant cozy sleeping bag when it's all set up with the pads, but it really is just a big comforter. There is ample width, so you don't have to worry about cover hogging, and it remains in place all night thanks to a 360º bottom pouch that wraps underneath the lower 1/3rd of your pads.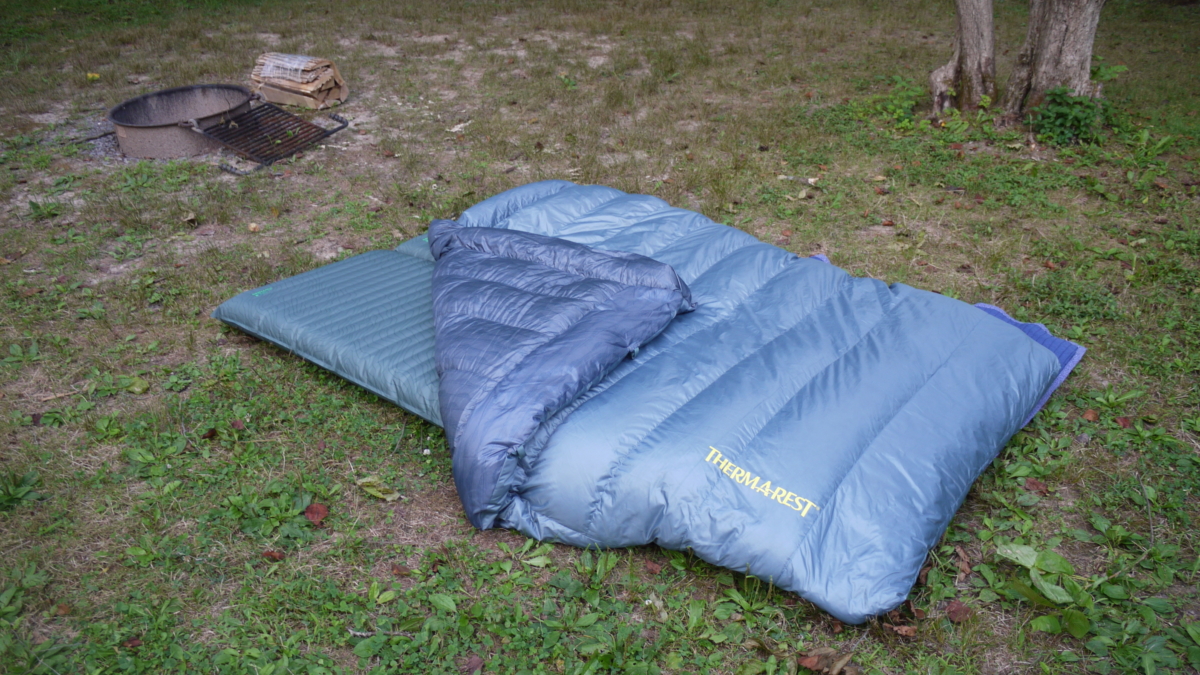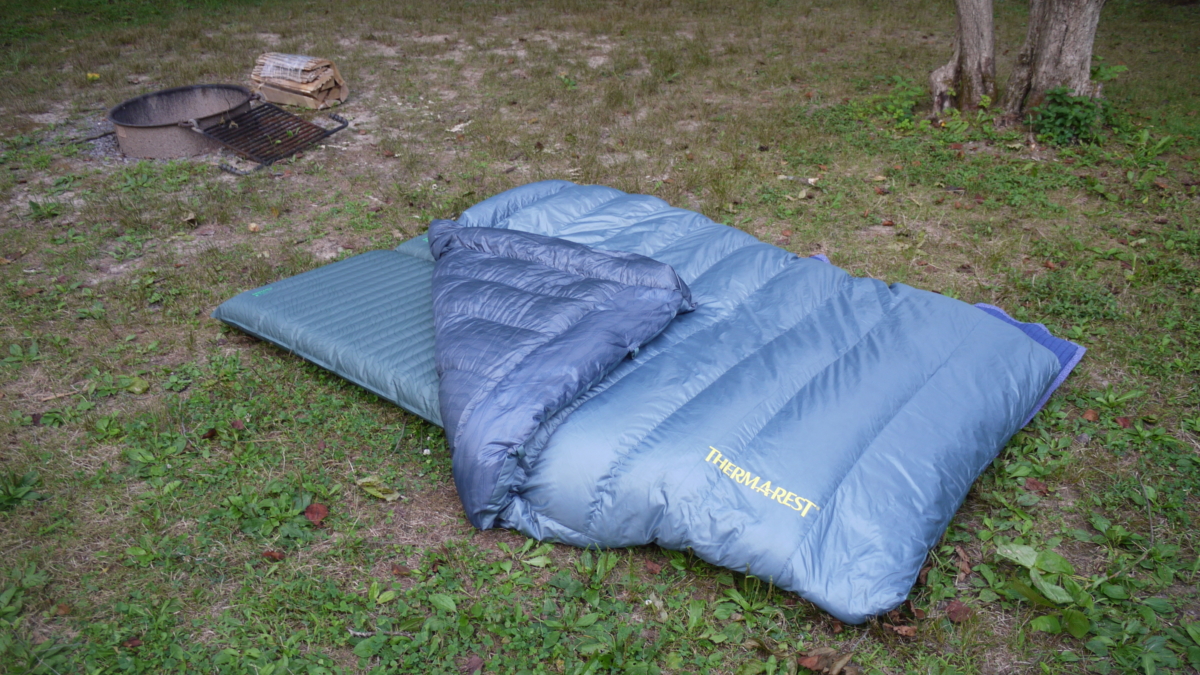 With 20º insulation, the Vela™ is plenty warm for cool evenings under the stars, not to mention the warmth of your partner right there beside you. My girlfriend has complained for years that she just wished we had a two-person sleeping bag, and now we do – but better! Why better? Range of motion. Sleeping bags are generally restrictive in the mummy-style, buy s Thermarest's Vela™ is just like being at home. No zipping up in a constrictive position, you have the freedom to stretch out, cuddle with your partner, throw your arm outside the warmth, or tuck your arm under your pillow.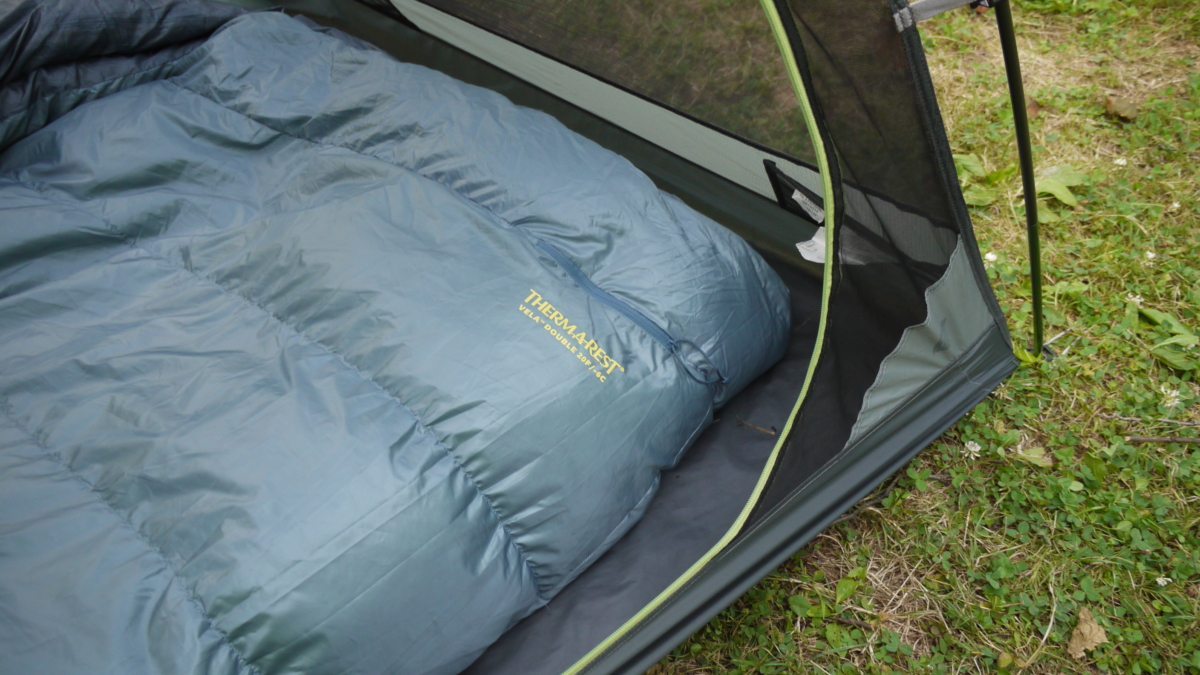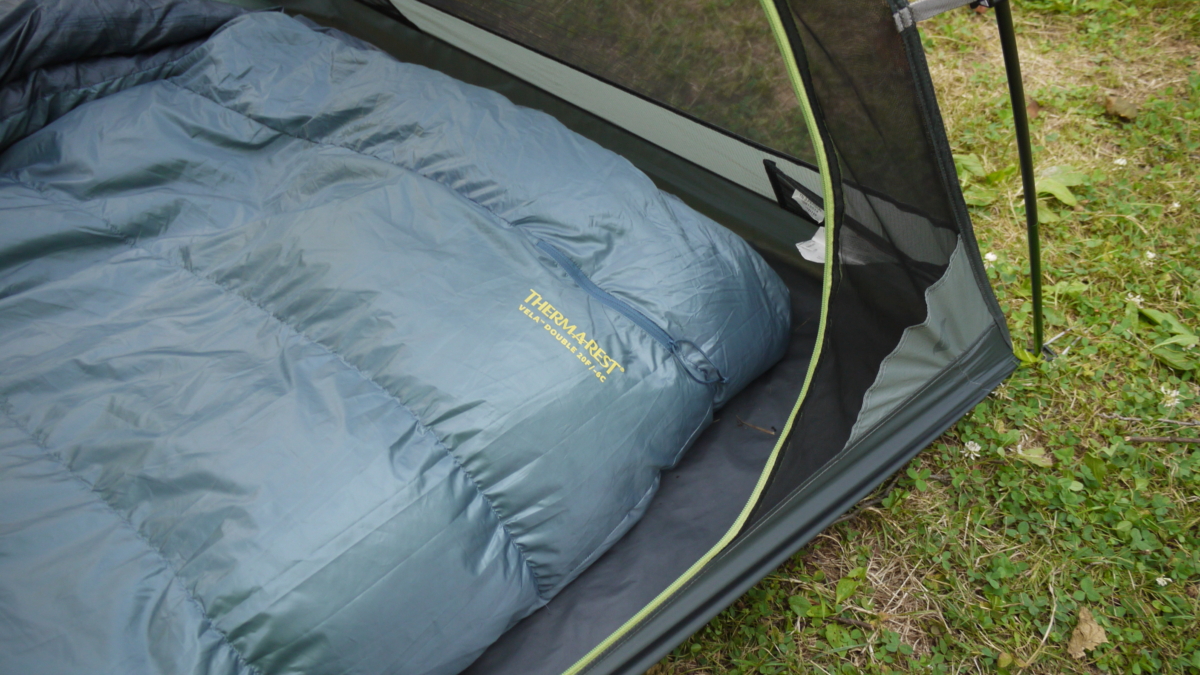 In addition, the backcountry comforter packs down into a very reasonable size with the included stuff sack if you opt for any shorter backpacking adventures with your partner – or if you just need more space in your car! 
Value
At $184.95 per pad (for the large size), Thermarest priced the Topo™ Luxe competitively. Pads are easily this expensive (or more) in the ultralight class, so it makes sense to pay top dollar for the opposite end of the spectrum – luxury class. 
While one pad might not break the bank, the entire backcountry bed setup that I've been testing adds up fast: 
Two

Topo™ Luxe

pads @ $184.95 per pad –

buy now

 

One Vela™ Double Down Comforter @ $369.95 –

buy now

And one NeoAir® Micro Pump @ $44.95 –

buy now
Depending on your camping frequency, or your previous investment in sleeping bags, opting for the full system is definitely an investment.
For me, the peace of mind knowing I'll actually get a good night's sleep, paired with the added warmth of a partner tucked in next to me, is worth every penny. 
Thermarest NeoAir® Topo™ Luxe Sleeping Pad - Gear Review
While it's not an ultralight dream, Thermarest developed an incredibly comfortable sleep system for 2 with the NeoAir® Topo™ Luxe and Vela™ Dounble Quilt. Whether you're on the hunt for a cuddly sleep system for two, or just a single pad for a luxurious night's sleep, look no further than Thermarest's Trek & Travel line.
THE GOOD:
4-inches of air support
Quieter face material
2-person compatible
THE NOT SO GOOD:
Long inflation time
Not super packable, but not necessarily intended to be