One brand that knows how deliver top rated comfort and quality products for the great outdoors is Therm-a-Rest, and their parent company Cascade Designs.  With a combination of unemployed engineers, a leaky foam gardening pad and some dreams of being able to sleep comfortably under the stars, the company was formed.  They understood that in order to function properly day after day on the trail, you needed a decent night sleep.  Their introduction of the packable self-inflating air mattress changed it all for the outdoor world.  Moving forward they continued to develop outdoor gear designed for sleeping and relaxing at your campsite.
I used to just sleep directly on the ground with just the sleeping bag and tent floor between myself and mother earth.  Let's just say those were some rough nights sleep.  Cascade Designs and Therm-a-Rest recently gave us the opportunity to test out two of there lightweight packable air mattresses; the NeoAir XTherm and the NeoAir All Season.  I took them both out for a few nights camping, along with their Therm-a-Rest Antares HD sleeping bag, at one of my favorite spots.  I also brought along my old roll up foam mattress to compare size comfort and packability.  Here is what I learned about both mattresses.
Key Features:
NeoAir XTherm
Unmatched Warmth-to-Weight: Patent-pending, reflective ThermaCapture technology traps radiant heat while Triangular Core Matrix construction minimizes convective heat loss–all without the bulk, weight or durability issues of down andsynthetic fills.
Excellent Comfort: 2.5" (6 cm)-thickness, new, soft-touch fabrics and baffled internal structure provide unrivaled stability and support.

Highly Packable: Free of bulky, conventional insulating materials, the XTherm mattress packs to the size of a one-liter water bottle.

Ultralight: Advanced materials and a tapered design reduce weight without compromising warmth.

R-Value: 5.7
Weight: 15oz/430g
Width: 20in/51cm
Length: 72in/183cm
Thickness: 2.5in/6.3cm
Packed Dimension: 9×4.0/23×10
Bottom Fabric: 70d Nylon
Top Fabric: 30d Rip Nylon
NeoAir All Season
 Year-Round Warmth: Patent-pending construction uses multiple layers of reflective ThermaCapture technology to trap radiant heat while Triangular Core Matrix construction minimizes convective heat loss – all without the bulk, weight or durability issues of down and synthetic fills.
Light and Compact: NeoAir technology allows the All Season mattress to be lighter and more packable than mattresses filled with conventional insulation.
Extra Comfort: Stable construction and 2.5-inch thickness offer greater comfort for a full night of sleep.
Lasting Performance: The All Season mattress can be inflated directly without the worry of exhaled moisture wetting insulation and decreasing performance.
R-Value: 4.9
Weight: 1lb 2oz/510g
Width: 20in/51cm
Length: 66in/168cm
Thickness: 2.5in/6.3cm
Packed Dimension: 9×4.75/22×12
Bottom Fabric: 70d Nylon
Top Fabric: 75d Polyester Diamond Rip Nylon
Core: Nylon
NeoAir XTherm & All Season Review Breakdown
Design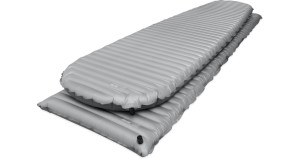 The XTherm mattress is designed with a new softer, lightly textured no slip fabric that allows for a more comfortable night sleep.  The XTherm is considered a four-season mattress except it isn't heavy or bulky like most other four-season mattresses. According to Therm-a-Rest, it "delivers the greatest warmth to weight ratio available in any air mattress by far".  It keeps you warm because of the multiple reflective layers.  I found that it is easy to inflate and deflate.  The traditional XTherm has a mummy shape (which is the one I tested), but they now offer a MAX version in a full rectangle shape that gives even more warmth and is suitable for wider torsos.  Included with the XTherm is a stuff sack and repair kit.  The mattress deflates and rolls up very small to fit easily into the stuff sack, and then into your hiking pack.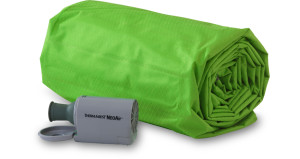 The All Season mattress is rectangular in shape and uses Therm-a-Rests' Triangular Core Matrix technology which creates over 100 insulating cells.  It also uses multiple layers that capture radiant heat to keep you warm.  The All Season doesn't have as high of an R-value as the XTherm, but it is still lightweight and easily packable.  It might not be be the best choice for middle of winter in the midwest, but during any other season it should be perfectly suitable.  As with the XTherm, the All Season is easy to inflate and even comes with a mini battery powered pump.  I found that the pump actually took longer to inflate the mattress than if I did it myself.  It is nice to have that option though if you just can't get the breaths to do it.
Comfort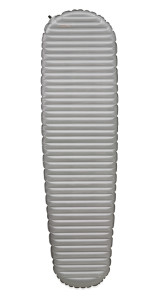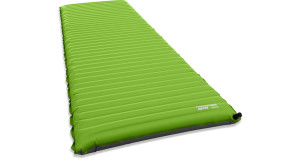 Using Therm-a-Rest's Antares HD sleeping bag and spending a few nights in the woods, both nights dropped down to the same average temperature of about 45*F, I was able to test out both air mattresses.  The XTherm was definitely warmer than the All Season and I had to sleep partially uncovered so I wouldn't start sweating.  As far as softness goes, it was very comfortable to sleep on in any position.  I didn't have any issues with soreness in the morning using the XTherm.  It stayed tightly attached to the sleeping bag, but I just had to be careful when moving around in the middle of the night so I wouldn't rolloff.  Both mattresses were a little loud whenever I moved.  I'm hoping that they will get quieter as they are used more.  If not, then I feel bad for anybody who is camping anywhere in the vicinity because they had a loud crinkling sound.  The All Season seemed to be just as comfortable in any sleeping position.  I like the rectangle shape of this one so my feet don't fall off as easily.  This one didn't make me as hot though and I actually slept really great with it.  It also stayed put under the sleeping bag.  For my mild temperature overnight hikes, I would most likely be packing the All Season.  I'd save the XTherm for those possible freezing temps and winter hikes.
Value
If a good nights sleep is important to you, then both of these mattress are well worth the price tags.  The XTherm, which runs at $200, is a top contender for anybody who does year round camping or hiking in extreme conditions.  The All Season comes in at $150 and is a great investment for the more casual adventurer who doesn't plan to get caught in below freezing temps.
If neither of these mattresses fit your needs, Cascade Designs has many other options in their Therm-a-Rest line.  They make it easy to match up a sleeping bag and mattress to suit just about any adventure.  Let me just say that I will not be going back to the old foam mattress.
Buy Now: NeoAir XTherm $200 or NeoAir All Season $150, or to check out more: Cascadedesigns.com/therm-a-rest