As kids, we always wanted a treehouse to camp out in. As adults, well, we still want a treehouse to camp out in. Lucky for us, back in 2012 the team over at Tentsile revealed the prototype for a portable treehouse tent. After a lot of testing and failing and testing again, they finally introduced the Stingray. A three person suspended hammock tent. This spring we were very excited to have the opportunity to try this interesting concept out! With camping season in full force we couldn't wait to get the Stingray out and into the trees!
Key Features / Specs:
Set up time: 15 minutes
Seasons: 4
Size: 4.2 x 4.2 x 4.2m / 14 x 14 x 14ft
Pack Down Size: 59 x 25 x 25cm / 25 x 10 x 10in
Floor area: 7.5m² / 80ft²
Dry Porch Area with Fly: 15m² / 160ft²
Interior Height Unloaded: 120cm / 4ft
Weight: 8.5kg/ 18lbs
Poles: 2 x 8.5mm diameter anodised aluminium alloy 7001 T6
Roof: Tear resistant insect mesh. It offers protection against the smallest sand flies
Flysheet: Removable 70D PU coated waterproof polyester, 3000HH, in a choice of colours. Area 160ft² / 14m²
Floor fabric: 240D inclined joint nylon-polyester composite fabric reinforced with 20+ metres of seatbelt
Ratchets & Straps: 3 x Straps and heavy-duty ratchets buckles- 2.5 ton minimum breaking strength
Pegs: 3 x Giant Pegs
Maximum Capacity: 3 adults and their gear or 2 adults and 2 children
Maximum Load: 400kg / 880lbs
Fire Rating: Fire resistance meets USA CPAI-84 and Canadian FR16
Tentsile Stingray Review Breakdown
Design:
A triangle shaped three person floating tent, hammock, hammock tent, tree tent? It's been called many names but its main function is a suspended tent with some hammock like features. The Stingray utilizes three trees (or other large anchors) to keep the tent elevated off the ground. The ratchet straps allow you to adjust the length of each corner for proper tension, since it is practically impossible to find three trees that are of equal distance.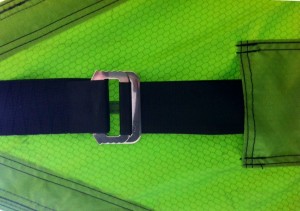 The feature that makes it most like a hammock is the internal webbing support. You can adjust the three straps, found on the bottom side of the floor, to give each person their own "hammock pocket". Two poles hold up the mesh roof of the tent and you actually have plenty of head space to sit up. The flysheet just lays directly over top and can be secured in two ways (as noted below in "assembly"). The only issue with design that we have is the flysheet. Instead of just rolling and tying up the flysheet on the front, as the current way of doing it, we would have liked to see a type of overhang above the big front door where you can still look out and not have to worry about rain coming in. Not a deal breaker though!  This tent can hold a whopping 880 pounds, however the tent itself weighs 18 pounds.  This means that it's not ideal (unless you carry minimal other items in your pack) for long overnight hikes.
Assembly:
Before taking it out for a long camping trip, we recommend setting it up close to home for some practice. The instructions that are included with it are basic and somewhat uninformative (and don't include anything about how to attach the flysheet), so we had to watch some of the video's on the Tentsile website for better instructions and tips. Once we got it figured out, it didn't take too long to set up. The hardest part is finding the trees. It took some tweaking of the strap lengths to get even tension all around. We hung the tent about 4 feet off the ground for the first time out, for a couple reasons. One, for safety since it was the first time up in the air. And two, we didn't have a ladder to use if we put it any higher. The Tentsile ladder is not included when you purchase any of the tents. They do this because they do not suggest hanging the tents any higher than about 4 feet off the ground. Safety first! We were glad to only be 4 feet off the ground. We learned it is very important to make sure that the ratchets are all set to the locked position. We had one not fully locked and it started to slip.  Lesson learned.
[vimeo 129435784 w=750 h=420]
Comfort:
Once we kicked all the kids out (that was not easy) and got the weight balance figured out, sleeping comfortably was not an issue. It was better than sleeping on the hard ground, but not as "claustrophobic" as sleeping in a hammock that sucks you in. We were able to sleep on our backs or sides with ease. During the trial run we did notice that we all started to slant towards the heaviest person, but after some adjusting of the webbing straps we were back to normal.  We haven't tried the Stingray in the winter yet, but Tentsile claims that it is a 4-season tent with proper gear.  We look forward to taking it through all the seasons.

Durability:
We only had one concern in the durability category. We noticed a lot of tension pulling near the bottom corners of the zipper on the "front door" and some of the teeth on the zipper chain had begun to bend and almost break off. This may just be a user error and we may not be adjusting all the straps properly, but it is definitely an issue that needs to be considered.
Value:
While it is a bit high on the price scale, it is important to remember what it actually is that you are getting.  You get a tent that's a hammock or a hammock that's a tent.  Most importantly…you get your childhood treehouse that you can take [almost] anywhere.  The design concept and durability (thus far) makes the price point justifiable.
Buy Now: $650 or to learn more go to:  Tentsile.com
Tentsile Stingray - Gear Review
Best suited for car camping, this tent can bring back the child in you. Considered a portable treehouse, it keeps you off the less suitable ground but still gives you traditional tent space and comfort.
The Good:
It's a portable treehouse!
It can hold 3 large adults and is suitable for 4 seasons.
Did we mention it is a portable treehouse!?
The Not So Good:
It is very heavy and not suitable for long hikes.
The included instructions lack important details.