Whether you're just dipping your toe into the single malt world, or diving in head first like Ron Burgundy, the marketplace is saturated with craft spirits vying for your attention and patronage. Once you find something you and your wallet can agree on, it can be hard to stray to another, but there is nothing wrong with mixing it up every now and then.
By "hidden", I mean that these Single Malts are in no way scarce spirits that you are going to have to know a guy, a secret phrase or a cryptic handshake to obtain, these are simply amazing go-to spirits that are either overlooked, or incredibly underrated. Now, without too much pomp, certainly no circumstance, and in no particular order let's get started.
10.) Lagavulin 16 Scotch Whisky
I will make no bones about how much I love this Whisky. The rich smoky spirit lends itself perfectly to a robust cigar, a medium rare steak or simply a ready glass that seems to be refilled quite often. Lagavulin hails from the land of Peat and Smoke, the Islay region of Scotland breeds the single malts with the weight of roasted malt driving flavors past the point of no return. While this bottle might set your wallet back a bit, it is a must-have for Scotch Lovers, Cigar Smokers and those who crave the punch of peat tempting you from your glass.
---
9.) Laphroaig 18 
Where do I begin? Near and dear to my heart and my palate for oh so many reasons, the Laphroig 18 is a perfect balance of smoke and crafted elegance. Aromas of campfires, old leather and a subtle honeyed vanilla dance together to create one of the most sought after single malts available. Biding its time for 18 years, waiting, sleeping, growing strong mellows out the signature smoke of Laphroig and let's the wood, minerality and acidity shine. The whole Laphroig line is a pleasure to dissect, but there is an X Factor to this scotch that begs to be left alone, appreciated for the craft that goes into it and simply enjoyed.
---
8.) Port Charlotte Distillery (PC+Vintage) 
Recommending this one makes me feel like I'm sharing my favorite movie with a friend in hopes that they laugh at what I think is funny. Port Charlotte Distillery was in operation from 1829 to 1929, but thankfully revived in 2009 by the generous and benevolent people at the Bruichladdich Distillery. While a touch on the pricey side, Port Charlotte is a one of a kind. It's smoke level is through the roof, the alcohol percentage can run a car and flavor profile is not for the feint hearted. Port Charlotte is definitely more hidden than most of these so if you are willing to search and daring enough to try it, then give it a shot.
---
7.) Deanston 12
This highland distillery that has been at the forefront of trends and innovation by using only organic ingredients, high quality barely grown in Scotland and is self-sufficient with an onsite water-powered generator, providing power for the entire distillery. Deanston's Master Whisky Craftsmen's focused attention to detail is shown in their craft. Honey, spices and nutty caramel round out this relaxed single malt. This one might take some snooping to find, but if you come across this hidden gem don't pass it by.
---
6.) Castle Knappogue Single Malt Irish Whiskey 12
Subtle, delicate and delicious, Castle Knappogue offers a completely different experience than most of the Irish Whiskies. Fueled by the twelve years in reclaimed Bourbon barrels, the notes of vanilla and spice highlight the true character of the spirit. With no color enhancement and no laboratory injections, Knappogue offers an upscale experience for a competitive price. Castle Knappogue might be a little bit off the beaten path, but once you find one in the wild, grab it and claim it as your own.
---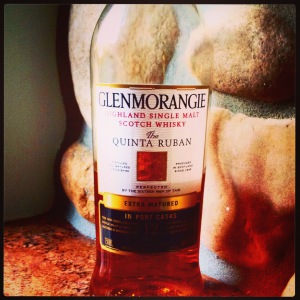 5.) Glenmorangie 12 Quinta Ruban Port Cask 
The Master Distillers at Glenmorangie use a variety of methods to enhance their single malt lines, and one of the time-tested and whisky snob approved styles is the Quinta Ruban Port Cask. The added years phase of maturing in the leftover barrels of some of the world's best Port imparts a subtle plum and berry flavor that compliments the sweeter Highland style perfectly. Deep and robust, the subtleties of the time in port casks work in harmony with the bold single malt to bring together a dram that will pair perfectly with a rich cigar, if the opportunity should present itself.
---
4.) McCarthy's American Single Malt Whiskey
Jumping across the pond and touching down in Portland, Oregon, Steve McCarthy is producing a whiskey that falls perfectly in line with its cousins back in Scotland. Clear Creek Distillery's version of Single Malt Scotch features a powerful punch of smoke, but balances out with sweet and spicy notes. Aged for only 3 years in American Oak, the complex  aromas of honey, campfires and fresh cut wood dominate the bouquet. Even though it only sits for three years, it drinks like it has matured for much longer which showcases the true talent importing all of the roasted malt from Scotland and creating an award-winning whiskey on the other side of the world takes.
---
3.) Glengoyne 10
Born from need, desperation and of course, several illegal stills in the rolling hills of Scotland, Glengoyne 10 showcases the smooth, velvety sweet style of Scotland's famed Highland region. Slight hints of citrus, golden hay and iodine combine to blend in layers of acidity and complexity to the smooth dram. With its distinct lack of smoke, every dram is left to let the quality of the malt and barely to speak volumes for itself. Glengoyne is one of the single malts that gives you way more bang for your buck, while never compromising on quality and taste.
---
2.) The Tyrconnell Irish Whiskey 10 Port Cask 
Much like the Castle Knappogue, The Tyrconnell is soft, floral and amazingly approachable. The subtle spice from the roasted Irish malt blends with the sweet finish from spending extra time maturing in Port Casks. The lingering effects of the rich red wine barrels impart an added layer to the already complex flavor profile. If there is such a thing as a whiskey better suited for a warm sunny day, this is it. The Tyrconnell single malt is beautiful display of potent flavors and refreshing nuances.
---
1.) Westward Whiskey
Let's stray just a bit from the single malt and go to what is billed as a "Straight Malt", which, after sifting through the jargon, is best explained in a much more scientific manner here. Now that we are past all the jargon, this is a damn good whiskey. House Spirits is a freshly formed distillery in Portland Oregon, which from the looks of things, seems to be a city full of fine craft booze. At first take, the aromas promise a potent bourbon-like drink, but the surprisingly smooth and delicate dram exceeds all expectations. While a bit pricey, it is well worth the splurge for a special occasion and to broaden your whiskey horizon.