The key to keeping a happy and healthy lawn and garden is hard work and elbow grease. If you can feed it, trim it and take good care of it your neighbors will be green with envy and your surrounding will be full of life. To do every task your yard and garden requires its going to take back breaking work or some deep pockets to purchase power equipment for each specific task. If you're anything like us you have a garage full of equipment, power tools and different gas cans for each chore. Not only is it expensive but all those power tools take up a lot of precious garage space.
Here's where the STIHL KombiSystem steps in. Designed to run up to 13 different implements using one motor, the KombiSystem is an innovative way to keep your lawn and garden looking pristine year round. The KombiSystem is two parts. First you have the head unit (the KombiMotor) and second you've got the implements. Take your implement and attach it to the KombiMotor and within minutes you're ready to rock. Swapping implements is quick and easy, helping you get more done in less time.
Recently STIHL reached out to us to go hands on with the KM 130 R version of their KombiSystem. With spring knocking on the door we jumped at the opportunity to put this unique piece of equipment through the paces. Testing took place on a 2.5 acre plot of land consisting of a large lawn, woods and garden. We chose to test the KM 130 R motor, a pole saw, hedge trimmer and a string trimmer. Now that we've spent several weeks putting these implements and the motor though the paces we're excited to share our thoughts and opinions on the KombiSystem with you! So without further adieu here's what we discovered while testing STIHL's KombiSystem ourselves…
KombiSystem Key Features:
13 optional attachments available: Create a custom yard care system with up to 13 optional attachments – trim, edge, cultivate, prune, clean up and more!
Built in the USA: Indicates products that are built in the United States from domestic and foreign parts and components.
Reduced-Emission Engine Technology – Caring for Nature: The STIHL Inc. "Caring for Nature" seal identifies its powered products that are more environmentally conscious, producing zero or low exhaust emissions. STIHL Inc. defines "low exhaust emissions" as being cleaner than EPA and/or CARB exhaust emission standards.
Loop Handle: The loop handle (R) is an adjustable rounded handle mounted on the shaft for support and control. The handle is designed to help control the machine in different positions, ideal for reaching tough spots. The handle is large enough to accommodate a gloved hand comfortably.
Quick-Release Coupling: The quick-release coupling system makes it easy to switch between Kombi attachments. In addition, this feature allows KombiSystem equipment to be dismantled into two parts for easy transport and storage and then re-assembled quickly without tools.
Split Shaft: A split shaft and special toolless quick-release coupling lets you easily switch between attachments, making the KombiSystem highly versatile as well as easy to transport and store.
Anti-Vibration System: STIHL has a system for minimizing the vibration levels of handheld outdoor power equipment. The STIHL anti-vibration system helps reduce operator fatigue and provides a more comfortable working experience.
Electronic Ignition Module: The electronic ignition provides reliable starting and because it is fully enclosed, it is protected from moisture and debris for longer service life.
Purge Pump Primer: A small fuel pump delivers fuel to the carburetor when pushed, reducing the number of starting strokes required following extended breaks in operation.
Multi-Function Control Handle: Having easy access to all of the controls on one comfortable handle help makes it easier to complete tasks so the operator's hand never has to leave the handle.
STIHL KombiSystem Review Breakdown
Design:
Built to take on any job your lawn and garden might throw at you, the KombiSystem (pronounced: "kom-bee") is comprised of one head unit that connects to 13 optional attachments. The design of this system is really smart. Instead of having 5 to 7 different pieces of equipment each with a different motor and an expensive price tag STIHL engineered the KombiSystem to save you money, time and space.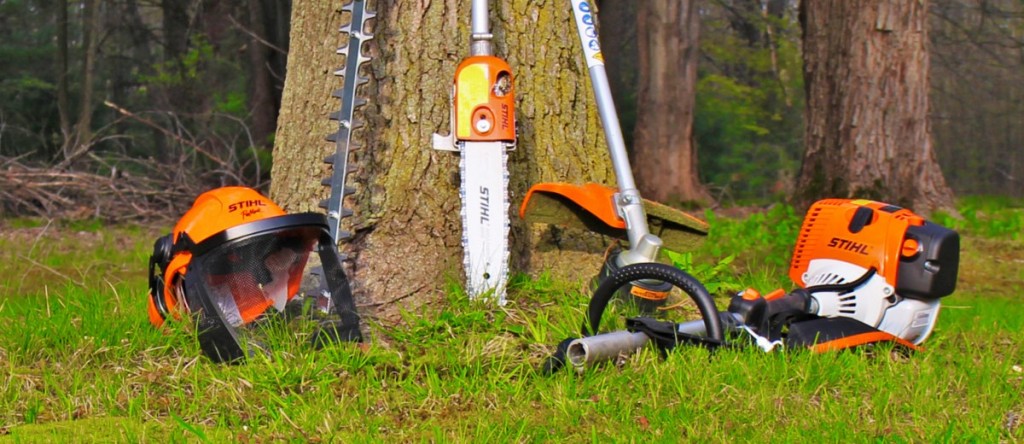 For our testing sessions with the KombiSystem we chose to test the hedger, pole saw and the string trimmer. We were delighted by how easy it was to swap out equipment. In a matter of one minute you can be trimming the hedges and switch over to the string trimmer in no time. It's truly easy too. With the turn of a knob you remove your current implement and swap it out with another one. Then by tightening it back up you're ready to rock. No pins, no tools, locking mechanisms or overly complicated instructions. Line the arrows up with the shafts, insert and tighten the knob. You're done!
While testing the KombiSystem we were most impressed with the build quality. Every piece is expertly crafted and built to last. The entire system feels heavy duty but doesn't weigh a ton. Another design aspect we enjoyed was how easy it was to start and operate. We'll talk about that more in the next section, but it is always a blessing when your equipment starts on the second or third pull.
One other feature that stood out was the integrated shoulder strap. When you're working for long periods of time this strap helps take the strain off your arms and distribute it across your shoulders and back. We operated the KombiSystem with and with out it and we highly recommend utilizing the shoulder strap when you can. At the end of a long day working on the lawn you'll be thankful for it.
Setup:
Out of the box there isn't really any setup to worry about and best of all no tools required. Simply top off the gas reservoir with a 50:1 gasoline/oil mixture and you're ready to rock. Before starting you'll want to attach your implement by aligning the arrow on the head unit shaft with the arrow on the implement shaft and inserting it. Once the two arrows meet you can tighten the knob and the two pieces are now one.
Getting the KombiSystem started is really easy too. Simply move the switch on the handle to "Start", prime the purge pump a few times, turn on the choke and give the motor a few pulls. After the 1st and 2nd pull you can turn off the choke. If you notice it isn't starting right away hold down the gas trigger and pull again until it starts. On most warm days we had the Kombi stated within two or three pulls. On colder days it could take a few more.
Power:
For our testing sessions with the KombiSystem, STIHL hooked us up with the KM 130R. This is STIHL's most powerful motor available for the KombiSystem and is ideal for heavy work requiring lots of power. Professional landscapers and homeowners with large areas of land to maintain would most likely be looking at this unit.
However, STIHL does have three other motors that are suited for less aggressive tasks. Starting with the KM 90 R and working your way up to the KM 94 R and the KM 110 R before you get to the KM 130 R. By speaking with your local STIHL dealer you can pick out the appropriate motor for your needs. We chose the KM 130 R because it is the most powerful and we plan to do a lot of pruning with the pole saw and clearing of under growth before hunting season each year. With the power of the KM 130 we know we won't run in to any road blocks.
Functionality: 
After testing the pole saw, hedge trimmer and string trimmer for the first half of spring we're happy to report that the KombiSystem is in fact all that it is cracked up to be. The only question we have now is which implements do we need to buy next?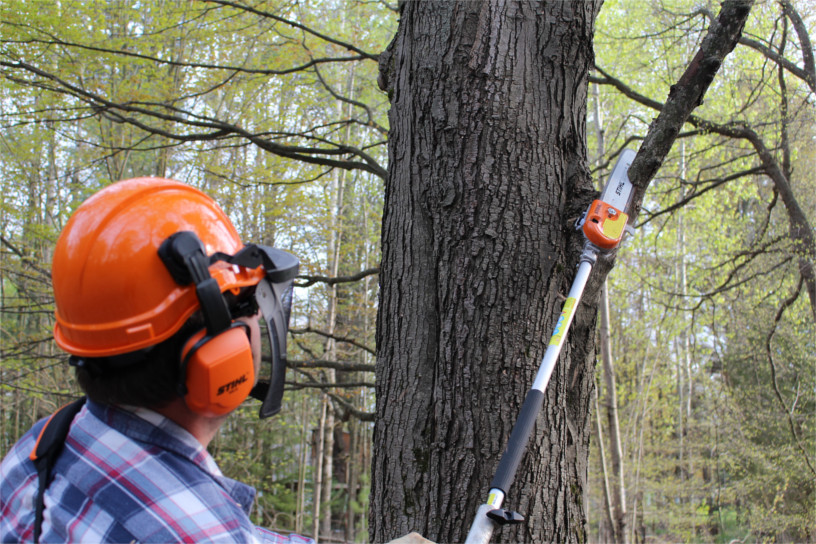 The pole saw is great for trimming dead limbs or pruning trees that have grown too big for their own good. We'll use the pole saw a lot in the fall for cutting out shooting lanes and for putting in tree blinds in trees that would be otherwise be time consuming to prune with a traditional hand saw.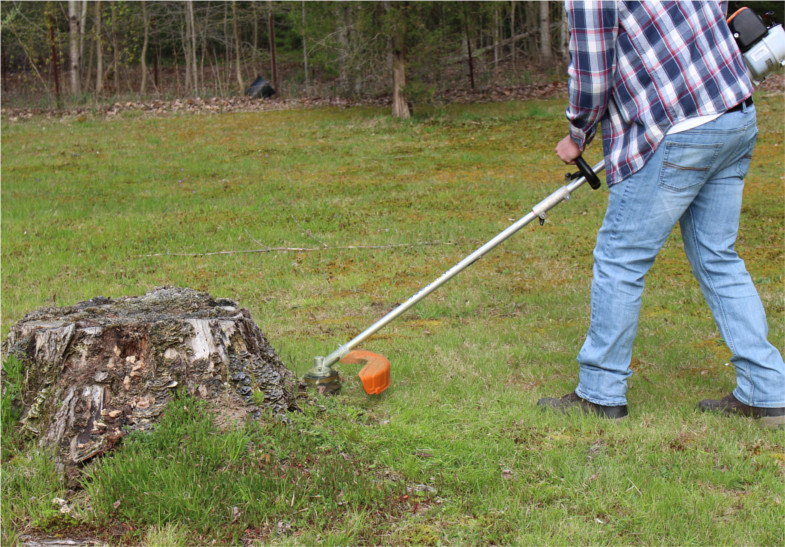 The string trimmer works great too. After cutting the lawn on the riding mower it works great to clean up edges around the house, bushes and trees. This was our most commonly used every day implement for the KombiSystem.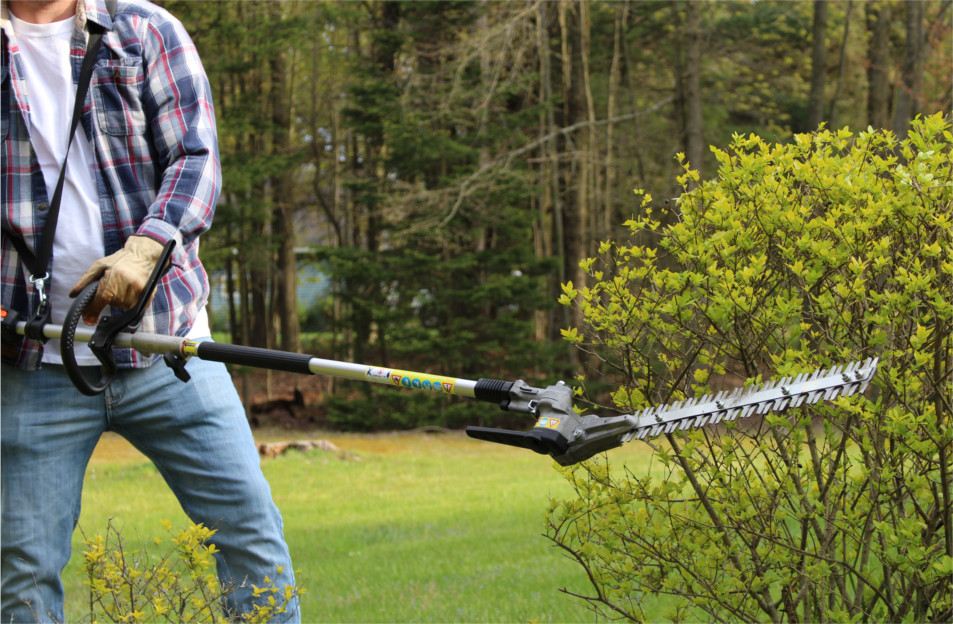 The hedge trimmer we tested has several angling options making it ideal for large and small bushes. With the length of the shaft you can reach really far too. It also works great clearing smaller under growth.
As far as operation of the KombiSystem goes, we were truly impressed. We were able to run the KombiSystem for more than an hour on a tank of gas and without that numbing vibration feeling most lawn equipment delivers. This was a big plus pointed out by several reviewers who got their hands on this unit. Whether you are using the hedger, pole saw or the string trimmer you really don't feel much vibration. Overall, the KombiSystem functions exactly as we would have hoped and better in some cases.
Value:
The KombiSystem isn't a bargain basement deal by any means. For all of the items we tested here for this review you're looking at nearly $1000 after tax and that doesn't include safety gear like gloves, eye protection and ear protection. However, once you have your KombiMotor ($199.95 to $399.95) and a couple starter implements you can then pick and choose what tool you need next based on your budget at relativity affordable pricing.
The pole saw will run you $199.95, a string trimmer is $89.95 and an angling hedger is $249.95. Other implements like a leaf blower and cultivator are relatively the same as far as pricing. While you may be able to go out and buy several different power tools to do each specific job around your house for dollars or cents cheaper you will be missing out on the storage space saved by the KombiSystem and STIHL's excellent craftsmanship. In our opinion the KombiSystem and the accessories are well worth the investment.
Buy Now at your local STIHL Dealer
STIHL KombiSystem - Tool Review
If you're serious about your lawn and garden the STIHL KombiSystem can do it all. It is the Swiss army knife of lawn equipment. With 13 implements to choose from, four power heads options and rock solid craftsmanship you really can't go wrong. The KombiSystem from STIHL gets two thumbs up from Busted Wallet no questions asked.
The Good:
Excellent build quality
Easy setup, start and swapping of implements
Save on storage space in the garage versus multiple tools for the same jobs
The Not So Good
Rather pricey to start out
All your neighbors will want to borrow it all the time!