Every Thursday, I am lucky enough to have the opportunity to walk away from my desk a little earlier than most days, and hit up the slopes with a group of friends. We usually get in the lift right around dusk on a well lit mountain, so a good pair of mixed light condition goggles are good to have. The Bravo goggles from SPY Optic, featuring their Happy Lens technology, seemed perfect for these conditions, so when we opened up the box and saw they had sent us a pair of Bravo goggles with the After Party frame and two lenses, we strapped them on and headed up the lift.
Key Features:
Flexible polyurethane frame
Anti-fog 5.5-base ARC spherical dual-lens system with anti-scratch protection
Replaceable lenses using the Lock Steady™ lens replacement system.
Triple-layer Isotron face foam with moisture-wicking Dri-Force fleece
100% UV protection
SPY Optic Bravo Goggles Review Breakdown
Design:
These goggles are considered midsize, and fit great on my slim face. I am one of those people that has trouble finding a pair of eyeglasses that fits me, because every pair either seems too wide, or too big. (I know goggles and eyeglasses are completely different, I just want to point out that I am one of "those people".) The goggles felt like a great size and did not feel overly big, but still offered a large field of vision due to the spherical lens. Don't let the midsize frame fool you if you think it is going to cut back on your field of vision, it won't.
The goggles came with two pairs of lenses, which can be swapped out using SPY Optics' Lock Steady lens replacement system. SPY Optics claims that this is "the quickest, fingerprint free lens change system on the market", and after using it, I can't imagine changing lenses being any easier. Simply press in the button on one side of the lens to pop the lens lock from the hinge, remove the lens, and lock in another lens. If it sounds like I am over simplifying it, I am not. It is that really that simple.
https://www.youtube.com/watch?v=ypq398OReeU
Optics:
The Bravo goggles use an ARC spherical dual-lens system. The spherical shape maximizes your field of view, giving you a great view of the mountain ahead. The ARC technology, which is short for Accurate Radius Curvature, becomes thinner the farther away you get from the optical center of the lens, which compliments the natural curvature of the human eye and provides optically correct, distortion free vision.
Furthermore, the lens that we tested out used SPY Optic's Happy Lens technology. This technology is said to block out short wave blue light and ultraviolet light, which are harmful to our eyes and can cause fatigue, while allowing long wave blue light to pass through.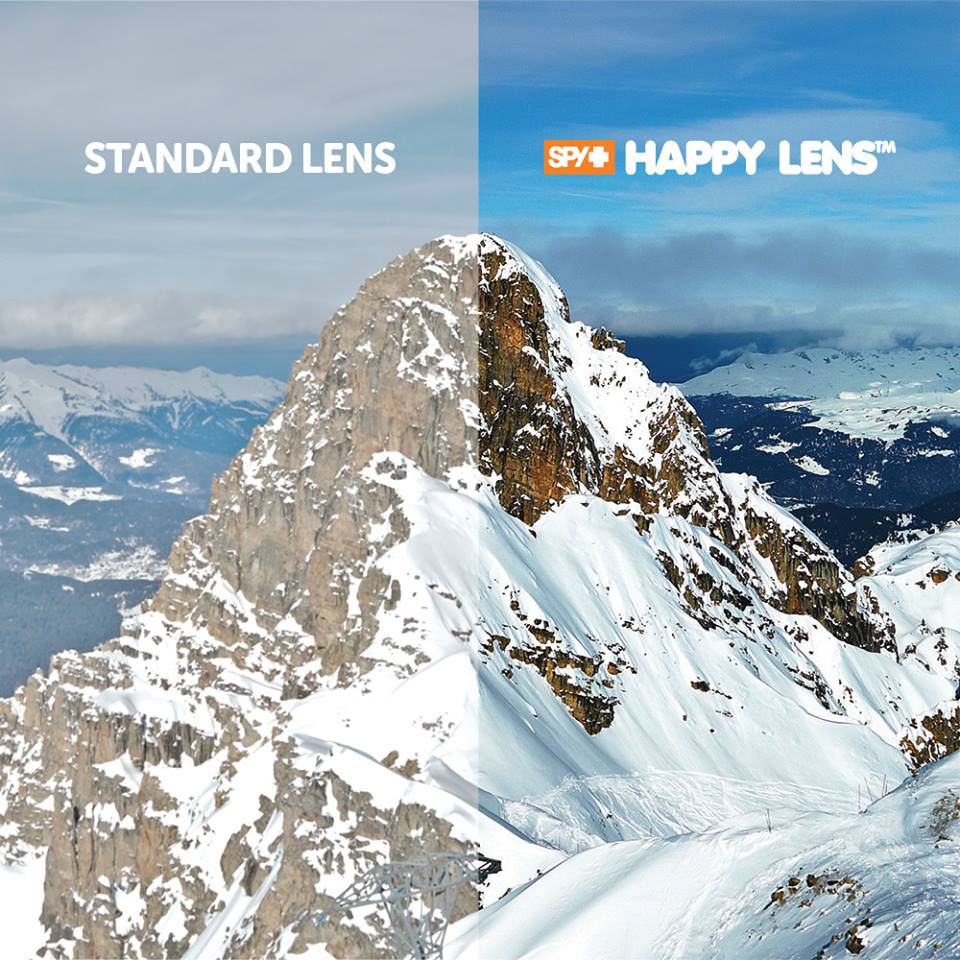 The lens that we used was the Bravo Happy Rose with Dark Blue Spectra. This is a mixed condition lens, with a visible light transmission (VLT) of 49.5. This means that the lens permits 49.5% of exterior light in the visible spectrum to pass through. This lens performed great in night time conditions with lights on the mountain, and provided great contrast that highlighted changes in the snow, such as elevation. That doesn't mean I didn't fall from turning way too fast over that bumpy terrain, it just means that I saw it coming. Even in low lit spots, the goggles performed great. Several times I stopped at a low lit spot to strap into my bindings, and had absolutely no problem seeing what I was doing.
Ventilation:
SPY lenses are coated with a "super secret extra-strength" anti-fog coating, which performed great in cold conditions. I was wearing a face mask (a standard balaclava) and there were a few cases where I was looking down, for example, to strap on my binding, and the lens fogged due to hot air that I was exhailing hitting the lens. I think in this circumstance, this would be the expected outcome, and the fog dissipated over-time, but not immediately. Other than those few moments where my face mask might have been pushed up a little higher than normal, there was no fogging.
Comfort:
The triple-layer Isotron face foam with moisture-wicking Dri-Force fleece was extremly comfortable, and stayed dry the throughout our testing sessions on the slopes. I wore the goggles over my helmet, and had no problem whatsoever. The silicone ribbing on the strap helped the goggles stay in place. They felt great on my face, were easy to adjust to get the right level of tightness over my helmet, and never came loose.
Value:
The Bravo goggles we tested have an MSRP of $204.95. The entire package includes the frame and two lenses. In our case, the After Party frame, the Happy Rose with Dark Blue Spectra lens, and a Happy Bronze with silver mirror lens. This might be a bit on the pricier side of the scale for most people, but you really do get a great system. The lenses have an MSRP of anywhere from $39.95 to $69.95 depending on the lens, so offering a cheaper option that comes with a single lens might be a great idea, especially for people that only plan on skiing in certain light conditions.
Buy Now: $204.95 or, to learn more, go to: SPYOptic.com
SPY Optic Bravo Goggles - Gear Review
The Bravo goggles by Spy Optics offer a great, midsized frame with the exceptional quality of their Happy Lenses. We will definitely wear these on the slopes again.
The Good:
Happy Lens techology provides a clear view with vibrant contrast.
Spherical lens provides a great field of vision.
Very comfortable
The Not so Good:
Lens can still fog, so be careful if you are wearing a face mask. Make sure the vents are not covered.
Pricey, but you really do get a complete package with 2 lenses